Pasadena Homes & Real Estate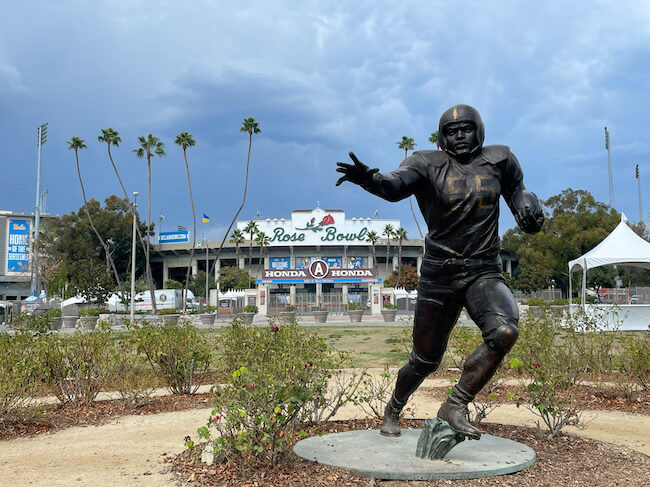 Welcome to your top Pasadena home & LA County real estate resource. Pasadena is best known for its annual New Year's Day parade and college football contest, but the city is also known for its extensive public park system, museums, cultural venues, and being home to acclaimed schools like the California Institute of Technology. For information about homes for sale in Pasadena or to schedule a private home showing, contact your expert Southern California real estate agents today. Read more about Pasadena real estate.
Homes For Sale in Pasadena CA
Pasadena Real Estate Listings
June 10, 2023
$1,249,000
Med. List Price
If you're looking to buy a home in Pasadena, contact The Brad Korb Real Estate Group! Our team of Pasadena real estate agents are ready to guide you through the Pasadena, CA housing market. Call us at (818) 953-5300!
Pasadena Real Estate Search
This page is updated with Pasadena home listings several times per day directly from the Pasadena, California MLS.
Each Pasadena MLS listing includes the property price, days on market, square footage, year built, lot size, number of bedrooms and bathrooms, assigned schools, construction type, and other important details as entered by the listing agent in the MLS.
Also review local Pasadena property tax information and the current listing status (active, under contract, or pending). As available, numerous property features such as greenbelt locations, views, swimming pools and Pasadena community amenities including parks and golf courses will be listed.
Pasadena Neighborhood
Homes for sale in Pasadena vary quite a bit. Prospective homebuyers will find everything from traditional California bungalows and colonial-style homes to mid-century modern ranch-style homes to new construction. There are also plenty of condos available in Pasadena in a variety of styles and price ranges—the best condo communities offer high-end amenities and luxuries. Most homeowners live in distinct neighborhoods, such as Bungalow Heaven, one of Pasadena's best neighborhoods; Washington Square; and historic Old Pasadena.
Home prices in Pasadena range from around $700,000 to well over $1 million in Pasadena's most expensive neighborhoods. Condo prices start at slightly less than $600,000, and tend to be more common in affordable Pasadena neighborhoods. Many neighborhoods here are part of HOAs, but there's an excellent selection of Pasadena neighborhoods with low HOA fees to choose from.
Pasadena Community Amenities
There's no shortage of things to see and do in and around Pasadena. The Pasadena City Park System owns and manages 25 public parks, including Washington Park, Jefferson Park and Defenders Park. Just outside of town is the 346,000-acre San Gabriel Mountains National Monument, home to the Mount Wilson Observatory as well as miles of hiking and biking trails. The Rose Bowl complex in Pasadena includes an aquatic center and tennis center.
It's easy to get around Pasadena, given the city's central location. The Foothill Freeway (I-210) runs right through the city and the Ventura Freeway (SR 134) travels east from downtown Pasadena. The Long Beach Freeway (SR 710) connects the city to Long Beach and cities along the Pacific coast. In addition, the Los Angeles Metro Gold Line light rail system provides public transportation between Pasadena and downtown Los Angeles and other points throughout Los Angeles County. For trips outside of the region, Los Angeles International Airport is less than an hour's drive away and offers non-stop service to more than 175 cities around the globe. Smaller Bob Hope Airport in Burbank is just 15 miles away.
The City of Pasadena is home to a number of annual events. Chief among these is the annual Rose Bowl parade and football game on New Year's Day. However, that's not the only thing happening in Pasadena. The Rose Bowl hosts a popular weekly flea market and swap meet throughout the year. The city is also home to an annual Strawberry Festival, film festival and Craftsman Festival, a celebration of the unique architectural style that was popular in Pasadena during the early 20th century.
There's no lack of cultural activities in Pasadena. The city is the home of the Norton Simon Museum, the legendary Pasadena Playhouse, the Pasadena Symphony, the Huntington Library and Botanical Gardens and the innovative Kidspace Children's Museum.
Pasadena residents will also find a myriad of restaurants, cafes and coffee houses. This Los Angeles County city is home to a number of local favorites, such as Union Restaurant for Italian food; La Grange Cafe, located in a restored train depot and Marston's, a favorite for breakfast and brunch.
Pasadena has a thriving economy. Top employers in the city include Kaiser Permanente, Jet Propulsion Lab, the California Institute of Technology and Huntington Hospital.
Pasadena Neighborhood Schools
School age residents in Pasadena attend the schools of either the Pasadena Unified School District or the South Pasadena Unified School District, depending on where in the city they live. In addition to the public schools, Pasadena offers a number of excellent private schools. These include Westridge School, Chandler School and Judson International School. For post-secondary education, Pasadena offers the California Institute of Technology, Pasadena City College, Fuller Theological Seminary, Art Center College of Design and Pacific Oaks College. Of course, the region is also home to the University of California at Los Angeles (UCLA) and the University of Southern California (USC.)
Pasadena Information Resources
Pasadena, CA Real Estate Agents
Interested in buying a home in Pasadena? Allow our Pasadena, California real estate experts to help you navigate the purchase of or expertly negotiate the sale of your Pasadena residence. As local real estate agents, we're well-versed on the unique dynamics of the Pasadena real estate market.
Contact The Brad Korb Real Estate Group to learn more about buyer and seller representation. Selling your Pasadena property? Visit our market analysis page to receive a free home evaluation within minutes.
List of Homes Sold in Pasadena - Last 30 Days
Pasadena homes are highly sought after as the real estate market continues to grow. To assist your understanding of the local market dynamics, we provide tables of homes that were sold within the past 30 days inside the city of Pasadena, which includes both previously owned and newly constructed homes. This list displays new results at least once per day.
Recently Sold Homes in Pasadena
191 Properties
Address
Beds
Baths
Sq.Ft.
Price(%Chng)
$/Sq.Ft.
On Site
848 S Euclid Ave
Pasadena, CA 91106
5
4
2,846
$2,888,000
$1,014.76
2 days
355 E California Boulevard Unit#2, #2
Pasadena, CA 91106
3
4
1,865
$1,827,700
$980.00
2 days
1105 Avoca Ave
Pasadena, CA 91105
3
2
1,312
$1,249,000
$951.98
2 days
3855 Denair St
Pasadena, CA 91107
3
2
2,292
$1,600,000
$698.08
2 days
1015 N Michillinda Ave #314
Pasadena, CA 91107
2
2
1,042
$549,000
$526.87
2 days
2748 E Orange Grove Blvd
Pasadena, CA 91107
4
2
2,100
$1,600,000
$761.90
2 days
504 S Euclid Ave #1
Pasadena, CA 91101
1
1
596
$449,000
$753.36
2 days
344 N Orange Grove Blvd
Pasadena, CA 91103
2
2
1,278
$845,000
$661.19
2 days
393 Allendale Rd
Pasadena, CA 91106
3
2
2,123
$2,188,333
$1,030.77
2 days
320 W California Blvd #D
Pasadena, CA 91105
1
1
831
$729,000
$877.26
3 days
101 Glen Summer Rd
Pasadena, CA 91105
4
3
1,962
$1,690,000
$861.37
3 days
3229 La Encina Way #28
Pasadena, CA 91107
3
3
2,167
$1,390,000
$641.44
3 days
3965 E California Blvd
Pasadena, CA 91107
5
6
2,530
$2,338,000
$924.11
3 days
1964 Navarro Ave
Pasadena, CA 91103
3
2
1,008
$979,000
$971.23
4 days
2386 E Del Mar Blvd #225
Pasadena, CA 91107
1
1
885
$529,000
$597.74
4 days
2241 Cooley Place
Pasadena, CA 91104
2
2
1,253
$1,099,000
$877.09
4 days
635 N Chester Ave
Pasadena, CA 91106
4
2
2,209
$1,295,000
$586.24
4 days
3180 E Sierra Madre Blvd
Pasadena, CA 91107
3
4
2,067
$1,298,000
$627.96
4 days
1647 Hastings Heights Ln
Pasadena, CA 91107
6
7
5,174
$3,800,000
$734.44
4 days
1055 La Loma Rd
Pasadena, CA 91105
3
3
1,900
$2,195,000
$1,155.26
4 days
855 El Campo Dr
Pasadena, CA 91107
3
2
2,976
$3,098,000
$1,040.99
5 days
500 E Del Mar Blvd #26
Pasadena, CA 91101
2
3
1,548
$899,000
$580.75
5 days
2428 E Del Mar Blvd #107
Pasadena, CA 91107
--
1
582
$499,950
$859.02
5 days
381 S San Marino Ave
Pasadena, CA 91107
3
1
1,552
$1,399,000
$901.42
5 days
2803 Hermanos St
Pasadena, CA 91107
3
2
1,911
$1,318,000
$689.69
5 days
3775 E Green St
Pasadena, CA 91107
2
2
1,293
$899,950
$696.02
5 days
2386 E Del Mar Blvd #226
Pasadena, CA 91107
3
2
1,501
$699,999
$466.36
5 days
2450 Paloma St
Pasadena, CA 91104
3
3
1,600
$1,350,000
$843.75
6 days
335 S Sierra Madre Blvd #207
Pasadena, CA 91107
2
2
1,135
$650,000
$572.69
6 days
1203 N Summit Ave
Pasadena, CA 91103
3
1
1,380
$900,000
$652.17
6 days
433 Maple Way
Pasadena, CA 91101
5
4
1,677
$1,095,000
$652.95
6 days
1629 S S Oak Knoll Ave
Pasadena, CA 91108
5
2
3,017
$1,988,880
$659.22
6 days
175 N Sierra Bonita Ave
Pasadena, CA 91106
2
2
1,272
$1,100,000
$864.78
6 days
735 N N Orange Grove Blvd #306
Pasadena, CA 91103
2
2
1,122
$899,900
$802.05
7 days
1198 N Wilson Ave
Pasadena, CA 91104
4
3
1,676
$1,599,950
$954.62
8 days
790 N El Molino Ave
Pasadena, CA 91104
6
6
3,544
$2,188,000
$617.38
8 days
1000 S Orange Grove Blvd #8
Pasadena, CA 91105
2
2
1,667
$919,000
$551.29
9 days
3741 E Green St
Pasadena, CA 91107
4
2
1,082
$853,888
$789.18
9 days
360 S Euclid Ave #215
Pasadena, CA 91011
2
2
927
$595,000
$641.86
9 days
128 N Oak Knoll Ave #114
Pasadena, CA 91101
2
3
1,550
$978,000
$630.97
9 days
2505 Paloma St
Pasadena, CA 91104
3
3
2,273
$1,300,000
$571.93
10 days
1175 Glen Oaks Blvd
Pasadena, CA 91105
4
3
3,762
$2,525,000
$671.19
10 days
730 Hastings Ranch Dr
Pasadena, CA 91107
4
3
2,380
$1,645,000
$691.18
10 days
1451 N Holliston Ave
Pasadena, CA 91104
3
1
1,538
$949,000
$617.04
10 days
288 S Oakland Ave #106
Pasadena, CA 91101
1
1
850
$709,800
$835.06
10 days
201 N Orange Grove Blvd #502
Pasadena, CA 91103
2
2
1,179
$899,999
$763.36
10 days
495 California Terrace
Pasadena, CA 91105
4
3
3,123
$3,848,000
$1,232.15
11 days
1525 Forest
Pasadena, CA 91103
3
1
1,332
$1,145,000
$859.61
11 days
430 N Holliston Ave #213
Pasadena, CA 91106
2
2
946
$589,000

0.7%

$622.62
11 days
163 El Nido Ave
Pasadena, CA 91107
2
1
1,053
$799,900
$759.64
11 days