NoHo Arts District Homes & Real Estate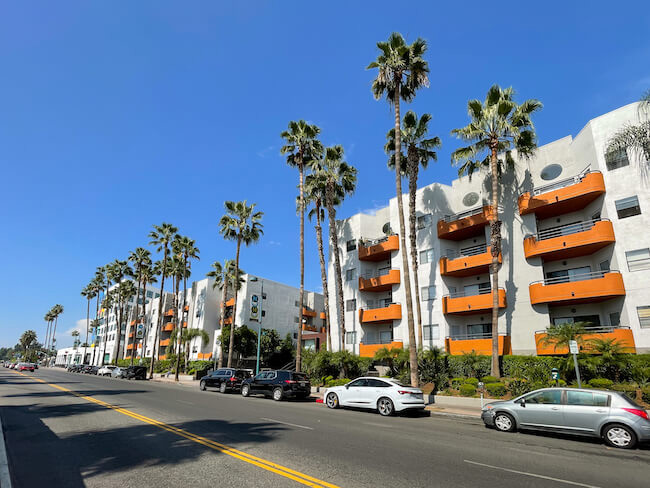 Browse the top NoHo Arts District homes for sale & Los Angeles real estate below. The NoHo Arts District is a distinct neighborhood within North Hollywood. This eclectic neighborhood is filled with theaters, galleries, and more that will most likely appeal to art lovers. NoHo Arts District is a community located in the city of Los Angeles that offers a wide range of amenities to fit any lifestyle. For further information regarding NoHo Arts District properties for sale, including prior sales history, price changes, property disclosures, and more, or to request a private home showing, connect with your LOCAL real estate experts today! Read more about NoHo Arts District real estate.
Homes For Sale in Noho Arts District Los Angeles
Noho Arts District Listings
September 22, 2023
$1,050,000
Med. List Price
Considering the purchase of a home in Noho Arts District? Call The Brad Korb Real Estate Group, your Los Angeles real estate team, at (818) 953-5300. We are local real estate agents and experts on the Noho Arts District housing market.
NoHo Arts District Real Estate Search
This page is updated with NoHo Arts District home listings several times per day directly from the Los Angeles, California MLS.
Each Noho Arts District MLS listing includes the property price, days on market, square footage, year built, lot size, number of bedrooms and bathrooms, assigned schools, construction type, and other property details as entered by the listing agent in the MLS.
Also review local NoHo Arts District property tax information and the current listing status (active, under contract, or pending). As available, numerous property features such as greenbelt locations, views, swimming pools, and NoHo Arts District neighborhood amenities, including parks and golf courses, will be listed.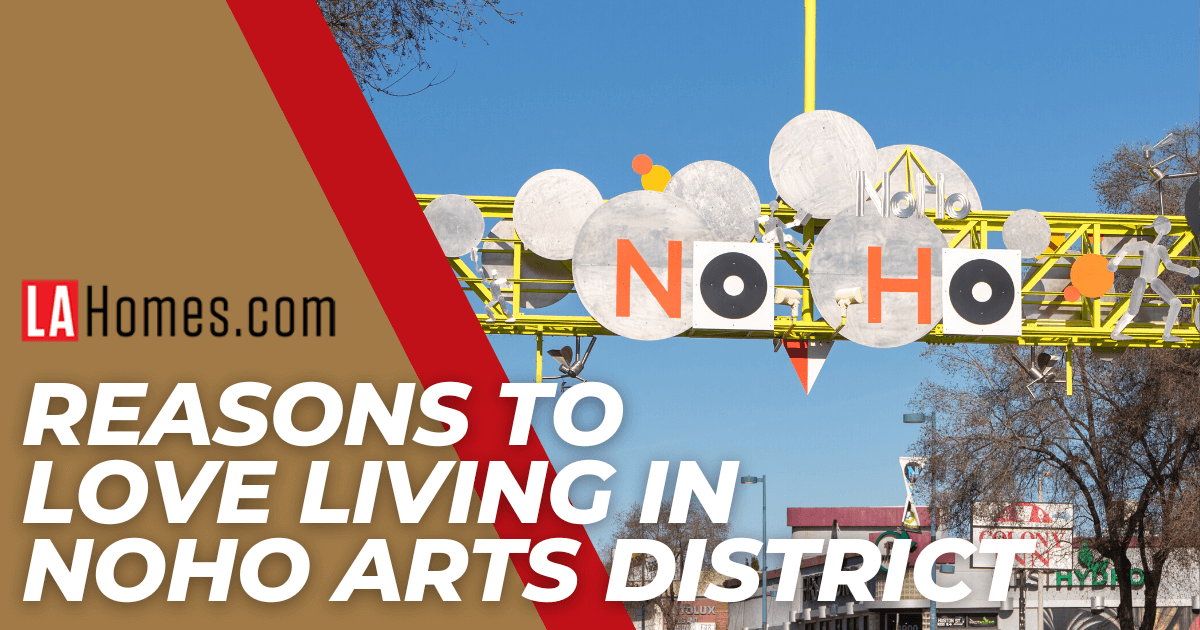 Living in the NoHo Arts District is the best way to surround yourself with the creative spirit that defines Los Angeles! Nestled in the North Hollywood neighborhood, NoHo Arts District stands as a vibrant cultural hub. This eclectic community offers residents a unique blend of artistic venues, cozy cafes, and trendy boutiques, all set against the backdrop of LA's iconic palm-lined streets.
Beyond its cultural richness, NoHo has a wonderful selection of parks, convenient proximity to Burbank's best employers, and many beautiful homes for sale in Los Angeles. The Arts District is an exciting place to live and a promising locale for homebuyers eyeing a solid investment in LA's ever-evolving real estate landscape. Whether you're an artist seeking inspiration or an investor looking for your next big purchase, the NoHo Arts District real estate is brimming with opportunity.
10 Reasons NoHo Arts District Is a Good Place to Live
Artistic Vibrancy: NoHo is home to numerous theaters, art galleries, and creative spaces, making it a hub for artists and art lovers.
Central Location: Situated strategically in Los Angeles, NoHo offers easy access to other key neighborhoods and attractions, including Studio City, Burbank, and Hollywood.
Public Transit: The district is well-connected with public transport options, including the Metro Red Line train and the Orange Line bus, making commuting and exploring the broader city a breeze.
Delicious Dining: From trendy cafes to gourmet restaurants, NoHo boasts a wide range of dining options that cater to all palates and preferences.
Green Spaces: NoHo still features pockets of green spaces and parks, perfect for relaxation and outdoor activities.
Historic Charm: Amid modern developments, NoHo retains many historic buildings and landmarks, including the Lankershim Train Depot.
Diverse Real Estate: From affordable condos to charming bungalows, the homes for sale in NoHo Arts District cater to all sorts of buyers.
Schools Nearby: NoHo Arts District is conveniently located near five schools, offering a blend of public, charter, and private options.
Nightlife and Entertainment: NoHo boasts an array of nightlife options, from chic bars to lively performance venues, ensuring there's always something happening after sundown.
Pedestrian-friendly Design: NoHo Arts District is one of the most walkable neighborhoods in LA, with wide sidewalks, pedestrian zones, and local amenities often within a short stroll.
The NoHo Arts District Lifestyle
The name says it all—life in NoHo is all about the arts! With over 20 theaters spread throughout the district, residents have unparalleled access to many performances, ranging from avant-garde experimental pieces to classic plays, ensuring there's always something captivating to watch. Aspiring actors can also find numerous classes and workshops to help hone their craft, and patrons of the arts can find many places to experience art in Valley Glen, which borders NoHo to the west.
Those arriving by train will be welcomed in a truly artsy fashion at the Metro Red Line North Hollywood Station. The station proudly displays a mesmerizing 4,000-square-foot hand-painted mosaic. Other ways to enjoy art in the NoHo Arts District include Laemmle NoHo 7 movie theater, The Illiad Bookstore, and Ha Ha Comedy Club. Music historians will be delighted to find Bing Crosby's former home just off Cahuenga Boulevard.
Beyond its cultural offerings, the district's strategic location plays a pivotal role in shaping the daily lives of its residents. Homeowners in NoHo can beat traffic by using the Metro Red Line Train or the Orange Line bus, offering swift transit options across the city. For those who prefer driving, the district's proximity to the 101 and Hollywood Freeway junction ensures quick and easy access anywhere in the greater Los Angeles area, making work commutes and weekend getaways smoother.
Types of Homes For Sale in NoHo Arts District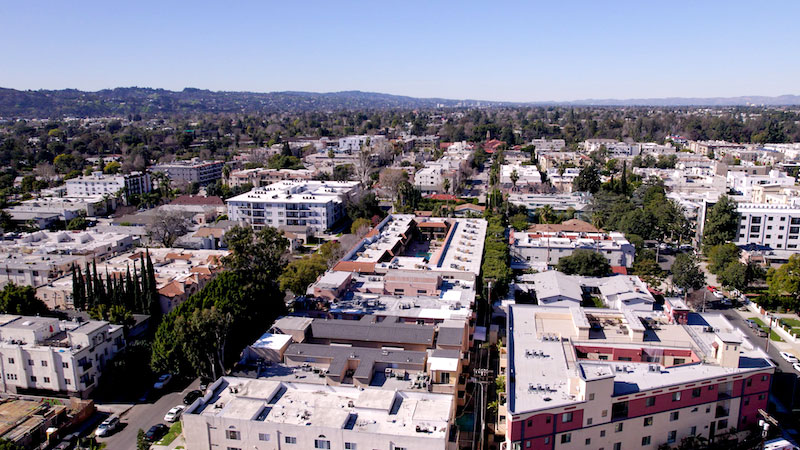 The NoHo Arts District housing market presents a canvas of possibilities. From the quintessential single-family homes to modern condos and townhomes, there's something for every kind of buyer.
Most single-family homes exude a classic Spanish charm, characterized by terracotta roofs and stucco exteriors, reminiscent of Los Angeles's architectural history. These picturesque Los Angeles bungalows are typically priced between $750,000 and $2 million, with some even commanding higher price tags. On the other hand, townhomes in the area, often representing newer construction, range from $1 million to $1.5 million, offering a blend of modern amenities with community living. The NoHo's share of Los Angeles condos presents an attractive option for those considering investment opportunities or a chic urban residence.
With homes for sale in NoHo Arts District listing from $350,000 to over $2 million, buyers can find a space that aligns with their lifestyle aspirations and financial considerations. No matter what you're looking for, the NoHo Arts District housing market offers a canvas of possibilities.
NoHo Arts District Amenities
The NoHo Arts District isn't just renowned for its vibrant arts scene; it's also flush with amenities that cater to residents' daily needs and unique desires. One particular highlight is the district's access to Los Angeles's public transportation system. The diverse shopping options, ranging from eclectic boutiques to essential stores, provide residents with everything they need at their fingertips. Further enhancing the community's appeal are a local library and the North Hollywood Recreation Center.
Neighborhood Services
Exceptional public transit in the NoHo Arts District is one of the neighborhood's most desirable services. Dominating the scene is the Metro Red Line, one of LA's six main rail lines, which offers swift and efficient travel across the city, bridging LA's best neighborhoods and ensuring that the heartbeat of LA is always within reach. Complementing the rail service is the Orange Line bus. This unique service enjoys exclusive-use lanes on freeways and surface streets, ensuring timely commutes even during peak traffic hours.
When navigating the intricacies of the Arts District and surrounding area, the DASH North Hollywood bus is at your service. Operating clockwise and counter-clockwise, it provides comprehensive local service, making it easy to explore every neighborhood corner.
Shopping in North Hollywood
Shopping in the NoHo Arts District offers residents a delightful mix of convenience and unique finds. Regarding everyday necessities, the neighborhood boasts several grocery stores, ensuring that fresh produce and pantry staples are always within arm's reach. Ralph's is a familiar name for many, offering various goods, while Magnolia Food Market provides a more localized shopping experience. Amazon Fresh is also conveniently located in the district.
Beyond essential groceries, the NoHo Arts District has something for every kind of shopper. Comic enthusiasts can lose themselves in the pages of graphic novels and rare collectibles at Collector's Paradise Comics. Big Lots sells a vast selection of household goods and home decor items. Meanwhile, pet owners may find themselves drawn to Animalia NoHo.
Things to Do in NoHo Arts District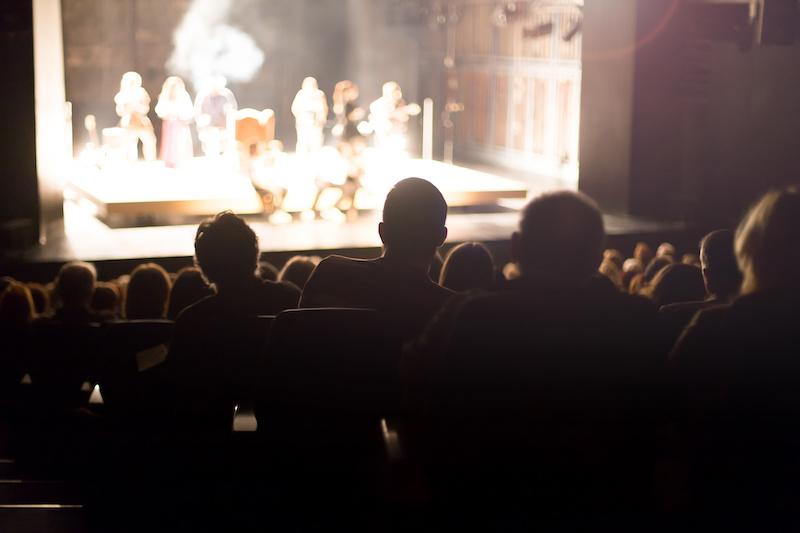 It's never hard to find things to do in Los Angeles, and NoHo Arts District has more than its fair share of them. The local culinary scene is a delectable blend of flavors, while the nightlife selection includes festive bars and entertainment venues. While NoHo Arts District shines in the realm of arts and entertainment, it also has a few fun parks and outdoor activities you can do daily.
Outdoor Activities
NoHo Arts District has several pockets of green spaces where residents can relax, exercise, or simply soak in the California sun. Whether it's a leisurely stroll, a morning jog, or a weekend picnic, the district's parks and open spaces offer fresh air amidst the cityscape. NoHo Arts District is pet-friendly to the max, and the best parks in and around the neighborhood feature dog parks or trails to walk your canine companions.
Spanning a generous expanse, North Hollywood Park is intricately woven with numerous trails perfect for casual strolls or brisk jog. The playground promises hours of fun for kids of all ages.
For sports enthusiasts, the park is nothing short of a treasure trove. Engage in friendly matches and rigorous practice sessions on the park's tennis court or play pick-up baseball and softball on the diamonds. The roller hockey rink provides a unique space for fans of the sport, allowing for high-energy games. Meanwhile, the skatepark is a hub of activity where skaters—from novices to professionals—showcase their skills.
Restaurants, Breweries & Bars
A standout is the Federal Bar, a swanky gastropub that seamlessly blends the past with the present. Housed in a beautifully converted bank from the 1900s, its historic charm and contemporary gastronomy make it an unforgettable dining experience for a night out in Noho. For those who prefer a more laid-back ambiance with a touch of whimsy, The Fat Dog offers an upbeat, dog-friendly environment where patrons can enjoy delectable bites in the company of their furry friends. Dessert enthusiasts find solace in the Republic of Pie, serving a tempting array of pies that are as delightful to look at as they are to eat.
Dave's Hot Chicken is a go-to spot, delivering a fiery yet irresistible take on the classic fried chicken. Brews Brothers beckons with its vast selection of craft beers, perfect for unwinding after a long day or toasting to a memorable night out.
Nearby Attractions
Anchoring the district's performing arts scene is the El Portal Theatre. This historic venue has captivated audiences for decades with its eclectic mix of performances, from gripping dramas to foot-tapping musicals. Not too far off, The Road Theatre Company, with its commitment to storytelling, showcases compelling plays that often spark profound reflections and conversations among its patrons.
But the area's offerings continue beyond the arts. Just a short drive away in the Universal City neighborhood is Universal Studios, where visitors can immerse themselves in the magic of filmmaking, experience thrilling rides, and step behind the scenes of some of their favorite movies. For those who crave a touch of nature amidst the urban landscape, Griffith Park beckons. One of the country's largest urban parks, it offers hiking trails, scenic views, and the iconic Griffith Observatory.
Employers Near NoHo Arts District
NoHo Arts District benefits from its strategic location close to major employment centers. Work opportunities in Burbank, a hub for the entertainment industry and more, are less than 20 minutes away. Here, illustrious companies like Walt Disney and Warner Bros have prominent studios, offering many opportunities for media, entertainment, production, and more professionals.
Additionally, Burbank is home to enterprises like Origin Diagnostics, catering to the healthcare and diagnostic sectors. For those who set their sights on the bustling business landscape of Downtown Los Angeles, the district's connectivity is a boon. The Metro Red Line and Orange Line provide convenient and efficient transit options, ensuring that the heart of LA's business district is readily accessible.
Schools Near NoHo Arts District
The nearby schools offer a diverse range of educational opportunities for students. For those seeking public education, Lankershim Elementary and East Valley High School are located immediately within the neighborhood.
The community also has several private and charter schools, each with a unique approach. The Wesley School is known for its holistic education, focusing on academics and character development. Oakwood Secondary School offers an environment where individuality is celebrated and critical thinking is fostered. Meanwhile, the North Hollywood Christian Academy merges faith-based learning with rigorous academics.
Moving to NoHo Arts District? Let Your Inner Artist Shine!
For homebuyers who are moving to Los Angeles, it's clear that living in the NoHo Arts District offers an enriching blend of cultural vibrancy, educational opportunities, and urban conveniences. The neighborhood's artistic heartbeat is echoed in its theaters, galleries, and public spaces, while its schools ensure a bright future for the next generation. With seamless connectivity to the broader LA landscape, a rich array of dining and shopping choices, and a diverse range of homes, NoHo stands as a testament to what a contemporary urban neighborhood can offer. For those seeking a life filled with creativity, community, and convenience, the NoHo Arts District is an ideal place to call home.
NoHo Arts District Real Estate Agents
Preparing to buy or sell a home in Noho Arts District? Allow our Los Angeles real estate experts to help you through the process of buying your new NoHo Arts District property or selling your current residence. As local real estate agents, we have up-to-date information on the distinct dynamics of NoHo Arts District real estate.
To learn more about representation for buyers and sellers, contact The Brad Korb Real Estate Group. Ready to sell your home in Noho Arts District? Obtain a property value estimate in just moments using our market analysis page!
Search Homes For Sale in Noho Arts District Los Angeles
Back to Los Angeles Real Estate