Los Angeles Homes & Real Estate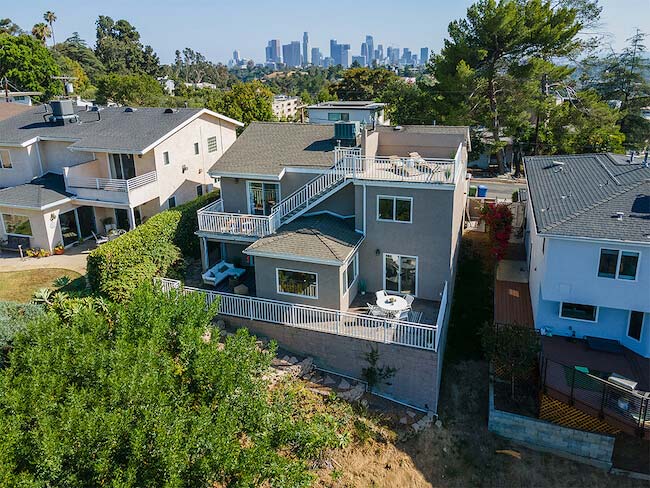 Welcome to your top Los Angeles home & LA County real estate resource. The City of Angels is a place of dreams for many people. Those who are hoping to achieve fame and fortune often move to Los Angeles, earning the city a reputation of being a land of opportunity. Between the gorgeous year-round weather and the eclectic culture that can be discovered in the city, homebuyers will find that there's no better place in California to invest in real estate. For information about homes for sale in Los Angeles or to schedule a private home showing, contact your expert Southern California real estate agents today. Read more about Los Angeles real estate.
Homes For Sale in Los Angeles CA
Los Angeles Real Estate Listings
December 2, 2023
$1,249,000
Med. List Price
Purchasing a home in Los Angeles? Call (818) 953-5300 to reach your Los Angeles real estate team, The Brad Korb Real Estate Group. Our local real estate agents will offer guidance to help you through the Los Angeles housing market.
Los Angeles Real Estate Search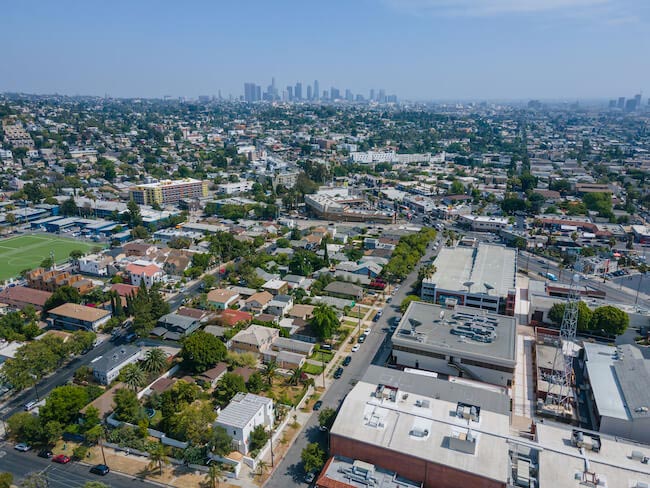 This page is updated with Los Angeles home listings several times per day directly from the Los Angeles, California MLS.
Each Los Angeles MLS listing includes the property price, days on market, square footage, year built, lot size, number of bedrooms and bathrooms, assigned schools, construction type, and other important details as entered by the listing agent in the MLS.
Also review local Los Angeles, CA property tax information and the current listing status (active, under contract, or pending). As available, numerous property features such as greenbelt locations, views, swimming pools and Los Angeles community amenities including parks and golf courses will be listed.
Los Angeles CA Real Estate Agents
Want to buy or sell a home in Los Angeles? Let our Los Angeles, California real estate experts help you through the purchase of your new Los Angeles property or expertly negotiate the sale of your current residence. As local real estate agents, we're experts on the dynamics unique to Los Angeles, California real estate.
Connect with The Brad Korb Real Estate Group to learn more about buyer or seller representation. If you're selling your Los Angeles home, review our market analysis page to discover the possible resale value of your property!
List of Homes Sold in Los Angeles - Last 30 Days
Los Angeles homes are highly sought after as the real estate market continues to grow. To assist your understanding of the local market dynamics, we provide tables of homes that were sold within the past 30 days inside the city of Los Angeles, which includes both previously owned and newly constructed homes. This list displays new results at least once per day.
Recently Sold Homes in Los Angeles
512 Properties
Address
Beds
Baths
Sq.Ft.
List Price
Sold Price
$/Sq.Ft.
Sold Date
12227 Tweed Ln
Los Angeles, CA 90049
4
4
2,838
$3,795,000
$3,800,000
$1,338.97
12/1/23
1518 Sanborn Ave
Los Angeles, CA 90027
4
3
2,288
$1,849,000
$1,795,000
$784.53
12/1/23
7947 Hollywood Blvd
Los Angeles, CA 90046
3
3
2,959
$2,795,000
$2,700,000
$912.47
12/1/23
320 S Ardmore Ave #102
Los Angeles, CA 90020
1
1
566
$390,000
$370,000
$653.71
12/1/23
2039 Barry Ave
Los Angeles, CA 90025
4
4
2,767
$2,195,000
$2,157,000
$779.54
12/1/23
10268 Kincardine Ave
Los Angeles, CA 90064
3
3
2,519
$1,995,000
$2,060,000
$817.78
12/1/23
1723 W 121st St
Los Angeles, CA 90047
2
1
1,374
$575,000
$585,000
$425.76
12/1/23
4251 Kenyon Ave
Los Angeles, CA 90066
3
2
1,488
$1,895,000
$1,860,000
$1,250.00
12/1/23
8500 Belford Ave
Los Angeles, CA 90045
3
2
1,489
$1,130,000
$1,069,000
$717.93
12/1/23
157 S Citrus Ave
Los Angeles, CA 90036
4
3
2,331
$2,549,000
$2,600,000
$1,115.40
12/1/23
2712 Glassell St
Los Angeles, CA 90026
4
2
1,672
$1,065,000
$1,055,000
$630.98
12/1/23
436 S Virgil Ave #309
Los Angeles, CA 90020
3
2
1,370
$825,000
$820,000
$598.54
12/1/23
1030 S Norton Ave #6
Los Angeles, CA 90019
3
3
1,330
$699,000
$673,000
$506.02
12/1/23
4040 Grand View Blvd #82
Los Angeles, CA 90066
2
2
858
$719,000
$830,000
$967.37
12/1/23
5740 S Glennie Ln #H
Los Angeles, CA 90016
3
3
1,520
$935,000
$1,000,000
$657.89
12/1/23
2219 S Bentley Ave #102
Los Angeles, CA 90064
2
2
1,270
$899,000
$953,000
$750.39
12/1/23
810 Coronado Terrace
Los Angeles, CA 90026
3
2
1,678
$1,499,000
$1,494,000
$890.35
12/1/23
3825 Fredonia Dr
Los Angeles, CA 90068
2
1
1,708
$1,249,000
$1,491,500
$873.24
12/1/23
2304 S Beverly Glen Blvd #102
Los Angeles, CA 90064
2
2
1,264
$800,000
$850,000
$672.47
12/1/23
7541 Hermes Dr
Los Angeles, CA 90046
3
3
2,642
$2,695,000
$2,865,000
$1,084.41
12/1/23
3409 N Fletcher Dr
Los Angeles, CA 90065
4
5
2,011
$1,099,000
$1,162,752
$578.20
11/30/23
2613 Lake Hollywood Dr
Los Angeles, CA 90068
4
3
2,893
$3,600,000
$3,550,000
$1,227.10
11/30/23
2203 Nottingham Ave
Los Angeles, CA 90027
5
6
5,077
$6,995,000
$6,794,730
$1,338.34
11/30/23
7812 Hindry Ave
Los Angeles, CA 90045
2
1
804
$971,750
$925,000
$1,150.50
11/30/23
1101 S Harvard Blvd #203
Los Angeles, CA 90006
2
2
1,240
$650,000
$640,000
$516.13
11/30/23
3465 W 67th St
Los Angeles, CA 90043
3
2
1,540
$759,900
$755,000
$490.26
11/30/23
11750 W Sunset Blvd #409
Los Angeles, CA 90049
1
1
721
$618,000
$590,000
$818.31
11/30/23
7200 W 88th Place
Los Angeles, CA 90045
5
3
2,605
$1,799,000
$1,618,750
$621.40
11/30/23
1969 E 88th St
Los Angeles, CA 90002
2
1
572
$450,000
$450,000
$786.71
11/30/23
1429 Westerly Terrace
Los Angeles, CA 90026
2
2
1,444
$1,489,000
$1,489,000
$1,031.16
11/30/23
4440 W 59th Place
Los Angeles, CA 90043
3
2
2,164
$1,399,000
$1,400,000
$646.95
11/30/23
320 S Ardmore Ave #318
Los Angeles, CA 90020
1
1
580
$399,000
$389,000
$670.69
11/30/23
6417 W 82nd St
Los Angeles, CA 90045
5
5
3,524
$3,500,000
$3,500,000
$993.19
11/30/23
4921 Ithaca Ave
Los Angeles, CA 90032
2
1
736
$549,000
$549,000
$745.92
11/30/23
811 E 107th St
Los Angeles, CA 90002
3
2
736
$589,900
$590,000
$801.63
11/30/23
1502 W 65th St
Los Angeles, CA 90047
3
2
1,122
$625,000
$643,000
$573.08
11/30/23
1019 N Bonnie Beach Place
Los Angeles, CA 90063
4
2
1,269
$799,999
$825,000
$650.12
11/30/23
8041 Campion Dr
Los Angeles, CA 90045
3
2
1,596
$1,499,000
$1,400,000
$877.19
11/30/23
2137 Colby Ave
Los Angeles, CA 90025
3
3
2,276
$1,349,000
$1,385,000
$608.52
11/30/23
11500 San Vicente Blvd #205
Los Angeles, CA 90049
2
3
3,219
$2,150,000
$2,100,000
$652.38
11/30/23
8921 Appian Way
Los Angeles, CA 90046
3
3
2,740
$1,499,000
$1,315,000
$479.93
11/30/23
2160 Century Parkway #1704
Los Angeles, CA 90067
1
1
853
$829,000
$790,000
$926.14
11/30/23
2796 Hollyridge Dr
Los Angeles, CA 90068
3
4
2,745
$2,100,000
$2,070,000
$754.10
11/30/23
5633 Carlton Way #502
Los Angeles, CA 90028
2
2
830
$570,000
$650,000
$783.13
11/30/23
7984 Oceanus Dr
Los Angeles, CA 90046
5
4
3,850
$4,695,000
$4,350,000
$1,129.87
11/30/23
1802 Effie St
Los Angeles, CA 90026
3
2
1,500
$999,000
$999,000
$666.00
11/30/23
8917 Elm St
Los Angeles, CA 90002
3
2
684
$550,000
$550,000
$804.09
11/30/23
1029 S Orlando Ave
Los Angeles, CA 90035
3
2
2,205
$1,825,000
$1,965,000
$891.16
11/30/23
3208 Arvia St
Los Angeles, CA 90065
5
4
2,211
$899,000
$950,000
$429.67
11/30/23
344 N Vista St
Los Angeles, CA 90036
3
3
1,950
$1,699,999
$1,801,000
$923.59
11/30/23