Glendale Homes & Real Estate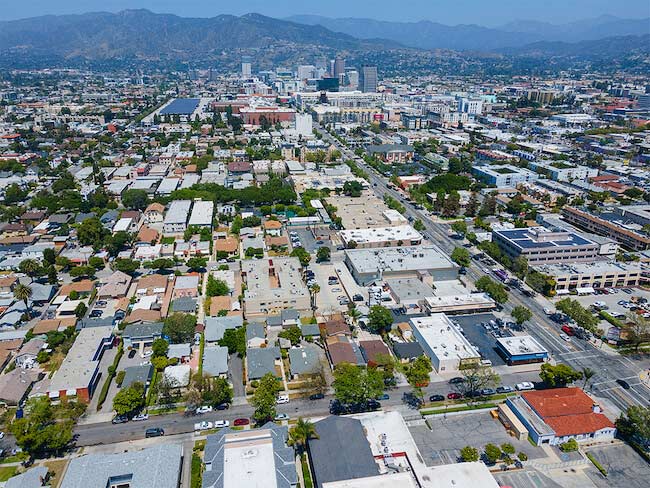 View the hottest Glendale, CA homes for sale and real estate below! Searching for further information on properties for sale in Glendale, including prior sales history, prices, and property disclosures? Set up a private home tour of any property listed below by contacting your LOCAL real estate experts today. Read more about Glendale real estate.
Homes for Sale in Glendale CA
Glendale Real Estate Listings
December 6, 2023
$1,198,000
Med. List Price
Purchasing a home in Glendale? Call The Brad Korb Real Estate Group, your local real estate team, at (818) 953-5300. Our real estate agents are here to help with the Glendale housing market.
Glendale Real Estate Search
The Glendale home listings on this page are updated several times per day with information from the Glendale, California MLS.
Each Glendale MLS listing includes: the property price, days on the market, square footage, year built, lot size, number of bedrooms and bathrooms, assigned schools, construction type, and other important details as entered by the listing agent.
Review local Glendale property tax information and the current listing status (active, under contract, or pending). As available, numerous property features such as greenbelt locations, views, swimming pools, and Glendale community amenities, including parks and golf courses, will be listed.
Glendale CA Real Estate Agents
Considering the purchase of a home in Glendale? Allow our Glendale, California real estate experts to help you navigate the purchase of or expertly negotiate the sale of your Glendale residence. As local real estate agents, we have up-to-date information on the Glendale, California real estate market's unique dynamics.
Contact The Brad Korb Real Estate Group to learn more about buyer and seller representation. Selling your Glendale property? Visit our market analysis page to receive a free home value estimate within minutes.
List of Homes Sold in Glendale - Last 30 Days
Glendale homes are highly sought after as the real estate market continues to grow. To assist your understanding of the local market dynamics, we provide tables of homes that were sold within the past 30 days inside the city of Glendale, which includes both previously owned and newly constructed homes. This list displays new results at least once per day.
Recently Sold Homes in Glendale
117 Properties
Address
Beds
Baths
Sq.Ft.
Price(%Chng)
$/Sq.Ft.
On Site
1137 N Maryland Ave #3
Glendale, CA 91207
3
3
1,440
$849,000
$589.58
1 day
811 E. Maple
Glendale, CA 91205
3
2
1,262
$699,000
$553.88
1 day
1286 Boynton St
Glendale, CA 91205
4
2
2,220
$1,499,000
$675.23
2 days
805 E Chestnut St #5
Glendale, CA 91205
2
3
1,438
$749,900
$521.49
3 days
620 N Kenwood St #103
Glendale, CA 91206
2
2
1,141
$599,000
$524.98
4 days
1117 E Windsor Rd
Glendale, CA 91205
3
2
1,115
$989,000
$887.00
4 days
2755 Valle Vista Dr
Glendale, CA 91206
4
3
2,754
$2,225,000
$807.92
6 days
805 Luton Dr
Glendale, CA 91206
3
2
1,746
$999,999
$572.74
6 days
510 N Maryland Ave #204
Glendale, CA 91206
1
1
763
$445,000

-6.3%

$583.22
6 days
1400 Sunshine Dr
Glendale, CA 91208
3
2
2,055
$1,795,000
$873.48
6 days
1330 Columbia Dr
Glendale, CA 91205
2
1
918
$999,000
$1,088.24
6 days
2018 W Kenneth Rd
Glendale, CA 91201
3
2
1,752
$1,299,000
$741.44
7 days
740 W Kenneth Rd
Glendale, CA 91202
4
5
2,922
$2,299,000
$786.79
7 days
1401 N Central Ave #19
Glendale, CA 91202
2
2
1,079
$599,000
$555.14
8 days
606 N Howard St #E
Glendale, CA 91206
2
3
1,352
$675,000
$499.26
8 days
310 N Jackson St #204
Glendale, CA 91206
2
2
945
$499,000
$528.04
8 days
834 Moorside Dr
Glendale, CA 91207
4
3
3,810
$2,800,000
$734.91
8 days
1009 N Howard St
Glendale, CA 91207
3
2
1,550
$1,098,000
$708.39
8 days
519 Caruso Ave
Glendale, CA 91210
2
3
1,710
$2,000,000
$1,169.59
8 days
350 Burchett St #220
Glendale, CA 91203
2
3
1,053
$699,000
$663.82
8 days
1134 N Everett St
Glendale, CA 91207
4
3
2,289
$1,899,000
$829.62
8 days
3357 Prospect Ave
Glendale, CA 91214
3
1
1,125
$949,949
$844.40
8 days
941 Calle Simpatico
Glendale, CA 91208
4
3
2,618
$1,685,000
$643.62
8 days
3345 Country Club Dr
Glendale, CA 91208
2
2
2,507
$1,699,000
$677.70
8 days
4321 Pennsylvania Ave
Glendale, CA 91214
3
2
1,650
$1,175,000
$712.12
8 days
2330 E Glenoaks Blvd
Glendale, CA 91206
2
1
854
$859,000
$1,005.85
8 days
681 Glen Ave
Glendale, CA 91206
3
4
2,669
$2,149,000
$805.17
8 days
1014 W Mountain St
Glendale, CA 91202
3
3
2,773
$1,500,000
$540.93
14 days
525 W Wilson Ave
Glendale, CA 91203
5
4
2,244
$1,699,000
$757.13
14 days
251 W Dryden St #5
Glendale, CA 91202
2
2
917
$578,500
$630.86
14 days
310 N Jackson St #126
Glendale, CA 91206
--
1
529
$429,000
$810.96
16 days
3629 Sierra Vista Ave
Glendale, CA 91208
5
3
2,224
$1,776,500
$798.79
20 days
2020 Oak Valley Rd
Glendale, CA 91208
3
2
1,827
$1,385,000

-1.1%

$758.07
20 days
3110 Peters Circle
Glendale, CA 91208
3
4
2,526
$1,699,000
$672.60
20 days
1021 Calle Sonrisa
Glendale, CA 91208
3
3
2,479
$1,650,000
$665.59
21 days
710 W Milford St
Glendale, CA 91203
2
1
1,014
$1,250,000
$1,232.74
22 days
714 W Milford St
Glendale, CA 91203
3
2
1,410
$1,250,000
$886.52
22 days
1142 Campbell St #308
Glendale, CA 91207
1
2
995
$595,000
$597.99
23 days
3700 Santa Carlotta St
Glendale, CA 91214
4
3
2,328
$1,620,000

-9%

$695.88
27 days
2605 Hollister Terrace
Glendale, CA 91206
3
2
1,462
$1,485,000
$1,015.73
28 days
421 Piedmont Ave
Glendale, CA 91206
3
1
1,040
$1,581,000
$1,520.19
28 days
1125 E Maple St #14
Glendale, CA 91205
2
2
1,170
$689,000
$588.89
28 days
222 Monterey Rd #404
Glendale, CA 91206
2
2
1,640
$1,200,000
$731.71
29 days
220 Sleepy Hollow Terrace
Glendale, CA 91206
3
2
1,828
$1,399,000
$765.32
30 days
1235 Vista Superba St
Glendale, CA 91205
3
4
3,863
$1,899,000
$491.59
30 days
500 Jackson Place #220
Glendale, CA 91206
2
2
1,021
$605,000
$592.56
30 days
1006 E Lomita Ave
Glendale, CA 91205
3
3
1,696
$1,399,000

-24.3%

$824.88
30 days
517 W Wilson Ave
Glendale, CA 91203
3
2
1,341
$1,200,000
$894.85
31 days
3629 3rd Ave
Glendale, CA 91214
3
3
1,716
$975,000
$568.18
34 days
327 Vine St
Glendale, CA 91204
3
2
1,854
$1,199,000
$646.71
35 days