5 Reasons Los Angeles Cyclists Love the Cypress Park Neighborhood
Posted by Courtney Korb on Wednesday, December 28, 2022 at 11:42:48 AM
By Courtney Korb / December 28, 2022
Comment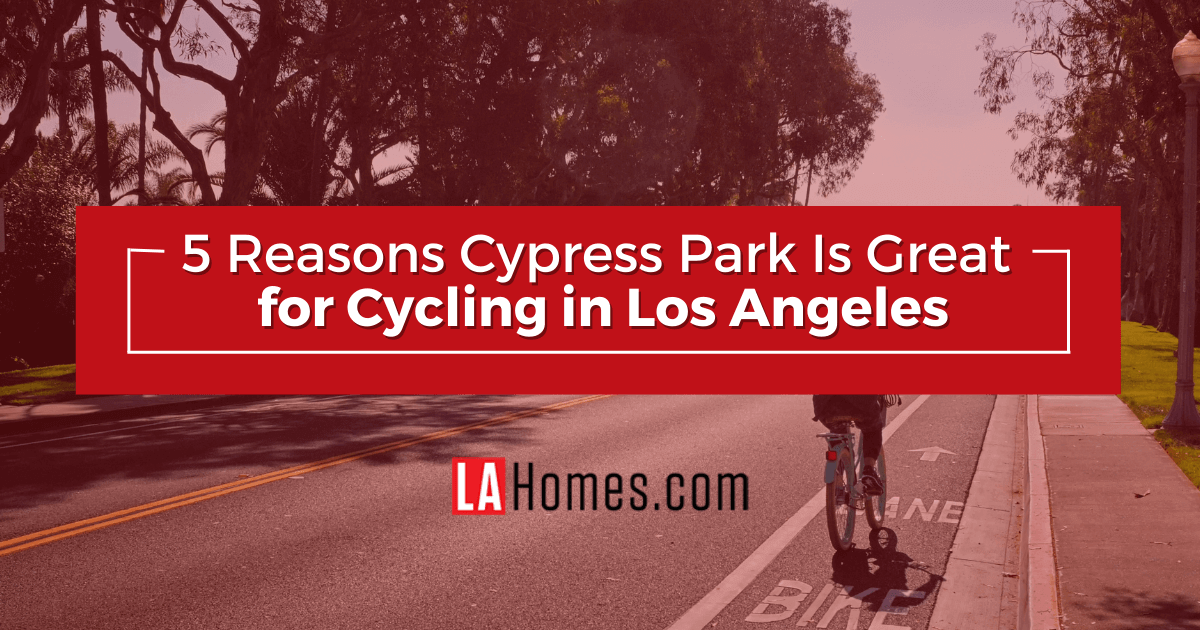 The Cypress Park community is one of the hottest real estate markets in the city of Los Angeles. The neighborhood sits in a valley at the conjunction of the Arroyo Seco and the Los Angeles Rivers, surrounded by mountains. Not only is the landscape surrounding Cypress Park beautiful, but being just 2.5 miles from downtown LA, it also has a convenient location.
Despite being so close to downtown, Cypress Park is a fairly tranquil neighborhood well-suited for cyclists. New bike lanes, investments in bike-friendly infrastructure, and a fantastic location in the Los Angeles metro area make Cypress Park a perfect place for cyclists to call home.
Bike Lanes Abound
The vehicle traffic in Los Angeles is almost always heavy, and many areas aren't suited for cyclists to ride safely. Fortunately, Cypress Park added several bike lanes to its roadways in early 2022. These new bike lanes connect North Figueroa with some of the existing bike lanes in the neighborhood on Cypress Avenue and Avenue 28. These lanes allow cyclists to ride almost the entire way from Cypress Park to the Arroyo Seco bike path or the LA River bike path. Commuters can also use these new bike lanes to get to the Heritage Square and the Cypress L Gold Line stations.
Cypress Park's new bike lanes also come with narrower car travel lanes, which helps control traffic speed on busy North Figueroa. The lanes got plenty of use in their first year, which looks like a good sign that even more bike lanes will be added in Cypress Park.
Taylor Yard Bridge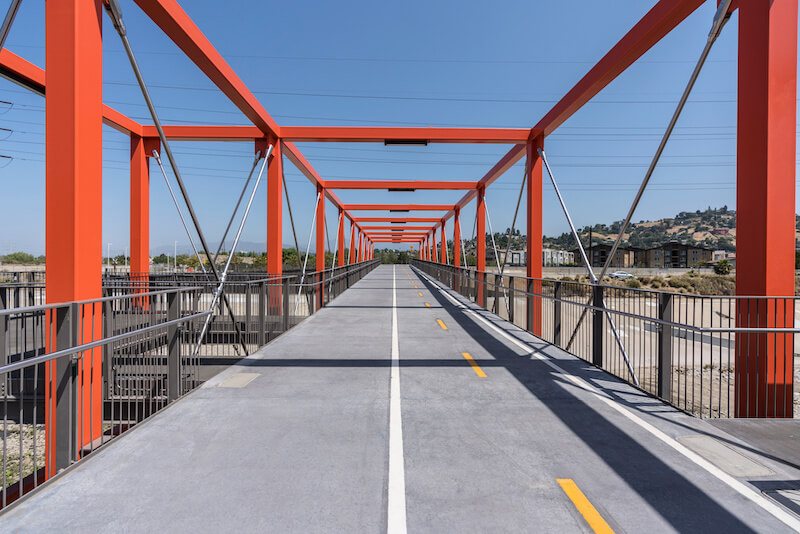 The new bike lanes weren't the only biker-friendly addition Cypress Park received in 2022. A very exciting addition is the new Taylor Yard pedestrian and bicycle bridge that spans the Los Angeles River, providing a safe crossing between the Elysian Valley community and Cypress Park.
Taylor Yard Bridge has a modern design with several elements that make it an interesting place to ride. There are two viewing platforms in the middle of the 400-foot-long bridge, where visitors can take a break and enjoy the views of the river below. Native and locally sourced drought-resistant plants, including various cacti, line the sides of the bridge in modern concrete planters.
The bridge makes it a breeze to go from Cypress Park to the 7.5-mile Los Angeles River Bike Path without the need to ride down busy streets. As riders come across the bridge from Cypress Park, they'll exit the bridge and immediately be on the River Path. This is excellent for cyclists, but even more importantly, it shows Cypress Park is committed to building more bike-friendly infrastructure in the future. Making such a significant community investment means keeping bikers and walkers safe is a priority in Cypress Park.
Slow Streets
The Los Angeles Department of Transportation (LADOT) started the Slow Streets Program, initially intended to be temporary. This program allows vehicle traffic to be restricted on streets in residential areas in 30 different LA neighborhoods, with the idea being to give pedestrians and cyclists more space to enjoy the outdoors. While it started as a temporary program, the LADOT and the city are working to transition Slow Streets into a permanent program for certain parts of LA—including Cypress Park.
Cypress Park was part of the original pilot program and is now permanently converting some of its neighborhood streets to Slow Streets. The move is fantastic for pedestrians, cyclists, and neighborhood residents overall. Reducing traffic and creating a safer environment for pedestrians and bikers will only make Cypress Park an even better place to enjoy the outdoors, whether on two wheels or on foot.
Between the increased bike lanes and Cypress Park's Slow Streets, there is no shortage of places to ride in the neighborhood. Whether for recreation or commuting, Cypress Park is one of the best places for bicycling in Los Angeles.
Cycling Services & Amenities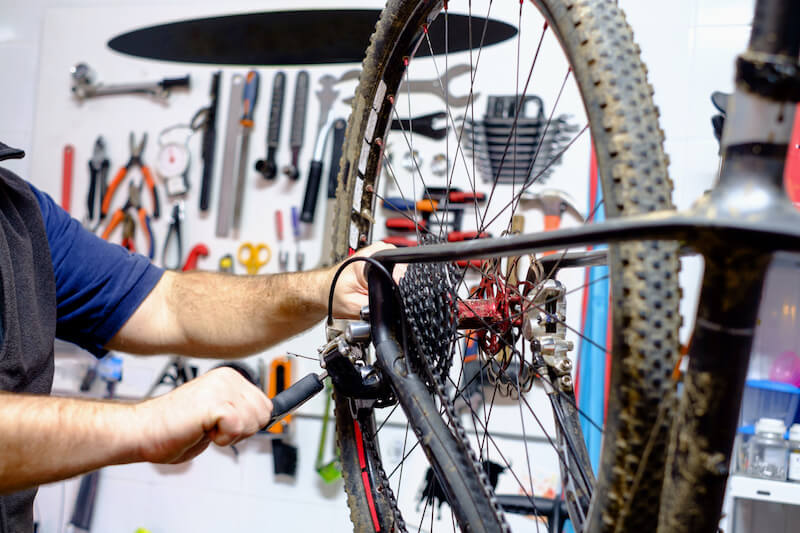 After crossing the Taylor Yard Bridge and pedaling down the River Path just a short distance, cyclists will find a handful of unique local places that serve the cycling community in this part of Los Angeles.
The Bike Oven is a volunteer-run bike workshop where you can learn to work on your bike with the help of locals willing to show you tips and tricks. They refer to themselves as an "education hub" where the community can help each other. For a small fee, you can work on or even build your bike, use the available tools, and hopefully, eventually return the favor by helping others once you learn the ropes.
Spoke Bicycle Cafe is another gem of the community near Cypress Park. Located right on the LA River Bike Path, the cafe offers coffee, food, and other drinks, plus a bike shop with rentals, sales, and service. It's owned by bicyclists who want to encourage more bikeable areas and provide a place for the community to come together, even if it's just for a quick coffee. Their outside space often has live music and other events, so it's a perfect stop along the River Path to grab coffee or a snack and enjoy a nice afternoon.
In The Heart of Los Angeles
LA is not traditionally what most think of when they envision a bikeable city. That said, the winds of change are coming. As the world sees an increase in people making an effort to live more eco-friendly lifestyles, along with higher gas prices and miles-long traffic jams, many are turning to bikes—and LA is no exception.
Neighborhoods like Cypress Park are leading the charge to bring more bike-friendly infrastructure to Los Angeles. Adding infrastructure like the Taylor Yard Bridge and new bike lanes make the neighborhood and the rest of the city much more accessible to the homes in Cypress Park.
The two-wheeled fun doesn't stop in Cypress Park, though—there are several iconic bike rides around Los Angeles. Some of the best include:
LA River Bike Path
Ballona Creek Bike Path
Arroyo Seco Rose Bowl Loop
Griffith Park
A Perfect Neighborhood For Cyclists
With plenty of spots to ride, a rapidly growing cyclist infrastructure, and a vibrant, thriving bike culture, Cypress Park has everything you need to get the pedals cranking on your daily ride through the neighborhood and the rest of Los Angeles. There's no shortage of trails to ride and things to explore for recreational cyclists, and bike commuters have plenty of convenient access to different parts of LA through the network of bike lanes and paths. And remember, as great as things are now regarding bicycling in Los Angeles, there are solid plans to continue improving the infrastructure in the coming years!