Steps to Building a Pool: What You Need to Know When Building Your Own Pool
Posted by Courtney Korb on Wednesday, August 10, 2022 at 8:47 AM
By Courtney Korb / August 10, 2022
Comment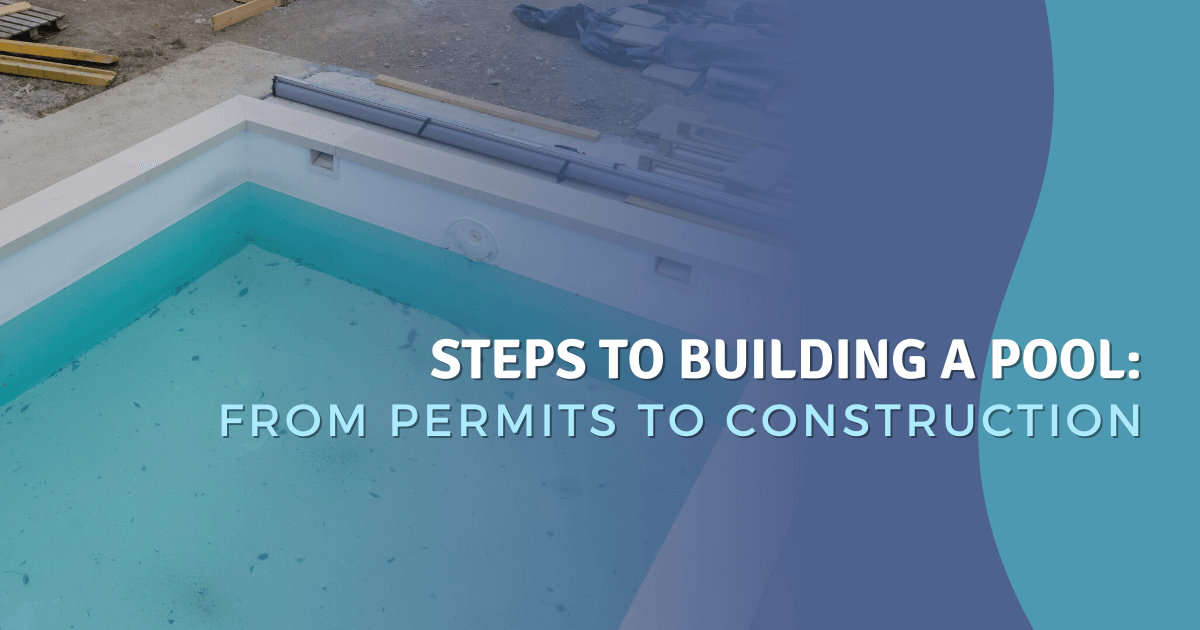 A backyard pool can be an excellent asset for any home. Not only does it provide a place to cool off and escape the summer heat, but a pool can also increase a property's value. However, before you jump in and buy a pool, you should know a few things about this project. Creating the swimming pool home of your dreams can be a breeze when you learn the essentials first.
Can You Build a Pool? Ask Your Neighborhood, City & State First
Building a swimming pool in your backyard isn't as simple as digging a hole and filling it with water. Your neighborhood association, local government, and statewide regulations are likely to impose design standards limiting your pool's size, placement, and surroundings. It might seem like a lot of legwork, but these stipulations help protect your property and investment.
City & State Pool Construction Permits
Before you break ground on your brand-new pool, you'll need to obtain the proper pool construction permits from your state and city. Depending on where you live, this might be as simple as contacting your local building department or city hall. However, you may need to go through your state's licensing board in other locations.
Generally, city building permits for swimming pool installation on private property are less stringent. In the city of Los Angeles, for example, building permits are only required if the pool has a surface area greater than 250 square feet.
To put that in perspective, a 250-square-foot pool could be 15.8 feet long on each side if it were a perfect square. Furthermore, a circle-shaped pool in Los Angeles County could have a diameter of up to 17.8 feet. While 250 square feet isn't enough space for lap swimming, it offers plenty of room for laid-back fun in the backyard.
Los Angeles residents building a pool larger than that will have to submit their project details to the Los Angeles Department of Building and Safety. The most common pool permit in LA County is a Combination Swimming Pool Permit, which covers all construction and electrical, plumbing, and mechanical work associated with the pool.
Every U.S. state requires homeowners to receive a permit before building a backyard pool. These permits ensure compliance with the American National Standards Institute and the Association of Pool and Spa Professionals. Your contractors can work with you to submit the necessary applications before beginning work.
HOA Rules
In addition to the permits required by your city and state, you'll also need to adhere to any homeowner association (HOA) or covenant, conditions, and restrictions (CC&Rs) that might be in place.
Your HOA or CC&Rs are legally binding documents outlining the rules for maintaining your property. These rules exist to protect your and your neighbor's investments.
Utility Easements
Utility easements allow gas and electric companies to access lines and sources on your property, making them another obstacle to building a pool. Be sure that your construction won't interfere with existing easements.
Property Requirements
Most city and state regulations require a minimum lot size for swimming pools. In the state of Florida, for example, you'll need at least one acre of land to build a pool.
In addition to legal requirements, you should also consider the size and shape of your property before planning your pool. Swimming pools often take up more space than owners anticipate, so measure carefully before proceeding with your plans.
Have a Design in Mind Before You Start Building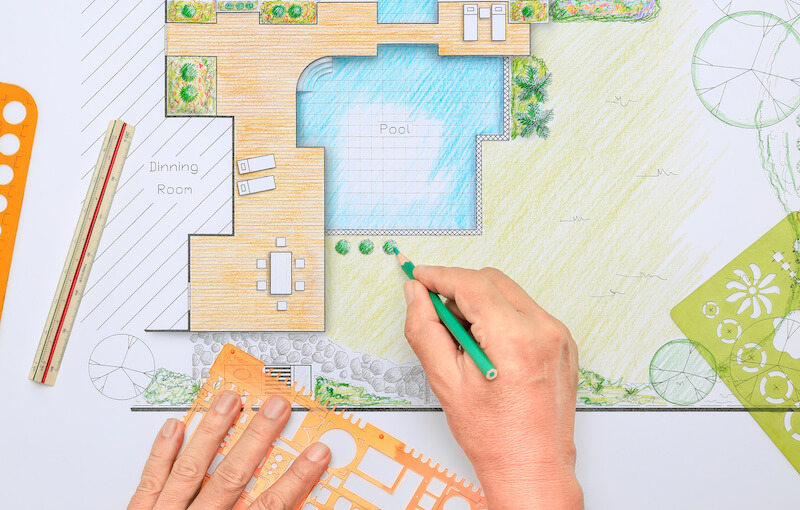 Once you've satisfied all the legal requirements for building a pool, you can start to focus on the fun stuff: design!
First, decide whether you want an inground or above-ground pool. Inground pools are permanently installed in your backyard, while above-ground pools are temporary and can be disassembled when no longer needed.
Beyond that, you can get more granular. Choosing the materials will impact the look and feel of your pool and the installation price.
There are three primary types of inground pool construction:
Concrete: Concrete pools are the most popular and versatile type. They can be customized to any size, shape, or depth, making them perfect for small backyards and large estates.
Vinyl: Vinyl pools are less expensive than concrete and require less maintenance. They're constructed from a pre-made mold, so they're not as customizable as concrete and are typically associated with above-ground designs.
Fiberglass: Fiberglass pools are the easiest to install and the least customizable. The fiberglass shell is pre-made and then lowered into a hole in your backyard.
Don't forget about luxury pool accessories, which can enhance the function and aesthetic of your pool. Take inspiration from condos with luxury pools and spas, and make your backyard oasis the ideal gathering spot, no matter the season.
Who Will Install the Pool?
Once you've decided on the perfect pool design, it's time to start looking for a contractor. Choosing who will install your pool is essential, as the wrong contractor could result in costly repairs down the line. Researching and planning ahead of time is crucial to ensuring a smooth experience when building a pool. By familiarizing yourself with the process and knowing what to look for, you can have an easier pool-building experience.
Pool Contractor or DIY?
One of the first decisions you'll need to make is whether to hire a professional contractor or take on the project yourself. If you're experienced in construction and have the time and resources to complete the project, then DIY might be right for you. However, most homeowners lack the necessary expertise and should leave it to the professionals.
What to Look For in a Pool Builder
There are many important things to look for when choosing a pool builder. Ask about their experience, licensing, and insurance. In California, all contractors must be licensed by the California Contractors State License Board.
Receiving multiple bids will help you compare pricing and find the best value for your money. It's also important to read reviews and get referrals from past clients to get a good idea of what it's like to work with the contractor and whether they'll meet your needs.
FAQs For Soon-to-Be Pool Owners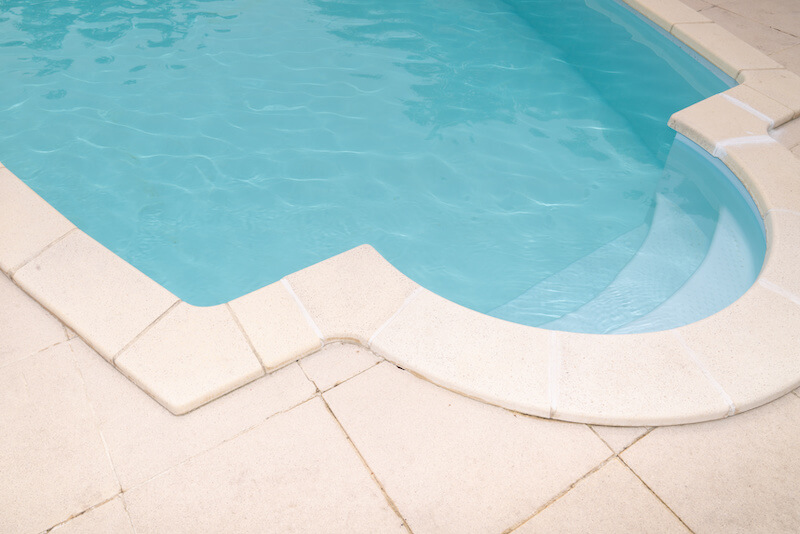 If you're considering building a pool on your property, you'll likely have many questions. Don't worry, you're not alone. Finding the answers to common questions about building a pool will help start on the right foot.
How Long Does it Take to Build a Pool?
The timeline for building a pool can vary depending on the type of pool, the contractor you choose, and the project's complexity. Generally, however, expect the process to take roughly 6–12 weeks.
How Much Does it Cost to Put in a Pool?
No two pools are alike, so no two pools cost the same. A few financial factors include the type of pool you choose, the contractor you work with, and the project's complexity. Most inground pools cost between $25,000 and $60,000. Remember, many ongoing costs are also associated with owning a pool.
How Are Property Taxes & Home Insurance Affected?
Adding a pool to your property can have an impact on both your home insurance and property taxes. In most cases, insurance rates increase because pools are considered high-risk features. As for property taxes, the value of your home will increase, which could lead to a higher tax bill. That said, the property value boost will likely cover these expenses when it's time to sell your home with a pool.
Do Your Homework Before Diving In
Building a swimming pool is a major project that requires plenty of preparation. By researching and understanding the required permits, you can minimize surprises and delays in getting your pool built. Having a clear design in mind will also help avoid costly mistakes during construction. Remember to select a qualified contractor to ensure your swimming pool is installed correctly and safely. With these tips in mind, you're ready to take on the challenge of building your backyard swimming pool!