15 Fun Things To Do In & Around Valley Glen CA
Posted by Courtney Korb on Monday, March 28, 2022 at 5:30 AM
By Courtney Korb / March 28, 2022
Comment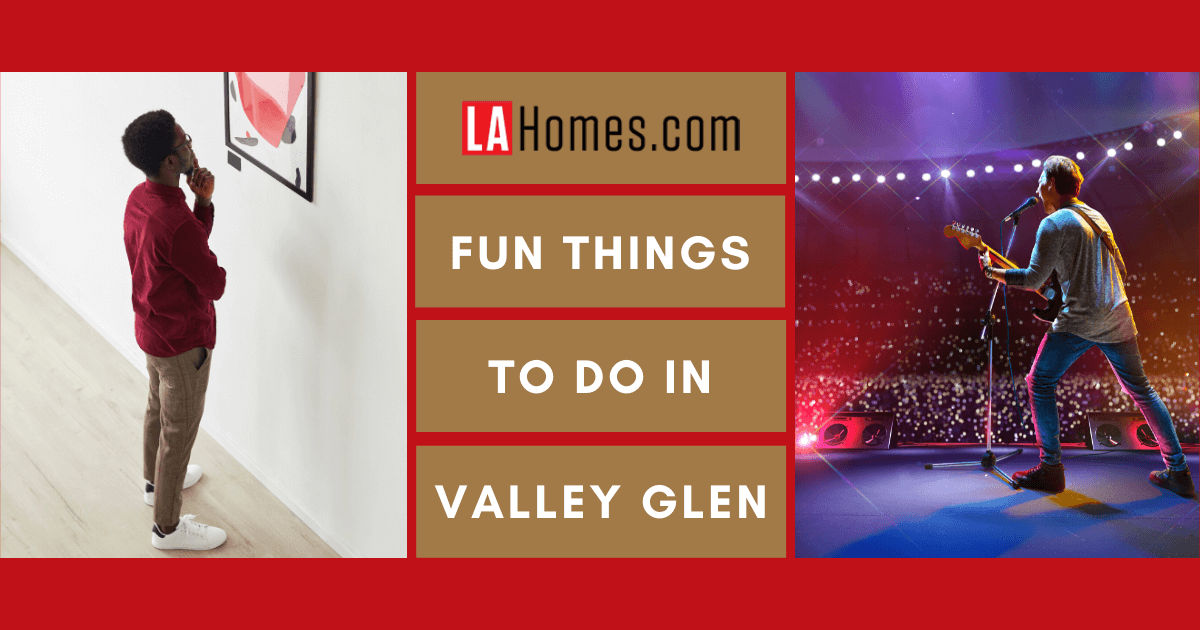 Valley Glen is a community located in the San Fernando Valley, in the heart of Los Angeles. It's a community noted for its numerous activities, beautiful architecture, and incredible weather. For those looking for things to do in the Valley Glen community, perhaps to explore the area before buying one of the luxury homes or townhomes here, the good news is there's much to see and do. The area is large and close to many of the amenities in the city of Los Angeles, as well. Keep reading to take a closer look at some of the neighborhood's most sought-after attractions, parks, and other fun things to do.
Outdoor Activities in Valley Glen
Being in the Los Angeles area, the weather in Valley Glen is superior most of the year. That provides the perfect opportunity to get outside and explore the area's parks and local amenities. There are always people outdoors here, whether they are walking their pet or exploring one of the hiking trails.
Parks
Parks Near Valley Glen
Valley Glen Community Park
Valley Village Park
Laurel Grove Park
Strathern Park
Valley Glen residents have the ability to explore numerous parks within the city. The Valley Glen Community Park is one of the best, located at the corner of Erwin and Ethel. It has a walking path, some picnic tables, and a baseball diamond used by local sports programs. Sepulveda Basin Recreation Area is another fantastic location nearby, and it's also a sports park with a baseball diamond and a soccer field.
Many also visit Van Nuys Sherman Oaks Recreation Center. It's packed full of sports and fitness programs, and there's a large sports facility here with everything from volleyball to basketball. This park is also home to a playground and several cultural programs for kids ages three and up. Valley Plaza Recreation Center also offers several sports and fitness programs, a community room, a fitness area, and sports courts.
Water Recreation
Water Activities Near Valley Glen
Local park splash pads
Hansen Dam Aquatic Center
Splash Zone
Water fun is always a good time when the temperatures rise. The Los Angeles Valley College amenities may be available. It has an onsite swimming pool with lessons. For those who want a bit more to do in the water, a trip to North Hollywood may be helpful. The Hansen Dam Aquatic Center is located in this area and offers a lot of fun with some education mixed in. Splash Zone may also be a good option for those who have children who want to get wet. There are also splash pads throughout the city that provide an easy way to cool down.
Hiking & Biking Trails
Trails Near Valley Glen
Tujunga Greenbelt
Deervale-Stone Canyon Park Trail
Crisp Canyon Road Trail
Olive Terrace Walking Trail
Getting out and exploring the outdoors is easy to do in this area of Los Angeles. One option is to visit the Deervale-Stone Canyon Park. With dirt trails and paved areas, this is a fun exploration into all that the local outdoors offers – hot, beautiful habitats and stunning natural settings. The trail in this area is 1.8 miles, back and forth.
Exploring all that Valley Glen has to offer outdoors doesn't have to be a challenge. Many of the local neighborhoods have small playgrounds. There are also many walkable streets with sidewalks that encourage plenty of outdoor play. Of course, it's a short drive to all of Los Angeles' other parks and amenities, too.
Valley Glen Shopping
Malls Near Valley Glen
Valley Plaza
NOHO West
Laurel Canyon Oxnard Plaza
Sherman Way Square
In the heart of Los Angeles, there's ample shopping in and around the city. The main shopping area in the city is along Sherman Way. This main street runs through the city, connecting several restaurants and shops. Along this area, residents can find grocery stores, small artisan shops, and a few specialty shops, including Waadt Appliance.
For those looking for more of a shopping experience, a few other locations are nearby. That includes Westfield Fashion Square in Sherman Oaks, a large shopping center with big-box retailers. NOHOWest is also nearby in North Hollywood. This mixed-use lifestyle center is anchored by Macy's and has many other locations within it, including Trader Joe's and The Beautique. Panorama Mall is another option located in Panorama City. There is a Walmart here, along with Curacoa and other retailers. It's the ideal place to go when looking for one location that offers it all.
Valley Glen Restaurants
Restaurants in Valley Glen
California Fish Grill
Brick and Flour
Hungry Fox
El Taco Llama Restaurant
Krua Thai Restaurant
For those seeking a good meal, there are a few excellent options in the area. Kusaki is one of them; it offers traditional and modern Japanese cuisine. Johan's Kabob is another outstanding choice for fresh food made in the traditional style, and the atmosphere is warm and inviting. Sloane's Valley Village is another option for refined food and a high-end atmosphere.
Gorilla Pies may be a name that does not sound appetizing, but this Pittsburgh-style pizza place "with a California soul" offers some outstanding food options. The pies are truly artisan creations offering fresh ingredients. On the other hand, for those who are looking for something with a bit more of a Cuban flare, a visit to La Taverna Cubana is in order. The dishes are plentiful, and there are some outstanding spices here. Cuban food is fairly uncommon in this area, so it's a must-try when in the area.
Arts & Culture in Valley Glen
Enjoying the arts in Valley Glen can also be an important way to get to know this area and its people. Though Valley Glen is close to many of the large cultural experiences in Los Angeles, a few local experiences are truly unique. Here are some local experiences to have.
Museums and Art Galleries
Museums in Valley Glen
Valley Relics Museum
San Fernando Valley Historical Society
Gonzalez Fine Art
Gallery 800
The Los Angeles Valley College is an incredible location near the city that offers a wide range of programs for residents in the area. One of the things to consider taking in here is the LAVC Historical Museum. It was founded in 1975 and offers an outstanding look at the history of the San Fernando Valley. There are artifacts on display and ample historical data to look through to understand what life was like in this area for hundreds of years.
Another interesting opportunity here is the California Institute of Abnormalarts. It's a venue to visit for those who want to explore what is freaky and weird. The location calls itself the "ultimate FreakShow experience." In truth, it provides a comprehensive look at art, music, puppetry, magic, and independent film in the area.
For those seeking out art galleries in the area, there are a few in the neighborhood worth exploring. Bittan Fine Arts in North Hollywood may be the best place to start. It has an extensive line of fine art, and the inventory is always changing to bring in local and international artists. For those looking for art for their new luxury home or condo, this may be the place to do that. Other locations include Abelman Art Glass, with its stunning art glass expressions, and Wisdome, the region's largest immersive art and music dome park.
Dance & Theatre
Performing Arts Near Valley Glen
Horseshoe Theater
LAVC Mainstage Theater
Lankershim Arts Center
El Portal Theater
Exploring the area's culture means taking in a few dance and theatrical performances. Whitefire Theatre is a good, local place to do that. The productions here change often, but there is nearly always something to see and become captivated by in this area. Nearby in North Hollywood is The Sherry Theater, a performing arts center that often offers locally produced shows and productions.
For those looking to capture something a bit less locally inspired, there's a Cinemark in North Hollywood that shows all of the latest movies.
The arts and culture present in Valley Glen are out there. For those looking for other options, turn to area colleges and local community programs. Some recreation centers offer arts programs. Area colleges may put on performances here, too.
Valley Glen Nightlife
Bars & Clubs in Valley Glen
Mirabelle Wine Bar
Tonga Hut
Ireland 32
Skinny's Lounge
Club Cobra
Having some fun at night is easy to do in the Los Angeles area including in and near Valley Glen. One of the most recognized places to visit is Upstairs at The Federal. It's a premiere (and sometimes hard to get into) club that offers a wide range of music. There are often events here (some of which may close the location). Tucked into the NoHo Arts District, it is also easy to go from one bar to the next to check out what's happening.
Another trendy spot is Elevation Bar & Lounge. It is the ideal club for those looking for loud music, dancing, a DJ, and endless drinks. It's often considered one of the best party locations and is a popular option for people planning a celebration.
Explore All Valley Glen Has to Offer
There's no doubt that Valley Glen is a fun place to spend some time. When moving to Los Angeles, there are plenty of great neighborhood options, but Valley Glen is one of the best. For those considering making their move to live in this area, it helps to spend a few days exploring all that the city offers. From the food and people to the area's best amenities and its proximity to Los Angeles, this is the ideal place to live for many.