5 Kid-Friendly Things to Do in Shadow Hills, Los Angeles
Posted by Courtney Korb on Friday, November 19, 2021 at 11:52 AM
By Courtney Korb / November 19, 2021
Comment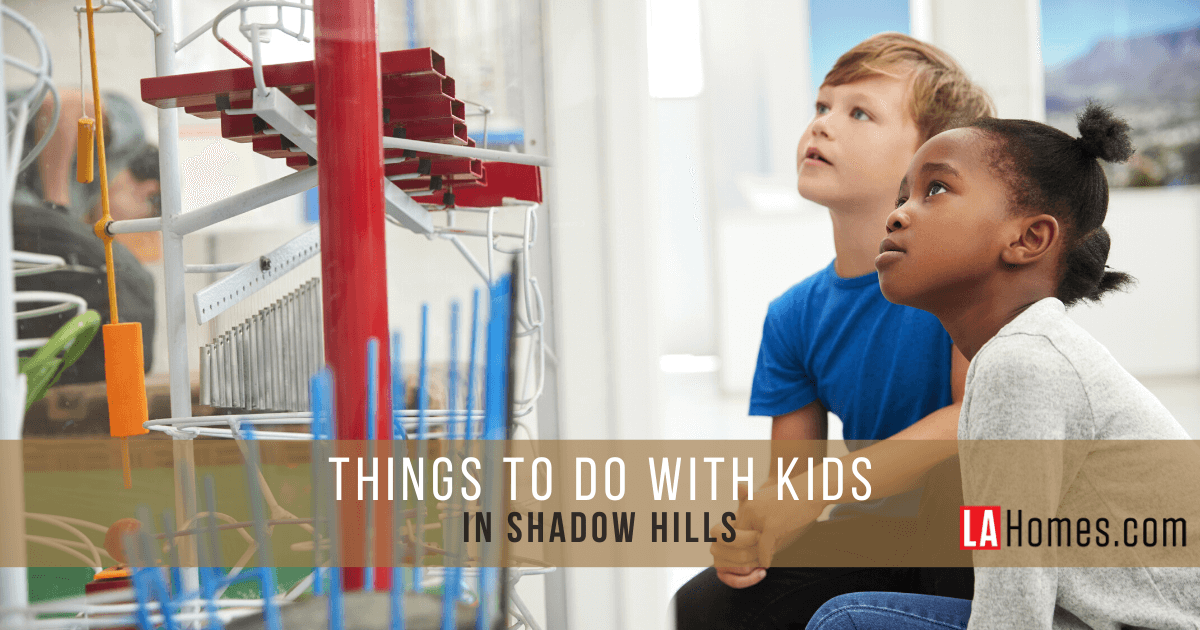 Finding things to do in Los Angeles is always exciting, but sometimes people are looking for kid-friendly entertainment close to home. Fortunately for folks who live in homes in Shadow Hills, there is an abundance of activities throughout the neighborhood that are perfect for kids and adults alike. A few highlights for kids in this semi-rural community include numerous horseback riding classes and the action-packed Hansen Dam Recreation Area. Ready to have some fun? Keep reading to learn all about the things to do with kids in the Shadow Hills neighborhood of Los Angeles.
Attend a Theatre Workshop
Theatre Workshop Offerings
Flights of Fantasy Story Theater
L.A. Troupe
Acting is an excellent skill for kids to learn at an early age. Whether they express a life-long interest in the skill or not, they'll always benefit from the valuable skills acquired in theater workshops. Los Angeles is known as the home of Hollywood, and it's no surprise a wide variety of theater workshops are available for both kids and adults.
Flights of Fantasy Story Theater and L.A. Troupe are great places for kids to start experimenting with acting. Theater programs at Flights of Fantasy Story Theater consist of a series of student and story theater performances tailored to kids' needs.
What's more, the performances are lined up throughout the year, so kids never miss out on things to do in the new town. The theater also has a parent's workshop to help them understand their role in their kid's education and make bedtime storytelling exciting.
On the same note, Flights of Fantasy Story Theater has a unique Early Literacy Readiness Project that caters to preschool and kindergarten developmental needs.
The program explores three elements:
Storytimes: They occur every week and may include songs, puppets, and fingerplays
Theater Performances: Kids are introduced to new literature through exciting stories and rhymes
Parents take the Lead Workshop: The objective of this program is to emphasize the need for parental involvement as the kid's first teacher. Parents learn how to use facial expressions and their voices when reading stories
Learn to Ride a Horse
Horseback Riding Options
Hansen Dam Riding School
Shadow Hills Equestrian Center
What better way to spend time with kids and enjoy nature than showing them how to ride a horse? Horseback riding is an excellent sport that trains kids to be self-confident, responsible, and compassionate towards people and other animals.
Beyond physical benefits, horseback riding improves a kids' balance, coordination, and strength. Studies also show that kids who engage in horseback riding have better cognitive abilities, enhancing memory and problem-solving skills. What's more, it's an excellent way for new homeowners to make new friends.
Luckily, the equestrian services in Shadow Hills make it one of the best places for horseback riding in Los Angeles. It has vast trails designated for horseback riding, and many residents own horses. There are schools too for kids to learn horseback riding from an early age.
Hansen Dam Riding School is one of the most popular as it structures lessons based on a child's progress. The lessons focus on various horseback riding styles, including Dressage, English, and Western riding. Additionally, Shadow Hills Equestrian Center offers a variety of classes for riders of skill levels.
Get Creative and Make Art
Art-Making Opportunities
Sun Valley Youth Art Center
McGroarty Arts Center
Art making is another fun activity kids enjoy. It promotes kids' creativity, builds their motor skills and problem-solving abilities. Kids' minds are pretty flexible, which is critical for their confidence and creativity.
Thankfully, Shadow Hills has art centers kids, teens, and young adults can visit to hone their art-making skills. One such place is the Sun Valley Youth Art Center, located at the heart of the Sun Valley neighborhood.
Sun Valley also has recreational centers with activities such as swimming, basketball, tennis, and football. Fernangeles Recreation Center, for example, has picnic tables and play areas for toddlers.
Another art center worth visiting is the McGroarty Arts Center. Located in the Sunland neighborhood, the center has been in operation for more than 30 years. It offers both in-person and virtual art classes.
Beyond the art centers, there's plenty to explore in the Sunland-Tujunga neighborhood. Residents participate in the town's Watermelon Carnival event, go for picnics, or play basketball on the lighted outdoor basketball courts at the recreation center. The neighborhood has plenty of elementary and middle schools, too.
Explore the Discovery Cube
Discovery Cube Amenities
Helicopter simulation tour
Numerous other exhibits, including traveling ones
Typically, Los Angeles boasts a range of educational museums tailored to kids' needs, and Discovery Cube Los Angeles is one of the most fascinating in town. Located just outside of the Hansen Dam Wildlife Preserve, this kids' museum is just a few minutes away from Shadow Hills.
Most of the exhibits are designed to be enjoyed by kids of all ages. The helicopter simulation tour is the most popular as it showcases distinct places across the Greater Los Angeles area. Kids enjoy two movies. The first explains how L.A.'s sewer systems work, and the other is an aerial tour of how L.A. gets water. The museum offers season events to ensure that there's always something new to explore. Prices range based on age, with admission starting at $13.95 for kids younger than 14. Memberships are also available for purchase, providing free admission throughout the year and access to special events.
Gaming at the Arcave Room
Arcave Room Amenities
Modern and retro games
80s/90s ambiance
Gaming is another great pastime for kids. Not only does it improve their problem-solving skills, but it also enhances creativity, imaginative play, and reading skills. Having a designated area for kids to meet and play video games is a great bonus for both kids and parents.
Arcave Room is one such place in Shadow Hills. It boasts a vast space for kids to play modern and retro games, and the ambiance takes gamers back to the 80s and 90s gaming world.
The gaming center is just a 16-minute drive from Shadow Hills, so people looking to entertain kids on a rainy day are in luck. The gaming center is located in the northern part of the Glendale neighborhood. For private events, the Arcave Room offers packages that allow for free play for up to two hours.
Enjoy Urban Life in Shadow Hills, Los Angeles
As part of the San Fernando Valley, Shadow Hills has excellent access to all of the things to do in Burbank. That said, the neighborhood holds its own as a great place for kids to find fun things to do. From exploring the great outdoors on horseback to setting high scores at the arcade, there's always something neat for children to enjoy. Even more, Shadow Hills provides a peaceful suburban lifestyle away from the hustle and bustle of busy towns while giving all the pleasantries of urban life.