Porter Ranch for Kids: 5 Kid-Friendly Activities in the Porter Ranch Neighborhood
Posted by Courtney Korb on Wednesday, January 19, 2022 at 8:17 AM
By Courtney Korb / January 19, 2022
Comment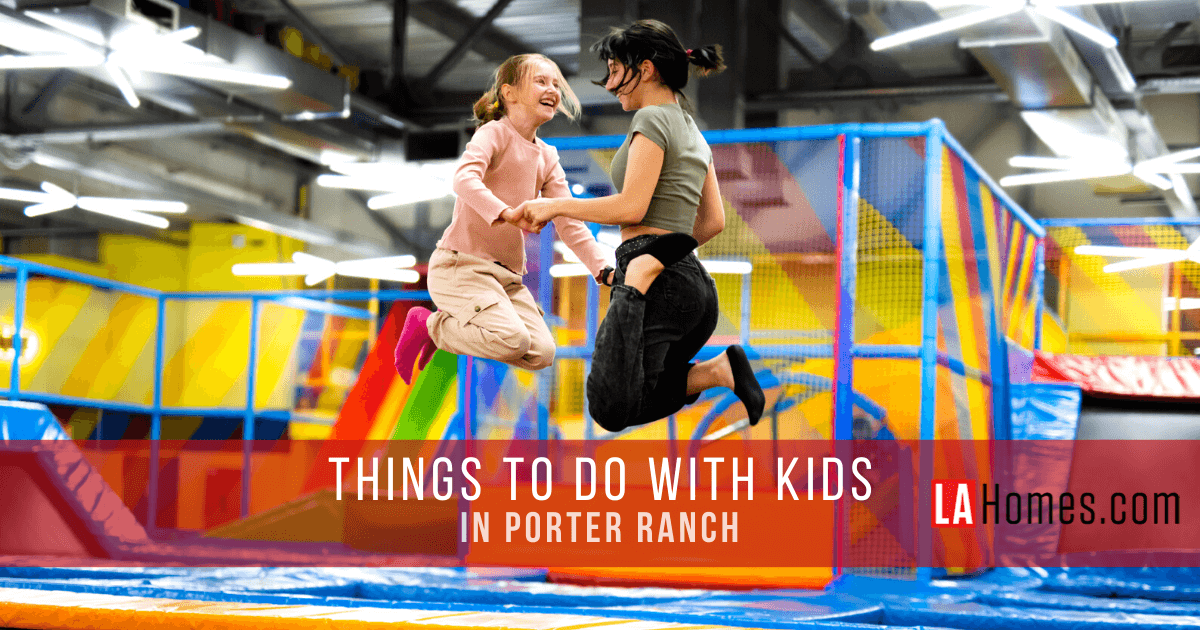 Porter Ranch, Los Angeles, is a community filled with locals and visitors who often seek out kid-friendly activities around the community. When residents are ready to get out and about, plenty of things to do with youngsters are possible. Read on to discover some of the best activities that kids' parents, guardians, and caretakers consider the best attractions for kids in the Porter Ranch community.
Catch a Movie at AMC Porter Ranch 9
AMC Porter Ranch 9 Amenities
Games
Snack bar
RealD & 3D
IMAX Dolby Cinema
Rocking recliners
The brand new AMC Theatre Porter Ranch 9 is conveniently located nearby many homes, making it easy for kids and adults to bike or walk in to catch a movie. However, there is plenty of free parking and street-metered parking nearby. Tickets can be bought at the window, online, or via a mobile app, and visitors can wait for their show in the outdoor area or within the theater's arcade center.
There are many amenities that kids and adults can enjoy together, such as games, food at the snack bar via mobile ordering, RealD and 3D screens, and an IMAX Dolby Cinema. Come and take advantage of the signature rocking recliners, some of which have heating options. Every day before 4 p.m., all guests can get 30% off evening ticket prices to enjoy matinee shows.
AMC Porter Ranch 9 Additional Information
Address: 20059 Rinaldi Street, Porter Ranch, CA
Phone: 747-202-6373
Explore Porter Ranch Parks
Porter Ranch Parks
Holleigh Bernson Memorial Park
Porter Ridge Park
Park near Vineyards at Porter Ranch
Several lovely parks and recreation areas are within walking distance of most gated home communities around Porter Ranch for biking, running, hiking, and equestrian endeavors—a true luxury in the city of LA. One of the most popular places for those with younger ones in tow includes the 14-acre Holleigh Bernson Memorial Park. Visitors will find playgrounds, game fields, and several walking paths, and picnic tables within this open space.
Porter Ridge Park is at Reseda Boulevard and Sesnon Boulevard in the Northridge community and is a nice, quiet park with a fantastic children's play space, basketball courts, and picnic tables alongside outdoor grills. This park is an excellent respite for daytime outings that lets everyone soak in some fresh air while expending a bit of energy.
Around the community of Vineyards at Porter Ranch, there is a newly opened 50-acre city park that includes 10 acres of space dedicated to outdoor concerts, picnic areas, playgrounds, a splash park, sports courts, and other gathering spots. The remaining space contains walking paths and hiking trails connecting to the Limekiln Canyon Park system.
Play at Porter Valley Country Club
Porter Valley Country Club Amenities
Crush It! Youth Program
Tennis and pickleball
Fitness center
Pools
Bocce ball
Restaurant
One does not need to own a Porter Ranch golf course home to tee off with youngsters. There are a lot of benefits for those who get a membership at the Porter Valley Country Club, and several amenities are designed for kids and teens.
Youth members can participate in the Crush It! Program for junior golfers. This is a fun and effective way for teens and kids to gain new golfing skills while gaining a stronger concept of sportsmanship and camaraderie that those in the golfing world share.
In addition to tennis and pickleball courts, the Porter Valley Country Club has other kid-friendly areas, such as a fitness center, swimming pools, outdoor patios with bocce ball zones, and a brand new restaurant. Except for food and beverage purchases, all amenities are included with one of the many membership levels the club offers.
Porter Valley Country Club is one of the community's finest private country clubs and offers 18 holes of golf with four sets of back tees suitable for all levels of play. Members have full access to practice facilities, including a driving range, lighted practice greens, bunkers, and teaching bays for lessons.
Porter Valley Country Club Additional Information
Address: 19216 Singing Hills Drive, Northridge, CA 91326
Phone: 818-360-1071
Bounce at SkyZone Trampoline Park
SkyZone Trampoline Park Amenities
Little Leapers zone
Toddler Zone
SkySlam Air Court
Freestyle Jump and Free Climb
Challenge Zone
Parkour Blox
Ninja Warrior Course
There is no denying that children ranging in age from toddlers to teens typically have a good bit of energy to expend, and a day at the SkyZone Trampoline Park in the nearby Van Nuys community is a perfect place to let them bounce it out. By far, this is one of the top places for kid's birthday parties, and their private packages even have a full-service party host, supplies, invites, and access to the installations in the park.
One zone in the park is Little Leapers, a high-energy play adventure where parents and wee ones can jump, explore, and climb together. The Toddler Zone is for those between four and seven years old and has similar features to the Little Leaper zone. Those seeking a bit of competition might enjoy a game of trampoline dodgeball or hitting up the SkySlam Air Court for a game of bouncing basketball.
Kids of all ages are welcomed in the Freestyle Jump and Free Climb room, where bouncing walls along with climbing ropes and pegs pose thrilling challenges. Not enough action there? Head to the Challenge Zone, the Parkour Blox, or become an aerial artist on silk ropes and spin in midair. However, the highlight of Sky Zone is the full-size Ninja Warrior Course, where kids can test their strength, speed, and agility just like the youths on the live television show.
SkyZone Trampoline Park Additional Information
Address: 7741 Hayvenhurst Avenue, Van Nuys, CA
Phone: 818-280-4970
Hours: Daily 10 a.m. – 8 p.m.
See a Show at The Soraya
The Soraya Amenities
Live performances
Arts Education program
Kids seeking to embrace their artistic side will enjoy classes or shows at the Younes and Soraya Nazarian Center for the Performing Arts. The Soraya is an award-winning, 1,700-seat theatre that is a gem in the LA region. Locals can watch various shows and multidisciplinary performances, including dance, theater, music, and various international events. The majority of the live events here are family-friendly, and there is no denying that shows at The Soraya influence a new generation of artists every year.
Parents and guardians can enroll youths in the Arts Education program designed to engage and educate K-12 students of the San Fernando Valley. From beginner courses to their student matinee and master's class series, the Soraya provides students with a unique opportunity to experience the various performing arts disciplines in state-of-the-art venues of cultures from around the world.
The Soraya Additional Information
Address: California State University, 18111 Nordhoff Street, Northridge, CA
Phone: 818-677-8800
Kids Thrive in Porter Ranch, Los Angeles
If you have kids, keep their minds and bodies engaged with the variety of attractions, events, and activities that abound around the Porter Ranch community. There are plenty of things to do, places to go, and things to see in this growing suburban environment that lets youths achieve their dreams and goals!