Kids' Choice: 5 Burbank Activities That Kids Will Love
Posted by Courtney Korb on Tuesday, January 11, 2022 at 6:30 AM
By Courtney Korb / January 11, 2022
Comment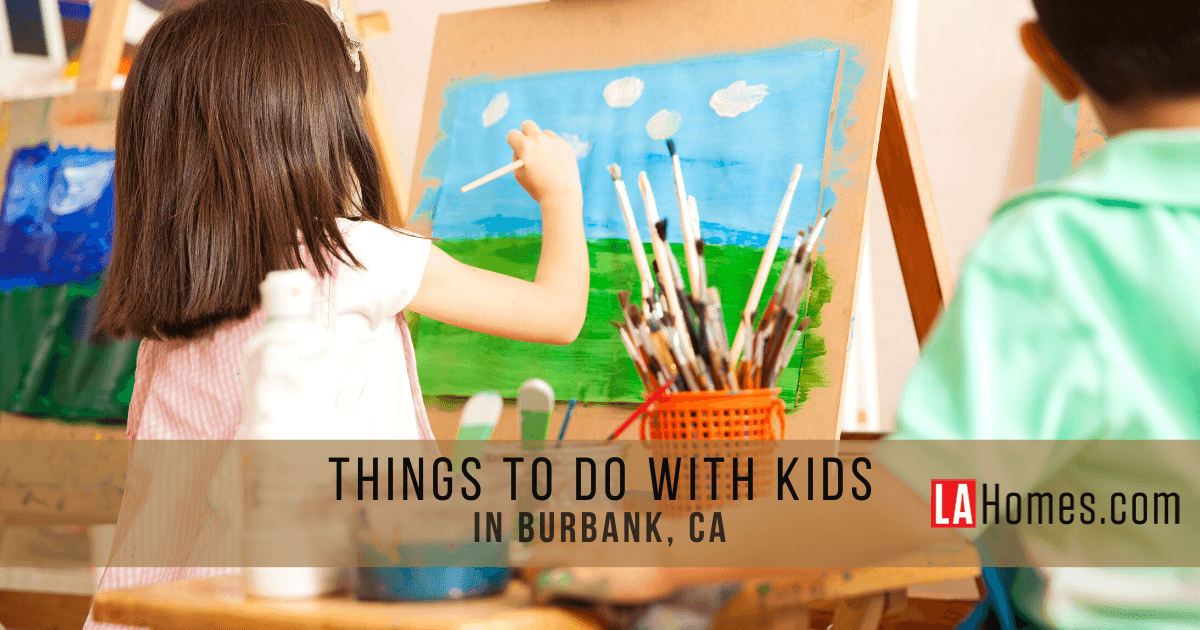 It is not unusual to think of iconic television shows and movies when Burbank, California, is mentioned. This suburb to the north of Los Angeles has been a part of movie and television history for as long as movies and TV shows have been around. It is the birthplace of Hollywood directors like Ron Howard, Tim Burton, and Sean Penn.
But Burbank has much more going for it than "just the movies." It's a charming suburban community that truly feels different from any other city in Los Angeles County. Keep reading to learn about the surprising number of fun activities to do with kids in Burbank.
See the Horses at the Los Angeles Equestrian Center
Los Angeles Equestrian Center Amenities
75 acres
Riding lessons
Equestrian shows and events
Rodeos
Most of the buildings and the grounds at the Los Angeles Equestrian Center will look familiar to movie and TV fans. The 75-acre equestrian center is a frequent shooting location for the movie studios. But the real draw at the center that most children will enjoy is the horses.
The Equestrian Center is where thousands of children from Burbank and the San Fernando Valley take their first horseback ride. The center has highly well-trained and gentle horses for those who want to sign up for riding lessons. The first lesson for a child costs $65.
Those who don't want to ride can watch one of the regular English riding equestrian shows at the center. The Equidome seats 3,500 people and provides an indoor venue for horse shows. There are also outdoor arenas that host rodeos and other equestrian events.
Take a Warner Bros. Studio Tour
Warner Bros. Studio Tour Amenities
Three hours
Displays of props
Numerous exhibits and sets
The iconic water tower with the "WB" logo can be seen from almost anywhere in the southern part of Burbank. That's the location of the Warner Brothers studio lot. The Warner Bros. studio is an iconic part of Burbank, whose address is on Warner Avenue. Studio tours are a three-hour experience that is like stepping directly into many of the greatest films and TV shows of the past century. Tickets for these tours are $59 for kids aged five to 10 and $69 for anyone 11 or older.
For the guided portion of the tour, visitors hop on an oversized golf cart with a friendly tour guide for an hour. They also get to spend two unguided hours at the studio in public areas. Younger kids enjoy displays like the "real" Batmobile and other superhero exhibits. They also like showing off their own magic skills on the Harry Potter and Fantastic Beasts part of the tour.
There are too many movie and TV show sets to mention, but a Warner Bros. Studio Tour allows visitors to see many of them. Don't forget to snap a photo with the kids in front of the Bugs Bunny and Wile E. Coyote statues at the start of the tour!
Express Creativity with an Art Class
Betsy Lueke Creative Arts Center Classes
Watercolor painting
Sculpture
Drawing
Jewelry making
Drawing
Digital drawing
Cartooning
Summer camps
The Betsy Lueke Creative Arts Center is operated by the Burbank Parks & Rec Department. It is located in the south-central part of the city in a residential neighborhood filled with single-story Burbank townhomes. Parents and teens can sign up for an art class taught by an instructor, with classes starting at $95. Beginner and intermediate courses are available in watercolor painting, sculpture, drawing, and jewelry making. Drawing, digital drawing, and cartooning classes are available for younger kids, with prices starting at $90.
Other activities that teens and parents can participate in include fitness classes. Everything from water aerobics, Zumba, Pilates to Jujitsu and country line dancing is available (prices vary). The arts are the main focus at the center, however. The gallery features showings from renowned local and visiting artists regularly.
Summer camps at this center include visual arts and performing arts opportunities for children. These are day camps where parents can drop their children off in the morning and pick them up in the afternoon. An annual Youth Art Expo allows budding artists from grades one through 12 to showcase their works.
Help Create an Iconic Tournament of Roses Float
The annual Tournament of Roses and the Rose Parade have been New Year's Day fixtures in Pasadena since 1890. Every year, different local cities, including Burbank, create the fantastic parade floats seen on television as they wind their way through Pasadena to mark the start of the Rose Bowl game. Creating the dozens of floats for the parade is a monumental effort, and it requires the help of many volunteers — including parents and their children!
People can sign up to volunteer and help create a float every year in December, just before the parade. Every parade float volunteer needs to sign a waiver to participate, and parents must sign for kids 17 and under. Float decorating involves roses and lots of glue, paint, and other messy materials. Old clothes are recommended. Volunteers should also bring a jacket since temperatures usually drop into the mid-40s in Burbank in December.
The Burbank Tournament of Roses group allows volunteers as young as seven to help each year. If that group has too many volunteers, other non-profits also participate and need volunteers every year. Most other groups are in Pasadena or Irwindale.
Visit the Martial Arts History Museum
Martial Arts History Museum Amenities
Special events
Occasional meet-and-greets with stars
Martial Arts Hall of Fame
Hollywood introduced the rest of America to martial arts in the 20th century, so it is no surprise that the Martial Arts History Museum is located in Burbank. Many of the martial arts displays at the museum were designed by top talents at the Disney and DreamWorks studios. The museum celebrates the lives and achievements of notable martial artists and teachers, and celebrity martial artists who have dedicated their lives to entertaining the masses on the big screen.
The museum is fun to visit year-round, but special events are the best times to go. Special event tickets are $15 apiece, and visitors might get the chance to meet and greet with celebrities like Chuck Norris, Jet Li, or Jean-Claude Van Damme.
The museum is also home to the official Martial Arts Hall of Fame, entertaining for kids and adults to view. Some names in the Hall of Fame include little-known martial artists who made significant contributions to specific martial arts branches. Others are martial arts celebrities like Bruce Lee, Toshiro Mifune, and David Carradine. UFC fighters Royce Gracie, Tito Ortiz, and Chuck Liddell are also on the list. A few surprise figures are in the Martial Arts Hall of Fame, such as Elvis Presley. The "King of Rock and Roll" earned his Seventh Degree Black Belt in Karate.
Burbank Is a Spectacular City
Palm trees, luxury homes, and beautiful weather for most of the year are just the beginning of what residents and those moving to Burbank see every day. This city contains surprising hidden gems for family activities that involve the kids. The challenge for most people in Burbank is not finding things to do with kids but finding the time to do everything they want to do.