What Homeowners Need to Know About Smart Glass
Posted by Courtney Korb on Tuesday, April 26, 2022 at 7:40 AM
By Courtney Korb / April 26, 2022
Comment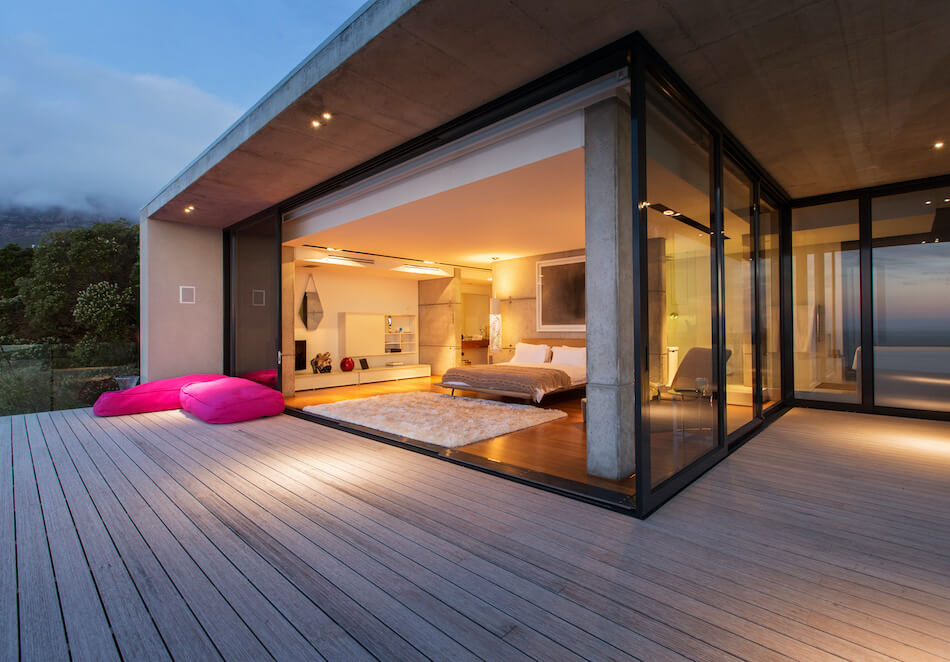 Modern home designs feature more glass than ever before. Oversized picture windows, all-glass walls, and stately glass doors are all common characteristics of modern architecture. Some people might have concerns about privacy and security when adding more glass and windows to their homes. Fortunately, smart glass and smart films provide an innovative solution to quell these concerns.
What Is Smart Glass?
Smart glass and smart film enhance home design by adding an invisible layer of privacy to glass surfaces. Smart glass and film go from clear to frosted when switched on and off, providing the best solution for home privacy. Smart glass is installed just like regular glass, and smart film can be applied to existing glass to transform it into a switchable glass.
Smart glass can be controlled with a remote, wall switch, button, smartphone, or voice command. It can even be integrated with smart home and lighting systems to further customize your smart glass solutions.
Benefits of Smart Glass & Film
Makes spaces look bigger
Amplifies natural light
Divides space in open floor plans
Easy to clean
Minimalist aesthetic
Versatile with smart film as a retrofit option
Compatible with smart home technologies
Typical Applications of Smart Glass in Homes
Front entrances
Glass doors
Skylights
Room dividers in common areas
Home offices
Bedroom windows
Glass showers
Bathroom windows
Wine cellars
Sliding patio doors
Safe rooms
Perks of Switching to Smart Glass & Smart Film
It's Safer & More Efficient
Standard smart glass is double-glazed safety glass, making it ideal for exterior-facing windows as it is energy efficient and secure. For enhanced energy performance, smart glass can be supplied in IGUs (insulated glass units). IGUs are units of glass that can be used anywhere you would place glass in your home. They're called "units" because they're constructed from numerous components that all work together to increase insulation and make your home more energy efficient.
Smart Film Can Be Retrofitted Anywhere
Skylights and other hard-to-reach windows are difficult to replace. Smart film can easily be applied to these glass surfaces to provide a simple and convenient privacy solution that also diffuses the glare from sunlight when switched to frosted. A properly installed skylight can reduce your energy bills, especially when you pair it with smart glass film with UV filtration and reactive tinting properties.
Smart Glass Is the Best Choice For Bathrooms
Smart glass or film is a great choice for bathrooms because it allows you to enjoy complete privacy and great views and natural light. Both smart glass and film are better than curtains and blinds in bathrooms because a fabric-free environment helps you prevent mold at home. Smart glass is great for shower screens, room dividers, and bathroom windows because it goes from transparent to opaque with the flip of a switch.
Smart Glass Doors Make a Great Impression
Due to their dynamic nature, putting curtains and blinds on a glass door usually is challenging and cumbersome. Switchable glass works on all kinds of operable glass surfaces, including sliding, swing, bi-folding, pocket, and retractable glass walls. Doors outfitted with smart glass can bolster home security systems because their double-paned construction is shatter-resistant.
Smart Glass Is the Go-To Choice For Modern Homes
Of all the modern luxuries, smart home technologies have substantially impacted how we interact with our living space. For any homeowner seeking comfort, privacy, security, and convenience, smart glass technology is the clear choice