8 Pros and Cons of 55+ Communities: Is the Active Retirement Lifestyle Right For You?
Posted by Courtney Korb on Monday, December 13, 2021 at 7:27 AM
By Courtney Korb / December 13, 2021
Comment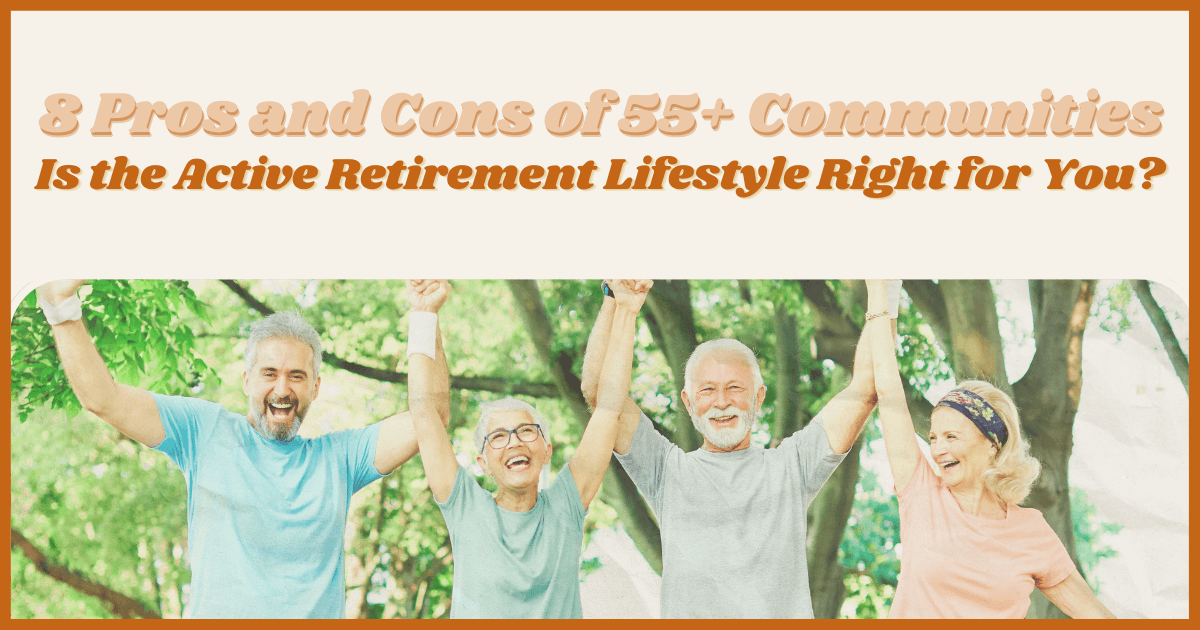 As people reach their 50s and beyond, they start thinking about the future. During this phase in their lives, they often initiate plans to explore different options for where they want to live and what type of lifestyle they want to lead. One option many people pursue is moving to 55+ communities. Also referred to as active adult communities, these age-qualified neighborhoods are much like other traditional neighborhoods, except they are customized for the specific age-range population of people who are 55 and older. There are several things to consider before buying in an age-restricted community.
Standard features found in active adult communities include maintenance of exterior properties, socialization opportunities, clubhouses, and other amenities not found in traditional neighborhoods. In essence, any 55+ community is explicitly developed for adults who enjoy daily activities with people of similar ages. Properties in 55+ communities come in various home styles, including single-family homes, multi-family patio homes, townhouses, and condos. This means people interested in one of these communities have plenty of options to align with their goals, budget, and lifestyle choices. Keep reading to decide if living in a 55+ community is right for you.
55+ Communities Have a Lot of Benefits
Investing in a home located in an active adult community comes with many benefits, but not all 55+ communities are created equal. Before deciding on a home, it's essential to consider location, price range, lifestyle goals, available amenities, and climate. Many people opt to move to 55+ communities to form friendships with people at a similar stage in life and have things in common. Aside from finding camaraderie, there are many other perks.
For starters, 55+ communities usually offer low-maintenance living. Most 55+ communities have low or no maintenance exteriors and are typically a top selling point for interested buyers. Imagine a lifestyle that no longer includes a need to take responsibility for mowing, raking, painting, and other types of general exterior maintenance. Fewer maintenance commitments mean more time to enjoy the next perk of 55+ communities: plentiful on-site amenities.
While different 55+ communities will vary in the amenities offered, buyers can expect to find some decent options that appeal to different tastes. The top amenities for 55+ communities can include pools, walking/biking paths, fitness centers, community gardens, pools, pickleball, bocce, tennis, social events, clubs, golf courses, and scheduled trips.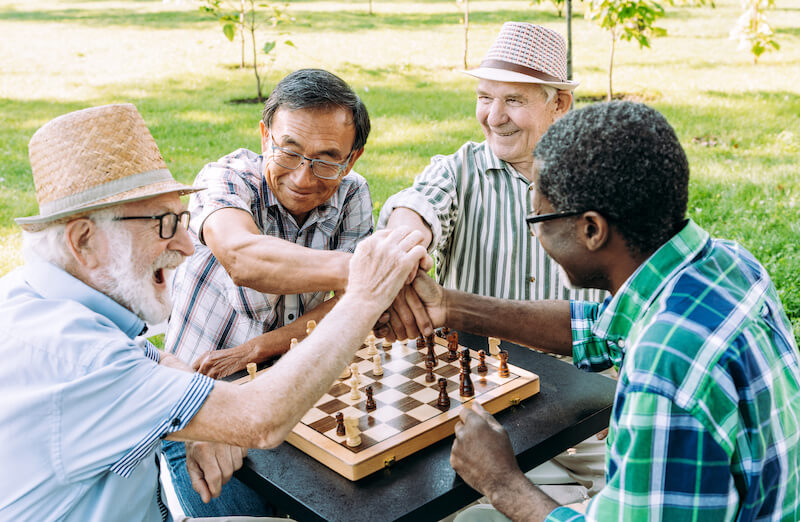 Even though there is plenty of fun to be found in 55+ communities, the neighborhoods are typically quiet and peaceful. Being 55+ communities are age-restricted, but, for the most part, residents can expect a calm environment. Adult children and grandchildren are welcome to visit residents, but the noise is generally pretty low.
The final perk is that many 55+ community homes come standard with age-in-place home improvements. It's common for homes of varying types to include safety features or modifications so residents can enjoy any adaptations they need in their homes to address any physical needs. Most 55+ communities are also strategically located near hospitals and medical facilities to make it easier for residents to access their healthcare providers.
Potential Cons Unique to 55+ Communities
While 55+ neighborhoods offer many benefits, this community style isn't for everyone, and potential buyers need to carefully consider any cons that might come with a home.
It's important to know that the age restrictions are fully enforced in most 55+ communities. Most buyers consider the age restriction a benefit, but it's not for everyone. For instance, some people may consider age restrictions a drawback since families might not be able to stay for extended periods (e.g., taking the grandkids for the summer). Others may enjoy hearing the sounds associated with a typical neighborhood and would miss the diversity in age.
Secondly, property restrictions may be a disadvantage for some homeowners. For example, owners buying into a 55+ community may experience difficulty renting their homes because they'll be restricted to renting to tenants meeting age requirements. If and when they decide to sell their home, a similar problem is faced because the pool of eligible buyers is diminished.
People reaching a point in their life where they need a higher level of healthcare may take issue with the lack of on-site health care in 55+ communities. While 55+ communities are almost always built near healthcare facilities by design, there are no nurses or other health providers on property.
The final drawback of 55+ communities is the elevated cost of living. Amenities are great, but they come with HOA fees. Some communities may also charge additional fees to cover the services provided. Buyers should research what fees are charged and factor that into their budgeting when buying a home. However, even if one community charges too much, another one may offer the same or similar amenities at a lower price.
55+ Communities Are Not Continuing Care Retirement Communities
An important differentiating factor people in the 55+ population should understand is that 55+ communities are not the same as continuing care retirement communities. Residents live independently, and many still work or use their retirement years to travel and do everything they've always wanted to do. These neighborhoods are designed for an older population, but they are definitely "active adult" communities.
Who Can Live in a 55+ Community?
Despite the name and age restrictions associated with 55+ communities, people younger than age 55 can live in one of these communities. Buyers shouldn't automatically rule a community out but instead inquire if they are indeed eligible.
For instance, many community boards allow 18 and over to live in their homes as long as someone in the household meets the age threshold of 55. So, in other words, for buyers who are 55 or older but have a spouse or adult child who lives with them that is under 55, this is almost always perfectly acceptable. Before buying, individuals should always check the specifics listed in a community's bylaws to learn about its rules and regulations.
Is a 55+ Community Right for You?
Homebuyers aged 55 and older often find, after learning more about the benefits of living in an active adult community, that their lifestyles are perfectly suited for a local community. However, like any other real estate purchase, it's crucial to weigh the pros and cons before making a final decision.