Shadow Hills Equestrian Services: Los Angeles Horse Owners Guide
Posted by Courtney Korb on Tuesday, November 30, 2021 at 9:34 AM
By Courtney Korb / November 30, 2021
Comment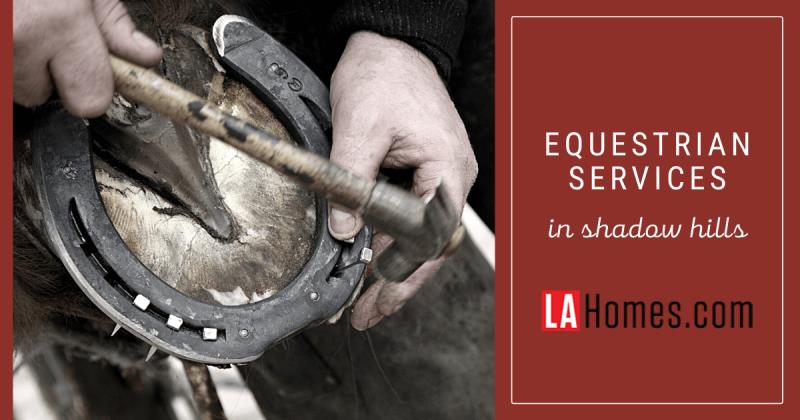 Although Los Angeles is known as the sprawling epicenter of the entertainment industry, semi-rural pockets within the city provide space to care for horses. The equestrian-zoned homes in Shadow Hills have made the neighborhood famous among horse enthusiasts in Southern California.
Horse owners will agree that there's a special bond between riders and horses. In fact, horses have impressive long-term memory, making them keenly aware of the efforts and intentions of their caretakers.
Fortunately for horse owners in Shadow Hills, a fantastic selection of riding centers, horse shops, and equine specialists in the neighborhood fosters strong relationships between people and their horses. Keep reading to learn all about the equestrian services in Shadows Hills.
Shadow Hills Equestrian Center
Offering 11 acres of riding space, Shadow Hills Equestrian Center also serves as a boarding facility for horse owners in the city of Los Angeles. In addition to boarding, Shadow Hills Equestrian Center has a first-class event space and a meeting facility for special events.
Located in the northeast part of the San Fernando Valley, Shadow Hills Equestrian Center provides a variety of services and programs, in addition to lessons and classes, including:
A wide selection of different filming and photo shooting locations
Space for special days, such as a birthday party, team building events, or weddings
A Saturday Night Trail Ride experience, featuring a three-hour ride followed up with dinner
Summer camps where kids can learn about horses and other animals
The Shadow Hills Equestrian Center also provides classes where riders can learn more about horses, including:
Riding lessons, where riders can learn the basics or even more advanced riding techniques
Horse training by on-site professional trainers
Horsemanship classes, where riders can learn how to show their ability to handle a horse
Shadow Hills Riding Club
Operating out of the Shadow Hills Equestrian Center, the Shadow Hills Riding Club is a 501c3 non-profit organization. The Shadow Hills Riding Club offers a variety of services to its members, including the following:
Therapeutic Adaptive Riding Lessons take into account the abilities and limitations of the rider in providing riding instruction to meet pre-planned goals.
Saddles & Serenity is based on the 12-step program associated with Alcoholics Anonymous to help recovering addicts heal and develop self-awareness.
Saddle for Soldiers is a program open to all military personnel, first responders, and their families to help them deal with emotional and physical abilities.
Shadow Hills Vaulting Club
The Shadow Hills Vaulting Club is another organization associated with the Shadow Hills Equestrian Center. The club teaches equestrian vaulting, a combination of dance and gymnastics performed to music while riding on horseback.
Lessons at the Shadow Hills Vaulting Club include:
Free introductory vaulting lessons, where riders can learn as a group about vaulting
Monthly Canter Class, where riders learn how to ride a horse at a fast trot or canter
Monthly Beginning-Intermediate Class, where riders can learn how to vault in a safe environment
Adaptive Class designed for people with special needs
Fortissimo Farm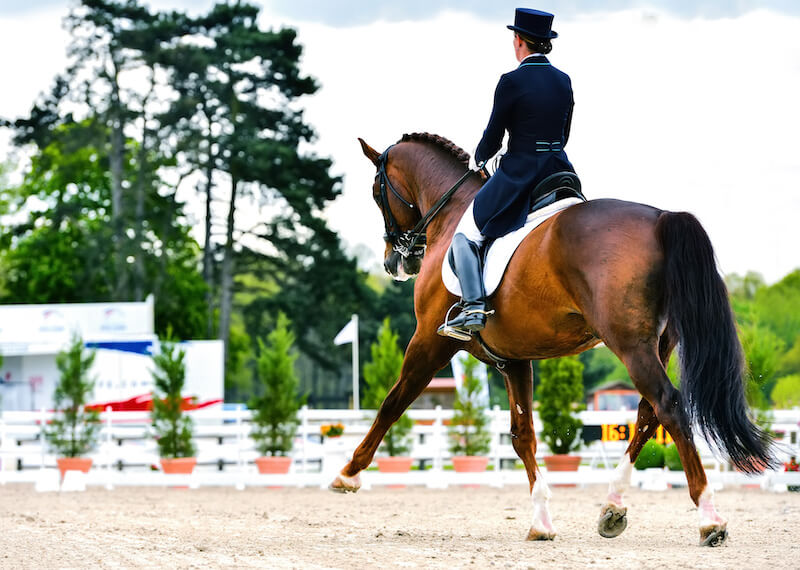 Many horse owners also recommend Fortissimo Farm in Shadow Hills, CA. Founded by silver medalist Laura Goodenkauf in 2019, Fortissimo Farm provides the best possible care and creates a positive environment for horses and riders to train together. The staff at Fortissimo Farm has decades of experience managing these majestic animals.
The horses boarded at Fortissimo Farm have plenty of room to relax, eat, sleep, and play when they are not training with others, of course. Facilities at Fortissimo Farm include a competition dressage court watered and dragged daily and an arena viewing deck. Plus, the farm has a gated facility for maximum security.
Riders can also take lessons in dressage, which is a form of horse riding using memorized predetermined movements. Goodenkauf herself offers to train riders in this specialized form of competition riding. As a private facility, only members are given access to the exclusive Fortissimo Farm.
In addition to training, the farm offers a variety of services, including first-class boarding facilities, with large in and out stalls that are cleaned twice a day. Other amenities include laundry facilities, hot and cold water wash racks, and a client lounge with coffee and bottled water.
Golden Horse Ranch Boarding
Golden Horse Ranch Boarding is a horse boarding stable located in the foothills of the San Gabriel Mountains to the north of Los Angeles. Golden Horse Ranch Boarding is a small, local horse boarding facility. Offering 26 stalls, it's a family-run business that provides for the needs of all types of horses.
Golden Horse Ranch Boarding also caters to riders of all ability levels, including beginners, with riding lessons for people of all ages and experience levels. Most of the time, the facility gives lessons in English-style horse riding, which requires using both hands on the reins instead of the one-handed style used in Western horse riding.
As the name implies, Golden Horse Ranch Boarding also provides boarding for all situations, including lay-overs, rehabilitation, and standard boarding. All of the stalls at Golden Horse Ranch Boarding are in and out and can be customized for the needs of individual horses.
Riders and horses at the facility also have access to a farrier if needed and ride trails for a day in the outdoors. Golden Horse Ranch Boarding even has room for owners — in the form of RV and trailer space — who need to stay overnight with their horses.
Hansen Dam Horse Park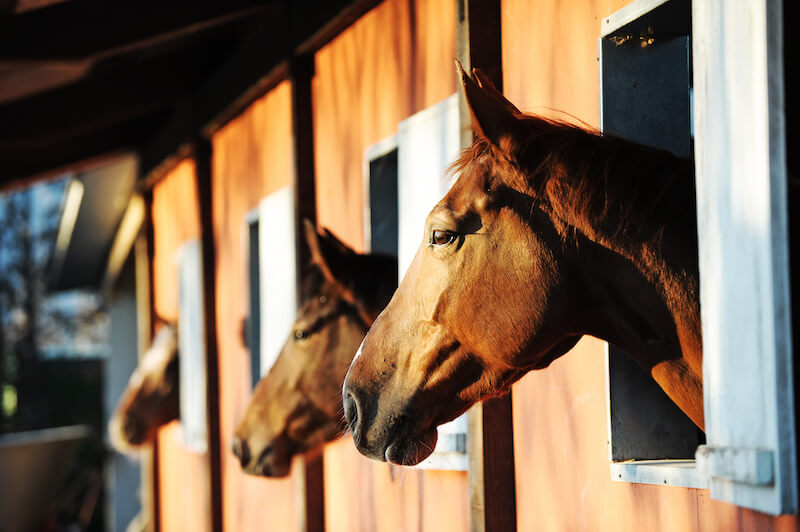 Located on 38 acres in rustic Shadow Hills, Hansen Dam Horse Park is within the city limits of Los Angeles. Situated within one of the best neighborhood parks near Shadow Hills, Hansen Dam Horse Park has boarding space for 200 horses in peaceful, shaded surroundings.
Hansen Dam Horse Park offers horse owners a variety of facilities for their animals, including large stalls and numerous riding rings. In addition, the location has RV hookups and is close to area hotels for those staying overnight, especially for one of the many shows and clinics that the facility hosts.
Top trainers also work at Hansen Dam Horse Park, educating riders about the intricacies of reining, dressage, and hunter/jumper. Most importantly, Hansen Dam Horse Park has geotextile footing in the Grand Prix Arena for ultimate safety, rain, or shine.
Hansen Dam Horse Park is the perfect location for a celebration or event, such as a birthday, meeting, or educational gathering. This includes the location's Sunrise Patio, Hansen Dam Horse Park Pavilion, or Sycamore Park. The area also provides many sites for filming and photo opportunities.
Horse Supply Stores Near Shadow Hills
Along with first-class equestrian boarding and training facilities, Shadow Hills also has a large selection of horse supply stores to choose from. These include feed and tack stores, where owners can find saddles, bridles, halters, reins, and other items needed when riding a horse.
East Valley Feed & Tack
Since 1971, East Valley Feed & Tack has served the greater San Fernando Valley area, including Shadow Hills. In addition, to feed for horses, East Valley Feed & Tack also sells saddles and other items of tack for outfitting a horse for riding. Plus, the store sells western wear, boots, and hats.
Damoor's Tack & Feed
Damoor's Tack & Feed has been around since 1987 and operates out of the Glendale community. A family-run business, Damoor's Tack & Feed sells various items, including different feed and bedding, tack from a wide selection of providers, and rider apparel.
Valencia Sport Saddlery
Since 2003, Valencia Sport Saddlery initially served the equestrian community of Santa Clarita but has since expanded its operations to include all of Southern California. Valencia Sport Saddlery sells a variety of products, including tack, feed, and rider apparel.
Owning a Horse in Shadow Hills Is Easier Than Ever
The Shadow Hills area is full of places to board a horse and receive the training to ride them safely. Training programs include a variety of horse-riding disciplines, such as basic riding, reining, dressage, and hunter/jumper.
While almost anyone can find fun things to do in Shadow Hills, the area's deep-rooted connection to the California equestrian culture makes it a perfect place for Los Angeles County horse owners and lovers to reside, especially considering the many first-class horse facilities available.