Gate-Guarded vs Unmanned Gated Communities in Los Angeles: Where Should You Live?
Posted by Courtney Korb on Monday, November 8, 2021 at 11:51 AM
By Courtney Korb / November 8, 2021
Comment
Los Angeles is a thriving community. Its location near the Pacific Ocean, numerous outdoor parks and trails, and outstanding weather entice many to buy homes in Los Angeles. Yet, for those choosing to buy a home in this area, there are many factors to consider, especially for those purchasing a home in a gated community. Los Angeles provides opportunities for both guarded, 24-hour gated communities and unmanned gated communities. Is one better than the other? Read on to discover the benefits of both guarded and unguarded gated communities.
First—Why a Gated Community?
Los Angeles gated communities offer fantastic amenities. Depending on what fits that individual or family, there are a few core benefits to living within this type of space. Gated communities are typically residential areas without commercial properties within them. They are designed to provide some level of security by limiting the number of people who have access to the area. For those who want privacy, having a gated community can be a desirable investment.
The core benefits of gated communities typically include:
Controlled access to the residential spaces within, often including security cameras and entrance guards who may identify who is there and if they should be.
Vehicles move at a slower pace, which may help to minimize the risk of accidents or injuries due to speeding.
There's more protection for pedestrians. Going for a walk feels safer and may provide less risk of accidents with slower and less traffic.
Community grounds are often provided, which may include fitness centers, clubhouses, and tennis courts. Usage is typically limited to residents, so they're also less crowded.
Gated communities may increase the value of a home, driving up property values because of the privacy, limited solicitation, and ample security.
Benefits of Living in a Guard-Gated Community
In a guard-gated community, a person at the entrance point(s) of the community ensures that only those who have permission to enter the area can do so. Even the mere presence of a guard can help deter unwanted entry into the area. While some communities have automated technology in place to avoid the need for a real person, there is no doubt that a guard provides a higher level of security and may provide a higher value to residents living within the area.
Other benefits may include notifications to property owners when a visitor arrives. They may even be able to track visitors and screen them to ensure they have permission to enter the property, whereas an automated system may not do so.
Another benefit is that there is less risk of a technology problem going unnoticed with a real person at the entrance. For example, in locations that use passes to allow people in, all it may take is a malfunctioning card or a broken wire to leave a resident accidentally stranded.
Advantages of Living in a Gated Community With No Guard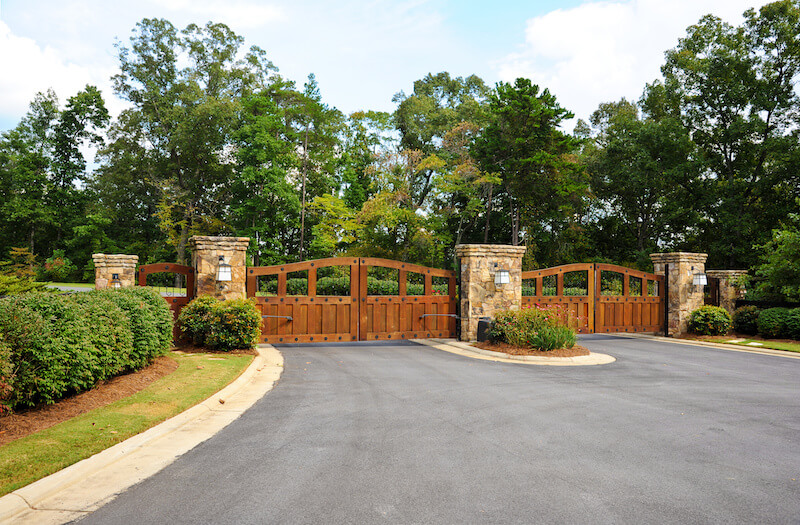 Some people are less interested in having a guard at the front of their entrance. They may not want to have to talk to or interact with someone each time they enter their home. Some people prefer the convenience of driving up, scanning a badge or entering a code, and gaining access. That is certainly an option in a gated community with automated security.
Another reason some do not want a guarded community is due to the cost. In some cases, HOA fees may be lower without an on-site guard.
What Types of Gated Communities Will You See in Los Angeles?
There are all kinds of Los Angeles gated communities. Some of the largest and most commonly known include the following:
Seeking Out the Ideal Community in Los Angeles
For those thinking about the value of gated communities, there is much to consider. For some, the added potential cost is worthwhile for the privacy and the security that a guarded gated community can offer. For others, the gated method used is less important than having a community that offers something special such as incredible views to the Pacific Ocean, canyon views, good access to the local highway, or many other amenities. Luckily for many, the Los Angeles area offers something to meet the needs of most buyers in the area.