26 Things to Do In Porter Ranch, CA | Hikes, Parks & Restaurants in Your Neighborhood
Posted by Courtney Korb on Friday, December 17, 2021 at 5:58 AM
By Courtney Korb / December 17, 2021
Comment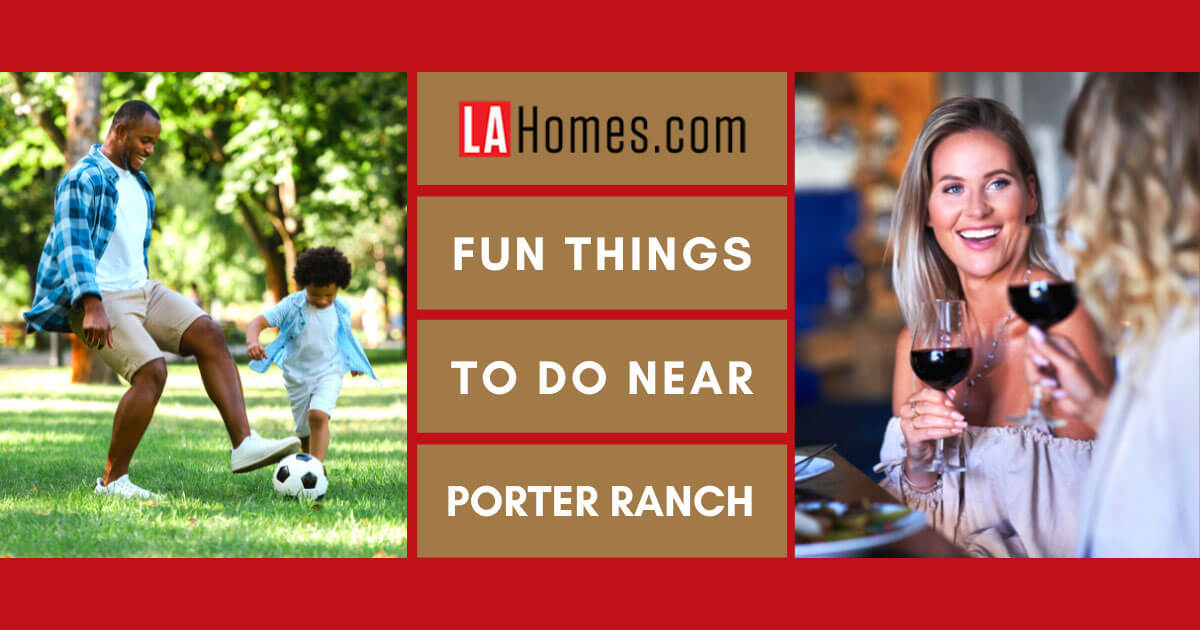 A beautiful suburban community, the homes in Porter Ranch are located just to the northwest of the city of Burbank. It's a master-planned community designed with Toll Brothers homes. Onsite amenities are numerous, and living in this area of Los Angeles allows residents to benefit from plenty of things to do nearby as well. Noted for being in the hills of Los Angeles, many of these homes have stunning views, too. The collections in Porter Ranch feature a range of floor plans that keep people close to the Porter Ranch parks and other fun activities in and around the neighborhood. Keep reading to learn all about the things to do this weekend in Porter Ranch.
Porter Ranch Outdoor Adventures
There's much to love about the outdoors in the Porter Ranch area. While many of the homes in the area have large backyards and impressive views, the hiking and biking opportunities at nearby parks make this community fantastic. Here's a closer look at some of them.
Parks and Trails in Porter Ranch
Porter Ranch Parks and Trails
Porter Ranch Park
Limekiln Canyon Park
Porter Ridge Park
Wilbur-Tampa Park
Aliso Canyon Park
Porter Ranch Park, also known as E.T. Park thanks to the filming of the 1982 movie "E.T. The Extra-Terrestrial" being filmed here, is a staple in the community. It features walking paths and a playground. There are climbing structures for children to play on here. It's easy enough to find people playing on a Saturday or after school at this location. Porter Ranch is close to other parks, including O'Melveny Park, the second-largest public park in Los Angeles. It offers large grassy areas as well as long hiking and horse trails. It's also known for the citrus grove bursting with fruit throughout the season. Residents also have access to the best parks in Burbank.
Outdoor Sports in Porter Ranch
Golfers may wish to check out Porter Valley Country Club with its 18-holes of championship golf. Members can play a few rounds when they desire and take advantage of the onsite amenities such as bocce ball, fitness facilities, pickleball, tennis courts, and swimming. The Hillcrest Ranch is the ideal choice for horseback riders. There are lessons available for those interested, but this small and friendly community facility offers fantastic riding trails to visitors of all skill levels.
Other Outdoor Activities in Porter Ranch
The Northridge Farmers Market and Family Festival is available every Wednesday in spring and fall from 5 pm to 9 pm at Northridge Fashion Center. Fresh veggies, flowers, and activities for many are typically planned throughout the year. Another adventure to consider is a visit to Lumber Jack's Axe Throwing. Those who have never engaged in axe throwing know that it's most fun with a big group.
Porter Ranch often plans fun events, too. Be sure to check out the holiday events hosted by the city or spend some time walking along the tree-lined streets in this beautiful community.
Shopping Near Porter Ranch
Porter Ranch Shopping Centers
Porter Ranch Town Center
Devonshire-Reseda Shopping Center
The Vineyards at Porter Ranch
Granada Village
Northridge Fashion Center
Porter Ranch is close to several shopping areas. That includes Porter Ranch Town Center. It's ideal for those looking for service providers and some chain restaurants. There's a Wal-Mart, CVS, Best Buy, and several other large shops in this area. Other shops nearby include The Vineyards at Porter Ranch, Whole Foods Market, and Ulta Beauty. Most of these are located along Rinaldi Street, just outside Porter Ranch.
For those who want designer brands, it's easy enough to find that at nearby Northridge Fashion Center, Woodland Hills' Village at Topanga, or the Commons at Calabasas. Simi Valley Town Center is another option for small shops and restaurants. Northridge Fashion Center, in particular, is home to about 184 retailers and restaurants. That includes Abercrombie & Fitch, Aldo, Apple, Banana Republic, and Guess.
Porter Ranch Restaurants
Restaurants in Porter Ranch
Gus's BBQ
Island Restaurant Northridge
Taps Valley Gastropub
Sushi Ko
Jasmine Thai Cuisine
While Los Angeles is teeming with restaurants, a few in or near Porter Ranch are perfect for a tasty meal on any night of the week. Finney's Crafthouse & Kitchen is one of them. It's a fun, modern location with a wide range of food, from tacos to sandwiches and burgers. It's also noted for its craft brews, some of the best in the area.
An elegant local option is Café Graikos, a Greek restaurant that's not only known for its authentic cuisine but its sizeable vegetarian menu. Veggies are not dull here. It's an authentic location for those looking for an exceptional meal. Mediterranean Bistro is another exciting, full-of-flavor location. It's a mixture of Lebanese and Mediterranean food, all made with the freshest ingredients and time-honored recipes.
Also, keep in mind that many of the shopping areas near Porter Ranch offer small, family-owned restaurants, pubs, and popular chain locations.
Arts & Culture Near Porter Ranch
For those visiting Porter Ranch and hoping to get a good feel of how the community fits in with the city of Los Angeles, it's a good idea to focus on the arts and culture of the community. There's much to explore, including an ever-changing schedule of activities taking place here.
Porter Ranch Museums
Museums Near Porter Ranch
The Museum of San Fernando Valley
Valley Relics Museum
The Oakridge Estate
While it's easy enough to find incredible museums throughout Los Angeles, a few in Porter Ranch are worthy of a visit. Valley Relics Museum is one of them. It's an open-air museum that allows guests to walk around and explore Americana and a wide range of other merchandise. Those that love neon lights are sure to find relics here. Take the tour to learn the details of each piece.
Another experience happens at The Oakridge Estate, a beautifully built cottage created by Paul R. Williams and Barbara Stanwyck. This 6,000 square foot Irish farmhouse has a lot of history, along with views of both the San Fernando Valley and Marwyck Ranch, a 130-acre horse farm. The property is currently managed by the City of Los Angeles Department of Recreation and Parks.
Art Galleries Near Porter Ranch
Porter Ranch Art Galleries
Galeria Bezalel Fine Art Gallery
CSUN Art Galleries
Check out Porter Ranch Street Box, a program provided through the city of Los Angeles Arts Development Fee Program, Department of Cultural Affairs. It's easy to see the displays on seven of the city's utility boxes. Each one has a different theme, offering beauty and inspiration to those who live in the community.
For those that want to get involved in the arts, visit Clay Play & Arts. It's often the location where private events are held, but it's the ideal place to learn pottery. This pottery studio also hosts lessons and camps throughout the year to help people get involved. The lessons range from intro courses to intermediate and expert courses – creating opportunities for anyone that wants to learn how to throw clay.
Another option is to visit the CSUN Art Gallery. For those who want an authentic art gallery experience, this location, a part of the Mile Curb College of Arts, Media, and Communications, offers rotating exhibits. Much of it is locally inspired art.
Dance & Theatre Near Porter Ranch
Performing Arts Near Porter Ranch
Younes and Soraya Nazarian Center for the Performing Arts
Plaza del Sol Performance Hall
The Soraya, a part of CSUN, is the perfect destination for dance lovers. It's a full performing arts center with numerous shows throughout the year. Typically, it hosts an entire season of shows each year, including Broadway musicals, performances by local and international artists, and holiday events. It's also a good place for those who want to get some art education. There are masterclasses available for those who want to embrace their performance side.
These are just some of the activities recognized in the community. For those looking for more to do, be sure to check out locally sponsored events, including those in local high schools and colleges. Of course, Los Angeles is well recognized for the extensive range of performance arts, museums, and other cultural experiences it offers, too.
Porter Ranch Nightlife
Bars and Clubs Near Porter Ranch
La Victoria Coco Bongo Nightclub
Oh Gradys
Cowboy Palace Saloon
Vive Night Club
Porter Ranch has a few clubs and bars available that make getting together with friends easy for those who want to get out and have some fun. One option is to visit Cyber City Esports Center, a video gaming center that welcomes people to play and compete for the champion title. There's often a tournament happening here, too.
Some area restaurants also offer live music. That includes Mediterranean Bistro, which we mentioned earlier. Gus's BBQ sometimes hosts events as well – and it has some of the best Southern hospitality in the area. Lure's Fish House offers a live band some nights of the week, too. Many locations sponsor these events from time to time. Seek out their social media pages to find out who offers a live band or music.
Fun Weekend Activities Await in Porter Ranch
There is no doubt that Porter Ranch has much to offer residents and visitors. For those thinking about buying luxury homes for sale here, it helps to know that this neighborhood has much to offer and options to regularly fit most people's needs. From vibrant nightlife to peaceful parks, the list of activities is long enough to rival the many things to do in Los Angeles. The more a person knows about their community, the more prepared they can live their best life there.
Read Our Things to Do Guides For Each City Below