Which Porter Ranch Collection Is Right For You? Porter Ranch Home Styles Guide
Posted by Courtney Korb on Thursday, February 3, 2022 at 9:42 AM
By Courtney Korb / February 3, 2022
Comment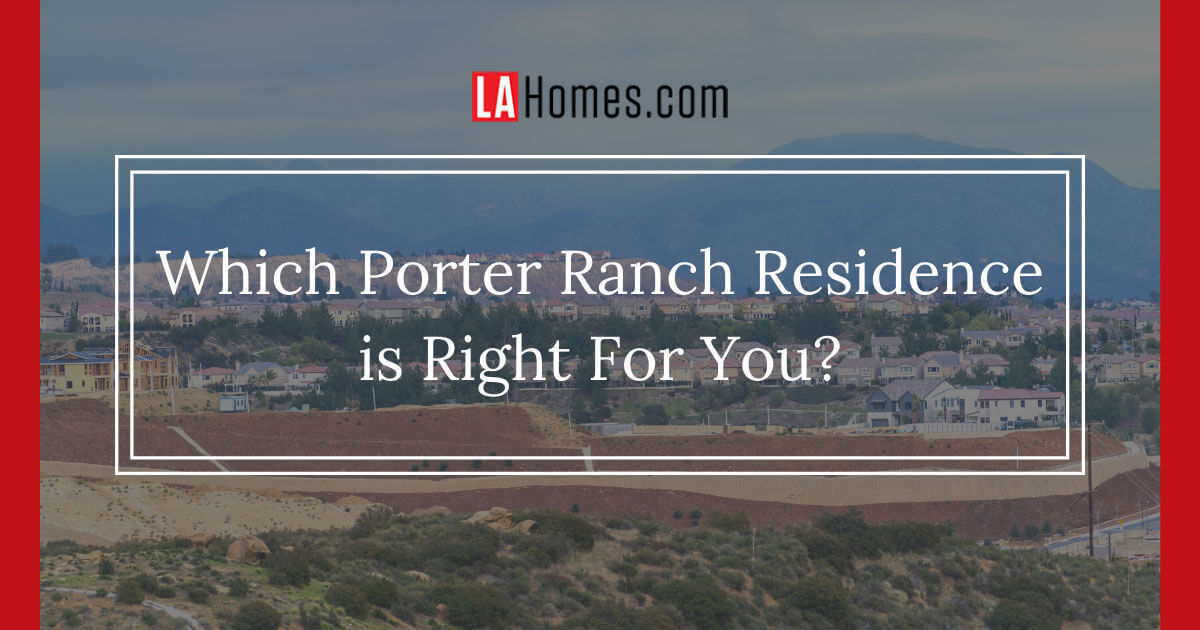 Porter Ranch is a master-planned community in the city of Los Angeles with about 28,359 residents. The neighborhood is perched on a scenic hilly area north of the San Fernando Valley and is 30 minutes from downtown Los Angeles. The Porter Ranch community offers three primary residences, each equipped with townhomes, single-family homes, and an array of unique features.
Each village also has unlimited access to communal amenities, such as an upscale retail center, a planned recreation park, and a K-8 community school. Read on for a brief breakdown of the principal residences and what they offer to help figure out which Porter Ranch residence is suitable for you.
Westcliffe at Porter Ranch
Westcliffe Amenities
Porter Ranch K-Community School
Porter Ranch Town Center
Porter's House
Holleigh Bernson Park
The Vineyards
Finney's Crafhouse & Kitchen
Porter Ranch Park
Jasmine Thai Cuisine
Porter Ranch Medical Plaza
Moonshine Canyon Park
Porter Valley Country Club
Chatsworth Hills Academy
Westcliffe Village is a gated community at Porter Ranch developed by the Toll Brothers. It's one of Porter Ranch's largest master-planned residences and essentially consists of four home collections: the Cascades, Palisades, and recently launched, Skyline and Summit Collections. The Cascades Collection has modern homes with 4,400 to 5,600 square feet.
Each home also features multiple bathrooms, three-car garages, and expansive home sites, some even featuring a third-floor flex room and an open-air deck with stunning views of Los Angeles. The Palisades feature elegant contemporary home designs with between 4,400 and 5,600 square feet of space. These homes come with multiple bedrooms and bathrooms and up to three-car garages depending on the exact design. The collection has 103 units with prices as much as over $2 million.
Summit and Skyline collections feature modern and luxury contemporary design aesthetics, respectively. Both also feature an array of homes with two- to three-story plans and space ranging from 4,500 to 5,900 square feet. Units have five to six bedrooms, multiple bathrooms, and four-car garages. Luxury homes in the Summit Collection start from $2,234,995, while units in Skyline go for $2,288,995.
All four collections in Westcliffe at Porter Ranch offer breathtaking views of Los Angeles, luxurious outdoor living spaces, and the five-acre Porter Ranch Community Park. Living in any of the mentioned collections also means easy access to the Porter Ranch K-Community School.
Hillcrest at Porter Ranch
Hillcrest Amenities
Porter Ranch Community School
Holley Bernson Memorial Park
K-8 Porter Ranch Community School
Sierra Canyon School Upper Campus
Northridge Fashion Center
Porter Ranch Community Park
Facey Medical Group
Porter Valley Country Club
Village at Topanga
California State University, Northridge
Morton's The Steakhouse
Knollwood Country Club
Roy's Restaurant
24 Hour Fitness
Santa Monica's Mountains National Recreation Area Interagency Visitor Center
Hillcrest is yet another of the Toll Brothers planned communities in Porter Ranch. It's divided into four collections: Highlands, Ridge, Beacon, and Overlook, each offering unrivaled views of the canyon and downtown Los Angeles. Highlands Collection homes feature five to seven bedrooms, 3,800 square feet, and start at $1,607,345. Units in this collection are set on pool-sized sites and have lofts, primary bed suites, multiple bathrooms, and three-car garages. Home designs are primarily modern, and intimate cul-de-sac streets are typical.
Like the Highlands Collection, Beacon at Hillcrest also offers pool-sized sites with 3,600 to 3,900 square feet and five bedrooms. They also feature multiple bathrooms, three-car garages, and an optional loft and primary suite deck. Design options range from modern contemporary to modern farmhouse and start at $2,799,995. Homes in the Ridge Collection start from $2,145,995 and are essentially one- and two-story luxury homes offering up to 5,050 square feet. These units have multiple bathrooms, three-car garages, and feature a modern farmhouse aesthetic.
For property in the Overlook Collection, aspiring homeowners have to part with at least $1,745,362. These homes have one to two levels with four to five spacious bedrooms (including an expansive primary bedroom suite with a walk-in closet), five bathrooms, three garages, and up to 3,700 square feet.
All collections in Hillcrest at Porter Ranch feature architect-designed interiors with spacious dining rooms, well-designed kitchens with large islands, walk-in pantries, bedroom suites with luxe showers, dual vanities, and huge soaking tubs. Like the other two residences, living in Hillcrest at Porter Ranch means proximity to the K-8 community school and a string of other shared amenities such as the 50-acre Porter Ranch Community Park. Residents will also enjoy unrestricted access to the well-maintained hiking and biking trails in and outside Hillcrest at Porter Ranch.
Canyon Oaks
Canyon Oaks Amenities
Porter Ranch Town Center
Walmart Supercenter
Souplantation
Islands Restaurant Northridge
Amazon Fresh Supermarket
Germain Academy for Academic Achievement
Alfred B. Nobel Charter Middle
Limekiln Canyon Park
Canyon Oaks is one of the Toll Brother's most recent master-planned communities in Porter Ranch. It's a private gated community in Chatsworth, just six minutes from Westcliffe. Canyon Oaks offers 64 generously sized single- and double-story single-family homes with up to 5,515 square feet. Homes have five or six bedrooms, four or five bathrooms, and multiple car garages. Each home features spacious master bedroom suites (two-story homes have two primary bedroom suites on the first floor), designer kitchens with high-quality appliances, spacious and inviting living areas, and well-equipped laundry areas.
Canyon Oaks residences also boast fine interior designs and are set on expansive home sites, with some even featuring optional detached cottages. Thanks to the location south of the Santa Susana Mountains, the well-lit streets, and maintained sidewalks, residents enjoy a laid-back suburban and luxurious vibe with seamless access to formal and recreational centers in nearby Los Angeles.
Canyon Oaks single-family residences have a median sale price of $1,950,000, with a majority built between 2016 and 2020. Living in Canyon Oaks also means easy access to the Porter Ranch Town Center nearby.
Living in Porter Ranch
Porter Ranch is one of Los Angeles' best neighborhoods. It is located a short drive from downtown Los Angeles and about 5,400 feet above the sprawling city. As a result, residents get to enjoy not just seamless access but also breathtaking city vistas from anywhere at Porter Ranch.
Being in the hilly northwestern end of San Fernando also allows residents to enjoy a relaxed, suburban feel thanks to its beautiful and natural location, as well as ease of access to everything they might need at the Porter Ranch Town Center. What's more, luxury homes available in the three residences are spacious and innovatively designed to exude luxury without compromising comfort.