Moving to Los Angeles: Los Angeles Relocation & Homebuyer Guide
Posted by Courtney Korb on Tuesday, May 23, 2023 at 12:00 PM
By Courtney Korb / May 23, 2023
Comment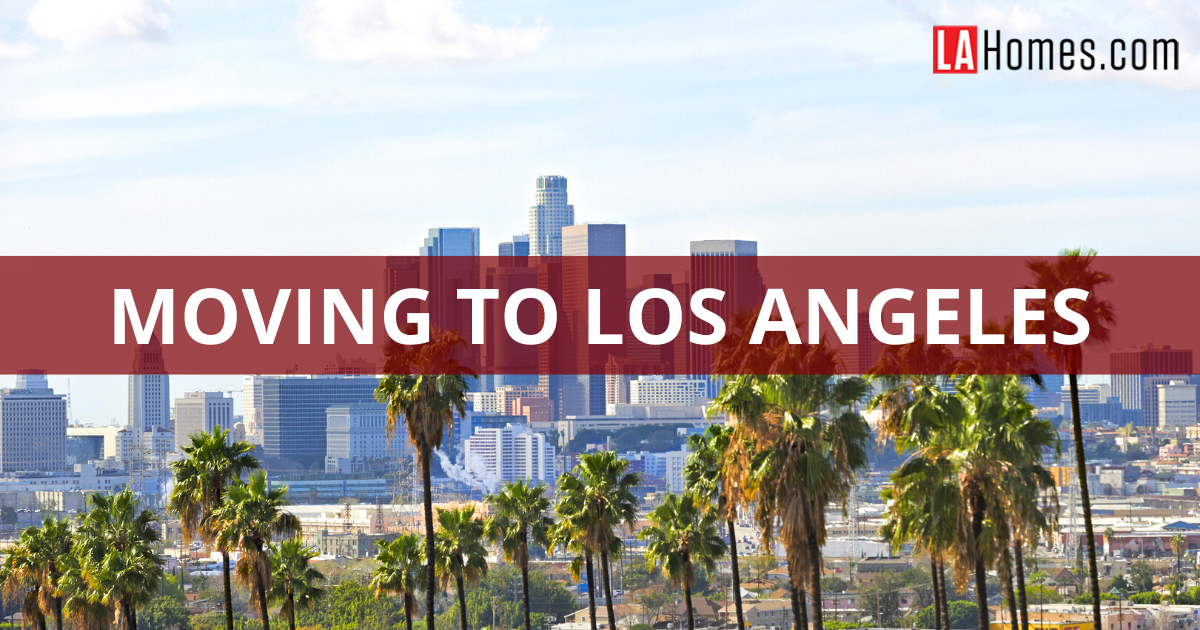 Is Los Angeles a Good Place to Live?
Known worldwide as a land of glitz and glitter, the city of Los Angeles is the second-largest city in the U.S. Trailing only New York City; the community has around 4 million residents. Considering the entire North American continent, it's the third-largest city after Mexico City. Almost 10 million residents live in the metro area, making Los Angeles County the most populated county in the country.
But the large numbers are not the only story. From 2010 to 2019, the city grew by about 187,000 new residents. People are still drawn to the City of Angels for different reasons, including the beautiful weather, scenery, and entertainment industry. However, there are other opportunities, including the busy seaport and tourism.
Before picking out that perfect ocean view home or condo in sunny California, there are many things to consider. Here are a few things to think about before moving to Los Angeles.
10 Reasons You Should Move to LA!
Vibrant Entertainment Industry: Los Angeles is the heart of film, TV, music, and more!
Pleasant Weather: Los Angeles boasts a Mediterranean climate with mild winters and warm, sunny summers.
Outdoor Recreation: With its proximity to mountains, beaches, and national parks, Los Angeles is a paradise for outdoor enthusiasts.
World-Class Dining: Los Angeles is a culinary hotspot, home to a vibrant food scene that caters to all tastes and preferences.
Art and Culture: The city is renowned for its thriving art scene, with numerous galleries, museums, and theaters showcasing a wide range of artistic expressions.
Career Opportunities: Los Angeles is a major hub for various industries, including technology, fashion, finance, and healthcare.
Thriving Real Estate Market: Housing in Los Angeles provide access to one of the best investments you can make.
Neighborhood Variety: Los Angeles is a city of distinct neighborhoods, each with its own unique character and charm.
Educational Options: Schools in Los Angeles provide public, private, and charter options for students of all ages.
There's Always Something to Do: When you live in Los Angeles, the broad selection of attractions make every day an adventure.
Cost of Living in Los Angeles
One of the first elements to consider before relocating is the cost of living in Los Angeles. The relative price level of a community is often a great indicator of the potential quality of life. Overall, the cost of living is evaluated at 173.3 based on an index using 100.00 as the typical U.S. city. Residents may have to pay about $173 to purchase things that would cost $100 in a community with average costs.
However, these costs are not equally represented across the board. New residents might notice that they are spending more in some budget areas but saving money in others. For example, grocery costs within the city are only 4.1% higher than the costs of a typical U.S. city. That means those relocating may not even notice a significant change in food prices. Health care is only 89.4% of the typical costs, meaning residents save more than 10%.
Utility costs are another area where new residents might notice savings. On average, people in Los Angeles pay only 93.7% of the typical costs related to power, heating, and cooling, in part because of the relatively mild weather. Miscellaneous costs like clothing and repairs are also close to average at 104.5%.
There are, however, two areas where costs are above those in the typical community. New residents typically pay 198.2% more than average on costs related to housing, with the median home cost being $690,000. Even outside of upscale housing such as LA's gated communities, real estate can be pricey. Compare this to the California median home cost of $553,000 and the national equivalent of $231,000. Additionally, people living in Los Angeles pay 65.3% more in transportation costs.
Los Angeles Job Market
The per capita income of Los Angeles is slightly more than the national average at $31,563 vs. $31,177. While the household income is lower than the national at $55,000 vs. $58,000, future job growth is higher than typical at 34.64% vs. 33.51%.
The unemployment rate is higher than the national average at 5.1% vs. 3.7%.
Given the huge population, it's not surprising that the largest employers in Los Angeles are government agencies. Providing a wide variety of services from business licenses to law enforcement, Los Angeles County government has about 107,500 employees. The Los Angeles Unified School District is not far behind, employing around 90,800 people.
The third-largest employer in the area is the City of Los Angeles, with about 49,500 people. That includes the LA Department of Water and Power, which provides utility support for more than four million people. Public land-grant research institution the University of California, Los Angeles employs about 46,200 staff.
Several non-government organizations in the community also contribute a great deal to the culture and economic base of the city. With around 36,900 people on staff, Kaiser Permanente is the largest private employer in the city and the largest managed care group in the country. They manage 39 hospitals and a health care plan with more than 12 million members. Aerospace and defense technology company Northrop Grumman Corp. is another major player, hosting more than 16,600 local jobs.
Popular Industries in the Area
Almost everyone in the U.S. knows that entertainment is the signature industry of LA. From cornerstone studios like 20th Century Fox to new arrivals like Youtube Studios, the city has long been a haven for the creative business. By some counts, more than 160,000 people in 13,000 companies depend on entertainment-related dollars.
Those unfamiliar with industries in Los Angeles may be forgiven for thinking this is a one-industry town. Based on the community's reputation, it's easy to believe the city is all entertainment. However, more than 50,000 people work in private aerospace and defense companies in LA county, and public sector employees add another 20,000 jobs. Other powerful local sectors include Biosciences, Fashion, Creative Design, Food Manufacturing, and Trade/Logistics.
Things to Do in Los Angeles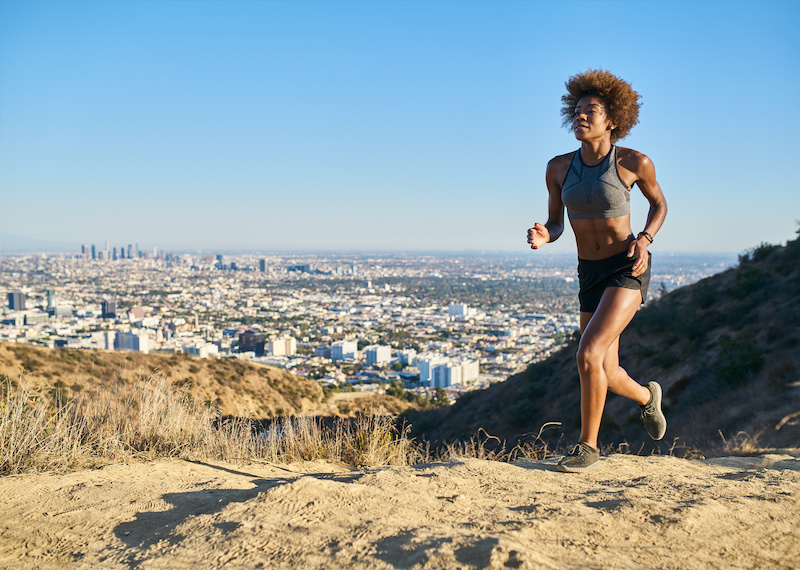 Because of the tourism industry and breathtaking scenery, Los Angeles has lots of available activities. Newcomers can start with one of the many local touring companies. Hollywood City Tours offers a Hollywood and Celebrity Homes Bus Tour that makes all the major stops within two hours. Feel like a Hollywood exec by taking a tour in a Ferrari with I Ride Like a Star. This tour includes keepsake pictures at the Hollywood sign.
Those who prefer more exercise may enjoy a Griffith Park Tour through the Hollywood Hills. The hike is 3.5 miles and follows a guide providing interesting facts and trivia about some locations and scenery.
Outdoor Activities
Long before the glitzy image, California was known for its natural beauty. Outdoor lovers can still enjoy many fresh-air activities in LA county. Located near Mulholland Drive, Runyon Canyon Park is a great place to frolic with furry friends without using a leash. Lake Balboa Park is a vast green space for active people, with bike trails, sports fields, fishing spots, and paths for walking or jogging.
Searching for a good mix of educational experiences and fresh air? Visit the La Brea Tar Pits and Museum for intriguing fossils like mammoths, saber-toothed cats, and dire wolves. The actual tar pits are still bubbling with potential, and excavation projects are ongoing.
Restaurants, Breweries, and Bars
Los Angeles is a wonderful place for world-class eats and brews. Lovers of the Simpsons cartoon will also enjoy visiting the Krusty Burger for menu items like the Sideshow Bob Footlong and Buzz Cola. Seafood lovers can visit Bubba Gump Shrimp Co. for Tempura Shrimp, Shrimp Shack Mac & Cheese, Coconut Shrimp, Shrimp Combo, and more. Nestled within the arts district, beer drinkers can experience the Angel City Brewery for tours and unique blends. Don't forget to order from the taco truck for tasty treats.
Nightlife
Night owls will find no other city stays up as late as Los Angeles. Located inside the Kimpton Everly Hotel, the Ever Bar offers live music, cocktails, and wines from local vineyards. Rocco's Tavern is a great place to catch the game or enjoy classic American bar foods. The world-famous Walt Disney Concert Hall is a breathtaking experience for live concert music even before entering the building. Home of the Los Angeles Philharmonic, this is a full concert hall fit for once-in-a-lifetime shows.
For relaxing and dancing, hit The Rooftop at The Standard in downtown LA. The facility features a nightly DJ and dance floor, an outdoor fireplace, waterbed pods, and a heated swimming pool, all set against the backdrop of the LA skyline. New residents who never want the party to end can look into the nearby homes in the downtown area.
Los Angeles Climate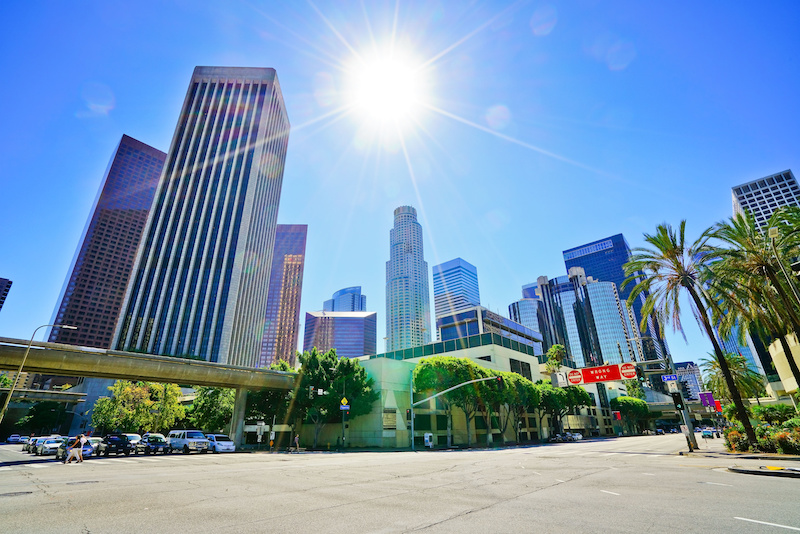 Los Angeles is famous for its beautiful weather. On average, the community gets no snow and only 16 inches of rain each year. The U.S. average is 28 inches of snow and 38 inches of rain. In fact, 78% of the days are sunny in LA, compared to the national average of 56%.
The temperatures are fairly mild compared to other places. July is the hottest month, with highs around 84 ºF. January is the coldest month, with lows around 46 ºF. April through June are the best times to visit the area in the spring, with September and October providing great opportunities for fall visits.
Los Angeles Traffic
Compared to smaller communities in the U.S., Los Angeles has very congested traffic. However, those accustomed to larger cities like New York, Chicago, and Washington D.C., will find the traffic similar if not slightly better. The average commute time for people driving in Los Angeles is 30.9 minutes, which is longer than the national average of 26.4. If possible, avoid the morning rush between 6:30–9:30 a.m. and the evening rush from 4:30–8 p.m.
As with any large metropolitan area, parking can be challenging in high-traffic areas. However, many lots allow parking reservations, and several local apps or businesses track available parking live. It's smart to call ahead and plan for parking before traveling.
It takes about 20 minutes under the best circumstances to go from the airport to downtown Los Angeles. It also takes about the same time to go from the Santa Monica Pier to downtown. Don't forget to get Los Angeles car insurance to keep your automobile protected since you will most likely be driving more.
Alternative Routes
Perhaps the best advice is to find ways to cope with the traffic, such as using online GPS or navigation services that provide live guidance on avoiding traffic. If you must drive, there are a few LA traffic shortcuts that can potentially save time. While in Hollywood, take Franklin Avenue instead of Sunset or Hollywood Blvd. Take Sepulveda and Centinela to LAX when the 405 is moving slowly. Venice Blvd can be a good alternative to Eastbound 10 when going from Santa Monica to downtown.
Public Transportation in Los Angeles
Speaking of avoiding traffic, services like Lyft and Uber are very popular in LA, and these drivers often know the best routes. As for public transportation in Los Angeles, the city uses a mix of buses, light rail, subways, and shuttles to move people around. Travelers are encouraged to download the Go Metro Los Angeles mobile app to help plan a trip using public transportation. Transit fees start at $1.75, but day passes are available for $7 and week passes for $25, with longer passes available.
There are also several park-and-ride locations for commuters wanting to avoid parking and downtown traffic hassles. To accommodate bike riders, all Metro buses have at least two bike racks. Traffic might be heavy, but people within the community have multiple options to reduce traffic-related frustration.
Los Angeles Schools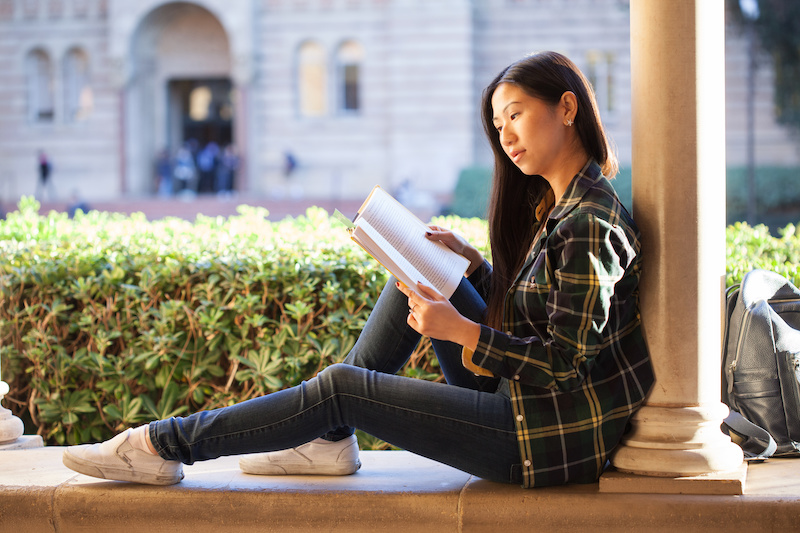 Because of the immense size, there are multiple public school districts in the Los Angeles area. The Los Angeles Unified School District is the largest, with nearly 500,000 students. In addition to managing almost 800 schools covering K through 12, the organization also provides programs aimed at adult learners. The district has a student-to-teacher ratio of 23-to-1, and teachers make an average salary of $91,000 per year. There are also several hundred private schools available, including more than 20 Montessori institutions.
Los Angeles is also ripe with opportunities for higher education. There are six public community colleges in the area, including Los Angeles City College and Los Angeles Harbor College. Both offer certificates and associate degree programs. California State University Los Angeles, University of California Los Angeles, and California State University Northridge all offer bachelor's degrees and graduate programs through the Ph.D. level. Additionally, there are several private colleges in Los Angeles to consider.
There's More to Love When You Live in Los Angeles
Nowhere can beat Los Angeles for sun, fun, and opportunity. With its thriving entertainment industry, pleasant weather, and vast cultural diversity, the city offers a multitude of opportunities for personal and professional growth. From exploring the great outdoors to indulging in a world-class dining scene, Los Angeles provides an enviable quality of life that caters to a wide range of interests and passions.
Read Our Moving Guides For Each City Below