Most Walkable Neighborhoods Near Los Angeles, CA
Posted by Courtney Korb on Tuesday, August 24, 2021 at 7:30 AM
By Courtney Korb / August 24, 2021
Comment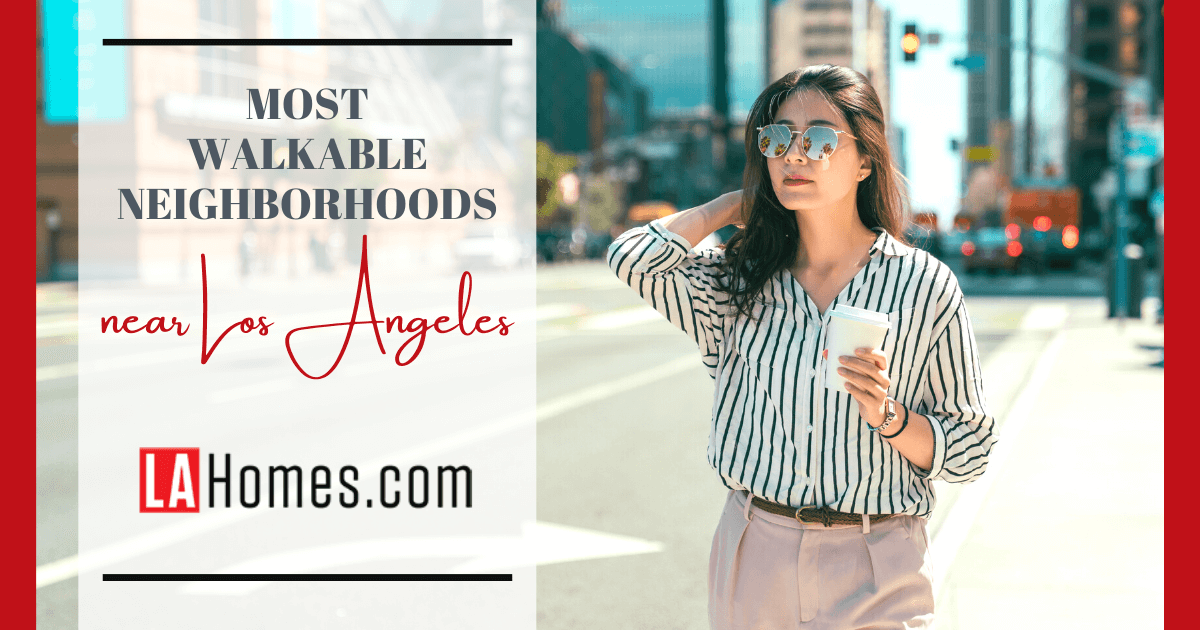 Known as "The City of Angels," the Los Angeles metro area is home to movie stars, outdoor recreation areas, and a desirable selection of walkable neighborhoods. With a walkability score of 68, residents and visitors alike can take a break from driving in Los Angeles and traverse the city on foot. Read on to learn all about the most walkable neighborhoods in Los Angeles and the surrounding areas.
Stroll Through Downtown LA
Downtown LA Amenities
Grand Central Market
Arts District
STAPLES Center
The Broad
Theatre at Ace Hotel
FIGat7th
What's now known as the Downtown Los Angeles neighborhood was founded in 1781 and was originally called El Pueblo de La Reina de Los Angeles, which translates to "The Town of the Queen of Angels."
Today, Downtown Los Angeles is one of the most walkable neighborhoods in town. People living in Downtown L.A. condos can stroll mere minutes to shops, restaurants, and art galleries.
Centered around the Arts District, the area south of 6th Street especially caters to the pedestrian culture. Countless bars, cafes, shops, and restaurants line the walkable streets of this neighborhood.
Other walkable downtown districts are on Spring and Broadway Streets, where locals can explore the FIGat7th shopping haven or the Grand Central Market. The market features generations-old food stalls alongside modern installations.
Walk Among L.A. History in the Westlake Community
Westlake Amenities
MacArthur Park
Levitt Pavillion
The Teragram Ballroom
Established in the early 1900s, the Westlake neighborhood was one of the first residential communities in Los Angeles. Situated near Echo Park and Silver Lake, this neighborhood offers plenty of housing options. By comparison, home prices and rental rates are lower than average within L.A., making it a prime choice for those looking for a home.
Westlake draws people in with its rich culture and history. Highlights include Historic Filipinotown, Lafayette Recreation Center, and MacArthur Park. Art lovers will appreciate the many murals that represent the past, present, and potential future of Los Angeles.
Delicious dining options are just steps away in the Westlake community. Anyone craving an authentic pastrami sandwich should stroll to Langer's Deli on Alvarado Street.
Miracle Mile: Designed With Walkers in Mind
Miracle Mile Amenities
La Brea Tar Pits
Hancock Park
The shops on Wilshire Boulevard
Los Angeles County Museum of Art
When it was established in the early 1920s, Wilshire Boulevard in the Miracle Mile neighborhood was just a 20-foot wide dirt road. Surrounded by barley fields and oil wells, real estate developer and innovator A.W. Ross bought the 18-acre tract in 1921 for $54,000. He envisioned Miracle Mile as a retail haven for pedestrians.
Today, Miracle Mile is highly walkable, with shops, eateries, grocers, and museums lining the streets. This is just one reason that people are interested in calling this Wilshire Boulevard community home. High-rise apartments, posh condos, and impressive estates invite people to make themselves at home.
This community is also known as "Museum Row" that boasts treasures in multiple exhibition spaces including the Peterson Automotive Museum and the Los Angeles County Museum of Art. Other walkable destinations include The Grove and the famous Original Farmers Market. Love history? Check out the anthropological wonders at The La Brea Tarpits.
Hungry? Miracle Mile residents can easily walk to coffee and pastry shops and diners like CJ's Cafe for a quick fix. Other locally beloved restaurants include Trejo's Tacos, Mo Betta Burgers, and HIHO Cheeseburger.
Do the Walk of Fame in Central Hollywood
Central Hollywood Amenities
The Hollywood Walk of Fame
Hollywood Forever Cemetery
Madame Tussauds
Sunset & Vine
The Hollywood neighborhood has been a Tinsel Town crown jewel since the 1920s. This neighborhood centers around Sunset Boulevard and Hollywood Boulevard, with Vine Street bringing it all together. Once known as Radio City, the companies in the area are now mostly involved in movies and television.
As the second most walkable neighborhood in L.A., Central Hollywood also has ample public transportation and dedicated bike lanes. This makes it easy for those living in nearby gated home communities and apartments to see numerous sights like the famous Hollywood Walk of Fame.
Shops line almost every street in Central Hollywood, ranging from kid-focused stores to designer clothing boutiques. Food from around the globe can be found within a short walk. Chef Ludo Lefebvre's Petit Trois, is a stand-out choice fro French food.
Walkability is Part of the Beverly Hills Lifestyle
Beverly Hills Amenities
Rodeo Drive
Beverly Gardens Park
Greystone Mansion
Frederick R. Weisman Art Foundation
The Beverly Hills neighborhood was once the home of El Rodeo de las Aguas in the late 1890s, and was later acquired by developer Burton Green. Green opened up the Beverly Hills subdivision in 1914, and it quickly became one of the most famous neighborhoods in Los Angeles.
Today, it's highly walkable, with nearly 450 bars, shops, restaurants and coffee shops within less than one mile of many of the gated community homes in Beverly Hills.
The most walkable street in Beverly Hills is the famous shopping haven of Rodeo Drive. This area also boasts the Walk of Style, which boasts bronze statues that honor some of the most famous fashion design icons. With more than two miles of high-end boutiques and shops, Rodeo Drive has some of the best shopping in Los Angeles. Santa Monica Boulevard is home to the impressive Beverly Gardens Park and the Wallis Annenberg Center for Performing Arts.
East Hollywood: Trendy and Walkable
East Hollywood Amenities
Barnsdale Art Park
Griffith Park
Skylight Books
Los Angeles City College
Back in 1887, East Hollywood included parts of Los Feliz and was better known as Prospect Park. Types of homes in the area includes Art Deco-style homes, apartments, and commercial real estate. East Hollywood is home to an abundance of artists, which enhances the neighborhood's unique aesthetic. East Hollywood enhances walkability by offering Slow Streets. Slow Streets limit automotive traffic to public transit, emergency vehicles, and cars with special local permits.
Barnsdale Art Park is the highlight of East Hollywood. This outdoor hilltop space offers gorgeous views, and is home to a theater, gallery, art center. It's also where the Frank Lloyd Wright-designed Hollyhock House is located. Dining options range from informal to formal, and favorite restaurants include Sanamluang, The Armenian Pizza at Sasoun, and The Carousel Restaurant Hollywood is a unique experience and a carousel of Middle Eastern global cuisine.
Pico-Union is a Walker's Paradise
Pico-Union Amenities
Powell Place
El Salvador Community Corridor
Normandie Recreation Center
The Pico-Union neighborhood falls within the boundaries of what was once El Pueblo de Los Angeles. As railroads brought in newcomers, more business rose and people continued to migrate and settle here. Today, Pico-Union is a unique neighborhood with a laid-back feel that lets locals live close to all the amenities of the city. As a place where the past is preserved, architecture is a highlight of Pico-Union. Powell Place is a 13-foot-long road that is L.A'.s shortest street and a great photo opportunity. Pico-Union is also home to the El Salvador Community Corridor.
Boost Your Step-Count in Wilshire Center
Wilshire Center Amenities
Shatto Recreation Center
Slow Streets
Los Angeles Fine Arts Building
Capitol Records Tower
The Wilshire Center community started developing around 1900 when Germain Pellisier bought 160-acres of land for farming. This land later formed the basis of the community, which is also known as Koreatown. The pedestrian-friendly area has an array of housing options ranging from townhomes to single-family dwellings, each with a style representing the neighborhood vibe.
There is plenty to do that can be walked or biked to, as there are numerous retailers, restaurants, and shops. Slow Streets make the neighborhood even easier to walk.
Residents can also walk to the iconic Capitol Records Tower and the massive collection at the Los Angeles Fine Arts Building. Hungry locals and visitors will find treats and eats at hotspots within walking distance.
Discover the Most Walkable LA Neighborhoods
Although most people need a car to travel in Los Angeles, many neighborhoods make it easy to get around on foot. From art museums to tasty restaurants, some of the most fun things to do in Los Angeles are just a short walk away!