Luxury in the Valley: 8 Most Expensive Glendale Neighborhoods
Posted by Courtney Korb on Wednesday, March 16, 2022 at 8:50 AM
By Courtney Korb / March 16, 2022
Comment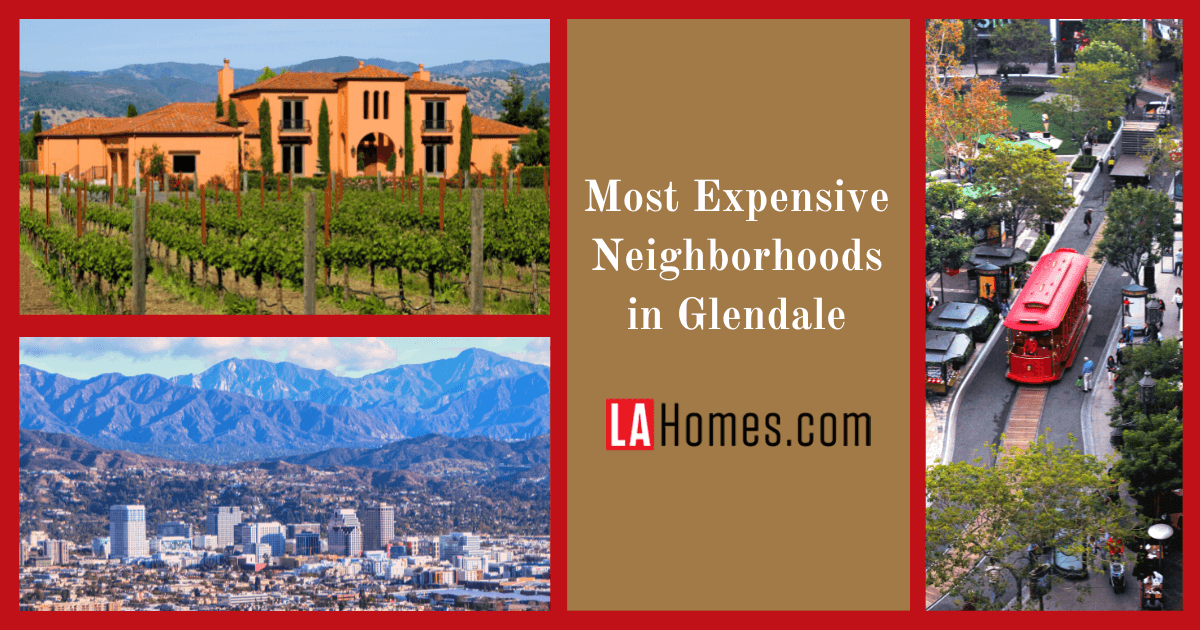 Glendale, California, is a 200,000-resident community just north of the city of Los Angeles. Famous for its rich history, beautiful architecture, and world-class shopping on Brand Boulevard, the homes for sale in Glendale invite people to find a quiet hideaway near the heart of Hollywood.
There are close to 40 neighborhoods in Glendale. Whether looking for the best condos in town or the most luxurious homes in Glendale, buyers are sure to find what they're looking for here. Ready to find stunning mansions and penthouse units? Keep reading to learn about the eight most expensive neighborhoods in Glendale.
Brockmont
Brockmont Amenities
Ralphs
Mori Teppan Grill
Gold Rail Bar
Trader Joe's
Brick & Flour Artisanal Mexican Grill
The beautiful neighborhood of Brockmont is filled with parks and natural green spaces. The neighborhood has a wide range of elevations, and properties on hilltops are afforded gorgeous views across the city with incredible sunsets.
Brockmont homes for sale start at $1 million and sell for as much as $4.5 million. Brockmont properties are almost exclusively single-family homes. Popular architectural styles in the area include Ranch and English Revival.
Homes offer up to four bedrooms and 5,000 square feet. Properties contain sought-after exterior features, including private backyards and lush, meticulously-maintained landscapes. Many homes come complete with swimming pools and spas in the backyard.
In addition to breathtaking views, Brockmont residents also enjoy the privacy and relative seclusion the neighborhood's hills provide. Despite the peace and tranquility, Brockmont residents are just a short drive away from downtown Glendale.
Residents of Brockmont are also a short distance from the Verdugo Mountains. There are plenty of hiking trails available here, including Tongva Peak, the Beaudry Fire Road Loop, and Mount Thorn.
Oakmont
Oakmont Amenities
Trader Joe's
Oakmont Country Club
Oakmont View Park
Leviathan's Teeth Trail
Deer Creek
Located at the northeastern base of the Verdugo Mountains, residents of Oakmont are gifted with scenic views over the Oakmont Golf Course and Country Club. The neighborhood is roughly two miles wide, with three distinct subsections.
Oakmont real estate sells for prices that range between $750,000 and $2.5 million Properties have five bedrooms and contain desirable features, including spacious masters, walk-in closets, gourmet kitchens, open floor plans, and breathtaking views.
What's known as early Oakmont was developed in the 1930s. This small section of the neighborhood has lush, mature oak trees and stately homes. To its left is the Oakmont Woods neighborhood, a private, sought-after subsection built in the 1960s. Lastly, construction in Oakmont View started in the 1980s and consists of architecturally modern homes with balconies that offer refreshing views of Oakmont View Park.
In addition to the neighborhood's numerous parks and hiking trails, there are several nearby cafes to grab a coffee and pastry on the go. Berolina Bakery & Pastry Shop and The Coffee Bean & Tea Leaf are both a short distance from Oakmont and are crowd favorites for a good cup of joe.
Chevy Chase
Chevy Chase Amenities
Derby House
Wild Oak Cafe
Sphericity
Chevy Chase Library
The neighborhood of Chevy Chase is a refreshing change from the everyday hustle and bustle that Southern California is known for. The area has a rural, country feel, and residents would never know that they are just minutes from California Route 2 and the Ventura Freeway.
There is a wide range of property types available in the neighborhood. Homes for sale in Chevy Chase start at $1,000,000 and can be as much as $3,000,000. Properties contain high-end features like sliding glass doors, custom-built fireplaces, gourmet kitchens, and beautiful spaces for seamless indoor-outdoor living.
In addition to the views Chevy Chase offers, the neighborhood is less than ten minutes from downtown Glendale and roughly twenty minutes from nearby cities, Pasadena and Los Angeles. Golf lovers are right at home here, with the Chevy Chase Country Club and the Scholl Canyon Golf Course local to Chevy Chase.
Residents enjoy the sights of Chevy Chase Canyon as much as they enjoy scenic drives along the winding, heavily wooded roads of Chevy Chase Drive. Architecture in the area is just as gorgeous as the scenery, brimming with Spanish Colonial and English Revival properties.
Whiting Woods
Whiting Woods Amenities
Whiting Woods Motorway Trail
El Sol Mexican
Verdugo Mountains Open Space Preserve
Trader Joe's
The neighborhood of Whiting Woods has an ethereal atmosphere. The heavily wooded community overflows with mature oak trees, and a bubbling creek runs alongside the neighborhood's main thoroughfare, Whiting Woods Road. Deer, hawks, and other wildlife sightings are common in Whiting Woods.
Homes in the area live up to the neighborhood's otherworldly charm. Various home styles bring warmth and character to the neighborhood, and architectural styles include California Ranches and Mid-Century Contemporaries. Property sizes and prices are pretty consistent throughout the neighborhood. Whiting Woods homes for sale range between 1,500 and 2,500 square feet, and home prices start at $1 million and $2 million.
Homes are gorgeously designed, with meticulously-landscaped lawns and breathtaking curb appeal. Interiors boast gleaming hardwoods, floor-to-ceiling windows that bathe homes in natural light, and thoughtfully designed floor plans.
Just down the road are Jeremy's Coffee Shop and Gilligan's Irish Pub. These two local businesses are neighborhood staples. Waits can be long on the weekends, so it's essential to get there before the crowds.
Verdugo Woodlands
Verdugo Woodlands Amenities
Woodlands Cafe
Old Fashion Deli & Market
Glorietta Tennis Park
San Rafael Hill
The neighborhood of Verdugo Woodlands often claims credit for being the birthplace of the state of California. The neighborhood held the negotiations that ultimately ended the war in California, an event that incited the formal ending of the Mexican American War.
Verdugo Woodlands homes for sale are highly sought-after and have price tags to prove it. Properties sell for between $1 million and $3 million and boast spacious interiors that offer buyers up to 4,000 square feet. Most homes contain between three and four bedrooms and just as many bathrooms.
High-end home features include French doors, large bay windows, and professionally designed custom kitchens. Most properties take advantage of the beautiful southern California weather and contain courtyards, paver driveways, and lush landscaping, making yards perfect for entertaining.
This incredible history is matched only in its incredible location. Verdugo Woodlands is close to downtown Glendale but simultaneously provides a peaceful respite for its residents to retreat to. Verdugo Woodlands' landscape is on the eastern base of the Verdugo Mountains. The neighborhood is just a short distance from peaceful parks, including Verdugo Park, Catalina Verdugo Adobe, and Mayor's Bicentennial Park.
Emerald Isle
Emerald Isle Amenities
Emerald Isle Park
Flint Canyon Trail
Cherry Canyon Park
Flint Canyon Tennis Club
Emerald Isle is truly a hidden gem in Glendale. Its tree-lined streets, scenic views, and secluded location make it a peaceful retreat for residents. The area has a rural feel and is further removed from freeways and major thoroughfares than other neighborhoods in the city.
Emerald Isle homes for sale range between $1 million and $2 million. Homes are located at varying elevations, offering scenic views of Chevy Chase Drive, the San Rafael Hills, and Emerald Isle Park. The most impressive property features include custom fireplaces, covered patios, swimming pools, and barbecues.
However, natural privacy is precisely what some homebuyers are in the market for. Emerald Isle was developed in the 1960s, and architects took great care to maintain an aesthetically pleasing blend of home types that add to the neighborhood's charm and peaceful atmosphere. The most popular architectural styles in the neighborhood include Mission Revival, Mid-Century Modern, and Craftsman.
Emerald Isle's sought-after wooded surroundings are off the beaten path. However, the neighborhood is just a short drive from delicious and homey restaurants on the nearby Foothill Freeway. Local favorites include Honeybird, Los Gringos Locos, and The Proper Restaurant & Bar.
Riverside Rancho
Riverside Rancho Amenities
Griffith Park
Los Angeles Equestrian Center
Da Moor's Feed and Tack
Goodwill
Super King Markets
Riverside Rancho is a unique neighborhood located in the southwestern area of Glendale. The community is reminiscent of classic ranch-style neighborhoods and is the only neighborhood in Glendale that allows horses on residential properties. The area is so equestrian-centric that it's common to see horses sharing the streets with cars and pedestrians.
Despite Riverside Rancho's proximity to major metropolitan areas, the neighborhood is a wooded paradise. It's perfect for those looking for a retreat from the hustle and bustle of city life. Riverside Rancho real estate sells for between $750,000 and $4.2 million, and interiors boast spacious floor plans, hardwood floors, and tons of natural light.
Outside its rustic appeal, the neighborhood is centrally located and shares a border with both the city of Burbank and Los Angeles. It's less than a thirty-minute drive to these cities, making Riverside Rancho an ideal neighborhood for commuters.
While the neighborhood is just minutes down the road from Burbank and Los Angeles, there is plenty for Riverside Rancho's residents to enjoy in their backyards. Kalinka Russian Cuisine offers hot comfort food right in the center of town. Residents looking to take a drive can stop by nearby Little Ground or Basecamp and High Horse Dinette.
El Miradero
El Miradero Amenities
Grand Park
Pomeroy Canyon
Grand Park Hidden City View Trail
Coffee Commissary
Tacos Los Desvelados Glendale
El Miradero's name translates to "watchtower" or "vantage point." The neighborhood lives up to its name, located at the base of the Verdugo Mountains. El Miradero offers spectacular views of nearby mountains to the north and Griffith Park to the south.
El Miradero homes for sale are usually priced between $1 million and $1.5 million. These homes boast up to three bedrooms and 2,000 square feet of living space. Some of the features offered by these homes include high ceilings, stainless steel appliances, hardwood floors, and private balconies.
While the neighborhood is known for its high elevation and spectacular views, that's not all it has to offer prospective residents. The neighborhood is home to Brand Park, a scenic green space that includes hiking trails, art galleries, and pieces of local history.
Nearby, Kenneth Village offers plenty of kitschy and unique small business shops, including Kenneth Village Florists, Kenneth Village Pharmacy, and Village Market Place. Kenneth Road and Grandview Avenue are both main roads in the neighborhood that offer plenty of unique shops and restaurants to grab a quick bite.
Discover Glendale Mansions in These High-End Neighborhoods
These Glendale, California, neighborhoods are indeed the best of both worlds. People moving to Glendale will love them for their ideal location close to amenities and its quiet, peaceful lifestyle. While these neighborhoods are expensive, their convenience, plentiful amenities, and quality properties make their high price tags more than worth it.
With so many neighborhoods in the city, it can be overwhelming for prospective residents shopping in the area. However, the variety of neighborhoods means a wide range of prices and home types available in the city. For buyers looking for the height of luxury, there is bound to be a perfect neighborhood for them in Glendale.