Where to Find Burbank Mansions: A Guide to the 8 Most Expensive Neighborhoods in Burbank
Posted by Courtney Korb on Wednesday, January 5, 2022 at 6:36 AM
By Courtney Korb / January 5, 2022
Comment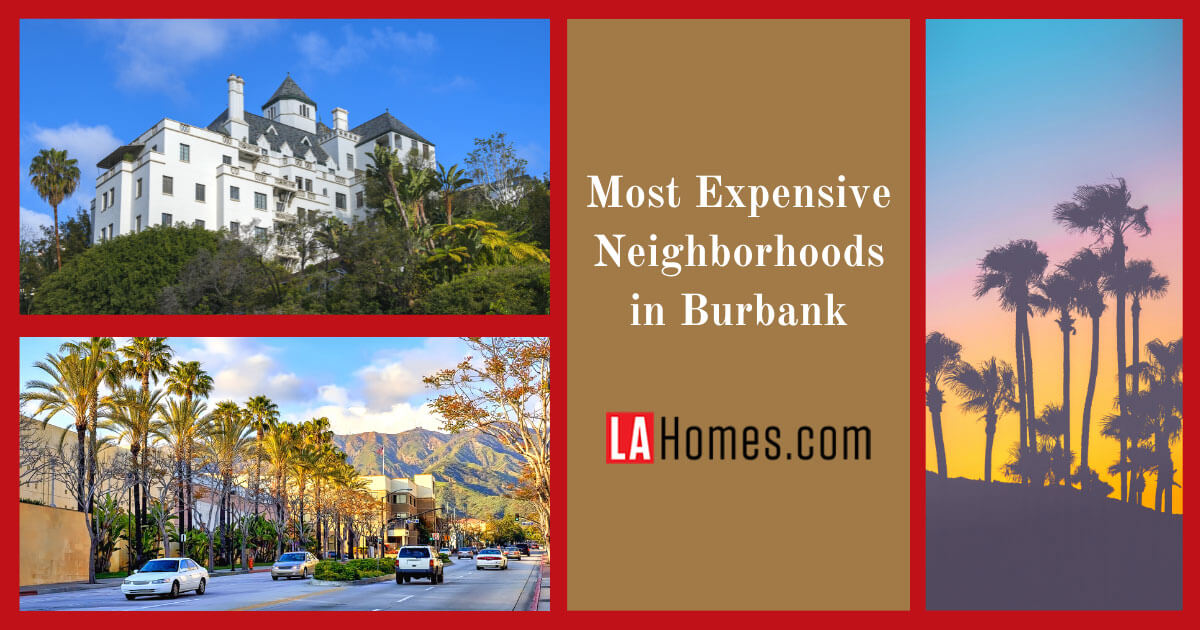 Located in the San Fernando Valley midway between the city of Los Angeles and the suburb of Santa Clarita, Burbank is a far cry from the sleepy ranch town it was just a century ago. This city of approximately 100,000 residents is home to major film and TV studios. It also has a thriving arts scene, with colorful murals decorating the facades of many shops, bars, and restaurants.
The prices of Burbank homes for sale have been rising steadily over recent years, which has made the cost of living in Burbank rather pricey. People looking for Burbank luxury real estate will be delighted to browse through the neighborhoods on this list. Keep reading to learn about the eight most expensive neighborhoods in Burbank.
Magnolia Park
Magnolia Park Amenities
Home of the popular Monte Carlo Deli and Pinnochio Restaurant
Vintage shops include Playclothes and Best of Times
Jungle gym and summer concert series at Verdugo Park
Home to Martial Arts History Museum and Bearded Lady's Mystic Museum
Magnolia Park has come a long way since 1915 when a business developer named Earl L. White established a dairy farm at the corner of Verdugo Avenue and Hollywood Way. Today, this walkable neighborhood is a striking blend of old and new, with retro vintage shops set among modern eateries.
With its proximity to the studios, Magnolia Park is an excellent option for those who work in the film and TV industry and want to be within walking distance of shops, restaurants, and parks.
Homes for sale in Magnolia Park range from $600,000 for a small, standalone home that measures 900 square feet to $2.5 million for larger properties that boast over 3,000 square feet.
Some of the best local hot spots in the city are found here, including Porto's on the corner of Magnolia Boulevard and Hollywood Way. Here, visitors line up outside for a chance to snag one of the bakery's famous guava and cheese strudels. Another local gem is the Chandler Bikeway, which runs for 5.6 miles between Downtown Burbank and the NoHo Arts District, drawing in many locals with its winding trails, scenic vistas, and lush landscapes.
McNeil
McNeil Amenities
Amenities on West Olive Street include Whole Foods Market
Lakeside Shopping Center has a variety of stores and cafes
Home to Bea Bea's, a popular restaurant serving brunch
Minutes away from Bob's Big Boy, a classic hamburger spot
The area south of Magnolia Park was once part of a factory district where the Libby, McNeill, and Libby Cannery set up shop on Verdugo Avenue. Over the next few decades, the neighborhood known today as McNeil transformed from a commercial center dotted with plants and factories into a residential neighborhood anchored by Robert Louis Stevenson Elementary, one of the many schools in Burbank.
McNeil residents enjoy the neighborhood's quieter, residential feel while still minutes away from shopping and dining opportunities on West Olive Avenue. Homes for sale in McNeil are listed on the market at typically between $600,000 and $2 million. Condos and townhomes are also on the pricey side, with studio apartments starting at $300,000 and 3-bedroom residences asking $900,000 or more.
McNeil residents will find nearby Johnny Carson Park a great spot to go for a picnic or a stroll. The park is also home to a yearly charity event hosted by the Burbank Road Kings, where dozens of restored '50s and '60s automobiles are displayed.
Northwest District
Northwest District Amenities
The Grand Rotunda at Valhalla Memorial Park hosts concerts and events
Access to Metrolink's orange line spanning 70 miles to Oxnard, CA
Near restaurants and bars on Victory Boulevard, including Guildhall
Home to 5 Points Art Monument featuring a statue of Dr. David Burbank
The Lockheed Aircraft Corporation was once headquartered in northwestern Burbank. In the mid-1900s, its air terminal went through a series of name changes, including Bob Hope Airport and what's known today as Hollywood-Burbank Airport.
Although expensive, Northwest District real estate is a more affordable option than other neighborhoods on this list. Residents can get a little more bang for their buck if they don't mind living on the flight path. Single-family homes closer to the airport start at around $500,000. By contrast, homes closer to Burbank Boulevard, farther away from the airport, can go for $1.2 million or more.
The good news is that qualifying homes can take advantage of the airport's free sound insulation program, including beefing up doors and windows for better sound attenuation against aircraft noise.
On the southern edge of the neighborhood, Burbank Boulevard has many mom-and-pop shops and trendy cafes like The Ugly Mug Coffee House. Valley Park has picnic benches, playgrounds, and a skate park near the eastern edge. There are several public schools within the Burbank Unified School District, including Bret Harte Elementary School, Luther Burbank Middle School, and Monterey High School.
Starlight Hills
Starlight Hills Amenities
Stough Canyon Nature Center offers hiking trails and wildlife workshops
Close to DeBell Gold Club, home of the popular Hilltop Restaurant and Bar
Steps away from Woodbury University's renowned School of Architecture
Near scenic trails in La Tuna Canyon Park and Verdugo Mountain Park
Starlight Hills sits on the foothills of the Verdugo Mountains north of Glenoaks Boulevard. This quiet neighborhood is one of the best neighborhoods in Burbank, commanding attention with its many bright, star-shaped holiday lights decorating the community's front lawns since the '60s.
Starlight Hills is an excellent location for those who want to be surrounded by nature and wildlife while still enjoying proximity to Downtown Burbank's active nightlife.
Large, single-family homes make up most of the properties here. Many have sloping driveways that lead to covered garages and expansive backyards with mountain views. Starlight Hills real estate prices range from $1 to $2.5 million for 3- or 4-bedroom homes averaging 2,500 square feet. Larger homes with over five bedrooms and 5,000 square feet can go for roughly $4 million.
The Starlight Bowl is one of the neighborhood's main attractions. This 5000-seat amphitheater hosts musicals, concerts, and a laser light show on the Fourth of July. Another neighborhood mainstay is Castaway Restaurant & Events. Here, locals enjoy fine dining and sweeping views of the San Fernando Valley.
The Rancho
The Rancho Amenities
Circle K Stables and LA Horse Rentals offer many miles of horse trails
Bette Davis Picnic Area has a landscaped riverwalk and bike path
Mountain View Park has tennis courts, picnic tables, and a horseshoe pit
Rancho Marketplace Shopping Center offers a variety of shops and cafes
Some Burbank residents walk their dogs, while others take their horses for a stroll. This is the case in the equestrian-friendly Rancho District north of Griffith Park, where special zoning laws allow horses to live with their owners on the premises.
The Rancho's mix of rustic living within a bustling city is perfect for those seeking a quiet neighborhood with lots of character. But The Rancho's prime location near Walt Disney Studios and the Hollywood Hills has made it one of the most expensive neighborhoods in Burbank.
The Rancho real estate prices range from $1 million to $2.5 million, most commonly with 3- or 4-bedroom floor plans averaging 2,000 square feet. Around 5,000 square feet, bigger luxury homes may be available on larger parcels zoned for horses and are listed at $3 million or more.
The Rancho's sizeable horse population has thrived thanks in part to the Los Angeles Equestrian Center founded in 1982, which offers riders plenty of trails to roam on horseback. Pickwick Recreation Center is another community staple, with well-maintained gardens for weddings and events and an ice-skating rink.
Burbank North Estates
Burbank North Estates Amenities
Easy access to the I-134 freeway connecting Glendale and Pasadena
Close to Villa Cabrini Park's picnic tables, green lawns, and nature trails
Near Starlight Bowl, Castaway Restaurant & Events, and DeBell Golf Club
Moon bounce area and lighted tennis courts at Brace Canyon Park
Burbank North Estates was developed in the 1970s following a plan for a luxury community that would feature winding, cul-de-sac streets nestled north of Bryce Canyon Park. This neighborhood is an excellent option for those who want a private, close-knit community while enjoying some of the best views of the San Fernando Valley.
Residents who live here fork up a hefty sum for high-end luxury. Homes for sale in Burbank North Estates range in price from $1.5 million to $4 million, with most homes sporting large swimming pools and over an acre of land.
The community shares local amenities with its neighbor, Starlight Hills, including Brace Canyon Park, which offers tennis courts and playgrounds in addition to nature trails. Two miles south of the community, Downtown Burbank has two movie theaters, department stores, and some of the best tacos in town at Guisados. Closer to the neighborhood on Glenoaks Boulevard, Hill Street Cafe and La Bamba Restaurant are local favorites for dining and drinks.
Hillside District
Hillside District Amenities
Minutes away from Burbank Skyview Trail and Wildwood Canyon Trailhead
Joaquin Miller Park has a sanded playground under a tree canopy
Easy access to bird-watching and hiking in the Verdugo Mountains
Short walking distance to Metrolink Station's green and orange lines
Hillside District has North Kenneth Road as its main arterial near the neighborhood's northern border and North Glenoaks Boulevard as the main southern thoroughfare. Most districts' homes were built in the 40s and 50s and sit lower on the Verdugo Hills, yet offer great views of the San Fernando Valley.
Hillside District is an excellent choice for residents who want a residential, suburban feel near the action of Downtown Burbank, but far enough for some peace and quiet. The least expensive homes for sale in Hillside District carry a price tag of $700,000, averaging approximately 1,500 square feet. The price range goes up to $2.5 million the closer these homes are to the foothills of Verdugo Mountain.
McCambridge Park is a local gathering spot that's home to the Burbank Tennis Center and a fitness complex that houses a large gymnasium. The gym was the setting for Marty McFly's band audition in the movie "Back to the Future" and a famous filming location for the late '80s-early '90s TV series, "The Wonder Years."
Hillside District is also home to Burbank High School, which enrolls around 1,300 students annually and offers competitive college preparatory programs.
Downtown Burbank
Downtown Burbank Amenities
Colony Theatre Company puts on plays, musicals, and cabaret shows
Gordon Biersch Brewery and Yardhouse have a variety of beers on tap
San Fernando Boulevard has dozens of shops, bars, and restaurants
Burbank Town Center has well-known retailers and two movie theaters
In the early 1900s, the Moreland Truck Company on San Fernando Boulevard and Alameda Avenue played a pivotal role in transforming Burbank from a rural farming community into a formidable industrial center. Today, the area once occupied by the truck manufacturer is home to the largest IKEA in North America, measuring 456,000 square feet and sitting on 22 acres.
With upbeat comedy clubs, live music venues, and hip bars, Downtown Burbank is the perfect place to let loose at night. But living in this amenities-rich location doesn't come cheap. Downtown Burbank real estate prices range from $700,000 to $1.5 million. The condo and townhome market isn't too far behind, with studio apartments starting at around $300,000 and 3-bedrooms going for approximately $1 million.
Residents who can afford to live here won't lack entertainment options. Live music venues, such as The Blue Room, Crystal View Lounge, and Over Under Public House are among the most popular places to see regular performances by up-and-coming bands. And at Flappers Comedy Club, big-name headliners will have visitors laughing well into the night. All of this can be enjoyed among Downtown Burbank's vibrant street art, with some murals paying homage to iconic film characters, like Darth Vader from the Star Wars movies.
Luxury Awaits in Burbank's Most Expensive Neighborhoods
The most expensive homes in Burbank offer excellent value in terms of space, location, and views. Plus, the amenities and conveniences afforded by these neighborhoods might be worth every penny. With easy access to hundreds of the best things to do in Burbank, residents can enjoy daily luxuries in the neighborhoods on this list.