Los Angeles Neighborhoods with the Best Bang for Your Buck
Posted by Courtney Korb on Tuesday, September 21, 2021 at 12:14 PM
By Courtney Korb / September 21, 2021
Comment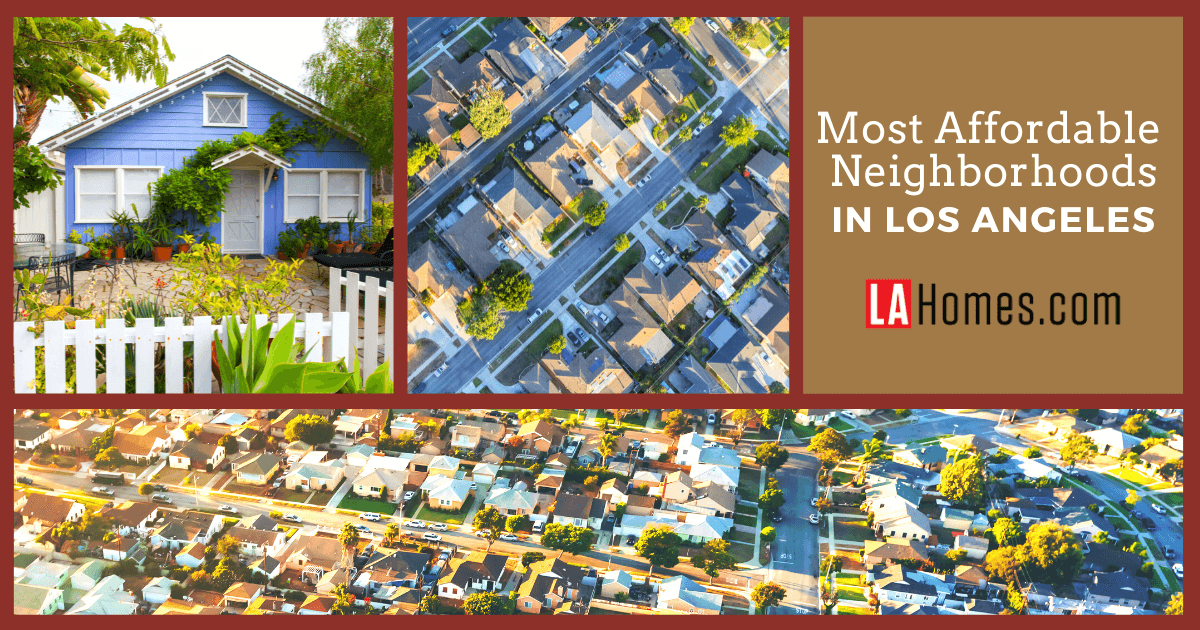 The Los Angeles community has a population of about 4 million and is the largest city in California. Covering over 450 square miles, its residents enjoy access to mountains, deserts, and beautiful beaches—and that's not taking into account all the attractions to be found in Los Angeles' best neighborhoods themselves.
Some might hesitate to move to Los Angeles because of the city's cost of living, and it's true that housing tends to be expensive—especially for those who have their sights set on Los Angeles' luxury homes. However, it's also true that there are plenty of affordable neighborhoods in Los Angeles. While the median home price in the Los Angeles area is about $750,000, savvy homebuyers can find neighborhoods where homes are hundreds of thousands of dollars more affordable. House-hunting on a budget? Read on to learn about affordable Los Angeles neighborhoods to keep an eye out for.
Watts
Watts Amenities
Several parks, including Serenity Park
Access to public transportation at the 103rd Street/Watts Towers A Line station.
Watts Towers Art Center
Several active community centers
The Watts neighborhood is in south Los Angeles and borders the city of Lynwood to the east, the city of South Gate to the southeast, and the community of Willowbrook to the south. It was originally founded in the late 19th century as a ranching community and grew rapidly with the railroad's arrival. It became an independent city, but the city of Los Angeles annexed it in 1926. It is known for its landmark Watts Tower, which is listed in the National Register of Historic Places.
Homes in this neighborhood are mainly single-story dwellings, though a few townhomes are becoming available as part of revitalization plans. The median sale price is about $450,000. Some houses are on quiet tree-lined streets; others are in the middle of the cultural scene in the 103rd Street and Central Avenue corridor.
The neighborhood has several festivals, including a summer games tournament and a community theater and dance company. Restaurants feature authentic American and Mexican cuisine, as well as Southern soul food and Chinese food. Café Oaxaca and Marisco Doña Mary are two Mexican restaurants in the area, and Alexander'z Burgers serves everything from burrito breakfasts and avocado burgers to omelets and steak sandwiches.
Florence
Florence Amenities
Accessible to Interstate 119
Variety of home sizes and types
Two bus stations within a 2-minute walk of the center of the neighborhood
In southern Los Angeles, the Florence neighborhood is one of the most densely populated neighborhoods in the city; 50,000 people live in its 2.8 square mile area. Its northern border is East Slauson Avenue; its eastern border is Central Avenue; its southern border is Firestone Boulevard, and the western border is Interstate 110.
The median sales price is about $460,000, and the neighborhood features a variety of home styles, sizes, and prices. For example, home sizes can range from 1,600 square feet to more than 5,000 and prices from about $320,000 to more than $1.2 million. Attached and detached home types are available.
The neighborhood is primarily residential, but it does have some restaurants and shopping. Tacos Jalisco serves Mexican food; Puerto Guaymas serves deliciously fresh seafood. The Topanga Meat Market is a local grocery store.
South Park
South Park Amenities
Walkable streets
Close to freeways and downtown
The South Park neighborhood covers 1.41 square miles near the intersection of 51st Street and Avalon Boulevard in the south-central area of the city. Don't confuse it for the downtown neighborhood that has recently also been called South Park—the original South Park near 51st Street is a mostly residential neighborhood with tree-lined streets.
The neighborhood consists primarily of modest single-family homes, although it has some estate homes and condos. The median sales price is a little more than $500,000.
The neighborhood has a variety of casual restaurants, including Tacos Los Palomas and Lucky's Chinese. Residents can buy fresh fruits and vegetables at 51st Street Produce. Several dance clubs are along South Broadway, including the El Peregrino Club.
Central Alameda
Central Alameda Amenities
The neighborhood of Central Alameda is a 2.18 square mile area in South Los Angeles that borders the downtown Los Angeles neighborhood on its north, the city of Vernon on the east, homes in Huntington Park and Florence-Firestone on the south, and South Park and Historic South Central on the west. It is south of the Santa Monica Freeway and east of the Harbor Freeway and densely populated. Long Beach East Avenue runs north to south, dividing the neighborhood. The eastern portion is primarily commercial, while the western part is residential.
Prices range from the mid $300,000s to more than $700,000, with the median price being about $475,000. Some houses were built more than 100 years ago, and others were built in the early 2000s. Both single-family homes and townhomes/condos are available.
The neighborhood has a variety of dining options. For example, Delicious at Dunbar serves Southern cuisine with an Angelino-Mexican twist and sometimes features live jazz. Granny's Kitchen offers Southern-style soul food. The neighborhood also is close to downtown LA and all the cultural and nightlife options provided there.
Broadway-Manchester
Broadway-Manchester Amenities
Proximity to downtown
Bus stations in the neighborhood
Variety of late-night dining options
The Broadway-Manchester neighborhood is a 1.5 square mile area in South Los Angeles. Its boundaries are Manchester Boulevard on the north, San Pedro Street on the east, the city boundary line in the south, and Interstate 110 on the west. It is densely populated.
Home prices vary from about $370,000 to more than $950,000, with the median price being around $475,000. Most homes average about 2,000 square feet, and townhouses, condos, and single-family homes are available in the neighborhood. Most residences were built between 1940 and 1960, although some were built before 1940.
The neighborhood boasts a lot of fast food and casual dining options. Barbecue is particularly popular; Manuel's Burgers, for example, serves barbecue ribs among its other menu items. Roscoe's serves chicken and waffles and other Southern soul food. Shops are also plentiful in the neighborhood. The LA Broadway Market is a grocery store; Esmeralda's Furniture and Jesenia's Party Supply are examples of local merchants.
Green Meadows
Green Meadows Amenities
Accessible to the 110 and 105 freeways
Accessible to public transportation
Parks and green space, including the Earvin Magic Johnson Recreation Park
Green Meadows Recreation Center
The Green Meadows community is a 2.22 square mile neighborhood in South Los Angeles, bordered by Firestone Avenue on the north, San Pedro Street on the east, 120th Street on the south, and South Central Avenue on the west. The area was originally an agricultural and dairy area and, for a while, was considered part of the Florence district of California. The city of Los Angeles annexed it in 1925. Compton Creek runs through the neighborhood. Like most neighborhoods in LA, it's densely populated.
Prices in the neighborhood run from about $300,000 to more than $750,000, with the median price being about $490,000. Several housing types, such as single-family and condominiums, are available.
The neighborhood has a plethora of shops and restaurants. The Bodega Ranch Market and Numero Uno Market are two grocery options. Watt's Coffee House and El Cielito Café provide a good cup of coffee and a quick meal. The Golden Ox and Carl's Jr. are two neighborhood restaurants.
Historic Core
Historic Core Amenities
Downtown neighborhood
Interesting architecture
Accessible to metro and bus routes
Many entertainment and leisure options
Parks and green space, including Biddy Mason Memorial Park and Spring Street Park
The Historic Core community is a downtown Los Angeles neighborhood. Its boundaries are Hill and Main streets on the west and east and 3rd and 9th streets on the north and south. The area has several architectural gems from the Beaux-Arts or Art Deco periods, including the city's oldest commercial structure, the Bradbury Building. The neighborhood has a popular historic Farmer's Market that is open every Saturday from 9 a.m. to 2 p.m.
In 1999, the city passed an ordinance allowing for unused office buildings to be converted into lofts; developers have converted many historic buildings into modern lofts and Los Angeles condos. Many have large windows and open floor plans. Some even have rooftop decks. The median list price is about $500,000, although prices vary from the $300,000s to more than $4 million.
Restaurants, bars, museums, and theatres abound in the neighborhood. These include Perch, a rooftop seafood restaurant that serves dinner and brunch, Water Grill, a legendary seafood spot, and the Los Angeles Biergarten, a gastropub. The Palace Theatre and the Orpheum Theatre are among the oldest in the city.
Sylmar
Sylmar Amenities
Stetson Ranch Equestrian Park
Green spaces and parks, including El Cariso Community Regional Park
Variety of shopping and restaurant options
Accessible to subway and bus service
Served by the Golden Hill, San Diego, and Foothill Freeways
The Sylmar neighborhood is in the San Fernando Valley in the northernmost part of Los Angeles. It traces its origins back to the founding of the San Fernando Mission in the 18th century. It had a proliferation of sylvan olive orchards, and olive production began systematically in 1890. Its name, "Sylmar," means a sea of trees. About 70,000 people live within the 12.46 square mile area, making it a low-density neighborhood relative to the rest of the city. A local landmark is the Cascades, a channel marking the terminus of the Los Angeles Aqueduct System.
Many of the homes in Sylmar are older, having been built from 1940 to 1969. Another large group was constructed between 1970 and 1999. Most homes in the neighborhood are medium-sized (three to four bedrooms) or small (studios to two bedrooms) single-family homes or townhomes. The median price is usually between $500,000–$600,000.
Neighborhood restaurants include Caruso's Italian Kitchen, Dome Pachana Thai restaurant, and Casa Torres Restaurant and Cantina, which also offers live mariachi music. Shopping centers in the neighborhood include the San Fernando Mall, Sylmar Plaza, and Sylmar Square Shopping Center. The Nethercutt Collection, known for its automobile exhibits, also is located in Sylmar.
Discover Los Angeles
Los Angeles is the second-largest city in the United States. It has a rich history, vibrant culture, and a robust economy. In fact, it is the largest manufacturing center in the United States, and its port, when combined with the Long Beach Port, is one of the busiest in the world. It also has an extensive transportation infrastructure that includes freeways as well as buses, light rail, and subway lines.
While housing in some parts of the city can be expensive, Los Angeles does have many neighborhoods with affordable housing. These neighborhoods have various housing types, including townhomes, lofts, condos, and single-family homes. The neighborhoods also have many amenities, including historic landmarks, shops, parks, and restaurants. Potential residents can find a suitable home while sticking to their budgets.