Best Value in the Valley: Glendale's 8 Most Affordable Neighborhoods
Posted by Courtney Korb on Tuesday, March 29, 2022 at 6:15 AM
By Courtney Korb / March 29, 2022
Comment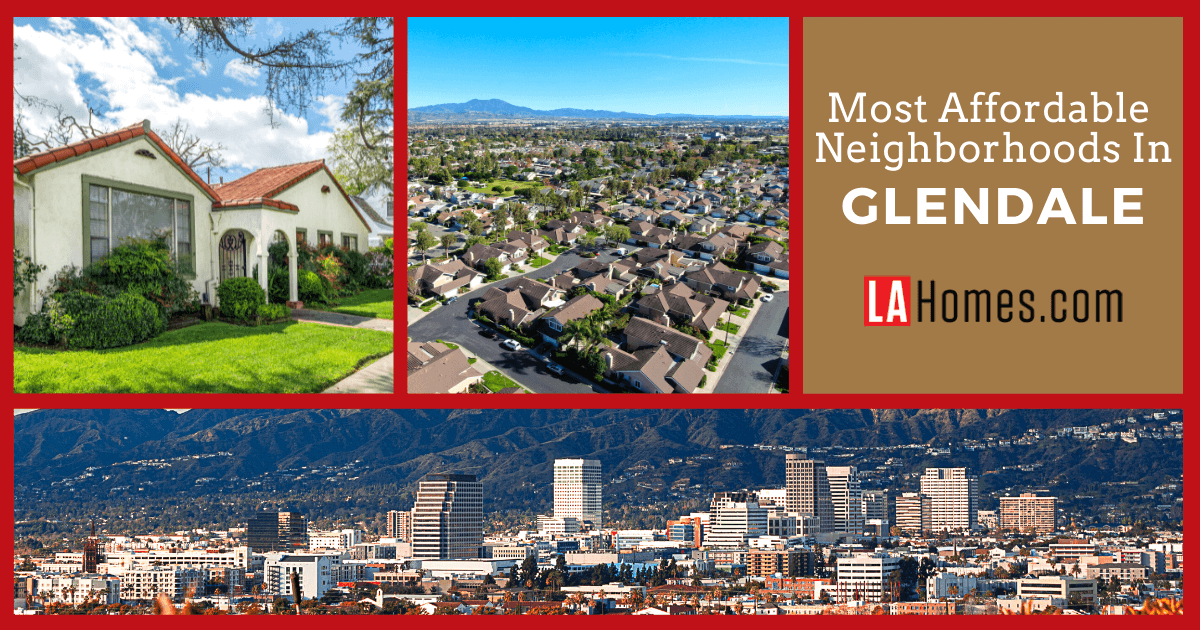 Glendale, California, is a midsize city with roughly 200,000 residents. The area has plenty to offer prospective homebuyers, like proximity to the nearby Los Angeles community, an income per capita higher than the state average, and near-perfect weather year-round.
While California has a reputation for expensive housing costs, living in the city of Glendale doesn't have to be out of reach. There are plenty of communities in the city that cater to a wide range of budgets. Read on to learn about some of the most affordable neighborhoods in Glendale, California.
Fruitful Tropico
Tropico Amenities
Glendale Memorial Hospital
Glendale Transportation Center
Cluck & Blaze
CVS
Vons
GameHaus Cafe
Shakey's Pizza Parlor
Tropico is a gorgeous neighborhood in Glendale. It was once known for the "Tropico Beauty," the famous strawberries produced on local farms. The fruit was so popular it inspired the neighborhood's name.
Having once been its own city, Tropico has a long and rich history dating back to the 1880s. It shares a border with Los Angeles, making it an excellent community for commuters. The neighborhood itself is walkable, with several establishments dotted throughout the neighborhood.
On San Fernando Road, Glendale Tap is an alehouse offering a warm and welcoming atmosphere and an impressive beer list. Paperback Brewing Co. is just a few doors down, brewing craft beers for thirsty patrons.
Ranches and Spanish-style homes are common in Tropico. Properties boast larger-than-average yards and are located on wide, winding streets. Prices for homes for sale in Tropico generally range from $700,000 to $1,200,000 and homes typically offer anywhere between 600 and 2,500 square feet of living space.
Some of the most sought-after assets in these properties include custom-designed fireplaces, spacious driveways, bay windows, and spacious master suites. Exteriors boast private backyards with swimming pools, barbecues, and plenty of room for entertaining.
Vintage Pacific Edison
Pacific Edison Amenities
Starbucks
Toasted Bun
Mini Kabob
The Hounds Club
Pacific Park
Foxy's
Pacific Edison takes its name from the Pacific Electric Railway, which once served the neighborhood up until the 1960s. This large neighborhood contains over 10,000 residents and is an excellent option for homebuyers looking to live in a walkable neighborhood close to Los Angeles.
Located just west of the famous Brand Boulevard, the Pacific Edison neighborhood seamlessly blends vintage single-family homes amongst modern condominiums. This refreshing mix makes the neighborhood accessible to a wide range of budgets. Prices for Pacific Edison real estate usually range between $500,000 and $800,000 for attached homes, and single-family homes typically sell for anywhere from $600,000 to $1,500,000.
Properties are well-located, lining Pacific Edison's sunny, palm tree-lined streets. Homes offer features like cozy front porches, updated kitchens flooded with sunlight, gleaming hardwood floors, and shaded patios. Condominiums and townhomes offer balconies, private entrances, and community amenities like swimming pools, spas, and fitness centers.
Pacific Edison is close to downtown Glendale, the Glendale Galleria, and Americana at Brand. However, there are plenty of local amenities to keep residents busy. El Sauz Tacos and The Atmosphere Restaurant & Lounge are local to the neighborhood and perfect restaurants for brunch, date night, or a quick cocktail.
Bustling Downtown Glendale
Downtown Glendale Amenities
The Americana at Brand
Glendale Galleria
Glendale's Civic Center
Alex Theatre
Raffi's Place
LA Fitness
BJ's Restaurant & Brewhouse
Downtown Glendale is the epicenter of the city. The area has so many home types, all at different price points, that there is sure to be a property for every prospective resident. Downtown Glendale is also the city's central business district; there are a lot of retail and commercial businesses in the area.
The commercial establishments blend seamlessly with the residential properties. This combination lends character and an appealing charm to the neighborhood. It's not uncommon to see modern and industrial buildings next to Craftsman and Revival-era properties.
Condominiums and other attached properties are the most prevalent property types in the neighborhood. These units feature open floor plans, recessed lighting, and living space up to 1,500 square feet. Prices for these units range from $300,000 to $800,000. Single-family properties come on the market from time to time and are typically brimming with history and personality. Prices for homes for sale in Downtown Glendale generally range between $1,000,000 and $1,500,000.
The neighborhood's main thoroughfare, South Brand Boulevard, contains restaurants, shops, cafes, and endless conveniences. Establishments like Porto's Bakery and Cafe, Carousel, and Din Tai Fung are all eateries located along downtown's main stretch and are within easy walking distance for downtown residents.
Beautiful Mariposa
Mariposa Amenities
Maple Park Community Center
JONS International Marketplace
Red Ribbon
Mission Wine & Spirits
Los Poblanos
Kabab Way
Named from the Spanish word for butterfly, the neighborhood of Mariposa lives up to its elegant namesake. The community is busy and vibrant, located within walking distance of downtown Glendale, Brand Boulevard, and South Glendale Avenue.
In addition to shops and eateries, cafes with hot coffee and quick bites to eat are plentiful on these bustling streets. Karina's Cake House, Art's Bakery & Cafe, and Kafn Coffee are some of the most popular spots for Mariposa residents to stop and grab their morning pick-me-up and a pastry or breakfast sandwich.
Development in the area began in the 1960s and continued through the 1980s. Everything from single-family homes to condominium buildings and townhomes is available, and Mariposa real estate prices typically range from $500,000 to just past $1,000,000. Homes contain up to three bedrooms, multiple bathrooms, and features like custom kitchens, outdoor entertaining spaces, and off-street parking.
The neighborhood is ideally located, and major nearby roads include South Brand Boulevard, East Colorado Street, and South Chevy Chase Drive. Nearby cities like Los Angeles and the Burbank community are less than a 30-minute drive away.
Idyllic Fremont Park
Fremont Park Amenities
Big Square
Starbucks
Jack in the Box
House of Joy Chinese
Acapulco Restaurant & Cantina
Hot Pan Shawarma Grill
Rite Aid
Fremont Park is named after John C. Fremont, the primary negotiator of the terms that ultimately led to the end of the two-year Mexican-American War. As a result, the Fremont Park neighborhood was built in 1922. It is an ideally-located and relatively affordable place to live close to Los Angeles.
Fremont Park is the focal point of the neighborhood. It's a fully-equipped, eight-acre green space boasting tennis, basketball, and volleyball courts. There are also picnic benches, playgrounds, and walking paths for visitors.
Glenoaks Boulevard and Pacific Avenue are the neighborhood's main thoroughfares, and these streets are lined with restaurants and small businesses. Some of the most popular stops in Fremont Park for a bite include Glen Arden Club, an old-school social club, and Best Shawarma, a counter-service restaurant famous for its Middle Eastern cuisine.
Homes in the area come in various architectural styles, including California Ranch and Mid-Century Modern. Prices for Fremont Park homes for sale generally range from $300,000 to $1.5 million and include an even mix of single-family homes and attached homes. Properties include sought-after features like spacious floor plans, private balconies, and folding patio doors that allow seamless indoor-outdoor living.
Active Citrus Grove
Citrus Grove Amenities
Kozanian's Ranch Market
Arko Foods International
Dollar Tree
Hookah Lounge
Zankou Chicken
Moyse Stadium
The neighborhood of Citrus Grove was once known for its orange and lemon groves. Today, the neighborhood is home to an appealing mix of commercial and residential properties. The combination creates a pleasant and walkable neighborhood with plenty to offer prospective residents.
Citrus Grove is an active neighborhood, and its surroundings make this easy. Both Fannie Briggs Carr Park and Piedmont Park are peaceful retreats located within Citrus Grove. These parks offer picnic tables, open green space, and walking paths.
There is a vast range of different property types in the community. Single-family homes, condominiums, and townhomes are all represented. Architectural styles in the neighborhood include Craftsman, Prairie, and Spanish-style homes. Prices for Citrus Grove real estate usually start at $400,000 and can reach up to just over $1 million.
Detached properties include sought-after features like gourmet kitchens, functioning fireplaces, and thoughtfully-designed interior layouts. Condominiums come at a lower price tag, with most units selling for less than $800,000. Building amenities include elevators, fitness centers, and assigned off-street parking.
Miniature Moorpark
Moorpark Amenities
Moonlight Rollerway
Carnitas Mi Rancho
Carrara's
Tractor Supply Co.
Moorpark Country Club
Though it's one of the smallest neighborhoods in Glendale, Moorpark packs a punch when it comes to providing residents with budget-friendly real estate and plenty of conveniences within walking distance. Many cafes, shops, and restaurants line the neighborhood's main roads: West Broadway and West Colorado Street.
In contrast to the neighborhood's bustling commercial scene, Moorpark also has a high concentration of beautiful parks. Mammoth Highlands Park, Arroyo Vista Community Park, and Peach Hill Park are located within Moorpark. These parks provide residents with a peaceful retreat away from the hustle and bustle of the downtown area,
For those who want to travel outside of Moorpark but leave the car at home, the neighborhood is less than a 20-minute walk from the Glendale Galleria and Americana at Brand. Pedestrians walking past the Glendale Galleria will eventually find themselves in downtown Glendale.
Many homes sitting on Moorpark's tree-lined streets are vintage and filled with the character that only comes from older homes. Prices for Moorpark homes for sale usually range from $500,000 to $1 million. Homes include gorgeous stucco exteriors, Red Mission roofs, and meticulously-manicured landscapes, giving homes excellent curb appeal.
Classical Vineyard
Vineyard Amenities
Kitchen Depot
Glendale Small Animal Hospital
Tacos Cancun
Lucky 7 Pizza
Bea Bea's
Phoenicia
Just west of downtown Glendale is the beautiful and affordable neighborhood of Vineyard, home of the very first vineyard in Glendale. Vineyard is a quiet and secluded retreat well off the beaten path. However, the neighborhood is convenient to nearby metropolitan areas, including downtown Glendale, Burbank, and Los Angeles.
The neighborhood is also less than a five-minute drive south of the Ventura Freeway. It boasts public transportation via the Glendale Beeline and is a short drive from nearby Glendale and Griffith Parks. Central Avenue runs through the neighborhood and contains local hotspots, including The Pub at Golden Road, The San Fernando, and Broadway Burger.
Properties in Vineyard typically sit on larger-than-average lots. This is a bonus for homeowners who appreciate spacious backyards and rolling frontage. Prices for homes for sale in Vineyard typically range between $600,000 and $1.1 million. In addition to the sought-after landscaping, properties contain features like elegant open floor plans, high-end finishes, and LED recessed lighting.
For those searching for an attached property, unit amenities include in-unit washer and dryers, balconies, and floor-to-ceiling, impact windows. Building amenities include controlled access, assigned parking, and private entrances.
Find Your Home in a Glendale Neighborhood
Glendale, California, has something to offer almost every homebuyer. The city's close to 40 neighborhoods come with their own unique atmosphere and offerings. This variety means there is bound to be a perfect community for every homebuyer. For prospective homebuyers on a budget, these neighborhoods come with all the desirable amenities of a home in Glendale at a lower price tag.