8 Burbank Neighborhoods With the Best Bang for Your Buck
Posted by Courtney Korb on Monday, January 10, 2022 at 8:51 AM
By Courtney Korb / January 10, 2022
Comment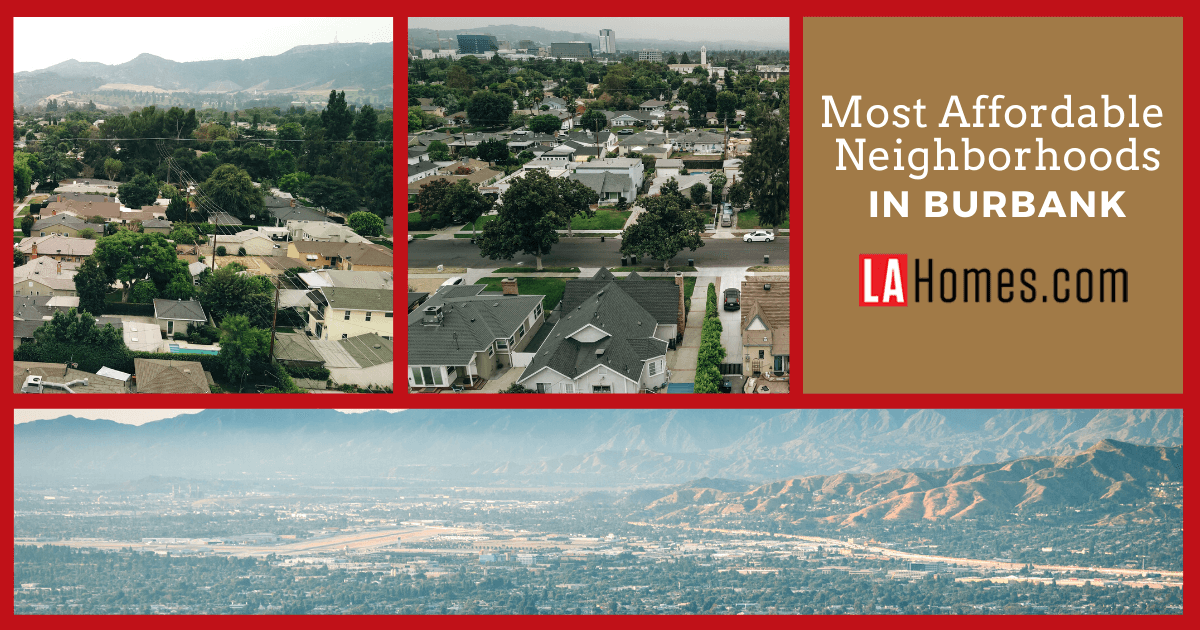 Burbank, California, is known for its many connections to the Los Angeles and Hollywood areas. Located at the southeastern end of the San Fernando Valley, Burbank is made up of a variety of neighborhoods, each with its distinct flavor and appearance. An important aspect of moving to Burbank is finding real estate and home prices that fit the budget of prospective homebuyers. In addition to home prices, other factors to consider when buying a home in Burbank include square footage, home design, and nearby hotspots. Check out some of the available amenities and prices of homes found in Burbank's most affordable neighborhoods below.
Burbank Junction
Burbank Junction Amenities
Burbank Town Center
The Coffee Bean & Tea Leaf
Noah's New York Bagels
Granville
Lying along U.S. Interstate-5, Burbank Junction is close to the heart of the city. Real estate in Burbank Junction ranges in price from $600,000 for multi-story condos to $960,000 for a larger home near the city center.
Known for its closeness to Burbank's downtown core, Burbank Junction gives easy access to a variety of shops and restaurants, as well as Burbank-area nightlife. One notable retailer is Fashion Nova, a woman's apparel store that sells contemporary and casual clothing, as well as the latest fashion for a night on the town.
Residents can also grab a meal at the world-famous In-N-Out Burger, which has a location in Burbank Junction. For those who don't want burgers, California Pizza Kitchen offers a wide selection of specialty pizzas, pasta, and other food items.
When it comes to nightlife, residents can get a drink at the Over/Under Public House, which serves a wide variety of alcoholic drinks. For those who like movies, the AMC Burbank Town Center 8 shows the latest releases from Hollywood and around the world.
Vega
Vega Amenities
Champs Sports Pub
Pablito's Tacos
K1 Speed
Blazin' Burgers
Vega is known for its proximity to the Hollywood Burbank Airport, also known as Bob Hope Airport. Also within the community is the Valhalla Memorial Park Cemetery, which contains a special section that is the final resting place of aviation pioneers.
Housing within the area ranges in price from $850,000 for a smaller home to over $1 million for luxury homes in the neighborhood. Home sizes usually range from 900 square feet to 2,000 square feet or more.
Other area amenities include the Daily Grill Restaurant & Bar, which features a seasonal menu with meals crafted from locally sourced ingredients, and e.d.b., a restaurant found inside the Los Angeles Marriott Burbank Airport hotel at the Hollywood Burbank Airport, that serves a selection of menu items and handcrafted cocktails.
When it comes to shopping, residents can find a variety of stores at the Burbank Empire Center, a massive shopping destination filled with staple retailers, plus specialty stores and dining. Anyone looking for a night on the town should check out The Bullet Bar, which offers drink specials in a casual setting.
Media District
Media District Amenities
Lakeside Shopping Center
Patys
Los Amigos Bar & Grill
Idle Hour
The Media District is located along the Ventura Freeway, which runs east from Glendale and Pasadena to areas to the west. The neighborhood is made up of the major studios located in Burbank, including Warner Bros. Studio, Walt Disney Studios, and The Burbank Studios, in addition to the communities surrounding them.
Media District real estate prices usually range from the mid $500,000s for a 1,000-square-foot, two-bedroom condo to $2 million for a 2,400 square-foot luxury home. Homes in the neighborhood are available in both one and two stories and are close to local amenities, including the oldest remaining Bob's Big Boy restaurant in America.
Other Media District area restaurants include Bea Bea's, known for its wide selection of breakfast food served all day; Olive & Thyme, a cozy market and café that serves everything from breakfast to dinner; and Chili John's, an area favorite specializing in chili, burgers, and other food favorites.
For residents who love horses, the Los Angeles Equestrian Center offers lessons, trail rides, and more at the north edge of Griffith Park, home of the world-famous Griffith Park Observatory.
Chandler Park
Chandler Park Amenities
Sultry Sweet Burlesque
Bearded Lady's Mystic Museum
Joe's Great American Bar & Grill
Geeky Teas & Games
With Chandler Park homes typically ranging in size from 700 square feet to over 6,500 square feet, this neighborhood in Burbank has a range of homes for anyone thinking of moving to the area, with prices ranging from approximately $1 million to $2 million. Lying north of the Media District, the Chandler Park neighborhood is close to many nearby hotspots.
Some local favorites include cafes and coffee bars, such as Mexocina Café, offering a variety of Mexican favorites for customers; the Coral Café, with a selection of smoothies, specialty coffees, and food dishes on the menu; and The Palm Coffee Bar, which has a menu full of high-end coffees and teas.
Neighborhood restaurants include The New Deal, serving various alcoholic beverages, along with a variety of menu items, such as sandwiches, salads, and burgers; and Pinocchio Restaurant, also known as the Monte Carlo Deli, serving Burbank for over 50 years.
Area bars include The Snug, a local pub with a wide selection of beers on tap, along with a full bar, and Tony's Darts Away, a neighborhood beer bar dedicated to a variety of food and bar games.
Airport District
Airport District Amenities
In-N-Out Burger
Krispy Kreme Doughnuts
Lincoln Beer Company
Café De Olla Restaurant
The Airport District is located to the east of the Hollywood Burbank Airport. The community gives easy access to Burbank for returning residents and visitors to the southern California area. Prices usually range from around $400,000 for a small one-bedroom to $1.2 million for a larger four-bedroom home.
The Burbank Empire Center gives locals access to a variety of retailers, including Michaels, GameStop, and BevMo!. This shopping mall also has a selection of restaurants to choose from, such as Olive Garden, which serves a variety of Italian favorites; Outback Steakhouse, home of the Bloomin' Onion; and The Baked Bear, which has a variety of sweets to choose from, including monstrous ice cream sandwiches.
Other area hotspots include The Mayflower Club, a British social club; The Good Nite, a local karaoke bar; and the California Institute of Abnormalarts, which brings together the best in underground art, music, magic, and more.
Find Affordable Homes in Burbank's Neighborhoods
With easy access to Hollywood, Los Angeles, and the southern California area, Burbank has a lot for residents to do, including a variety of restaurants and shopping locations, as well as area nightlife and other activities. Best of all, the city offers many affordable housing options for anyone looking to move there, from cozy Burbank condos to spacious modern homes.
Residents can also easily reach areas further afield via the Hollywood Burbank Airport or one of the area's many major roadways, including nearby Interstate 5, Hollywood Freeway, and Ventura Freeway. The area also offers warm weather year-round and access to the latest Hollywood offerings.