What to Do in Los Angeles on the Weekend: A Complete Guide to L.A. Adventures
Posted by Courtney Korb on Thursday, September 16, 2021 at 9:11 AM
By Courtney Korb / September 16, 2021
Comment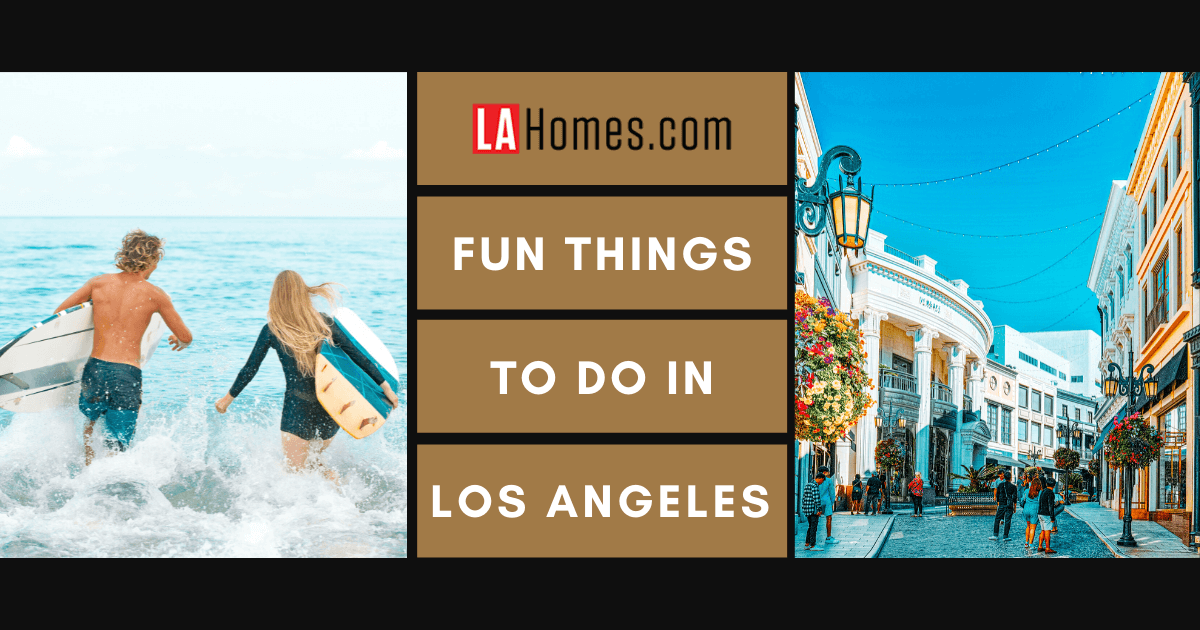 The City of Angels, home to the stars, a glamorous city that never sleeps... that's right, we're talking about the exciting California city of Los Angeles. This community is a 24/7 hub of activity filled with tech giants, movie studios, hopping clubs, gorgeous beaches, and world-class shopping and dining. Residents and visitors can find just about anything imaginable in LA's most popular neighborhoods.
Locals stepping out of their homes rub shoulders with the droves of visitors who come here to pursue the great outdoors and various LA attractions. There's no shortage of things to do in Los Angeles, so read on for some of the best options.
Los Angeles Outdoor Adventures
Between the sandy beaches, incredible trails for hiking and biking, and remarkable parks across the city, Los Angeles is largely considered one of the nation's most picturesque communities and beckons outdoor lovers to come and visit. In fact, many people choose to move to Los Angeles because of the immense access to activities in nature. Here are some of the best outdoor areas in town.
Top Parks in Los Angeles
Popular Los Angeles Parks
Grand Park
Griffith Park
Lake Hollywood Dog Park
Grand Park surrounds the LA civic center and covers 12 acres of space filled with botanical gardens, shaded walking paths, and impressive historic fountains. Visitors can sit on the community terrace or the lawn to soak in the skyline, sunsets, or shop at the weekend farmers' market. The wading pool is a highlight for kiddos.
Griffith Park is the most famous park in LA and is one of the largest on the continent. With just over 4,300 acres, the park has 50+ miles of trails that pass through numerous lagoons and waterfalls. The park appeals to hikers, cyclists, horseback riders, theater lovers, stargazers, and even golfers, who have a 9-hole course to enjoy.
Lake Hollywood Dog Park is the best dog park in Los Angeles. The grassy play area and hiking trails have stunning views of the Hollywood sign. It's not an off-leash park, and fines are routinely enforced.
Los Angeles Water Recreation
Los Angeles Water Recreation Options
Six Flags Hurricane Harbor
Nautilus
Snorkeling
Learn to Surf LA
Six Flags Hurricane Harbor in the Valencia community is a massive waterpark with lagoons, wave pools, a lazy river, a kid's zone, and some of the state's longest and fastest water slides.
Dive beneath the surface with a unique submarine adventure aboard Nautilus, where guests have a private porthole for viewing and feeding sea creatures. Another way to get up close and personal with wildlife is to head to Catalina Island, where snorkeling is plentiful, and many of the sea animals up for viewing are hard to see elsewhere. Whales and sea lions can often be spotted here, too.
Get wet and wild with surfing lessons from Learn to Surf LA or any of the other local providers for a fun and educational experience.
Hiking & Biking Trails in LA
Popular Los Angeles Trails
Baldwin Hills Scenic Overlook
Solstice Canyon's trail
Eaton Canyon Falls
There are hundreds of miles of places to explore that satisfy nature lovers in the big city of LA. Turn in any direction, and there's likely to be a nearby trail for hiking, walking, and biking. These are often used for recreation and for getting around communities throughout town. Popular places include relaxing at Baldwin Hills Scenic Overlook, trekking through Solstice Canyon's trail, and meandering alongside the creeks to Eaton Canyon Falls.
Anyone who appreciates water fun and the wilderness will find a great place to take a respite or get active right here in Los Angeles!
Shopping in Los Angeles
Los Angeles Shopping Destinations
Rodeo Drive
The Beverly Center
The Grove
In addition to streetside flea markets, antique shops, and art galleries in LA, plenty of shops offer designer fashions and housewares. Of course, luxury buyers and curious visitors must take a stroll down the iconic Rodeo Drive, but those who aren't looking to spend thousands have plenty of great malls and strip centers to check out.
The Beverly Center is a massive mall with major stores, theaters, and other attractions. Looking to buy from an outdoor mall? Head over to The Grove, which locals rave about for its amazing selection of goods. There's even a downtown trolley that stops at all the top shops in Los Angeles, making the journey a pedestrian-friendly one that doesn't require fighting the often-hectic Los Angeles traffic.
The Los Angeles Dining Scene
Popular Los Angeles Restaurants
Cole's French Dip Restaurant
Pacific Dining Car
Capo
Thousands of places to eat grace LA, from street vendors and classic cafes to high-class fine dining. Cole's French Dip Restaurant in the Downtown LA neighborhood opened in 1908 and is the city's oldest iconic restaurant. It boasts two bars and ample seating amid a casual, upscale environment.
The Pacific Dining Car is a staple for locals, especially for late-nighters, as it's open 24/7. For a classy Italian-style dinner, head over to Capo for some fine wine and traditional wood-fired dishes and seafood that have won numerous awards from major publications.
Arts & Culture in Los Angeles
LA's status as a cultural melting pot allows it to be one of the most interesting places in the world to get immersed in the world of art. Museums are plentiful, dance and theater shows are nightly events, and the art galleries here offer everything from local works to internationally acclaimed pieces by artists worldwide.
LA Museums
Popular Los Angeles Museums
Museum of Contemporary Art
Natural History Museum
Getty Center
The Broad
Los Angeles County Museum of Art
Underground Museum
The Museum of Contemporary Art opened in 1979 and remains the only Los Angeles museum solely devoted to modern and contemporary art. Those wanting to step back into the past at the Los Angeles Natural History Museum will appreciate the extensive collection and exhibitions of dinosaurs, prehistoric fossils, and the famous tar pits.
Don't miss out on the Getty Center in the nearby Brentwood community or the treasures at The Broad in downtown LA. Locals and visitors also surely can't pass up the chance to explore Museum Row with the Los Angeles County Museum of Art and the Underground Museum.
Art Galleries in Los Angeles
Top Los Angeles Art Galleries
Hauser & Wirth
Night Gallery
Hauser & Wirth is in the heart of the Downton Arts District in Los Angeles. This facility runs several award-winning exhibitions within multiple galleries filled with works by both newcomers and regional luminaries. There is also a garden, a restaurant, and a bookstore on the premises.
The Night Gallery is another downtown treasure, and it's not the kind of gallery one might expect. Rather than a fancy exterior and light-filled galleries, this facility is housed within a 6,200-square-foot warehouse in the industrial zone of downtown LA. One can see works as well as see artists working in-house most days of the week.
L.A.'s Dance & Theatre Scene
Los Angeles Dance & Theatre Opportunities
Hollywood Pantages Theatre
Cerritos Center for the Performing Arts
Segerstrom Center for the Arts
Seasonal dance troupe performances
LA Dance Fest
Broadway in LA can be enjoyed in several local theatres and many of the most popular shows that go on tour visit here at some time during their run. Outstanding performances can be seen at the Hollywood Pantages Theatre, The Cerritos Center for the Performing Arts, and the Segerstrom Center for the Arts.
These venues also offer an array of dance troupe performances seasonally. However, October's annual LA Dance Fest is always a treat. The event hosts 50+ choreographers over four weekends of free showcases, online and in-person classes, and workshops with international guests.
Anyone who appreciates the wonderful aspects of cultural exploration will be delighted with the fine museums, educational institutions, and amazing theaters across Los Angeles. Events are going on all year long, and many are free to attend—ticketed events should always be booked early for prime seating.
The Los Angeles Nightlife Scene
Los Angeles Nightlife Destinations
Sunset at EDITION
The Edison
Harvelle's
New York, Houston, and Chicago aren't the only big cities with a hip and happening club scene. Los Angeles more than holds its own with an abundance of popping nightlife venues across the city. The hottest spot in Hollywood is Sunset at EDITION, a nightclub within a new hotel. Think Studio 54, as this place has 400 disco balls, private rooms, and a line that flows around the corner long before the doors open.
The Edison invokes the spirit of swanky speakeasy hideaways from the Prohibition era. The entrance is almost a secret, tucked away in the alley to maintain its sense of mystery. Be prepared to dress the part in collared shirts, dress shoes, and era-appropriate attire. No casual dressers will get past the door, but those who do are treated to a wonderland of seductive drinks, music, and fine wines.
Blues, rock, and alternative music aficionados have their own special place at Harvelle's, which is a landmark in the Santa Monica community that's been rocking since 1931. Once, it was a dive bar, but today it's a sophisticated place with a cool, retro vibe. Popular bands play here regularly, and the space fills to the rafters on live music nights, so get here early to secure an actual seat.
California Dreaming? Every Day is a New Adventure in Los Angeles
While Los Angeles is known for massive luxury homes, movie stars, and high-end shopping, it's also a playground for thrill-seekers in its own right. From hiking and biking zones and impressive museums to LA's top shopping complexes and dining options, new residents won't be disappointed in the options available when they move to this vibrant city. Come and see why so many people chase their dreams right here in Los Angeles, California.
Read Our Things to Do Guides For Each City Below