Best Jobs in Los Angeles: 2023 Work Opportunities & Economic Guide
Posted by Courtney Korb on Wednesday, December 14, 2022 at 1:40 PM
By Courtney Korb / December 14, 2022
Comment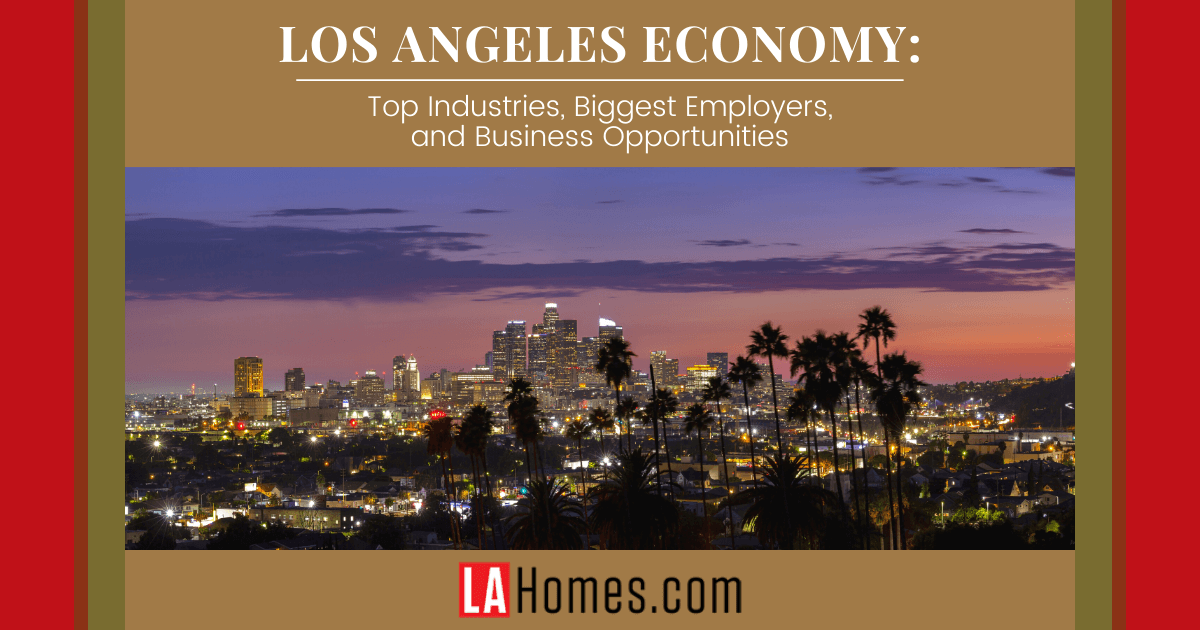 Los Angeles, California, is known for its beautiful climate, sunny beaches, and glamorous entertainment industry. However, while all these aspects may be helpful to know, an area's economy is an important factor for prospective residents of a new place.
One of the most important things to consider when moving to Los Angeles and examining Los Angeles' cost of living is where new residents are most likely to find employment. To aid in this determination, keep reading to get an overview of the Los Angeles economy and the opportunities that the Los Angeles community has to offer.
Major Industries in Los Angeles, California
Los Angeles has a reputation as a hotbed of creative development, producing a constant stream of innovative ideas and entrepreneurial opportunities. Three major industries in Los Angeles are creative design, bioscience, and entertainment.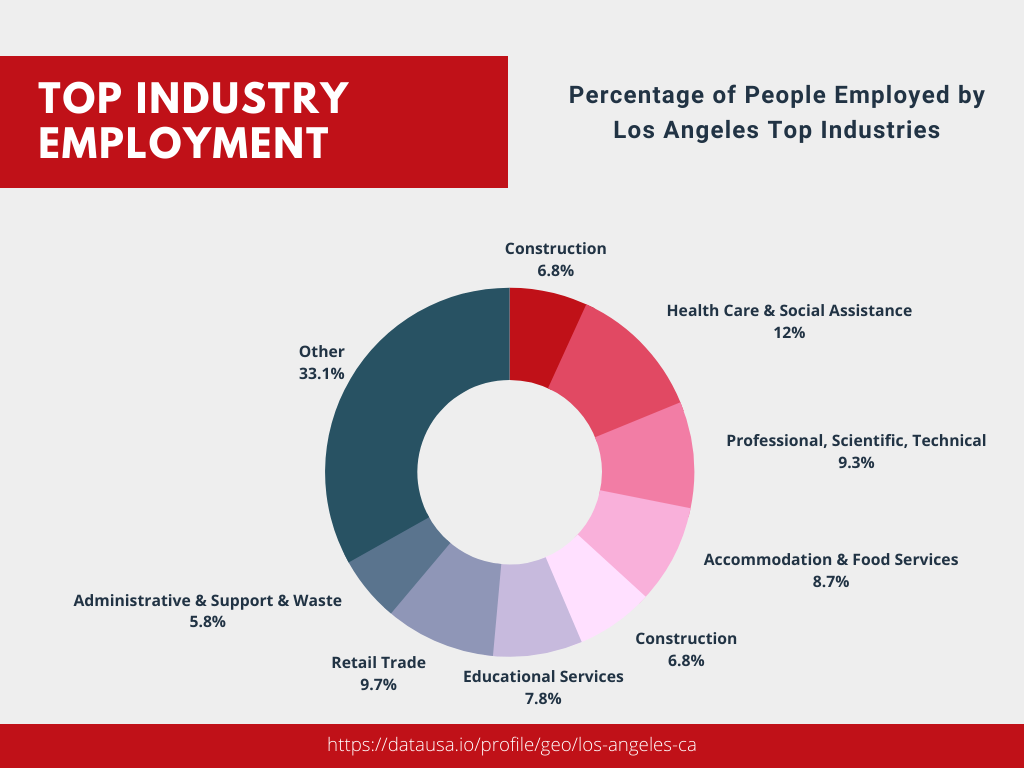 Creative Design
In 2012, the creative director of Yves Saint Laurent moved the legendary house of fashion from Paris to Los Angeles, California. This major pilgrimage paved the way for Los Angeles to become a powerhouse in the fashion and creative design industry.
Fashion and apparel aren't the only categories falling under the large umbrella known as creative design. Textile, footwear, jewelry, beauty products, and home furnishings are all considered to fall under the creative design label.
Bioscience
Los Angeles' plentiful research universities and booming economic activity make this location a world leader in bioscience. In 2020, the county's bioscience sector generated almost $50 billion in economic activity and close to 200,000 jobs for residents.
Los Angeles is home to research universities like the University of Southern California, Caltech, and UCLA, all of which produce thousands of bioscience graduates every year. These grads move on to become world-class researchers.
Entertainment
A list of the major industries in Los Angeles would be remiss not to mention the area's thriving entertainment studios. Los Angeles became popular with filmmakers due to its pleasant year-round temperatures that allowed for consistent outdoor filming. However, even when technology improved to where filming could take place indoors, the powerhouse known as Los Angeles had already been established.
While the first motion picture made in Los Angeles was back in 1897, the industry is constantly evolving. The growth of streaming platforms like Hulu and Netflix has led to the creation of thousands of start-up companies filled with new job titles.
Top Industries in Los Angeles
Health Care & Social Assistance
Retail Trade
Professional, Scientific, & Technical Services
Accommodation & Food Services
Educational Services
Manufacturing
Construction
Top Employers in Los Angeles, California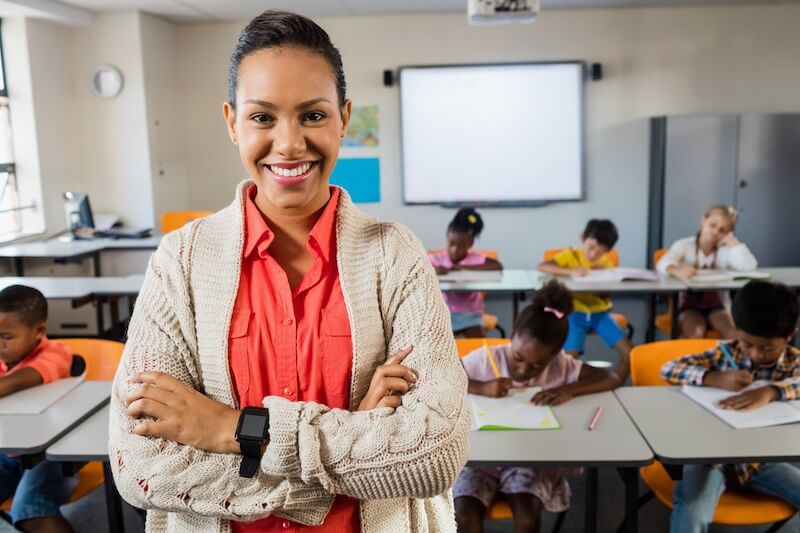 Securing a steady income is a top priority for most new Los Angeles residents. While there are thousands of businesses and organizations thriving in the community, it's worth taking a look at a few of LA's top employers that maintain scores of satisfied employees.
Los Angeles County
Working for Los Angeles County can mean almost anything. County departments include Animal Control, Beaches and Harbors, Parks and Recreation, and more. With all of the job titles to choose from, there is sure to be one that interests even the hardest-to-please job seeker.
In addition to having a wide range of departments, Los Angeles County offers one of the nation's most robust public sector benefits packages. Eligible employees receive health insurance, dental insurance, and a number of wellness programs, including fitness challenges, webinars, and flu vaccination clinics.
Los Angeles Unified School District
The second-largest employer in Los Angeles, LAUSD, employs over 75,000 employees. The school district itself is the second largest in the nation. It covers 710 miles and supports over 1,300 students.
As with Los Angeles County, there are plenty of job titles to choose from when seeking employment with LAUSD. Departments include administration, finance, human resources, information technology, legal, and more.
The University of California at Los Angeles
With over 50,000 employees, UCLA is one of the top five largest employers in the county. The university contributes over $12 billion to the economy annually, and technology developed at UCLA has been used to develop over 140 start-ups and small businesses.
The university stands out amongst its peers when it comes to its employees. UCLA Health has been named by Forbes as one of America's best midsize employers, and Becker's Healthcare listed it as being in the top 150 places to work in healthcare.
Additional Large Companies in Los Angeles
U.S. Government
University of California
City of Los Angeles
Kaiser Permanente
The Boeing Company
Information via City-Data.com
Los Angeles Economy: Facts and Figures
Los Angeles County has the largest population of any county in the nation. With that being said, it tracks that the county's booming economy makes waves on a global level. If Los Angeles County were its own independent nation, it would rank as the world's 18th largest economy.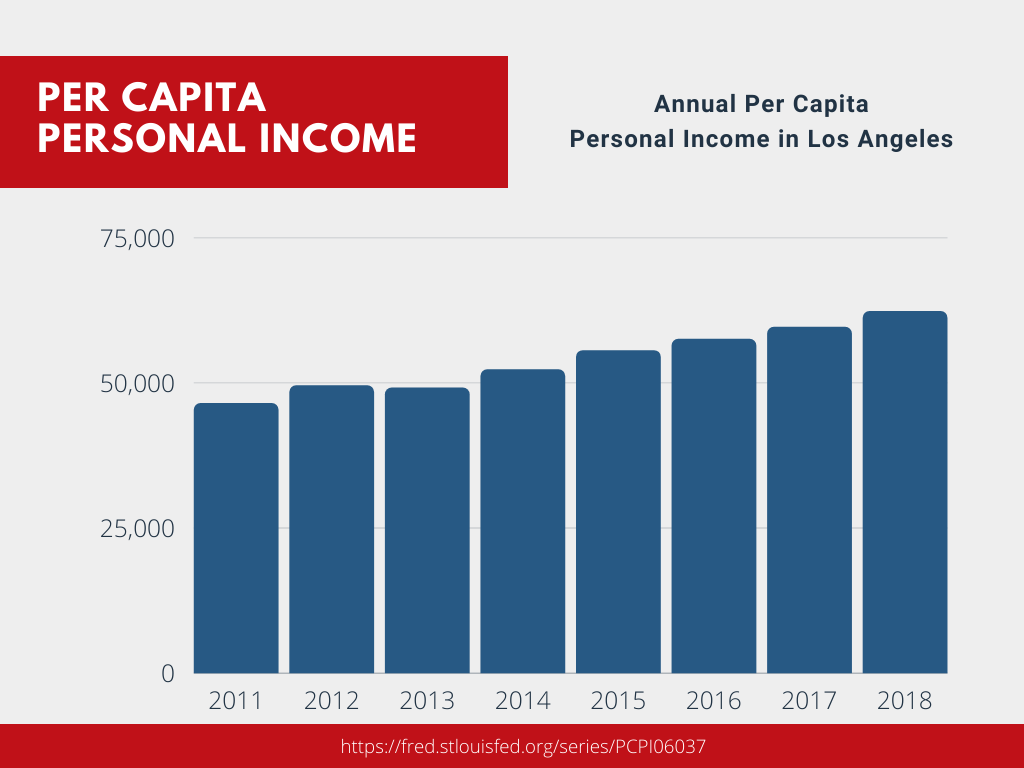 The county's fast-growing and innovative high-tech industry is partially to thank for the county's roaring success. Area universities award upwards of 75,000 degrees annually, and venture capital invested in start-ups in the area has rapidly increased each year.
Los Angeles is also known for being the creative capital of the world. The area boasts over a dozen major industries that offer residents hundreds of thousands of jobs. The innovative thinkers in the county are known for blending industries and creating new business concepts that breed never-before-seen sectors.
In addition to its lively, energetic, and innovative workforce, the area itself provides an ideal climate for business growth. Many incentive programs in Los Angeles are available to both small and large-scale businesses at local, state, and federal levels.
Los Angeles offers more business incentives than any other city in the county. These incentives come into play under the following circumstances:
When a community is looking to attract a large business operation and kickstart the neighborhood's economy;
The business operation would bring a significant investment into the community; and
There will be a substantial number of jobs created by the establishment of the business in the community.
Not every prospective business will be eligible for an incentive. Incentive availability depends on several aspects, not least of all being the anticipated positive impact the new company will have on the community as a whole.
Ready to Get to Work in Los Angeles, California?
A thorough understanding of an area's economic atmosphere is one of the most important ways to prepare for a move to a new place. While it's easy to be swayed by the laidback lifestyle and beautiful weather Los Angeles has to offer, take the time to look at the practical side of things as well. If Los Angeles fits the bill, there are plenty of new homes and condos in Los Angeles waiting to welcome future residents home.
Read Our Economy Guides For Each City Below