Los Angeles Cost of Living: Los Angeles, CA Living Expenses Guide
Posted by Courtney Korb on Thursday, May 27, 2021 at 11:37 AM
By Courtney Korb / May 27, 2021
Comment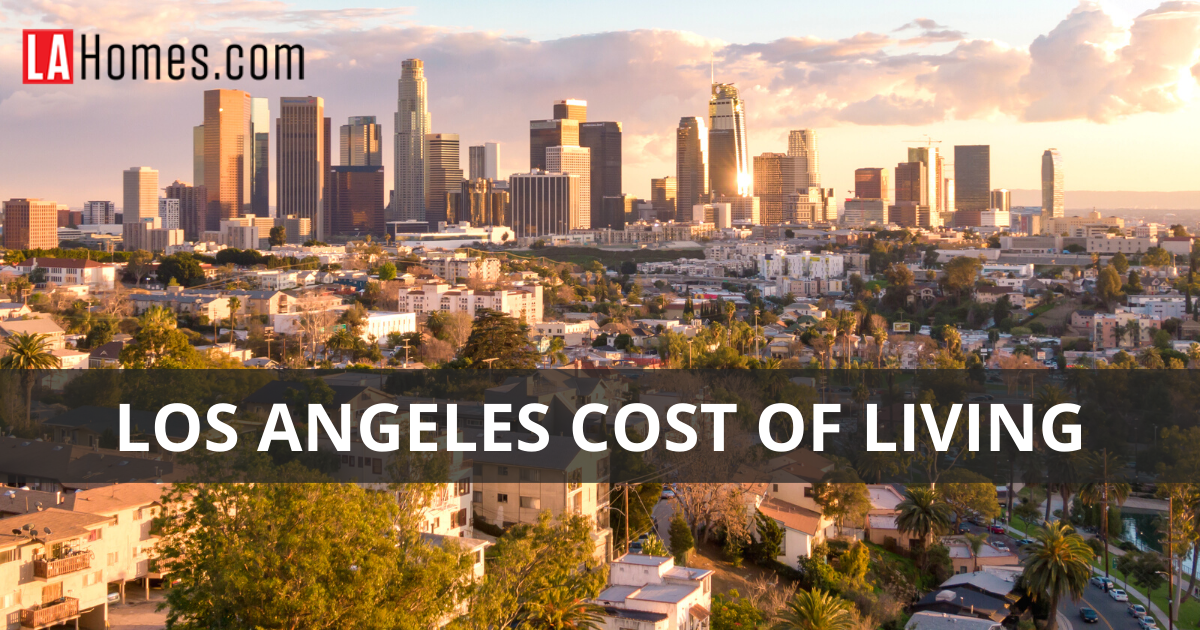 Also known as the City of Angels, Los Angeles has stood as a symbol of beauty and glamour for more than a century. There's a reason it's the third-largest community on the continent, following New York and Mexico City, Mexico. More than 13 million people call the metro area home, and nearly 20,000 join the ranks each year. What is it about LA that attracted around four million people to live within the city limits?
For starters, the climate in the area is unrivaled. More than 3/4 of the days each year are full of sunshine, and the weather rarely gets below freezing. January average lows are around 46 ºF, and July highs reach 84 ºF. Additionally, there is always the chance of meeting celebrities or being discovered for fame.
The general cost of living in Los Angeles is more expensive than average. Applying a scale that uses 100.00 as the cost level of the typical U.S. city, LA clocks in at 173.3. That means $173 will possess about the same amount of buying power as $100 in the typical U.S. city. Los Angeles is at #8 on the most expensive cities in the U.S between Washington, D.C., and Seattle.
The cost of living in Los Angeles is expected to continue rising modestly over the next few years. For example, homes in the area have appreciated by about 34.4% over the last decade. That is likely good news for homeowners who may have to sell in the next few years. Here are some other things to know about the cost of living in Los Angeles.
Table of Contents
Los Angeles Housing
Housing costs are generally one of the largest items on a typical budget, so potential rents or home costs should be one of the first considerations when deciding the affordability of a community. Whether you are searching for a Los Angeles luxury home or a smaller Los Angeles condo, the cost level of domiciles can influence the quality of your experience.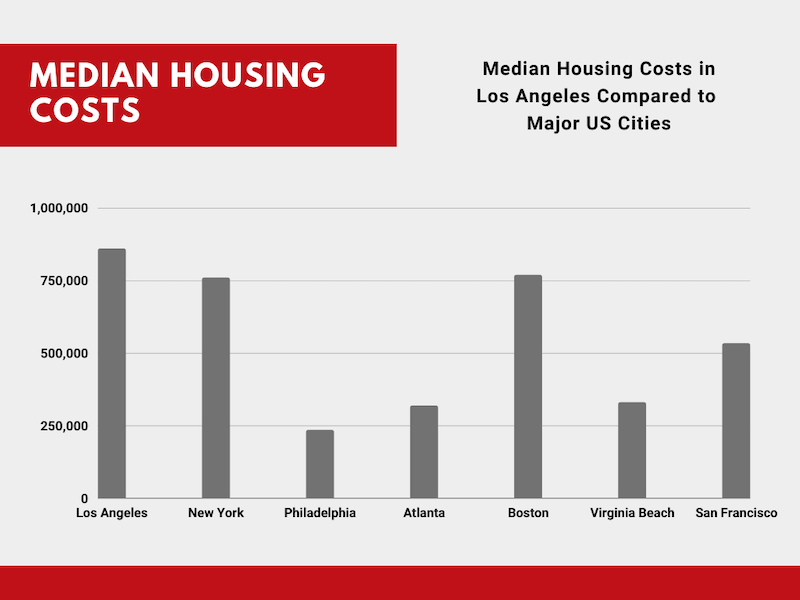 In general, new residents can expect to pay 198.2% more for a place to stay than in the typical U.S. community. However, it's possible to mitigate these costs by selecting neighborhoods with lower-priced abodes.
Median Home Price
One of the first things to decide before moving to Los Angeles is which neighborhood to select. Each area of a city has its own character and often a different price level for real estate. The Pacific Palisades market sits on the coast in LA and has a median sale price of $3.3 million. Farther in from the coast, homes in the Encino area go for $1.1 million. While living in one of LA's luxurious gated communities comes with a substantial price tag, for many, the upscale living is more than worth it.
On the more affordable side, the median price for homes in Granada Hills is $818,000. The Chatsworth community is another site for lower-cost abodes, with prices around $810,000. Potential homebuyers can find a great deal in Sylmar for around $600,000.
Median Rent
Anyone not ready to purchase will also find a wide variety of rental properties within the community. A studio apartment in Los Angeles averages around $1,293 a month, which is cheaper than similar apartments in the surrounding communities at $1,355. One-bedrooms in the city will cost around $1,545 each month and $1,604 for the suburban version. Two-bedrooms within the city go for around $1,999, around $56 cheaper than options in the surrounding metro.
On the larger side, apartments, rental houses, condos, and more with three bedrooms will cost around $2,681 per month on average. Add $269 for an additional bedroom in LA. Three-bedrooms in the metro community will cost around $2,791, while the four-bedroom options are $3,111 each month.
Los Angeles Utilities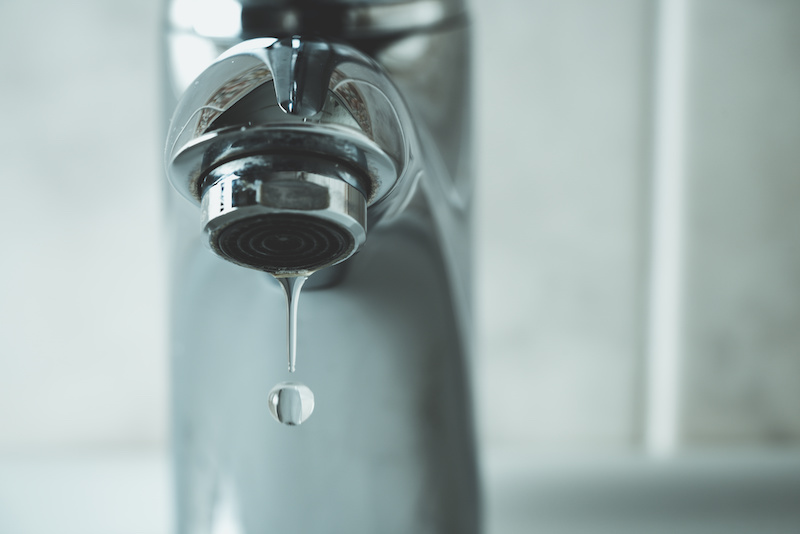 Outside the price tag for the four walls and a ceiling, residents also pay for various regular expenses. Fortunately, thanks to the mild climate in California, residents will likely save money on costs related to heating and cooling the home. Average residents may pay $104 for basic utilities in LA for a 480-square-foot apartment. A 915-square-foot apartment would cost about $167.
Obviously, these costs can change for larger residences or those with more energy-efficient designs and appliances. For apartments, the above utility cost would cover electricity, gas, water, and garbage pickup. Garbage costs for homeowners can change depending on the area and providers. Water costs can also change based on the drought conditions.
A modern requirement of living in the U.S., Los Angeles residents can expect to pay just under $50 a month for internet. Basic cable costs will generally start at about the same price. Telephone bills are another of those great variables in the lives of modern LA residents. Average costs for phone bills in LA are about $192.66. However, many cable companies can offer discounts for communications when bundled with other services.
Another regular bill to consider relates to the costs for insurance to protect the home or apartment. While many people in rentals choose to ignore this potential expense, this often becomes a mistake. Insurance can protect property from fire, theft, or other surprise costs. The average Los Angeles insurance premium is $1,240, which is relatively low considering housing costs. However, premiums can increase with the value of the home or other relevant factors.
Food in Los Angeles
Every human being must eat, and for many, meals are one of the best parts of the day. Restaurant meals can be wonderful experiences with new flavors and great conversations. Best of all, the dishes are handled by someone else. However, a focus on home-cooked meals can be an excellent way to save money. Regardless, most budgets will contain a balance between eating out and cooking at home.
Groceries
Los Angeles residents spend about $378.59 each month on groceries. That ranks about 14th when compared to other communities around the nation. However, it's possible to mitigate grocery costs by visiting discount stores or shopping at farmers markets. With California's strong agricultural economy, it's possible to find great sources for fresh, affordable fruits and vegetables.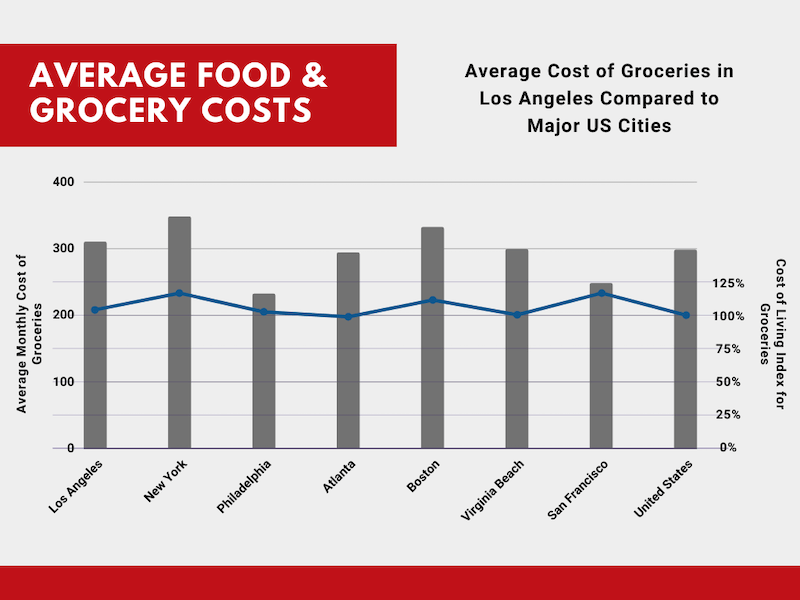 Start breakfast with a dozen eggs for $3.92 and add 2 pounds of potatoes for hash browns at $1.70. For a great omelet, add 2 pounds of tomatoes for $3.50 and 16 ounces of cheese for $6. Dinner meals can begin with 1 pound of boneless chicken for $5.40. Wash it down with a decent red wine for $15.
Restaurants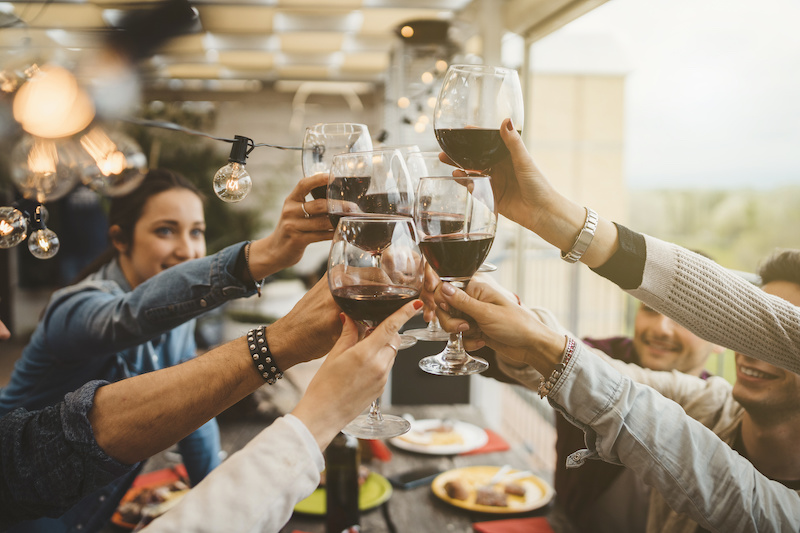 It may cost more money than eating at home, but nothing beats time with friends or takeout at a favorite eatery.
Grabbing a quick combo meal at a fast-food restaurant will often cost about $8. Having a sit-down lunch in a business district restaurant will run about $19 before tip. An evening out for two people in a pub will be about $49. For a more expensive date, a three-course dinner and wine at a nice restaurant will cost about $77 for a couple.
Running late for work the next morning? Grab a cappuccino for breakfast for about $4.58. After work, settle down with a $6 beer in a local bar.
Los Angeles Transportation
Getting around a new community is generally a large part of the experience. That's why the cost of transportation must be considered as part of any relocation research. General transportation costs rank at about 65.3% more expensive than costs within a typical community. That's to be expected due to the immense size of the population. The average commute time is also longer than normal, at 30.9 minutes compared to 26.4.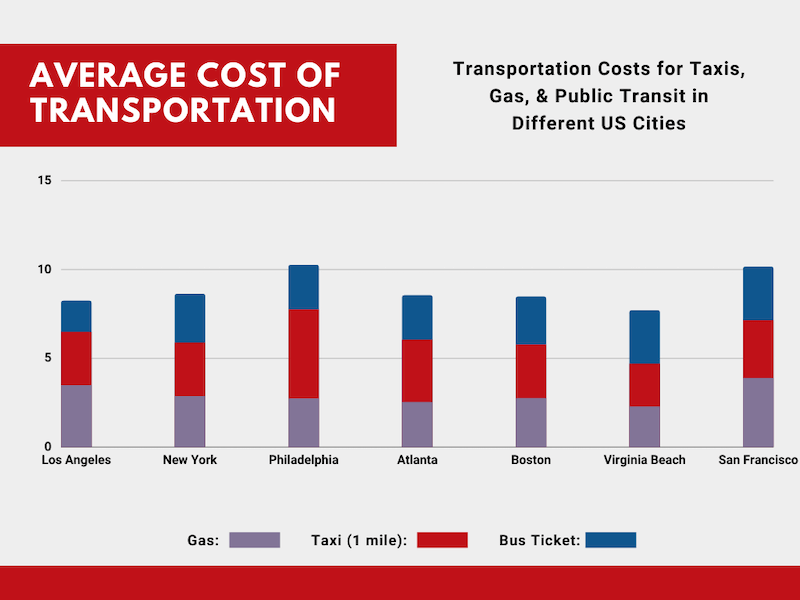 Almost 69% of commuters in the community drive to work alone, compared with the national average of 76.4%. Around 9% choose to carpool, and another 9.8% opt for some form of mass transit. Drivers will pay about $3.48 for a gallon of gas, making long commutes more expensive. Car operators will also pay about $219 per month for car insurance.
It's possible to get around the community without a car, however. Taking a taxi for a five-mile ride will cost about $15. The community also operates Go Metro Los Angeles, which provides a network of buses and light-rail trains through the area. A single ride starts at $1.75, but weekly passes are available for $25.
Health Care in Los Angeles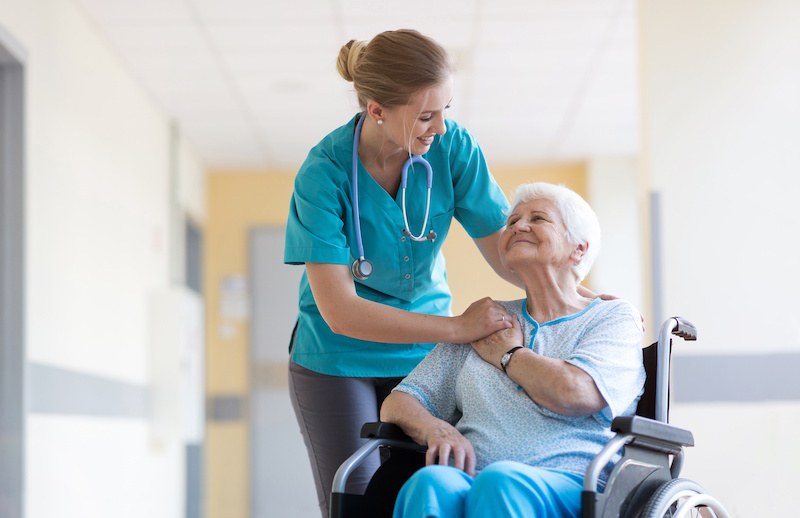 Medical care is another important aspect of the cost of living in a community. Visits to a doctor's office generally start at about $122 before any scheduled tests. Checkups at the dentist will be a little cheaper at $104.53.
Getting an eye examination for a new glasses prescription will cost about $114. Residents generally spend about $485 on prescription drugs. Checkups for our four-legged buddies start at $55 before any additional shots or lab tests.
One of the best ways to prepare for unforeseen medical expenses is to purchase health insurance. Many people can get coverage through employers. Average health insurance premiums in California start at around $588 each month. That comes out to about $7,056 every year.
Child Care in Los Angeles
Parents or caregivers of young children will undoubtedly be curious about the costs related to caring for youngsters. There are, in fact, many options for care, including formal child care centers, home providers, and nanny services. Child care costs in Los Angeles depend on the age of the child and the kind of facility. Child care centers are generally the most expensive at $16,866 each year for infants and $11,999 for preschool-aged kids.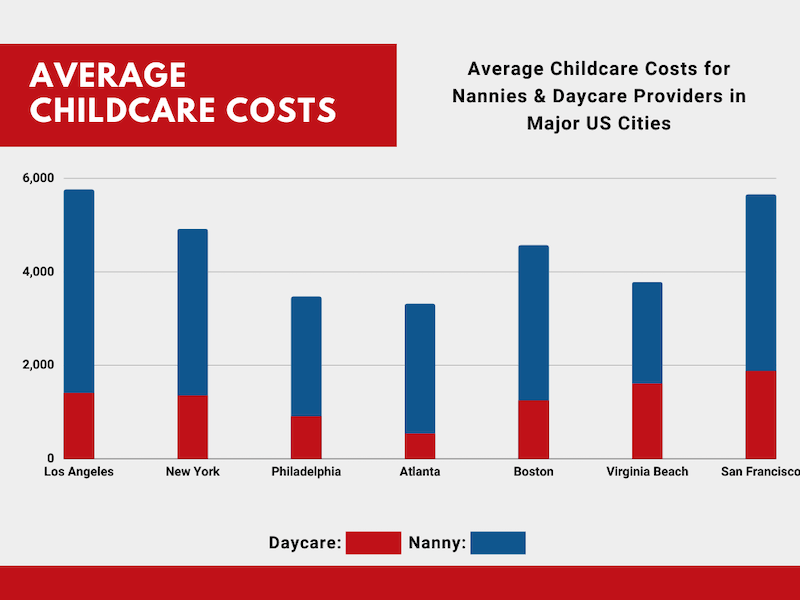 By contrast, family in-home providers are generally less costly. Infant care in one of these businesses costs about $10,465 annually, while preschoolers require $9,887. While there are often some discounts available for multiple children, generally, parents can expect the costs to be added together. Care for two preschool-aged children in a center would be about $23,998 each year. Parents would have to pay a home $20,352 to watch an infant and toddler for a year.
In-home nannies provide a great way to save time each morning, as they can prevent the need to take the children to a child care site. However, they require $15–$35 an hour in salary. Assuming they work 2,087 hours each year, that means they require between $31,305 and $73,045. For parents of multiple children, some kind of arrangement with a nanny could be very cost-effective.
Los Angeles Entertainment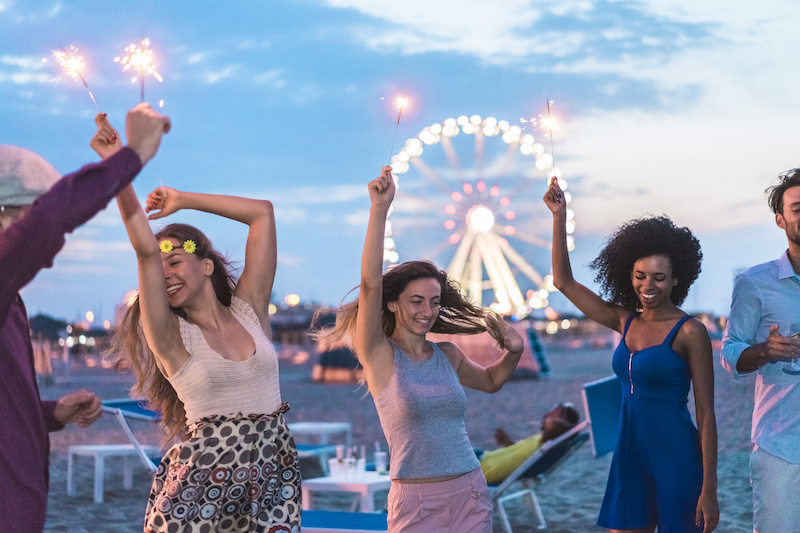 What is the point of working hard without some occasional relaxation and life enjoyment? Fortunately, Los Angeles is legendary for the amount of entertainment available. Start with two tickets to the movies for about $30 and watch a blockbuster film for the evening. For a little more culture, visit the theater and purchase two tickets for $150.
Check out Knott's Berry Farm theme park for roller coasters and fun exhibits. Tickets start at $55, but deals are often available. Greenery lovers will enjoy the Los Angeles County Arboretum and Botanic Garden. Passes for adults start at $15, and children from 5 to 12 pay only $5. Remember, the sales tax in Los Angeles is 9.5%, so make sure to add this cost to any budgeting for entertainment.
Los Angeles Salaries
With industries like entertainment, tourism, and several technology fields making homes in LA, it's no wonder that the economic climate is fairly stable. Long-term job growth is expected to be greater than the national numbers at 34.64% vs. 33.51%. That bodes well for newcomers to the town. The per capita income for the community is higher than typical, with LA at $31,563 and the U.S. reaching $31,177. Residents will also pay more in taxes, with the city income tax rate at 9.3%, compared to 4.6% nationally.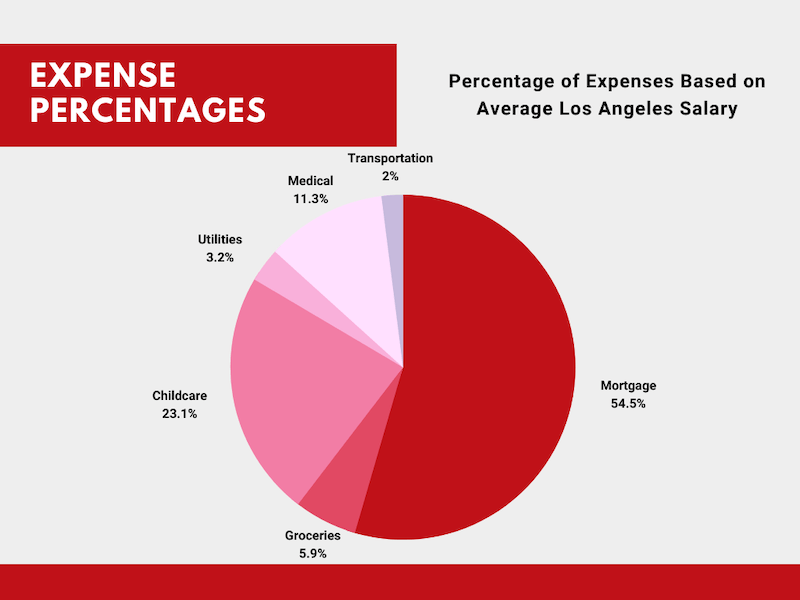 The median household income is a bit lower than national at $55,000 vs. $58,000. The average income for residents is also slightly under the U.S. average, with LA residents making an average of $28,320 and national numbers at $28,555.
The minimum wage for the community is $15 per hour.
The highest wages found are for legal ($101,000), law enforcement ($75,000), and architects and engineers, making about $71,000.
Additional Considerations for Living in Los Angeles
At the end of the day, living in LA is about the ambiance and opportunities. The weather is great, and the ocean and mountain scenery is second to none. The opportunity to mingle with stars is always tempting, as is the chance to stumble upon movies being shot. With four million residents and a long legacy of glamour, people never know what they might find in Los Angeles.