Living in Porter Ranch: Life in a Luxury Los Angeles Master-Planned Community
Posted by Courtney Korb on Tuesday, February 8, 2022 at 9:00 AM
By Courtney Korb / February 8, 2022
Comment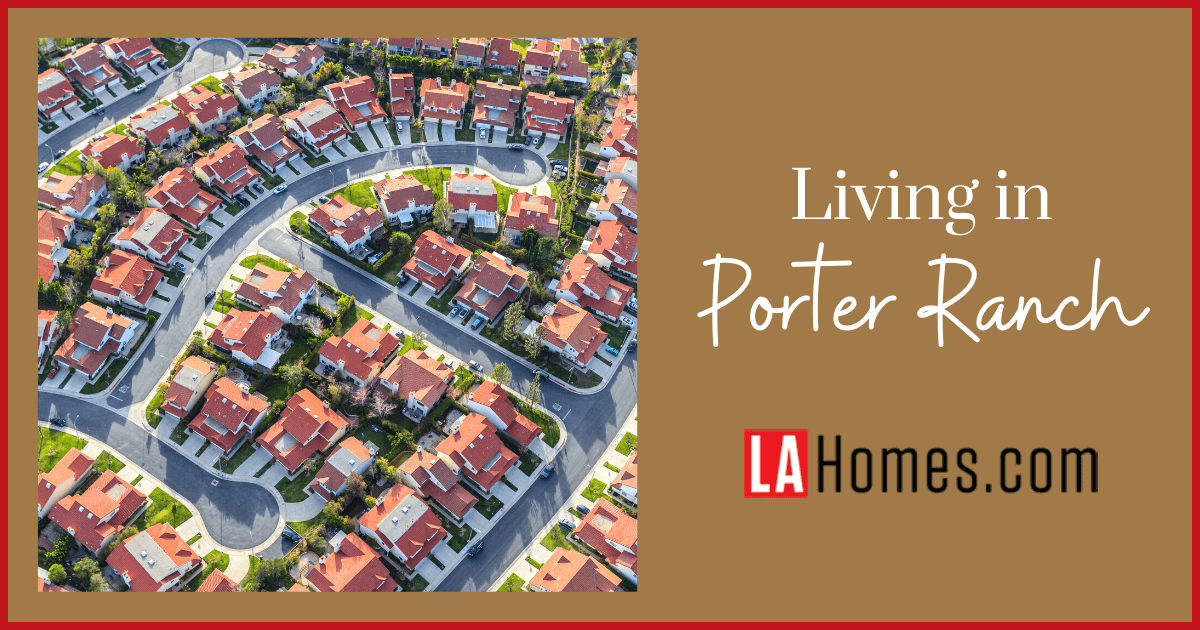 Located in the hills to the north of the city of Los Angeles, the Porter Ranch community offers scenic vistas from gated community homes and luxury properties overlooking the valley below. There are many employment opportunities and things to do in Porter Ranch. The community's location along the Ronald Reagan Freeway gives residents easy access to everything Los Angeles and the greater Southern California area offers. Here are some of the many benefits of living in Porter Ranch.
The Porter Ranch Lifestyle
Porter Ranch was once filled with numerous horse ranches owned by celebrities who worked in nearby Hollywood. It also served as a filming location for many movie studios. In particular, large parts of one movie, E.T. the Extraterrestrial, were filmed within the Porter Ranch area.
Eventually, suburbia made its way to the surrounding region, and homes replaced the horse ranches. Porter Ranch serves as a bedroom community for the nearby Simi Valley and downtown Los Angeles areas, with workers commuting via their vehicle or public transportation.
Even now, Porter Ranch continues to grow. New businesses are moving into the area, giving the neighborhood a vibrant yet small-town feel. Porter Ranch offers something for everyone, with the city on one end and the mountains on the other.
The many outdoor recreation areas also help give the feel that Porter Ranch, while in the greater city of Los Angeles, is also close to nature. This sparse urban feel has endured Porter Ranch to its residents. Add to that the many available local restaurants, shopping, and parks, and it's easy to see why the community is so popular.
Employers Near Porter Ranch
Many Porter Ranch residents work in nearby Los Angeles and the San Fernando Valley. Those living in the area commute to nearby centers of commerce, including Santa Clarita, Simi Valley, and others. Popular industries in Southern California include entertainment, aerospace, and employment with the government of Los Angeles.
Prominent employers near Porter Ranch include Deloitte, an accounting firm to the south; Business Aviation Solutions, a leader in transportation services; and Amazon, which has various facilities in or near the community. These companies are within 30 minutes or less of Porter Ranch.
Other companies outside of the immediate area include Northeast Valley Health Corporation, which has locations across the San Fernando Valley; major film studios, such as Walt Disney Studios, Warner Bros. Studios, and The Burbank Studios in the city of Burbank; Dynamic Automation & Robotics in Simi Valley to the west; and Applied Companies, a leading manufacturer of environmental control units located in Santa Clarita.
Other employment opportunities in the Southern California area are the major universities, including the University of Southern California (USC), the University of California, Los Angeles (UCLA), and California State University (CSU).
Porter Ranch Amenities
While Porter Ranch is somewhat set apart from the general L.A. area, it does provide easy access to amenities within the Greater Los Angeles Metropolitan Area. Additionally, the community has some extras that the local population can take advantage of. These amenities include a variety of shops, including grocery stores, corner markets, and other retail shopping areas, such as Ralph's, Walmart, and Whole Foods Market. Additionally, Porter Ranch has a selection of horse ranches, harkening back to the days when horse farms dotted the surrounding area when Hollywood movies were shot in the surrounding hills.
Community Amenities
While Porter Ranch has seen the dwindling of area horse ranches, it still plays host to numerous farms and boarding facilities. These include the Hillcrest Ranch, which offers boarding and riding lessons; Mountain Meadows Stables, containing over 20 acres of landscaped grounds; and Sacred Oaks Ranch, with over 50 acres of land perfect for film shoots, private camping excursions, and horse boarding.
The Porter Valley Country Club is a private country club with its own 18-hole championship golf course, swimming pool, and other facilities for residents who like to golf or enjoy time in the pool. Members can also enjoy a meal at The Orchard restaurant.
Neighborhood Shops & Services
When it comes to shopping, Porter Ranch has a wide selection of businesses. Local grocery stores in Porter Ranch include Ralph's, a California-wide chain that sells groceries and other food items; Amazon Fresh, the online sellers attempt at a local market; and Whole Foods Market, an environmentally friendly grocery store chain that sells natural and organic food items.
Shopping areas in Porter Ranch include the Porter Ranch Town Center, which has 42 stores selling a wide variety of products; The Vineyards at Porter Ranch, offering a variety of shopping, eating, and entertainment experiences; and the Devonshire Reseda Shopping Center, located in Northridge to the southeast.
Things to Do in Porter Ranch
With its many restaurants, shopping, and entertainment venues, Porter Ranch has a lot to offer anyone who lives there, including nights of fun on the town, a wide choice of restaurant cuisines, and plenty of outdoor recreational areas.
Additionally, the Santa Susana Mountain range between Porter Ranch and Santa Clarita affords plenty of outdoor terrains. Plus, residents can visit nearby Los Angeles, Santa Clarita, and other cities to enjoy the food and shopping. Residents can also take in area sporting events, such as the Los Angeles Lakers, Los Angeles Clippers, Los Angeles Rams, Los Angeles Chargers, and other sports teams.
Outdoor Activities
Porter Ranch has outdoor locations where residents can enjoy nature and get some sunshine and fresh air. The community has two parks to the north, one on each side of town. Holleigh Bernson Memorial Park to the northwest features a variety of sports facilities, a picnic area, and a playground. Porter Ridge lies to the northeast and contains a play area, picnic tables, and a basketball court.
Porter Ranch has other parks scattered around the area, many with walking trails and other amenities. There are also more advanced trails heading up into the Santa Susana Mountain range, such as Mission Point, the Dr. Mario A. DeCampos Trail, and the Top Of O'Melveny.
Restaurants, Breweries, and Bars
Porter Ranch also has a variety of restaurants, bars, and breweries to choose from when going out to eat. Some of the restaurants include Finney's Crafthouse Kitchen, serving a variety of starters, snacks, and tavern fare; Café Graikos, offering Greek and vegetarian food; and The Habit Burger Grill, with a variety of burgers, sandwiches, and frozen treats.
Local bars and breweries include the Taps Valley Gastropub, located in Northridge to the southeast; The Star Bar, a sports bar in Chatsworth; and Bar Louie, found within the Northridge Fashion Center. Los Angeles area bars include Lock & Key, a speakeasy that serves craft cocktails; Monty Bar, serving craft beer with live music; and the Paper Tiger Bar, offering drinks, music, and delicious bar fare.
Nearby Attractions
In addition to the many area restaurants, shopping, and outdoor recreational activities, residents of Porter Ranch have a wide selection of other things to do. The Donald E. Bianchi Planetarium is on the California State University, Northridge campus, offering visitors a look at the stars overhead.
The Valley Performing Arts Center, also in Northridge, puts on numerous performances, including music, dance, and theater. Meanwhile, the San Fernando Museum of Art and History acquires, displays, and seeks to preserve the historical record of the San Fernando Valley.
Schools
Schools serving Porter Ranch students are a part of the Los Angeles Unified School District. Overall, the Los Angeles Unified School District has over 600,000 and is the second-largest school system in the U.S. There are over 1,000 schools in the district and 200 independently operated public charter schools.
In addition to public and charter schools, the Porter Ranch and Los Angeles area has 231 private schools serving the needs of over 44,000 students. Some of these include Heschel, a private school serving kindergarten through the eighth grade; DNA Prep Academy, designed to meet the needs of upper school-aged student-athletes; and Sierra Canyon School Upper Campus, a premier independent college preparatory school.
Area colleges include Los Angeles Career College, geared toward community members looking to start a career in healthcare; California State University, Northridge, with a 356-acre campus at the heart of Los Angeles offering various academic programs; and Pierce College.
Residents of Porter Ranch can also find colleges slightly further away, including the University of Southern California (USC) and the University of California, Los Angeles (UCLA).
Porter Ranch Offers Plenty in the Los Angeles Area
Known for its natural beauty and many gated communities, Porter Ranch lies northwest of the Los Angeles area. Due to being near L.A., residents can easily travel to the nearby city from Porter Ranch. Once there, they can enjoy the area restaurants, shopping, or entertainment.
Within the area surrounding Porter Ranch, residents have the option of many local eateries, shopping, and outdoor activities. For traveling outside of the Los Angeles and Porter Ranch area, homeowners have access to the Hollywood Burbank Airport, which is around an hour away.
Additionally, the area has a wide selection of employment opportunities and public and private education options, coupled with many colleges and universities within the vicinity of Porter Ranch. This makes Porter Ranch a desirable place to live in the Southern California region.