Living in Playa Del Rey: 10 Reasons to Love This Oceanfront Los Angeles Neighborhood
Posted by Courtney Korb on Wednesday, August 2, 2023 at 9:05:47 AM
By Courtney Korb / August 2, 2023
Comment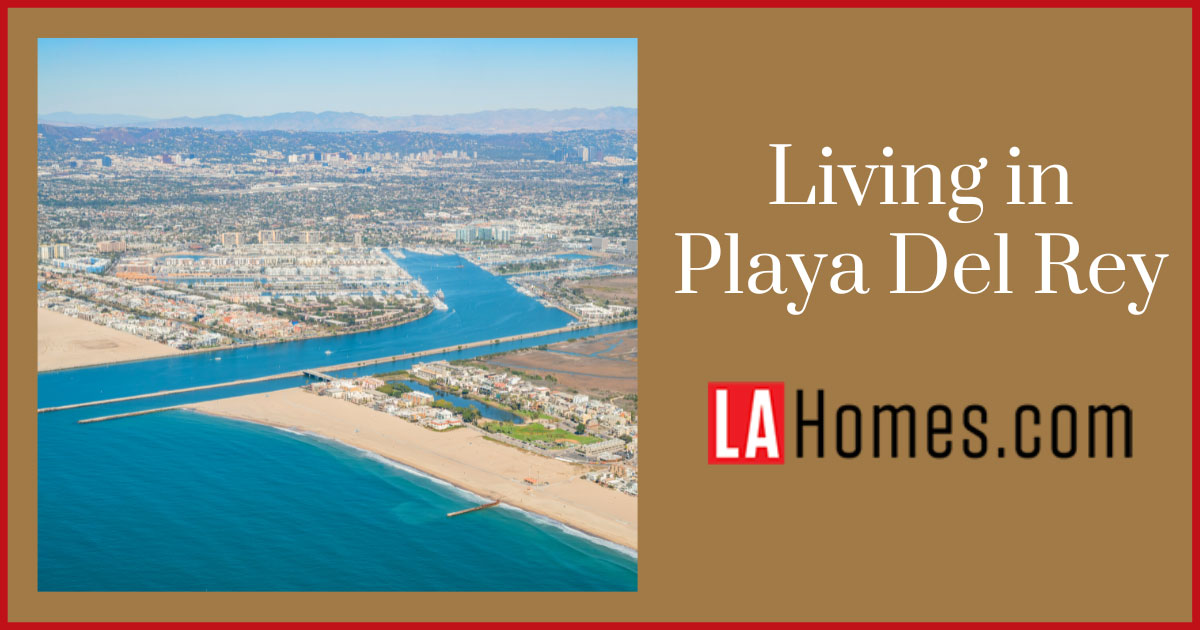 Nestled between the Pacific Ocean and the buzzing cityscape lies the coastal neighborhood of Playa Del Rey. If you're looking for the best places to live in Los Angeles, consider moving Playa Del Rey to the top of your list. This oceanfront community's reputation as a tranquil beachfront haven, complemented by its rich array of local amenities and desirable location, makes it a compelling option for anyone moving to LA. From local real estate info to a breakdown of all the local schools, here's everything you need to know before moving to Playa Del Rey.
10 Reasons to Move to Playa Del Rey
Stunning Beach: Playa Del Rey is renowned for its beautiful water views and sandy beaches that provide residents with a place to swim, sunbathe, and play.
Coastal Living: The cool ocean breeze, the sound of crashing waves, and the overall laid-back vibe create a tranquil atmosphere.
Playa Del Rey Lagoon: The neighborhood is home to the picturesque Playa Del Rey Lagoon, a fun-filled park near the beach.
Proximity to LAX: Playa Del Rey's close proximity to Los Angeles International Airport (LAX) is convenient for frequent travelers.
Outdoor Recreation: On any given day, you can go biking, jogging, or rollerblading along the Marvin Braude Bike Trail or try your hand at various water sports.
Culver Boulevard: Playa Del Rey's main thoroughfare, Culver Boulevard, is lined with charming cafes, restaurants, and boutiques.
Access to Schools: Playa Del Rey is conveniently located near numerous public and private schools.
Convenient Location: Situated on the Westside of Los Angeles, Playa Del Rey offers convenient access to other popular areas such as Venice Beach, Marina Del Rey, and Santa Monica.
Real Estate Options: The Playa Del Rey real estate market presents a desirable and diverse array of properties, from charming condos to sprawling mansions on the beach.
Easy Commutes: California State Route 1 passes through the neighborhood, providing commuters easy access to other essential highways.
The Playa Del Rey Lifestyle
The beach is at the heart of life in Playa Del Rey, defining the community's identity and shaping its lifestyle. The neighborhood is advantageously situated between Marina Del Rey and El Segundo (just about 20 miles west of Downtown Los Angeles), placing residents at the heart of coastal living while still offering easy access to the rest of the city.
Historically, Playa del Rey Beach has been a hotspot for surfers. Many locals still call it "Toes Over Beach" or "Toes Beach," which is a reference to the "Hang Ten" surfing maneuver. The waves aren't as suitable for surfing these days, but the calmer waters are great for swimming.
But Playa Del Rey isn't just about the beach; it also has the expansive Ballona Wetlands, which covers nearly 600 acres. This ecological treasure adds a green respite to the urban landscape, contributing to Playa Del Rey's unique coastal and natural beauty blend. Whether it's early morning walks, bird watching, or a tranquil retreat from city life, the wetlands offer residents an added layer of lifestyle benefits.
Types of Homes in Playa Del Rey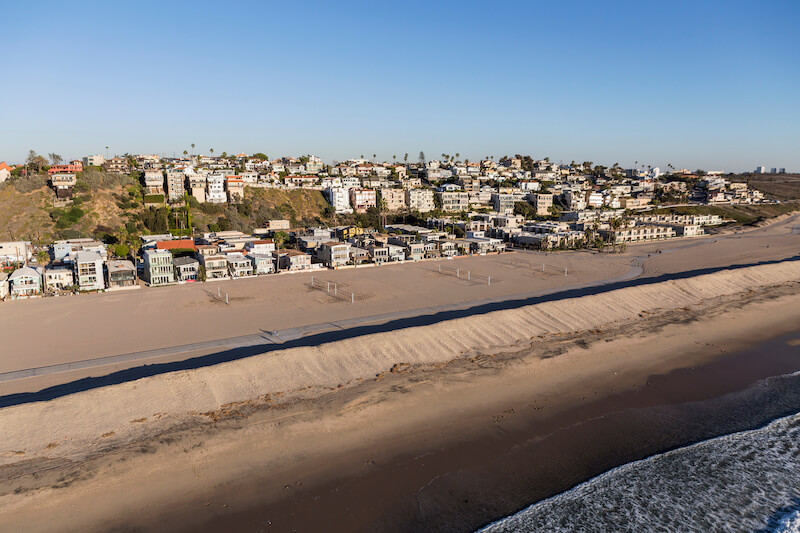 When it comes to real estate in Playa Del Rey, oceanfront homes are often the most sought-after. These properties encapsulate the coastal allure of the area, presenting a range of options that cater to different preferences and budgets. Housing styles span from chic beach bungalows to expansive luxury estates that exemplify high-end coastal living.
The majority of single-family homes in the area fall within a price range of $900,000 to $2 million, offering a variety of architectural styles and sizes. These properties feature modern amenities and upgrades catering to a comfortable, contemporary lifestyle.
The most luxurious homes in Playa Del Rey easily exceed $3 million and offer an elevated living experience. These residences often come with coveted amenities such as direct beach access, offering residents the luxury of true beachfront living. Furthermore, these high-end homes may include private swimming pools and sprawling lots, providing plenty of outdoor space to enjoy Southern California's pleasant year-round climate.
Playa Del Rey Amenities
Playa Del Rey is rich in amenities, making it a desirable place to live. The neighborhood boasts exquisite dining spots and a variety of services. Beach activities, surfing, and hiking trails support an active lifestyle. There are also numerous parks in Playa Del Rey, including Del Rey Lagoon Park, which offers playgrounds and picnic areas. Residents enjoy easy access to Dockweiler State Beach and the Ballona Wetlands, enhancing the community's connection to nature. Additionally, the proximity to Marina Del Rey and El Segundo expands the amenity offerings, providing a comprehensive urban living experience.
Neighborhood Services
Playa Del Rey's vibrant community spirit is showcased through popular local events such as the Gillis Invitational Volleyball Tournament and the Shack Chili Cook-Off. These events not only provide an opportunity for residents to engage in friendly competition but also foster a sense of community and connection among the residents. The Gillis Invitational Volleyball Tournament is a highlight on the Los Angeles sports calendar, encouraging physical activity and camaraderie. The Shack Chili Cook-Off, on the other hand, is a celebration of local culinary skills and brings people together over food.
Playa Del Rey is also conveniently connected to the rest of the city via numerous Metro bus stops that make up a portion of Los Angeles' robust public transport system. The 115 route has multiple stops on Manchester Avenue that connect with ease to Downtown Los Angeles.
Shopping in Playa Del Rey
Most shops and restaurants in Playa Del Rey can be found along the bustling stretch of Culver Boulevard. This convenient commercial hub offers a variety of local businesses, boutiques, and eateries catering to everyday needs. Whether you're picking up daily essentials, enjoying a casual dining experience, or exploring unique local shops, residents can find many ways to enjoy Culver Boulevard.
Waterside at Marina Del Rey is just a short trip away for those searching for high-end retail. This luxurious outdoor shopping center features a wide array of upscale brands and high-end stores, fulfilling the desires of those seeking a more premium shopping experience.
Things to Do in Playa Del Rey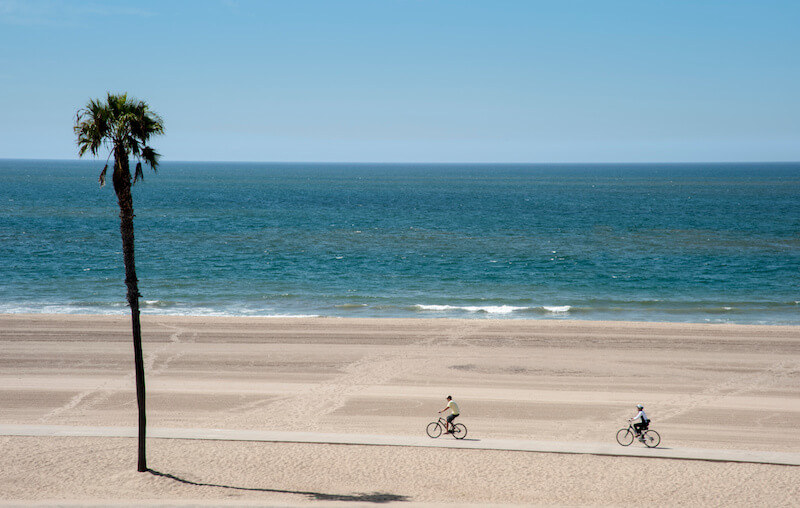 There's never a dull moment in Playa Del Rey! Local parks provide ample space for picnics, games, and relaxation. Outdoor enthusiasts can enjoy exploring the nearby Ballona Wetlands, and the neighborhood's convenient proximity to Dockweiler State Beach allows easy beachfront access for sunbathing and swimming. Moreover, the nearby Marina Del Rey and El Segundo offer a variety of attractions, from boating and watersports to shopping and dining.
Outdoor Activities Near Playa Del Rey
Playa Del Rey provides a host of outdoor activities centered around its pristine beach. Sand volleyball courts offer competitive fun (especially during the annual tournament), while a walking and biking trail along the shoreline caters to those seeking leisurely exercise or a scenic stroll.
The beach's proximity to Del Rey Lagoon's playground creates a kid-friendly atmosphere, adding a dimension of versatility to a day at the beach. With these amenities in easy reach, the beach at Playa Del Rey fosters an active, outdoor lifestyle, perfect for those who enjoy a balance of sport, relaxation, and natural beauty in their everyday life.
Best Restaurants in Playa Del Rey
Playa Del Rey is home to a diverse food scene, satisfying a variety of palates. Bacari PDR stands out with its selection of fine wines and small plates, offering a sophisticated dining experience. Beachside staple Playa Provisions serves up a creative spin on American fare in a relaxed, welcoming environment, perfect for a casual meal after a day at the beach. Prince O'Whales is the local go-to for sports enthusiasts, providing a lively atmosphere with numerous TV screens and a menu of classic bar fare.
Attractions Near Playa Del Rey
Residents of Playa Del Rey benefit from easy access to some of Southern California's most iconic coastal destinations. Santa Monica, known for its vibrant pier and bustling Third Street Promenade, is just a short drive north, providing Playa Del Rey residents with additional things to do, with options for shopping, dining, and entertainment. Equally accessible is Venice Beach, famous for its colorful boardwalk, unique boutiques, and renowned Muscle Beach Outdoor Gym.
These neighboring beachfront communities not only enrich the variety of local amenities but also enhance the overall lifestyle offering of the area. This proximity means Playa Del Rey residents can enjoy the relaxed beach town feel of their neighborhood while still experiencing the diverse attractions of Santa Monica and Venice Beach at their convenience.
Employers Near Playa Del Rey
Los Angeles International Airport (LAX) and Loyola Marymount University are the two biggest employers near Playa Del Rey. However, the neighborhood's strategic position makes it easy to get to any of the best jobs in the city of Burbank or Los Angeles.
LAX, one of the world's busiest airports, offers employment opportunities across various sectors, from aviation and transportation to customer service and logistics. Nearby, Loyola Marymount University, a renowned private institution, provides jobs in education, administration, and related fields. Both entities contribute significantly to the local economy, offering Playa Del Rey residents potential employment options within a convenient commuting distance.
Schools Near Playa Del Rey
The Playa Del Rey neighborhood is home to an array of educational institutions that cater to students of various age groups and academic interests. Charter schools offer specialized curricula, providing unique learning experiences for students. Katherine Johnson STEM Academy offers students an innovative science, technology, engineering, and math curriculum. Similarly, WISH Academy Middle/High School is known for its comprehensive curriculum that encourages personal growth and social responsibility.
For households interested in private education, St. Anastasia School offers a Catholic education for students from pre-kindergarten through eighth grade. St. Bernard High School, another private institution, is known for its wide range of extracurricular activities.
Living in Playa Del Rey: A Beach Town You Can Call Home
Playa Del Rey emerges as an appealing choice for those seeking a unique blend of beachside tranquility and urban convenience in the heart of Los Angeles. With its diverse real estate options, thriving local amenities, active lifestyle offerings, fun things to do, and many educational opportunities, this neighborhood presents a compelling lifestyle proposition. This hidden gem, with its blend of natural beauty and urban sophistication, truly offers a unique slice of Southern California living.