Is Shadow Hills Good for House Pets? Vet Clinics & Pet Stores in Shadow Hills Los Angeles
Posted by Courtney Korb on Friday, December 10, 2021 at 6:02 AM
By Courtney Korb / December 10, 2021
Comment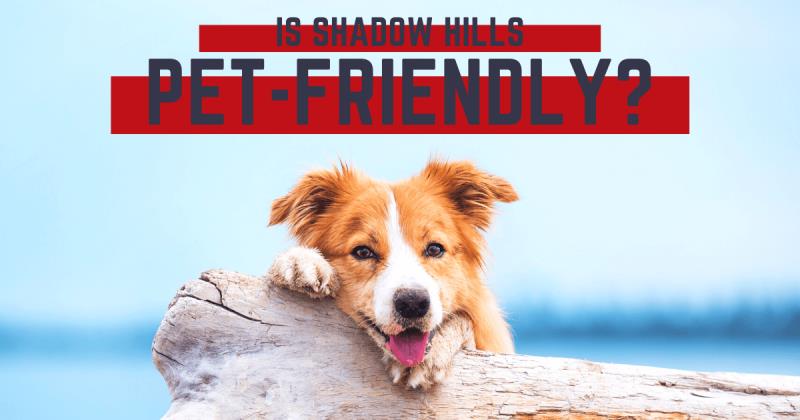 Finding the next neighborhood to call home involves a long string of factors to consider. For pet parents reviewing homes for sale in Shadow Hills, they'll probably ask the question: Is Shadow Hills pet friendly? Well, as a community near the Verdugo Mountains, Shadow Hills has plenty of fun outdoor-hangout opportunities with your pet, thanks to the shared and natural trails in and around the neighborhood. From dog parks to pet stores and reputable vet clinics, Shadow Hills is as accommodating to animals as it is to people. Keep reading to discover why Shadow Hills is one of the most pet-friendly neighborhoods in the city of Los Angeles.
Best Dog Parks Near Shadow Hills
While most people are familiar with the best parks in Shadow Hills, the neighborhood is also surrounded by multiple public dog parks where Fido and other pets can play and socialize off-leash, as owners enjoy the fresh air and make new friends. Some of the most notable dog parks near Shadow Hills include:
Crescenta Valley Dog Park
The Crescenta Valley dog park is a community-initiated project 11 minutes from Shadow Hills. The park is on 3901 Dunsmore Avenue and is part of the larger, 32-acre Crescenta Valley Community Regional Park near the La Crescenta community. It has two main sections: the 0.5-acre, a small dog area, and a larger, 1-acre large dog area. The two areas are separated by double-gated entrances and are completely fenced to ensure the safety of all pups that come to the park.
The park offers excellent amenities including, security lighting, a decomposed granite surface that is safe for pets, a dog wash at the exit, and even drinking fountains for thirsty pups after serious playtime. There are benches with shade structures where pet parents can catch up while watching Fido run around.
As with most dog parks in Los Angeles, owners are expected to immediately remove their pup's waste, and all dogs must be vaccinated. Treats are also prohibited to prevent aggression. Crescenta Valley Dog Park opens every day from 6.30 a.m. - 9.00 p.m., but the staff is available at variable times, as highlighted below.
Monday to Thursday: 10:30 a.m. – 9:00 p.m.
Friday: 10:30 a.m. – 7:00 p.m.
Saturday: 8:30 p.m. – 5.00 p.m.
Sunday: No staff
Whitnall Off-Leash Dog Park
Recently renovated, Whitnall is a dog park roughly 20 minutes away from Shadow Hills via Sunland Boulevard and Vineland Avenue. The park is directly below the Whitnall Highway Utility Corridor and offers 3-acres of space where dogs can run off-leash and burn off-their pent-up energy with other pups.
For optimal enjoyment for dogs of all sizes, Whitnall Off-Leash Dog Park features a 50,000sq.ft section for large dog breeds and a 22,000sq.ft area for smaller canines. There's a seating area with benches and tables and is surrounded by trees providing plenty of shade for pet parents as they watch their dogs zoom across the grass.
The park also has plenty of on-site parking, making it even more convenient for those who live in Shadow Hills. There's a drinking fountain for your pup, and the grass is well-landscaped and safe for all pets. As the name implies, pups can stay off-leash, but bring the leash if you'll explore other areas besides the designated small and large dog breed sections. Whitnall Dog Park closes every Tuesday from 6:00 a.m. to 10:00 p.m. for maintenance but generally operates as shown below.
Monday through Sunday: 6:00 a.m.- 8:00 p.m.
Griffith Park Dog Park
The Griffith Park Dog Park is one of the top reasons why dogs love Burbank and the surrounding area. The park is about 20 minutes from Shadow Hills and sits on a 1.6-acre piece of land sectioned into small and large dog areas. It's grass- and dirt-covered and has plenty of water for the pups. The park even offers waste bags, trash containers, and poop scoopers to ensure each pet parent does their part in keeping it clean by cleaning after Fido.
There's a shaded seating area with picnic tables and benches and a portable washroom just at the entrance. No leash and treats are allowed inside the park. Since its part of Griffith Park, this dog park also features plenty of other areas for exploration, including an observatory, zoo, and trails for hiking. Still, your pup must be on a leash while exploring these areas.
Monday through Sunday: dusk to dawn
Closed every Tuesday between 6 a.m. and 10 a.m. for maintenance
Pet Stores Near Shadow Hills
Besides the nearby city of Burbank and Los Angeles metropolitan areas, pet parents in Shadow Hills can quickly source their pet supplies from the pet stores near the area. For instance, the East Valley Feed & Tack, one of the leading pet and general animal supplies stores in the Los Angeles and San Fernando area, is just five minutes away from Shadow Hills. It is essentially an equine-supplies shop but also stocks a wide range of dog, cat, and bird supplies from various brands, including Blue Buffalo, Natural Balance, and Sportmix. Henco Pet-Vet Distributors is another excellent pet supply shop seven minutes from Shadow Hills. The store offers a complete selection of dogs, cats, birds, and all types of pet feeds, supplements, and even vet supplies. It is easily accessible via Wheatland Avenue and Art Street or Wentworth Street from Shadow Hills. Henco is also a significant supplier for vet clinics, breeders, animal shelters, retail pet shops, and even animal rescue groups, so it's a brand pet parents can trust.
Other excellent pet stores to check out near Shadow Hills include PetSmart and Pet Buys Connection Inc.
Pet Groomers Near Shadow Hills
Booking regular professional grooming appointments for your cat or dog doesn't just keep them clean and pretty; it also keeps them healthier and, subsequently, happier. This is because professional pet groomers are more thorough and use professional coat and skin products to groom their pet clients. Also, since they're professionals, they can identify ears, teeth, skin, and general pet issues and notify the owner before they get out of hand. That said, one of the perks of living in Shadow Hills for residents with pets is that there are also plenty of professional pet groomers in the area.
For instance, the Paradise Ranch Pet Resort is just six minutes away. The resort specializes in dog grooming services and caters to all breeds. Besides grooming, the Paradise Ranch Pet Resort also offers doggie daycare and boarding facilities for busy pet parents, professional dog training, and general pet transportation. The resort is on 10268 La Tuna Canyon Road in San Fernando Valley, CA, and is open from 9:00 a.m. to 5:30 p.m., except on Sundays when they close at 4:00 p.m.
The Sparkle & Shine Pet Grooming enterprise on 9745 Wheatland Avenue, Shadow Hills, is a great alternative. With over two decades of experience, Sparkle & Shine offers a full range of pet grooming services such as bathing, brushing, de-skunking, and hot spot treatments. They cater to dogs of all sizes from small, medium to extra-large at different rates starting from as low as $40-45 for bathing and brushing.
Veterinarian Clinics Near Shadow Hills
Regular vet visits are a must for pet parents. Thankfully, Shadow Hills makes the task easier thanks to the multiple veterinarian clinics near the area, such as the Shadow Hills Pet Clinic just seven minutes away. The clinic is located in the Sun Valley neighborhood and holds appointments Monday through Saturday.
The facility is operated by an experienced veterinarian, supported by professional and licensed vets. They mainly attend to dogs and cats and offer appointment-based and urgent care vet services. The facility also runs an open hospital. Like most vet clinics in the area, they accept all major credit cards, and costs vary depending on the exact service provided.
The Shadow Hills Pet Clinic offers excellent discounts to senior pet parents and local animal rescue groups. Services offered include vaccinations, spay and neuter, in-house lab, wellness exams, comprehensive flea and tick control, and digital X-rays. East Vet Clinic is another excellent vet clinic near Shadow Hills. It is six minutes away from Shadow Hills via Sunland Boulevard and boasts many professional vets who cater to dogs, cats, rabbits, and pocket pets.
Besides appointment-based services, East Valley Vet Clinic also provides emergency and urgent care and an open hospital service where pet parents can remain in the examination room to comfort their pets during medical procedures. They accept payments via cash, MasterCard, Visa, Discover, or Care Credit. While the costs vary depending on the service provided, the clinic has a hands-on customer care team always ready to offer service charge estimates.
Other Helpful Resources for Shadow Hills Pet Owners
Besides the facilities listed above, there's also plenty of resources for pet-owning residents. For instance, Hole in the Wall is a leading pet fish and aquarium service provider near Shadow Hills. The business provides a range of coral and tropical pet fish deals for those interested in getting a pet fish, saltwater, R.O.D.I water, and even water testing for only $3 should one have an issue with their water tank. They also provide aquarium maintenance services with a discount of up to 40% for first-time aquarium installations.
The Sunland Water Gardens also offers similar services but has an even diverse range of pet fish, including Koi, to pond fish. They also provide aquatic plants, water lilies, and even pond supplies.
Since its an equestrian-zoned community, Shadow Hills also has its equine facility, but there are plenty more near the area, such as La Tuna Stables and Peacock Hills Ranch. And should one lose a pet, they can always report to the Pet Key Organization in Shadow Hills.
Moving with Pets to Shadow Hills, Los Angeles
In a nutshell, Shadow Hills is a pet-friendly community. However, this is no surprise as the neighborhood is already an equestrian zone, meaning it's generally excellent for those with furry best friends.
From reputable vet clinics, well-maintained public dog parks, pet supplies stores to professional pet groomers, living in Shadow Hills means pet parents' needs are always within reach.