Pampered Pets In Porter Ranch: Neighborhood Dog Parks, Pet Stores & Vet Clinics
Posted by Courtney Korb on Tuesday, March 1, 2022 at 11:15 AM
By Courtney Korb / March 1, 2022
Comment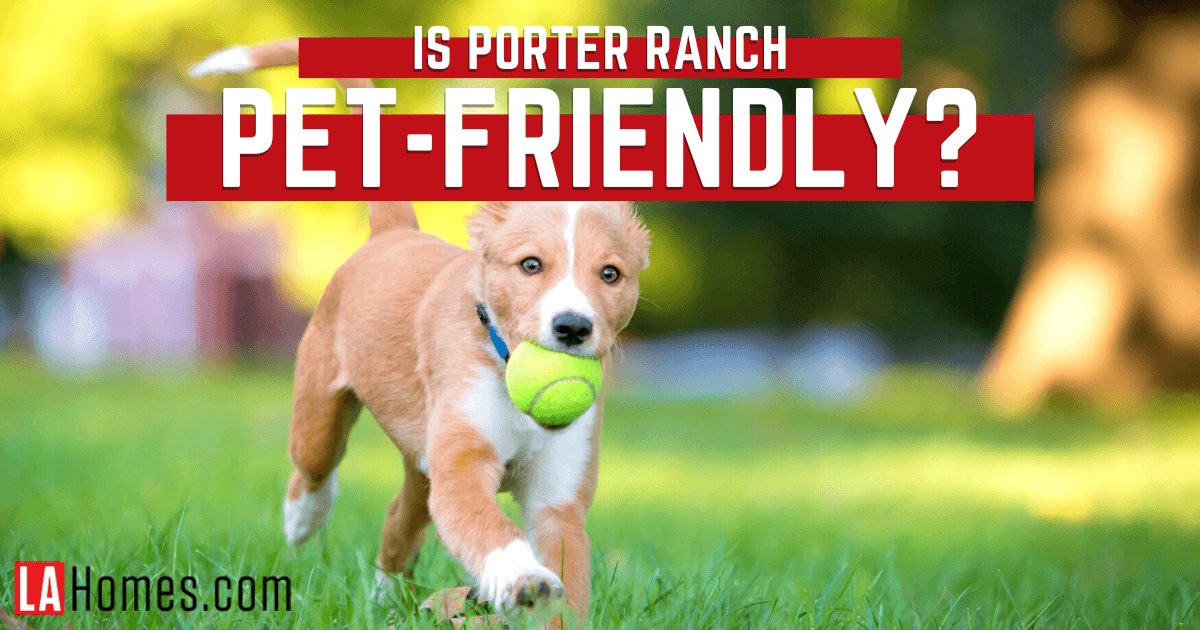 Pets love Porter Ranch! As a master-planned neighborhood, the homes in Porter Ranch offer many benefits for people. Built by the Toll Brothers and surrounded by beautiful mountains in a deep valley, the area is stunning in many ways. It's home to several commercial establishments, outstanding restaurants, and beautiful parks with walking and biking trails. Yet, it's not just the homeowners that benefit from the luxury amenities in this area. Pets reap the spoils of living in Porter Ranch, too. With a wide range of amenities for pets and their owners, life in Porter Ranch can be an excellent choice for many. Keep reading to learn why Porter Ranch is an excellent neighborhood for pet owners.
Dog Parks & Walking Trails Near Porter Ranch
Some of the best amenities in Porter Ranch are outdoors. The area has excellent weather most of the year, but the rolling hills and ample greenspace make the area so attractive to pet owners and dogs who love to play and run. Here are some of the best dog parks near the community.
Sepulveda Basin Off-Leash Dog Park
Located about 13 miles from Porter Ranch in the town of Van Nuys, Sepulveda Basin Off-Leash Dog Park is a large, off-leash dog park that's worth the short drive. With 6.5-acres of space, there's lots of room for fun and running. There are three fenced-in areas, one that is much larger for bigger dogs and two smaller ones for timid or smaller dogs. The third fenced-in area is designated for dogs under 20 pounds. With the amount of space available, dogs will likely have ample space to run and play, even on crowded days.
There are benches and chairs under shade trees around the fenced-in area for humans. There's a parking lot next to the park, but there isn't a fixed-structure restroom here. Many Sundays, there's a low-cost pet vaccine clinic held at the park. And, for those who visit on Sundays, the Farmer's Market takes place just a few minutes down the road.
Limekiln Canyon Park
Limekiln Canyon Park provides a 3.8-mile trail in Porter Ranch. It's important to know right away that this is a high-traffic area – many people use this trail consistently, which means it can be too busy for some dogs. While predominately walking, running, and hiking trail, dogs are welcome to come along as long as they are on a leash.
Much of the path here is paved and smooth, but some gravel and dirt areas may exist. It has a 423-foot elevation and is a traditional out and back route. It's not too long, nor is it a challenging trail for many, but it can be packed on the weekends. This trail is accessible throughout the year. People come for many reasons – the beautiful scenery and the wildflowers that dot the trail are just some of those. It's not uncommon to see birds and some wildlife looking into the wooded area.
Porter Ranch Neighborhood Parks
Porter Ranch parks offer plenty of space for residents and their pets to enjoy. Open space is one of the core benefits of this community. In most cases, dogs are welcome in these areas as long as they are on a leash (outdoor areas only).
One of the largest parks is Holleigh Bernson Park, which is adjacent to the city of Northridge. It has over 14 acres of space, including open space, playgrounds, walking paths, and fields for sports. As of this writing, this is the only large-scale park in the area. However, the city plans to add a 50-acre park with the support of the City of Los Angeles in the coming years. It is planned to offer a 10-acre city park with a concert pavilion, picnic areas, sports courts, and community gathering space. The remainder of the park will include open space, walking paths, and hiking trails accessible to pets on a leash. Porter Ranch also offers a 50-acre planned park with a concert stage, splash pads, sports courts, and hiking trails.
Pet Stores Near Porter Ranch
When it comes to caring for a pet, it helps to have close pet stores to provide access to all necessary supplies. The main option in the city is Petco Porter Ranch. This large box store offers most of what pet owners need with supplies for dogs, cats, birds, reptiles, and many other animals. It is located in Porter Ranch Town Center, making it convenient for most people. In addition to supplies, the location also provides several valuable services, including dog groom and dog training. There's a vaccination clinic on-site as well. The aquatics department is prominent here, offering support through trained professionals for setting up and managing these pets in the home.
Centinela Feed & Pet Supplies is about a five-minute drive away in the city of Northridge. This location provides a wide range of pet products, including food, treats, and most supplies. It also offers dog training services. The store also works with local rescues by hosting in-store adoption events. While mainly offering dog and cat supplies, it also offers options for other animals.
Kahoots are another option for residents. It's located about 10 minutes away in the Chatsworth community. This is an excellent place to go for most pet supplies. They offer supplies for birds, hamsters, dogs, cats, and even horses.
Pet Van Go is a service available to those in Porter Ranch. It is a mobile pet store that offers free delivery of products right to your home. The pet supplies include healthy foods and treats for dogs.
Pet Groomers Near Porter Ranch
Keeping a pet looking sharp takes a bit of help from the pros sometimes. There are options available for dogs in the city and the surrounding area. Pet City Grooming is one option located in Porter Ranch. It's open during regular business hours. It's a small business that provides grooming services for most dogs.
One option is Susan's Pet Boarding and Daycare. It's located about 5 miles away in Chatsworth. This location provides several services, including boarding and daycare services for dogs (from 7 am to 9 pm Sunday through Saturday). They also offer complete grooming services for most dogs. And for those who need it, it also offers pet transportation with pickup and drop-off for boarding and daycare. There's even a dog-friendly pool to rent.
Another option for pet grooming is Petco, as noted. The on-site grooming service handles most dog needs, operating Monday through Saturday most weeks. It's possible to book an appointment online. Dogs can receive nail trims, baths, and cuts at different prices. It's possible to leave a pet for a grooming appointment and return a few hours later.
Veterinarian Clinics Near Porter Ranch
Keeping a pet healthy is essential, and having a trusted vet to help with the close-to-home process is also essential. Several veterinary services are located around the city that may prove beneficial.
The most prominent location in Northridge Veterinary Center. Located in Porter Ranch Town Square, this clinic is essential to Porter Ranch's pet-friendly planning. It was founded in 1993; it is a dedicated pet services provider for the community. It offers competitive costs for most services, but it can sometimes be a higher cost than a full-service location than other locations. This company offers a full-service veterinary medical clinic caring for all types of pets, including exotics. This includes routine care, hospital care, and emergency medical care. It also has a surgery center for spays and neutering and soft tissue and orthopedic surgeries. For owners who need boarding help, the location offers both dogs and cats options for short and extended stays.
Another option is Banfield Pet Hospital. It is a complete veterinary clinic located in Chatsworth, about a 10-minute drive from Porter Ranch. The clinic provides care for dogs and cats, including wellness appointments, preventative care, and illness help. They also provide vaccinations and parasite treatment. This location doesn't offer as many emergency services (only available during business hours with availability) or surgical care.
Devonshire Animal Hospital is a small vet clinic located in Chatsworth. It provides most types of veterinary care, including care for pocket pets, cats, dogs, and other animals. It performs some surgical procedures and provides diagnostic testing through x-rays and blood work. It also offers pet dental care services. Costs range widely but typically are more affordable than some other locations in and around the city.
Other Helpful Resources For Porter Ranch Pet Owners
Not everyone has a dog or a cat. There are local providers to meet the needs of those who own exotic pets. Whether looking to purchase supplies or a new pet, Exotic Life Fish & Reptiles is an excellent resource. The location has professionals who can offer assistance in creating habitats, choosing animals, and selecting the right foods for them. From bearded dragons to large turtles, this location can provide support for creating a comfortable space. It is a full-service aquarium and reptile shop.
Coral Supply may be a good option for those who love fish and want to find exotic options to take home. It is an aquarium service provider and a fish store. It's in the city of Los Angeles, but well worth the drive for those who need help with their fish tank or would like to pick out some new fish to take home with them.
Los Angeles Guinea Pig Rescue in Chatsworth could be the ideal place to find one for those looking for a new friend. This location not only rescues guinea pigs that can no longer stay with their owners, but it also provides for a full range of services to support their wellbeing. That includes providing health checks, nail clipping, and even a match-making service for lonely guinea pigs. All of these services are at no cost to the owner. They are also an excellent location to turn for information on providing care for these pets.
Porter Ranch Was Planned With Pets In Mind
Are you a pet owner trying to decide if Porter Ranch is right for you? With a wide range of amenities close by, including all of the services most pets need to thrive, it's easy to see the value of living in this community. Though local homeowners associations and smaller parks may have rules about pets, most areas in the region welcome dogs on a leash to explore the world around them with their owners. If you're moving with pets, Porter Ranch is a pet-friendly community with a high quality of life to offer all who live here.