Dogs Love Burbank: 9 Dog-Friendly Restaurants, Parks & Activities in Burbank
Posted by Courtney Korb on Monday, November 15, 2021 at 1:25 PM
By Courtney Korb / November 15, 2021
Comment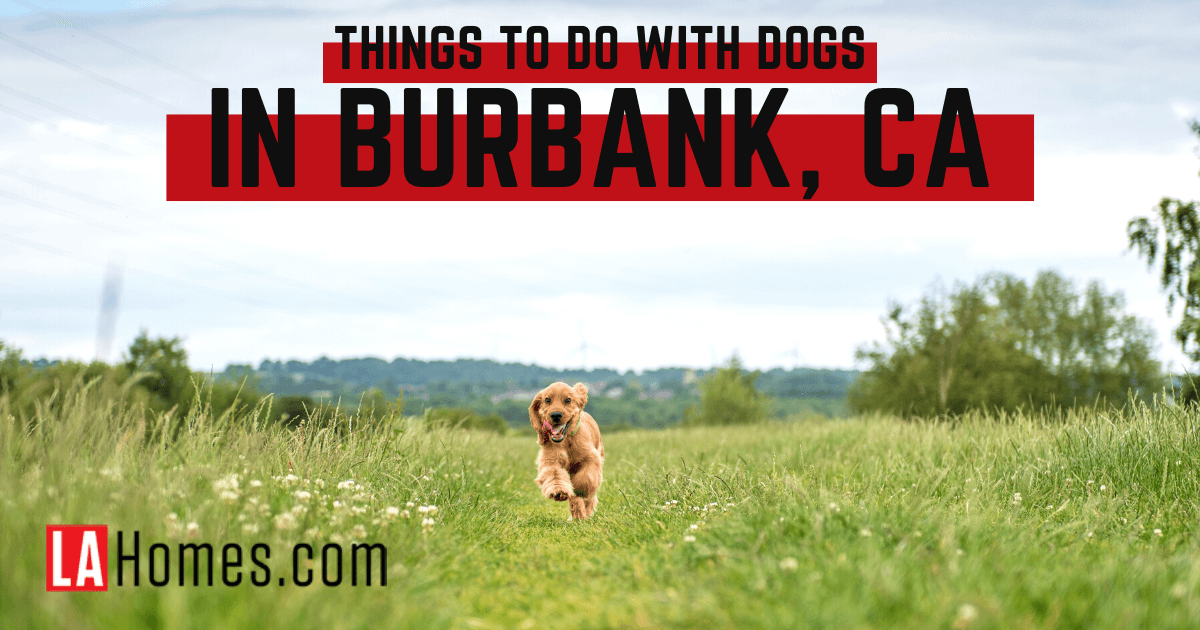 There are plenty of things to consider when researching the Burbank real estate market. Since so many households include dogs, it can be helpful to know what resources there are for pet owners in an area. People moving to Burbank with a dog will be pleased to know that the community is designed with pups in mind. Local dog parks, dog-friendly restaurants, and neighborhood pet stores are just a few of the pet amenities found near the best neighborhoods in Burbank. Keep reading to learn all about the dog parks and dog-friendly activities in Burbank.
Best Neighborhood Dog Parks in Burbank
A trip to the park is fun for dogs and humans alike. Many of the parks in Burbank allow dogs, as long as they remain leashed and under the control of their owner. However, a few dog parks in the area may be a bit more acceptable to a pet that wanders off to smell the flowers.
Whitnall Off-Leash Dog Park
Whitnall Off-Leash Dog Park provides dogs with three acres of off-leash fun, making it one of the best options in the area for active pets. It is open daily from dawn to dusk, and there's no fee to use it. It has two specific areas, one area of 50,000 square feet meant for larger dogs and a smaller area of about 22,000 square feet best suited for dogs of around 20 to 30 pounds.
Dogs have plenty of open grass to run on, while a secure fence helps them stay safe. Pet owners can relax on one of the benches or enjoy the walking path around the park, although dogs can't be left unsupervised in the enclosure. The park is within walking distance of the Bella Bianco Drive residential neighborhood for those that want to walk to a park close to home.
Griffith Park Dog Park
Griffith Park is a vast natural area with ample amenities, including hiking and biking paths, wildlife habitats, and sports facilities. It runs along the Los Angeles River, creating beautiful views in various areas. Griffith Park Dog Park is a small section of the larger park, located on N. Zoo Drive, adjacent to the John Ferraro Athletic Fields. The dog park itself is small but offers ample room for dogs to run and explore independently.
Griffith Park Dog Park is fully fenced in. It's an off-leash dog park with a small parking lot next to it. Much of the area is dirt, but there are some areas of open grass. The park can be busy because of its location in one of the area's best parks, especially during soccer games.
Runyon Canyon Park
Another option for those who want a more diverse space to explore is Runyon Canyon Park. The park is 160 acres, which includes not just a dog park, but a large area of open space, hiking trails, and biking paths. The dog park is an 80-acre off-leash dog space that's fenced in, providing good opportunities for pets to run and play with others. Leashed dogs are welcome on the hiking trails in this area, too. The hiking trails are dirt roads, which help minimize any risk to a dog's feet as they walk, but the area can get muddy after it rains.
Runyon Canyon Park can be a fantastic option for those who live nearby. It's a busy park with routine visitors most days. Runyon Canyon Park is in the Woodland Hills area of the city, with numerous residential neighborhoods nearby.
Crescenta Valley Dog Park
Crescenta Valley Dog Park isn't the largest dog park, but it offers two separate play areas. There's half an acre dedicated to smaller dogs and a full acre for larger dogs (over 30 pounds). Everything is fenced in, and there's a separate, double-gate entrance for each area to keep dogs secure.
One of the excellent features here is the decomposed granite surfacing in both areas. It provides a safe and soft place for running, jumping, and fetching. There are also areas of cedar chip surfacing under the enclosed trees, which makes for a comfortable place for pets to relax in the shade. Crescenta Valley Dog Park also has a dog wash outside of the entry gates, benches for pet owners, drinking fountains for both pets and owners, and a shaded area for those hot days. There's also ample lighting for those who plan to visit during early morning hours.
Laurel Canyon Dog Park
Laurel Canyon Dog Park is located close to the homes in Studio City. This three-acre off-leash dog park is just down the canyon path, making for an easy trek. Unlike other parks, it's a bit more secluded and wooded, providing an excellent, shaded area for owners and pets to relax. There are benches and chairs located under a shade structure for relaxing. This park also has two separate areas, one for smaller and timid dogs and a large area for pets over 50 pounds. There's also a long, accessible ramp leading from the parking lot to the gate, which makes it a bit easier for older dogs and people in wheelchairs to access this area.
Laurel Canyon is a popular area for hiking, and there's a significant amount of wildlife in the area. The views from the shaded area are perfect for pet parents who want to relax in nature.
Dog-Friendly Activities in Burbank
Overall, Burbank is a pet-friendly community. It's common to see people walking dogs in neighborhoods, parks, and sometimes entertainment venues. Still, it's a good idea to bring water and a leash for any experience.
Though it's essential to check for changing terms, many of the fun things to do in Burbank are open to leashed dogs. This includes Magnolia Park Night Out, a food truck, and a shopping event held outdoors on the last Friday of the month. It typically occurs from January (weather permitting) through October.
For those celebrating the holidays in Downtown Burbank, such as the ice skating and tree lighting, it's possible to bring pets to these events as long as they are kept on a leash and comfortable in a crowd. Walk along the streets and gather in the center of town during the various events.
The Chandler Bikeway may be another excursion worthy of bringing a pet. This bikeway is a rail trail that's a part of the Rails-to-Trails Conservancy, a nonprofit organization. This nationwide network of trails has taken over out-of-use rail lines to create beautiful walking and biking paths. The Chandler Bikeway has a separate area for walkers and bikers, making it possible to bring along a dog.
Burbank also offers unique experiences that encourage people to bring pets. Mobile Music Workshops are one of those. With approval in advance, visitors can bring their smaller dogs with them as they come inside this mobile recording studio for one of the workshops designed for recording artists. It happens at Johnny Carson Park on Bob Hope Drive on weekends.
Dog-Friendly Restaurants in Burbank
Going out for dinner or stopping for breakfast after a long walk? It may be possible to bring a pet along for the trip. Many of Burbank's restaurants have open-air patios that may accommodate pets. If a restaurant has a patio or outdoor tables, it's easy enough to give them a call to ask if pets are welcome (because most often, they are). Here are a few examples.
Story Tavern Burbank in the downtown area offers craft beer, wines, and ciders. It offers outdoor seating for those who wish to relax with their pet with a cold one.
For breakfast, consider Another Broken Egg Café. It's a quaint location ideal for breakfast and lunch located on E. Olive Ave. Its menu includes gluten-free foods and in-season fruits and veggies. The owners encourage guests to purchase a side of chicken for their pets to enjoy as well. There's a brunch cocktail for those long weekend mornings and an ample menu here.
A trendy location for modern American cuisine is Granville. It's a casual location with a large outdoor area that's pet-friendly. The menu is extensive, including everything from roasted beets to the Lickety Split, a fabulous dessert with handcrafted vanilla fleur de sel and other decadence.
Some other locations to consider include:
The Habit Burger Grill
Moore's Delicatessen
Kabuki Japanese Restaurant
World Empanadas
Lincoln Beer Company
Dog-Friendly Shopping in Burbank
Not all shopping centers and malls encourage patrons to bring pets. Others are happy to welcome in a dog that's on a leash, especially if they offer pet products. Burbank's pet-friendly atmosphere typically provides a more laid-back attitude on bringing pets into shops but be sure to clarify before assuming any location allows them. The local health code limits animals from being in many buildings, especially those that have food products.
One of the best places to shop with Fido is Westfield Century City, located on Santa Monica Boulevard in nearby Los Angeles. It's an open-air shopping area with many large, national retailers, including Bloomingdale's and Nordstrom. Though each retailer sets terms on bringing pets in, there are ample grassy play spaces and a misting area for dogs to relax in while pet owners go inside (with supervision, of course).
Another option is to consider the Burbank Certified Farmers Market. It's open each Saturday morning until noon. While pets cannot go into the market itself, there are outdoor green spaces and a covered patio for patrons to sit with their pets.
The Toluca Lake Certified Farmers Market is an amenity offered in the Toluca Lake real estate market, about 12 miles from Burbank. It's a smaller market with some outdoor areas. These areas may be suitable for pets.
Finally, some of the pet stores located in and around Burbank welcome pets. That includes the local Petco on W. Victory Blvd., Centinela Feed & Pet Supplies, and the Burbank Pet Plaza in the Rancho Marketplace Shopping Center.
Pet-Friendly Lodging in Burbank
Visitors to Burbank may find several pet-friendly hotels available. Be sure to check the limitations on the number of pets, the size or weight of the pet, and barking restrictions before booking.
One option is the Safari Inn located on W. Olive Avenue. There's an additional fee per pet, per night, and a required refundable deposit. Both dogs and cats are welcomed, but they may not be left unattended in the room.
Hotel Amarano, located on N. Pass Avenue, is another option. It allows up to two pets weighing no more than 50 pounds. There's an additional fee for the pets, and pets may not be left unattended in the room. The hotel welcomes both dogs and cats and provides a grassy area close to the hotel for their use. The hotel aims to keep pets on the ground floor when possible. It's a luxury hotel designed for convenience in the downtown area.
For those who plan to remain in Burbank for a bit longer, Extended Stay Burbank may be an option. It allows up to two pets weighing up to 25 pounds. There's an additional fee per night or based on the length of stay (per month, for example). This hotel has a few more amenities for pets, including a grassy area, a waste station, and a bit more space in rooms for pets and owners to spread out. Both dogs and cats are welcome but, again, cannot be left alone. A nice benefit here is that this hotel is just minutes from the airport.
Also, consider checking VRBO and Airbnb, which offer homes, bed and breakfasts, and other accommodations in the city, some of which welcome pets, but availability ranges widely.
Finding a Burbank Home Your Pets Will Love
When shopping for homes in Burbank, knowing what accommodations and amenities are available for pets is vital to many people. Burbank pet owners have ample access to parks, walking trails, and even a few restaurants with patios that welcome furry friends. The area is quite pet-friendly with walkable neighborhoods, numerous open trails, and services, including groomers and vets, nearby to meet resident needs.