Why Barndominiums Are a Smart Investment in Los Angeles Real Estate
Posted by Courtney Korb on Wednesday, September 6, 2023 at 11:55:15 AM
By Courtney Korb / September 6, 2023
Comment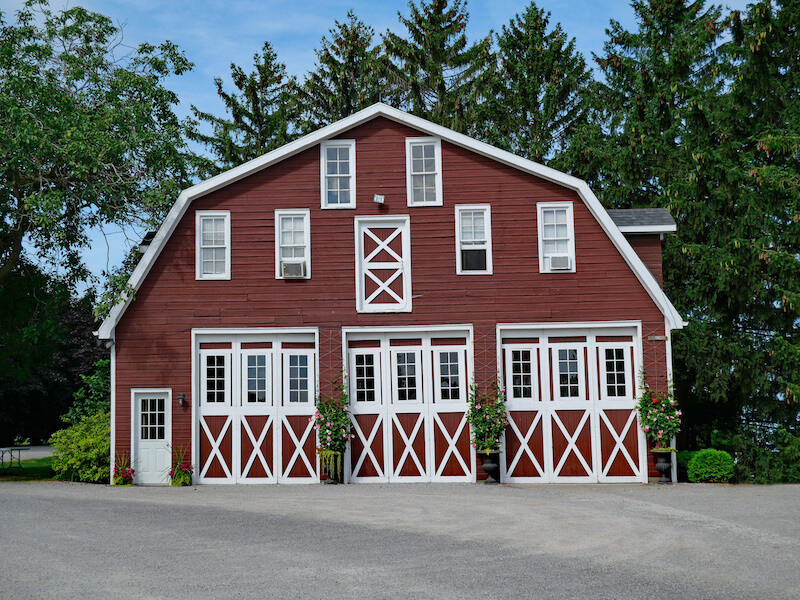 Los Angeles County in California has one of the country's most expensive real estate markets. The median sale price of a house in Los Angeles is around $635 per square foot, noting a substantial year-over-year increase. The average cost of renting a home in Los Angeles is around $2,800 monthly. These figures reinforce real estate is an excellent investment in Los Angeles.
In this article, we will discuss barndominiums and why you should consider investing in them if you are in Los Angeles. We will also give you valuable tips on ensuring your foray into the Los Angeles real estate scene succeeds.
For informational purposes only. Always consult with a licensed real estate professional before proceeding with any real estate transaction.
What is a Barndominium?
Barndominiums are structures that look like barns on the outside and residences, offices, warehouses, or workshops on the inside. The term came from the original barndominiums being old barns converted or repurposed to something else.
While most barndominiums have metal shells and frames, there are barndominiums made of wood or a combination of metal and wooden building materials.
Why Invest in a Barndominium in Los Angeles?
Why invest in a barndominium in Los Angeles? Why not an apartment or a traditional house? Let's dive into some of the best reasons a barndominium is perfect for Los Angeles.
They are Cheaper to Build
The high real estate costs in Los Angeles are a combination of the high land costs, expensive building materials, and labor rates. To earn by renting out properties or building and selling, you must invest in building a structure first. This means that you need to have enough funds to build your barndominium.
One of the most attractive aspects of building a barndominium in California is that it is typically more affordable than a conventional house. For one, a barndominium has a simpler design than a traditional house. This can translate to a shorter construction time and lower labor expenses.
You can build a barndominium by using a prefabricated barndominium kit. Once you have assembled the kit, you only need to take care of the finishing touches. This makes barndominiums ideal DIY projects. You can complete a barndominium independently with basic handyperson or construction skills.
They are Versatile
Barndominiums are versatile structures. You can use a barndominium as a residence or build a barndominium and turn it into a storage facility, a workshop, or a large garage. With many usage options, you can build a barndominium and market it depending on the kind of structure that is in demand in your area.
A barndominium can be a mixed-use structure with an attached garage, workshop, or office space. This can widen your target market since your buyer or renter won't have to buy or rent a separate commercial space.
They are Ideal for California
While some barndominiums use a mixture of building materials, most barndominiums have metal shells. Metal shells are fire-resistant, making barndominiums ideal for California, where wildfires are common.
Metal buildings, like barndominiums, are more resistant to earthquakes. Metals are ductile, meaning they can bend and flex without breaking. During earthquakes, the metal shell and frame of a barndominium will dissipate the seismic energy so it won't take considerable damage.
On the other hand, non-ductile materials, like concrete, will absorb seismic energy and result in concrete structures cracking. Due to the number of earthquakes California experiences, having a metal building, like a barndominium, is more practical than having a concrete building.
They are Low-Maintenance
Maintenance costs are one of the incidentals when renting out properties, and Los Angeles has the highest annual maintenance costs throughout the country. According to an article in The New York Times, the annual cost of repairs in Los Angeles is around $8,641, up by 19.6%. This means that maintenance and repairs will consume a large chunk of your expected windfall from your rental property.
The good news is that barndominiums require less maintenance than traditional buildings. There are no concrete or brick walls to repair, and fewer wooden parts need anti-termite treatment. Aside from needing a repaint every few years, you need to ensure that the metal shell is free of dents or holes that might start rusting. The money you save in maintenance costs can go directly to your savings account or fund for new investments.
Things to Consider when Investing in a Barndominium in Los Angeles
Before you start building a barndominium as an investment property, here are a few things you must consider.
Location
As the famous real estate mantra goes: location, location, location. The location of your barndominium plays a critical role in the success of your investment. Be sure you are building in an area where rental properties are in high demand and easy to access or near transportation hubs.
Build near a commercial center, an educational institution, or a well-known tourist attraction to increase demand. These will significantly increase your chances of quickly finding a renter and commanding high rental rates.
Know your Target Market
Think carefully about your target market to know how to sell your property. Ask yourself, are you aiming to rent for residential or commercial renters? Do you want long-term renters, or are you going for an Airbnb type that caters to short-term renters?
Knowing about your target market can help you properly plan your barndominium. For example, installing a smart security system might be a sensible option if you are after short-term renters. A security system helps reassure renters that your property is safe. It also lets you generate temporary access codes for renters that you can reset after their time is up.
Research the most in-demand types of rental buildings to guide you on what you need to build. For example, if three-bedroom units are in demand, strive to build a three-bedroom barndominium. If you find out that renters prefer those with outdoor dining areas or outdoor pools, develop a custom floor plan that meets those demands to increase your chances of attracting renters.
Stand Apart from Other Real Estate Investors
A barndominium is a wise investment if you plan on entering the Los Angeles real estate scene. Barndominiums are cheaper and easier to build than conventional houses, are low maintenance, and are more durable against earthquakes and fires.
They are also unique and will set you apart from other real estate investors. You can customize them to suit your renters' needs. If you want to cash in on the booming Los Angeles real estate market, a barndominium can help you make a splash and establish yourself as a formidable force in the real estate industry.
For informational purposes only. Always consult with a licensed real estate professional before proceeding with any real estate transaction.