How to Organize a Garage: 11 Tips For a Well-Organized Garage
Posted by Courtney Korb on Thursday, December 15, 2022 at 1:35 PM
By Courtney Korb / December 15, 2022
Comment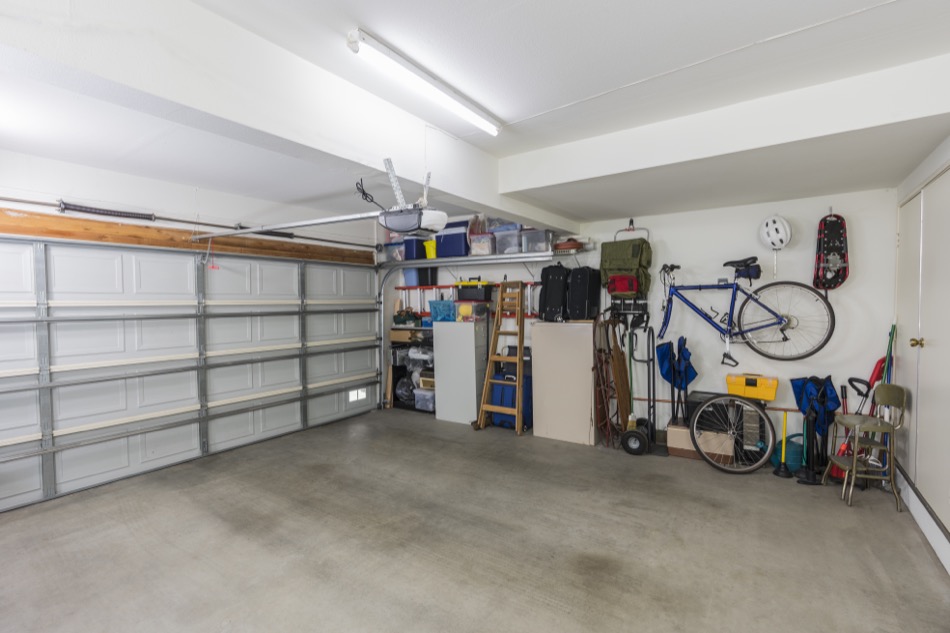 Is your garage a cluttered mess? If so, you're not alone. The garage is often one of the most neglected areas of the home when it comes to organization. But there's no need to feel overwhelmed. With some elbow grease and creative thinking, you can transform your garage into an organized oasis. Whether you're downsizing your home or just tidying up, these garage organization tips will help you get started.
Build an Overhead Storage System
An overhead storage system can be a great addition to any garage! It will free up all kinds of space, allowing you to use your storage area efficiently.
Maybe you've just moved into a new home, shipped your car, and still waiting for it to arrive. You only have a short amount of time before you need your garage to be free and clear to house your vehicle. Adding an overhead storage system frees up ground space to safely park the new vehicle.
Whether adding a shelf for toolboxes or installing a hanging rack for bicycles and ladders, an overhead storage system can help you organize everything in your garage. Plus, having items off the ground helps minimize dust buildup and keeps them away from dampness that usually accumulates on the floor.
Create Garage Organization Zones
Devise a plan that makes sense for the way to live. Group like-items together: lawn-care equipment and garden tools, children's toys, patio cushions and barbecues, auto paraphernalia, holiday decorations, and seasonal sporting gear all should have their own zones. Large equipment can be contained on shelves, or hung from walls and the ceiling. Cabinets with doors are nice beacuse they keep any clutter out of sight.
Be Creative With Recycled Materials
Put simple materials and containers to use in new ways. Inexpensive concrete-forming tubes from a big-box home center are perfect for corralling long-handled brooms, rakes, racquets, baseball bats and fishing rods. Simply cut them to the right lengths, and band them together in a corner of the garage. Diminutive high corner shelves will keep spray cans, toxic liquids and other seldom used items out of reach of children but accessible for use as required.
If you want to spruce up your garage and make the most of limited space, an old pallet can provide the foundation for shelving units that are both sturdy and stylish. By repurposing a pallet, you will be helping to reduce waste while giving yourself a creative way to organize your belongings.
With various colors, finishes, adhesives, and fittings available to acquire or repurpose, you won't have any problem selecting materials that match the unique décor of your garage. Plus, your family and friends will be impressed by your DIY endeavors when they visit.
Make a Pegboard Wall Organizer
Creating a pegboard wall organizer is the perfect solution if you're looking for a way to organize your garage quickly and stylishly. Not only will it make everything easily visible so you can find tools and items quickly, but it also looks great.
You'll be able to design it in any color palette of your choice, so it fits with the look of your home. You'll need some pegboard material, paneling boards, peg hooks and pegs, and electronic tools like saws, drills, and screwdrivers.
Cut the paneling board to create the frame of the organizer, and paint the paneling boards in any color that matches your home's decor. Then install the pegboard along with hooks into each hole for additional hanging storage for power tools and more.
Pegboard wall panels are perfect for keeping home tools organized, and wire shelving is both attractive and adaptable to many functions. Open storage keeps items in plain sight. A slim bench or work table will benefit a dedicated do-it-yourself, and an organized, portable tool kit is a great time-saver for household projects. Other than those basics, let your interests be your guide for garage organization.
Hang a Magnetic Tool Rack
If you're looking for a way to organize your garage, why not try a magnetic tool rack? This convenient and easy-to-install option can save time and money spent rummaging through piles of tools on the ground.
Plus, it adds a modern touch to any garage workspace. Installing it is as simple as attaching the tools with magnets to desired areas on the wall. Not only does this technique allow for better accessibility for all of your tools, but it also frees up valuable floor space for additional storage needs.
Hang a Ladder Storage System
Instead of letting dangerous tools and hazardous materials pile up, it's time to tackle the challenge of garage organization with a ladder storage system. You can hang these sturdy systems on the wall, immediately taking items off the floor while keeping them accessible when needed.
This ladder storage can be tailored to fit large and small garages, giving each homeowner an advantage in containing their seasonal items and everyday tools. The days of wasting time sifting through a mess in search of those hard-to-find items are over; bring peace back into your home with a ladder storage system for your garage!
Make a Slat-Wall Storage Solution
Forget rummaging through cardboard boxes while searching for what you need; it's time to install a slat wall storage solution. By installing slots on the walls of your garage, you can easily organize the items cluttering up your space.
Once those slats are ready, you'll need to find a few hooks and baskets to hang on them, and you'll be able to categorize all your items for easy access. This means having less stress the next time you tackle that home improvement project or when it's time for yard work - everything will already have its place.
With just a bit of time and effort, a slat wall storage solution could make all the difference in keeping your life more organized - and with no more stressful searches through boxes.
Utilize Empty Wall Space With Open Shelving
An easy way to start organizing your garage is by utilizing empty wall space. Open shelving makes it simple to organize and store all the essential tools, products, and items needed in a busy garage.
Instead of piling items on the floor where they can take up precious space, the open shelves are an excellent alternative for keeping the most important items within reach and easy to access.
Open shelving helps create that organized look without making it feel too cluttered. With this tiny bit of effort, you can restore some order in what was once a chaotic space!
Hang a Bike Rack
If you have a lot of bikes in your garage, consider hanging them up on the wall with a bike rack. This is a great way to save space while ensuring all your bikes are easily accessible.
Organize Your Cleaning Supplies
Organizing cleaning supplies are essential for keeping your garage clean and tidy. Invest in a few bins or baskets to store your cleaning products, such as sponges, rags, detergents, scrub brushes, and the like. Label each bin, so you know what's inside without digging through it.
Perform a Seasonal Deep Clean
A once- or twice-a-year clean up weekend is the best way to assure that items stored in your garage remain in usable condition. Dispose of anything that's damaged or no longer workable, and check to make certain that pests haven't made a home in storage boxes. The goal is to have a place for everything you use, and to be able to find anything you want on a moment's notice. Whatever your specific needs, look to the garage to boost your home's storage capacity.
A Well-Organized Garage Is a Happy Garage
Organization is as important in your garage as when designing a small living space. Following these tips, you can easily and quickly organize your garage and make it a functional space for any activity. With some work and creative thinking, you can increase your garage's storage capacity with minimal cost. You'll be able to turn your cluttered garage into an organized oasis in no time!