How to Find a Builder For a New Home: Essential Things to Look For
Posted by Courtney Korb on Wednesday, July 27, 2022 at 7:15 AM
By Courtney Korb / July 27, 2022
Comment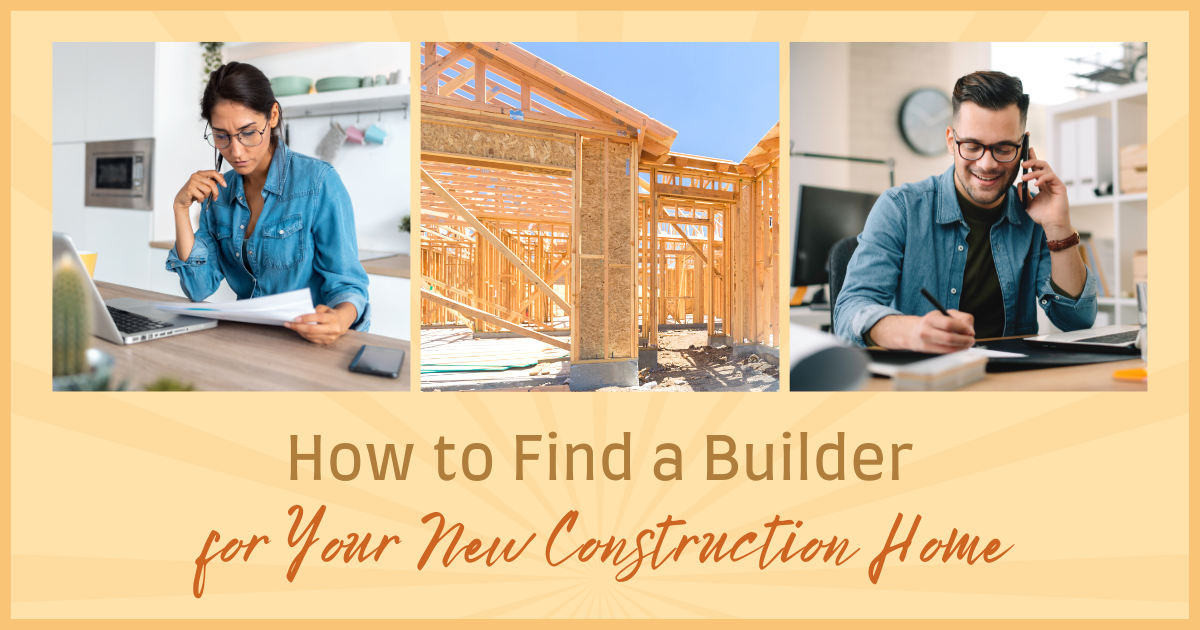 Anyone who finds themselves in the position to be a home's first occupant will want to choose a new construction home builder carefully. After all, making a major investment such as a home can be exciting, so it's essential to consider every step of the process carefully along the way. Keep the following tips in mind when choosing a new construction home builder.
How to Find a Builder for a New Home
There are a few ways buyers can find a home builder that is right for them and their project. They can start by asking friends, family, and colleagues for recommendations. Once they have a few builders in mind, they can research to ensure the home builders have the experience and credentials they seek.
Buyers can also search online directories like the National Association of Home Builders or the National Home Builders Registry. These resources can help buyers narrow their search by location, type of builder, and even specialty.
No matter how they find a home builder, buyers should interview several options before making a final choice. With a little effort, buyers are sure to find the perfect builder for their next home project.
Check Their Licenses & Other Paperwork
An abundance of paperwork and contracts will need to be signed by potential buyers, and home builders are responsible for having certain documents in place. New home builders are almost always required to have up-to-date policies covering their enterprise, clients, and workers. These documents should be confirmed in the contract, and document copies should be provided to prove that the builder carries liability insurance and workers' compensation at a minimum.
Contracts should also ensure the builder and their subcontractors will obtain additional paperwork necessary for the build, including required building permits and construction licenses to complete the work within legal compliance and regulations in their city and state. Check with the National Homebuilders Association to find the local branch, and make sure the builder is in good standing with the agency and has no complaints currently in dispute.
Another document that buyers should consider is whether the builder offers an insurance-backed warranty that covers workmanship. Sometimes buyers want to invest in these personally to ensure they will pick up any costs associated with a builder that goes out of business and doesn't complete the project.
Talk to Previous Clients & Review References
The internet is a natural place to turn to for information about a builder's reputation. Do a few online searches for reliable review sites, as not all reviews are accurate and may be 'paid' reviews. While this route is a good starting point, potential buyers will want to go directly to builders under consideration and ask them for references from previous clients.
Another way to vet a new construction builder is to check out the company's ratings and whether they are accredited by the Better Business Bureau (BBB). The BBB typically offers a grading from A to F and offers information such as:
Years in business
The number of customer complaints
Customer reviews
How disputes were handled
Any judgments against a company
Recent name changes
Related 'gripe' sites that may relate to a business
Go a step further with suitable candidates and contact a few vendors and suppliers with which those particular builders work. Find out if the company's accounts are in good standing and whether or not the builder is timely with payments for supplies and services. Should a builder have a bad reputation for late or non-payments, they are likely to delay getting materials which will throw off the timeline for completion.
Ask the Builders & Their Agents Questions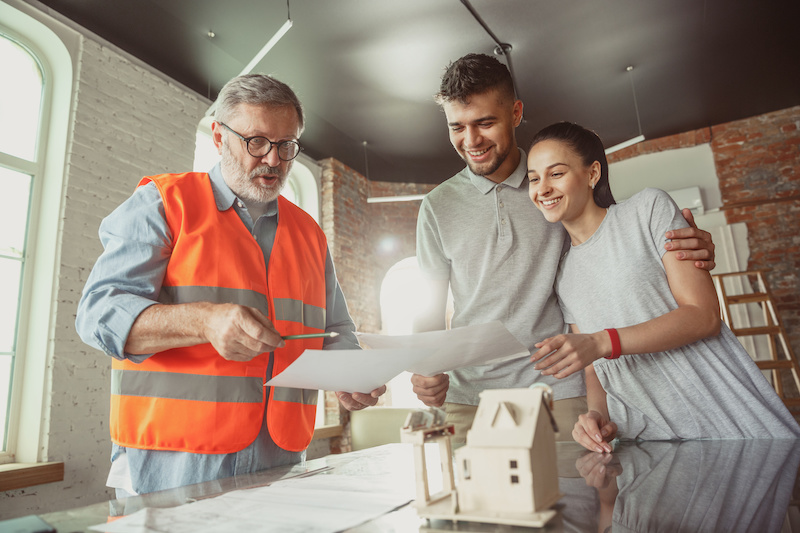 Even buying a resale home means many questions buyers will need to ask. However, in the case of investing in a new construction home, buyers will have even more pertinent questions to ask of the agents and potential builders. Fortunately, reputable builders and their representatives are exceptionally knowledgeable and are prepared to answer the most common questions.
There will be several meetings with agents, architects, designers, and builders, and each party should be forthcoming and transparent at all times. Buyers should ask these essential questions early on and certainly well before signing a contract.
When using the builder's preferred lender, are there financial incentives?
Are lot costs and landscaping included in the total price?
What is the projected timeline for home completion?
What are the standard finishes versus available upgrades?
Are discounts or credits available for self-bought appliances?
Is there a cost escalation clause in the contract?
Of course, buyers will have many other questions, but these are a good start when narrowing down potential builders.
What Does The Builder's Portfolio Look Like?
Homebuilders, their contractors, architects, and designers will have a portfolio with photos of their previous projects to show potential clients. Their portfolio will generally highlight their best work and showcase what makes them stand apart from competitors.
This is also the case with model homes shown to buyers, which typically include all the bells and whistles and high-end upgrades in place. Some people fall in love and buy a model home after viewing it. Yet, most want some customization and invest in a home personalized just for them.
If possible, take a personal tour of model homes to inspect the details and evaluate the craftsmanship of the property inside and out. Top builders tend to take on fewer projects, which allows them to offer premier work and remarkable results. With this in mind, it's essential to consider the number of properties the builder completes annually relative to the size of their team and the type of homes they build.
Builders who complete a modest number of high-quality homes are likely to be preferable to one who completes many homes. Builders attempting to construct more homes than their team numbers can handle might rush, resulting in a house of lesser quality. Their track record can let homebuyers see how much experience the builder has and whether they are well-established.
Considering Investing in a New Construction Home?
Doing a bit of research and due diligence when vetting a new home builder can mean the difference between a smooth experience and one that goes awry. These tips are a great way to get started in finding a reputable and respected builder in the community, giving homebuyers a much better chance at realizing the home of their dreams!