How to Choose Between Granada Hills North & Granada Hills South
Posted by Courtney Korb on Thursday, June 30, 2022 at 9:14 AM
By Courtney Korb / June 30, 2022
Comment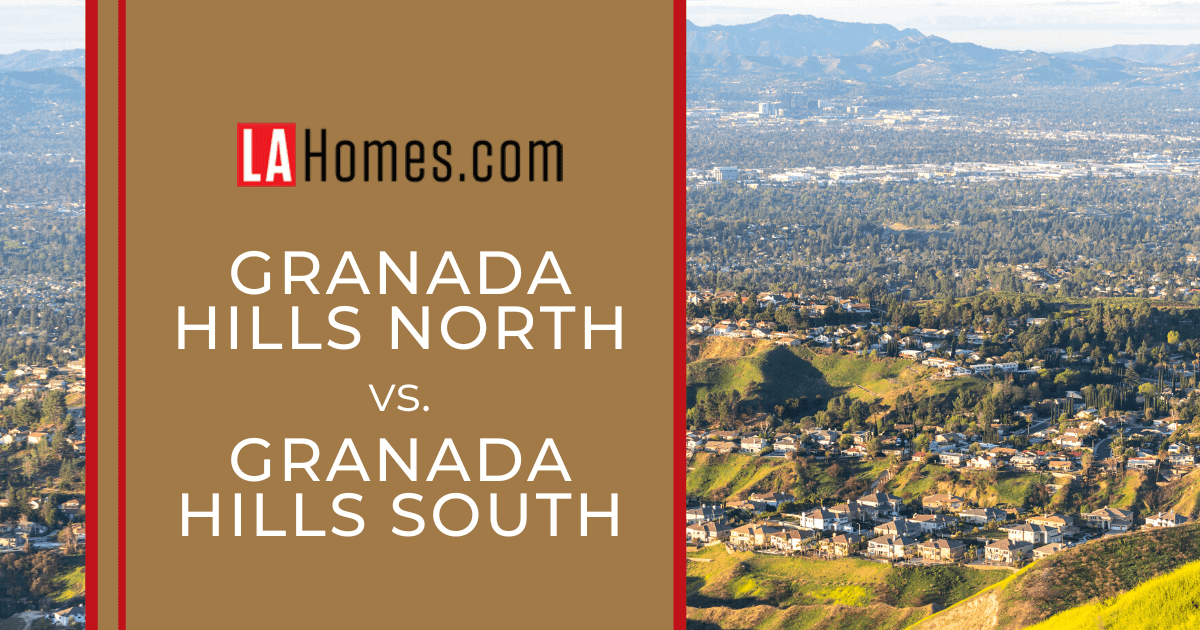 The Granada Hills community may not be the best-known of Los Angeles' neighborhoods, but for those who put down roots in this San Fernando Valley community, it's certainly among the most beloved. Set in the foothills of the Santa Susana Mountains, it provides easy access to southern California's beautiful natural environments while remaining 30 miles or less from the heart of the city of Los Angeles and its many communities.
However, would-be residents should know all of Granada Hills isn't the same. Read on for a closer look at the differences between Granada Hills North and Granada Hills South and who might be happiest in each part of the neighborhood.
Granada Hills North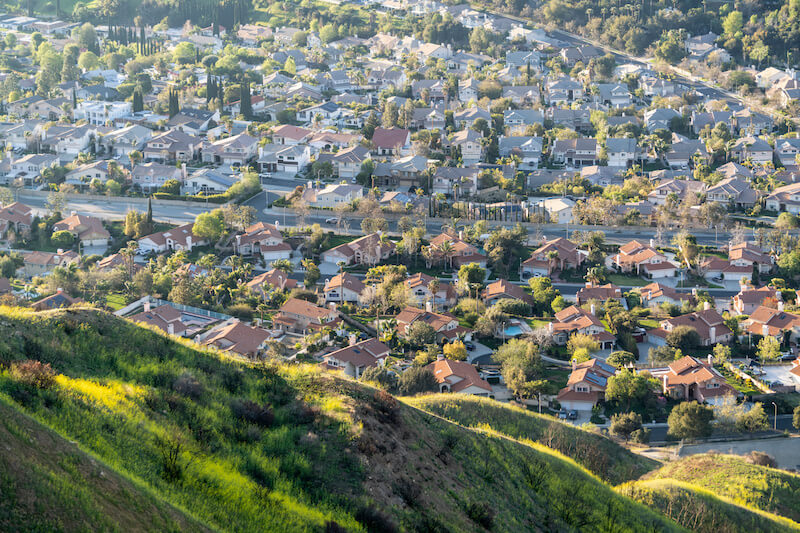 Granada Hills North is bounded by the LA County line to the north, the 118 freeway to the south, Aliso Canyon to the west, and the 405 and 5 to the east. This portion of the neighborhood gently slopes into the foothills of the mountains and is made up primarily of residential areas and green space. Homes in Granada Hills North are most commonly detached single-family houses.
Granada Hills North Neighborhood Council
The Granada Hills North Neighborhood Council was first formed in 2002 and began operating in early 2003. According to its bylaws, the council was created to focus on city actions that might affect the Granada Hills community and work with other nearby communities to improve the local quality of life. It includes representatives (called "directors") from faith communities, local businesses, homeowners, and even students, all of whom serve two-year terms. Two of the group's 21 seats are set aside for individuals living and working in certain parts of the district. These directors work on committees ranging from public safety to parks to other citywide issues.
Granada Hills North Schools & Services
Granada Hills North residents have all the services they need right at their fingertips. The community includes an Albertson's supermarket, as well as other shopping options at the Knollwood Center. Meanwhile, many more choices are located just a few minutes away in nearby communities.
Parents will be pleased to know Granada Hils North is home to numerous schools and other educational facilities. These include public options like Danube Avenue and Iqra elementary schools, Robert Frost Middle School, and John F. Kennedy High School. There are also several private and religious schools, such as St. Euphrasia School and the Jewish Educational Trade School.
Choose Granada Hills North If You Love Parks & Outdoor Fun
One of the areas where Granada Hills North shines is the ability to get outdoors and enjoy the beautiful weather and scenery of Los Angeles County. There are several public green spaces, from the modest Zelzah Park (with a playground and picnic area) to the miles of walking and horse trails at Aliso Canyon Park. It's also the site of O'Melveny Park, the second-largest in Los Angeles. Golfers will have plenty to do as well as they hit the links at Knollwood Country Club, one of southern California's top-rated public courses. While Granada Hills South offers some parks, they don't match the size or amenities of their northern counterparts.
Granada Hills South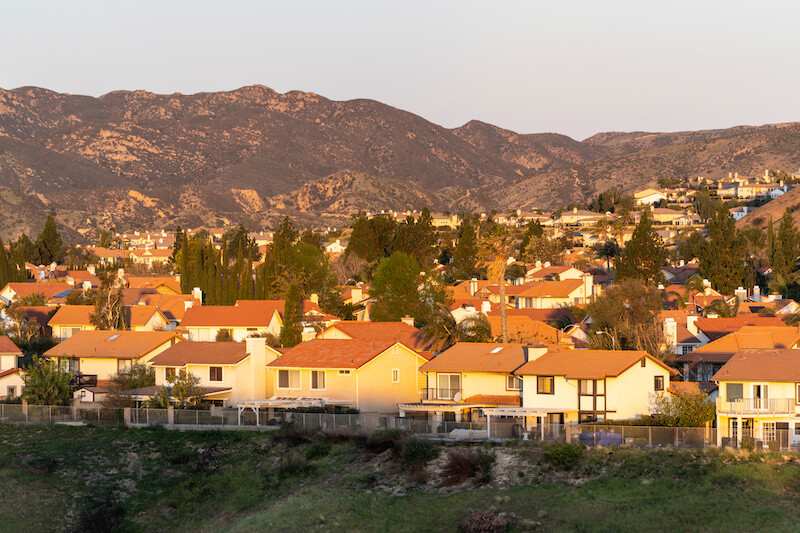 Granada Hills South comprises the area south of the 118 freeway, west of the 405, east of Lindley/Aliso Canyon Wash, and north of Devonshire or Lassen Streets. This community includes more apartment and multifamily housing than Granada Hills North, although it's still predominantly made up of single-family homes. This more densely developed part of the area also has more options for shopping and dining.
Granada Hills South Neighborhood Council
Granada Hills South's neighborhood council is a bit newer than its corresponding council to the north, having been established in 2006. It was originally part of a different organization: the Old Granada Hills Residents Group. Like other councils, members work to keep residents aware of citywide issues and how they affect the community and bring local concerns to the attention of appropriate agencies and authorities. Seventeen at-large seats on the council are available to anyone who lives, works, or owns property within the community boundaries. Each director serves a two-year term.
Granada Hills South Schools & Services
Granada Hills South has a variety of educational opportunities for students of all ages. Granada Elementary and George K. Porter Middle School are among the public options available to residents. There are also various private, religious, and non-traditional schools nearby.
The community is also home to several large shopping areas. They include the complex at Chatsworth and Zelzah, home to stores like TJ Maxx, Petco, and HomeGoods, as well as many nearby shops and restaurants. In addition, Balboa Boulevard serves as one of the area's primary shopping corridors, with large developments at the intersections with Devonshire Road, Chatsworth Street, and San Fernando Mission Boulevard.
Choose Granada Hills South If You Need An Easier Commute & Daily Convenience
Unlike the northern part of the city, Granada Hills South makes it much easier to get around and take care of daily errands. Living on the valley floor instead of the foothills places residents closer to nearby communities like the city of Northridge, the Panorama City community, and the Reseda neighborhood. Homeowners in the south also have easier access to the 5 and 405 interstates. As noted above, Granada Hills South has much more extensive grocery stores, restaurants, and other shopping options.
North or South, Granada Hills is One of Los Angeles County's Top Choices
There are many fun things to do in Granada Hills, and the neighborhood offers a fantastic quality of life for its residents whether they live in the northern or southern part of the community. However, understanding the noteworthy differences between these two areas is crucial to finding the perfect home for would-be homebuyers. Granada Hills North offers a quieter, more residential area perfect for lovers of the outdoors. In contrast, Granada Hills South's more-developed character provides convenience to shopping and dining options, plus a shorter commute in many cases.
Those considering moving to the neighborhood should keep these points in mind, but also remember that it's hard to go wrong in a vibrant, beautiful community like Granada Hills.