How to Make Your Small Condo Feel Larger: Tips for Storage & Design
Posted by Courtney Korb on Thursday, November 17, 2022 at 9:15 AM
By Courtney Korb / November 17, 2022
Comment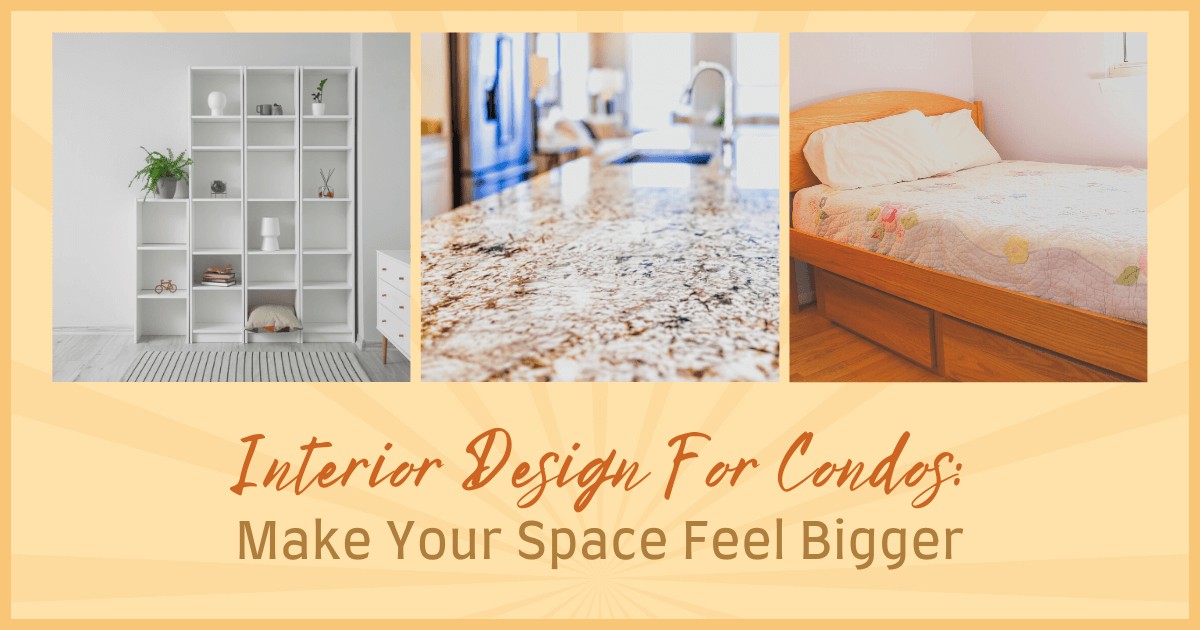 A standard-sized condominium usually has about 1,200 square feet, but many condos have a smaller footprint—about 700 to 1,000 square feet. Less square footage doesn't mean a less fabulous space—although it can mean fewer condo maintenance responsibilities. With design ideas specific to maximizing living space, any size condo can feel and even look larger. From thinking vertically to hidden storage, quality pieces, and optical illusions, keep reading to learn how interior design for condos focuses on making the most of limited space.
Use Wall Space, Not Floor Space
When floor space is at a premium, look to wall space as the solution. One of the top design ideas for maximizing condo space is to go vertical and use the walls. Look at the expanse of space on the wall above a sofa or chair. This is a usable space that condo owners can utilize. It's ideal for shelving to hold books, display art, and collectibles. Floating shelves can increase the illusion of more space as well.
Other ways to use wall space versus floor space:
Hang things like a baseball hat collection or a wall-mounted rack for kitchen pans
Use open shelving in the kitchen to display beautiful dishes and glassware
Consider pegboard for a versatile collection of photos, jewelry, and more in a bedroom
Any time the eye can be drawn upward, it can make it feel like the room is taller, even if the ceiling is standard height. Utilizing wall space can also extend to the choice of furnishings. Opt for narrow instead of wide bookcases or shelving units that extend from floor to ceiling. Not only does this type of furniture offer a ton of storage space, but it won't make the room feel cluttered. Loft beds are another way to expand floor space. Under the lofted bed, use the space for a desk or office, gaming, or a play area.
Find Places to Hide Extra Storage
Hidden storage can help efficiently make limited space seem much larger. The less clutter, the more open the room feels. The trick is purposeful design and smart organization.
Multifunctional furniture is a great way to find places to hide extra storage. A rolling countertop with drawers and space to store stools is a stylish addition to a kitchen while offering extra surface space, storage, and a place to sit and eat. Nesting tables and an ottoman with storage for blankets, board games, books, and more are multifunctional furniture for the living room or guest room, while a compact dining table that folds up into the wall when not in use is ideal for smaller spaces. Take a page from tiny home designs and consider:
Stairs that open to reveal storage space
Under-the-bed drawers
The classic Murphy bed
Built-in bolsters that also act as shelves
Don't forget to use the vertical space. A floor lamp with shelves offers illumination and creates a place to stack magazines, books, art, and framed photos. A headboard with sliding doors or a panel that tilts opens for truly hidden storage keeps personal items out of sight but within easy reach when needed.
Go for Quality Over Quantity for Furnishing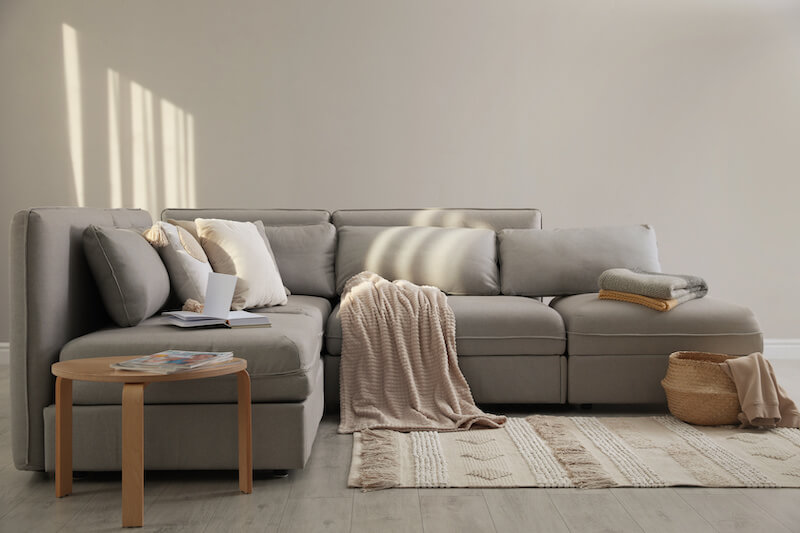 It may seem strange to think big when choosing furniture and design elements for a smaller space. However, opting for quality over quantity can have a big payoff in wow factor. Don't shy away from that fabulous statement piece, especially if it's multifunctional. Go for that antique armoire. Not only will it increase storage space, but it doubles as a room focal point and piece of art.
A beautifully patterned rug can tie the design elements of a room together, but don't go too small. Think bigger because that larger rug may be precisely what the room needs and can help enhance the actual floor space.
Continue to look to the vertical with oversized artwork that stretches from floor-to-ceiling or a three-dimensional piece to hang on the focal wall. Choosing a single, large-scale element for the space helps unify the design, while many little pieces can create a feeling of clutter. Clutter almost always makes a room seem smaller than its actual dimensions.
Colors & Mirrors Can Create Optical Illusions
Specific color palettes and mirrored or high-gloss surfaces can help to create the illusion that a space is more open. Looking at colors first, it's back to the basics. Typically, cool colors tend to invoke airiness and lightness, while warm colors can make a space feel cozier, which may translate to being smaller.
Lighter colors in small spaces can help enhance the illusion of more space. It doesn't have to be shades of white or boring beige. Pale, soft shades of blues and greens may be ideal for a beachside condo, especially when complemented with light-colored natural wood and sea-glass accents. Transform an urban condo into a mountain retreat with lighter forest greens and natural browns. While the browns fall onto the warmer side of the color wheel, it'll help ground the look while remaining neutral.
Mirrors and other reflective surfaces are a great way to make a space appear more open. A large, frameless mirror in a smaller entranceway can help to create the illusion of more space, and it's functional. Design a collection of various mirrors for a statement wall in the dining area, living room, or bedroom.
Reflective surfaces like chrome or high-gloss laminates work similarly to mirrors. Make a smaller kitchen feel grander with light-colored, high-gloss cabinet faces or countertops. Any material that reflects the light will help add to the illusion.
Utilize Windows, Light & Window Dressings
One of the most important things condo owners can do to make their homes feel larger is to make use of natural light. When it comes to window dressings, it can be easy to go overboard and end up with decor that doesn't improve a space. In fact, window treatments are one area where "less is more" is definitely the motto to follow.
Sheer curtains or blinds that can be pulled up during the day to let in natural light are a great way to brighten up a space without making it feel too cluttered because they diffuse light without feeling like you're cut off from the windows. And when it comes to nighttime, blackout curtains can help create a cozy and intimate feeling in the bedroom or living room by blocking unwanted lights from outside your condo building.
If you choose to use curtains in your home, you can give the space the illusion of being taller than it really is by hanging them closer to the ceiling. This will also help make the windows appear larger. There are also other options for curtains that affect lighting, not just sheers and blackout drapes.
It's How the Condo's Space is Used
It's not about how much space the home has, but how that space is used. It's possible to maximize the space in a condo with a few key design decisions. Color choice, hidden storage, quality multifunctional furnishings, and using the available vertical space are just the beginning.