Installing a Backyard Pool? Must-See Design Ideas For the Ultimate Backyard Oasis
Posted by Courtney Korb on Friday, October 28, 2022 at 2:00 PM
By Courtney Korb / October 28, 2022
Comment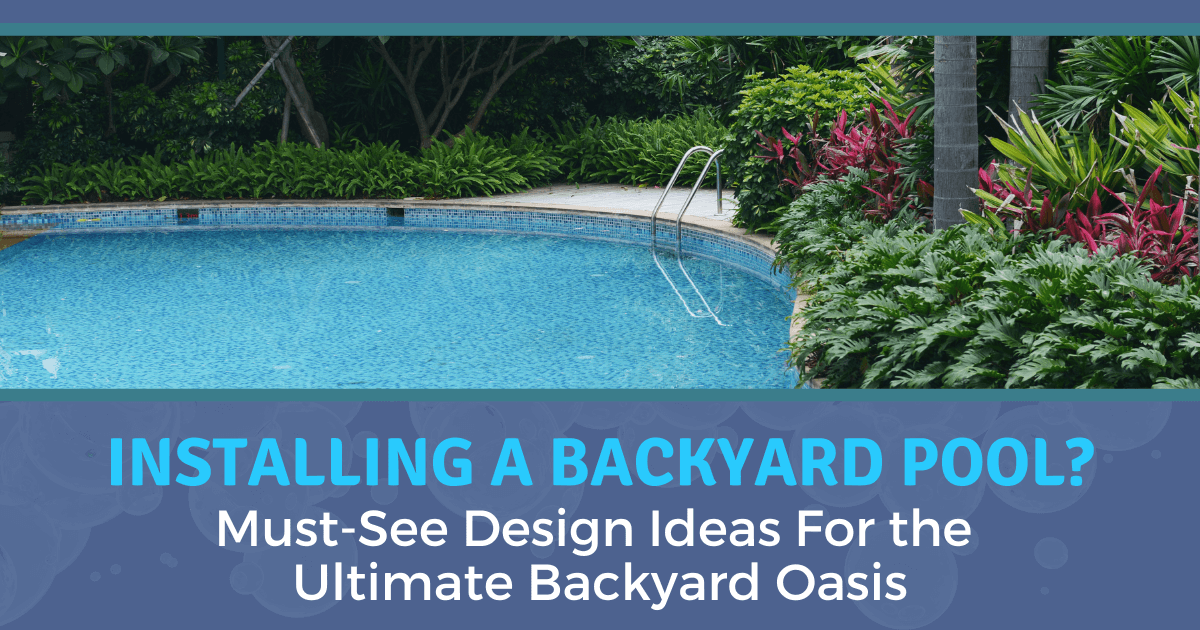 A home with a swimming pool offers a great space to relax, exercise, and enjoy the outdoors without leaving the house. Keep reading to discover design ideas for backyard pools that can help homeowners create an outdoor oasis they'll love.
Choose the Right Shape if Building a Pool
Pools come in various shapes and sizes, but some of these shapes are better suited for particular spaces. Building a swimming pool provides the opportunity to ensure that it can meet specific needs while making the most of the home's outdoor space.
Rectangular and freeform pool shapes are best for smaller spaces due to their compact size. Rectangular pools are perfect for swimming laps. Meanwhile, freeform pools offer a much greater degree of customization. With more curves than other types of pools, freeform pools can easily weave around obstructions in the landscape.
Pools with more curvilinear shapes allow their water to circulate better than those with straight edges. Curvilinear pool shapes such as the figure eight or kidney, named after the kidney bean, are also great for adding attractive water features or rock walls tucked into their bends.
Oval-shaped pools and circular pools work best in large, open spaces. These pool shapes can create an oasis-like feel, especially when paired with palm trees or other plants. Circle shapes are also a popular choice for indoor pools because building an enclosure for them tends to be relatively easy.
Large yards are also the perfect place for Grecian- and Roman-style pools. These pools offer a dip into the past with their beautiful, historical designs. Roman-shaped pools also provide excellent opportunities for sunbathing with their large tanning ledges.
However, it's still possible to create a classical feel in smaller spaces. Like freeform pools, geometric-shaped pools can adapt to unique landscapes while providing an ancient-themed oasis.
Try Out Different Landscaping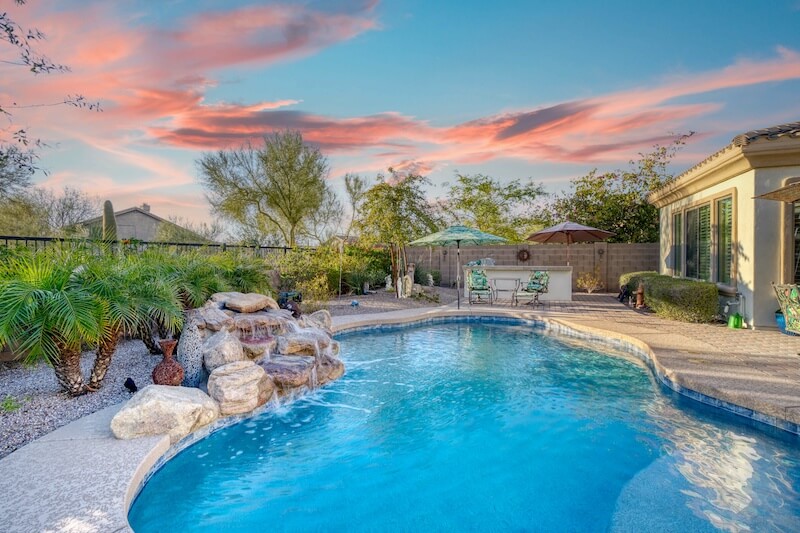 Landscaping around the pool can help enhance the backyard's beauty and the experience of enjoying the pool. The work in landscaping can play a big role in staging the pool when it's time to sell a home, and can even help increase the home's value. Whether the aim is to create a tropical paradise or a secluded desert oasis, there are many options for landscaping around backyard swimming pools.
Lush, tropical plants like palms, canes, and lilies can give the feel of a tropical getaway. While many of these plants fare better in warm climates, hardy plants like ferns, hostas, and hibiscuses work well in colder regions.
For those who don't want to use a lot of water to irrigate their landscape, xeriscaping can be an attractive option. While many associate this landscaping technique with desertscapes comprised of cacti and stones, xeriscaping is designing the landscape around efficient water use. Surrounding native plants and flowers with a thick layer of mulch can reduce water use while making the most of the local environment.
Considering senses beyond the visual can create an even better aesthetic experience. Scented plants like lavender or citronella can add to the mood and repel unwanted insects like mosquitos. Artificial boulders with built-in speakers can play music or immersive sounds. They can be part of a rock wall or included throughout the landscape.
Water Features Add Interest & Drama
Adding a water feature can further improve the pool's experience with the relaxing sound of flowing water and dramatic visuals.
Waterfalls are one of the most popular water features because they can add a peaceful, natural feel. When building a new pool, a waterfall can be paired with a rocky grotto to create a secluded, shady space to escape. Spillover spas can create a similar effect. These features offer a cozy place to relax while providing stunning visuals.
For a breathtaking, luxurious look, consider adding a rain curtain. Existing walls or pergola roofs can accommodate a rain curtain, but they can also be freestanding structures.
Raised walls and pedestals around the pool can also host various water features. Cascades can promote a refined, modern aesthetic, while scuppers, spouts, and water bowls embrace more of a traditional feel. Some water bowls also incorporate fire for an even more dramatic effect. Spouting statues allow for a great range of customization because any hollow statue with at least one hole can become one.
Meanwhile, tanning ledges and beach entries are also good locations for features like bubblers and fountains. In addition to looking and sounding great, water fountains can also help improve the pool's filtration.
Deck jets or laminar jets shoot streams of water from the deck into the pool. Laminar jets are particularly stunning with their added height and concentrated stream. Equipping them with LED lights can add a splash of color.
Build a Cabana for Ultimate Relaxation
Once you've finished focusing on the pool itself, it's time to decide what you're going to do with the space around it. One great option is building a cabana. This will give you a place to relax and enjoy the pool without having to worry about getting sunburned or using uncomfortable lawn furniture
A cabana can be as simple as a covered daybed with curtains that can be pulled back for privacy. But if you really want to feel like you're living in luxury, you can design a cabana with a fireplace, television, bar, or whatever you want to put in it. The only limit is your imagination!
If you don't have the space for a cabana, consider adding some comfortable lounge chairs and umbrellas to create a relaxing oasis.
Have an Aboveground Pool? Build a Deck
Installing a deck provides a stylish space to relax around an aboveground pool and makes it easier to observe the fun. Poolside decks can accommodate lounge chairs, potted plants, and even outdoor kitchens.
Decks come in various shapes and sizes. They can fully surround the pool, hiding its walls completely, or cover a single side, leaving much of the pool's walls exposed. Rectangular pool decks are the easiest to build. Circular or oval pool decks are more challenging but look nicer with round aboveground pools. Kidney-shaped decks add even more visual interest but are the most difficult to construct.
There are several deck materials to choose from when building a pool deck. Wood is a popular, naturally non-slip choice but is prone to degradation over time. Composite or plastic decking mimics the look of wood while providing greater longevity. Meanwhile, aluminum is the strongest and longest-lasting deck option.
When building a deck, it's crucial to install the pool first to ensure the deck fits. The deck should be as close to the pool's edge as possible. Running the deck's boards under the pool's rails can also help ensure the deck won't be damaged when it's time to change its liner.
Designing the Optimal Backyard Pool
From various shapes and exciting water features to beautiful landscapes and decks, the design options for backyard pools are nearly limitless. With so many choices, homeowners can create a unique space to relax and enjoy the outdoors in style.