5 Cypress Park Scenic Spots: Find the Best View of LA in Cypress Park
Posted by Courtney Korb on Monday, January 16, 2023 at 11:44:14 AM
By Courtney Korb / January 16, 2023
Comment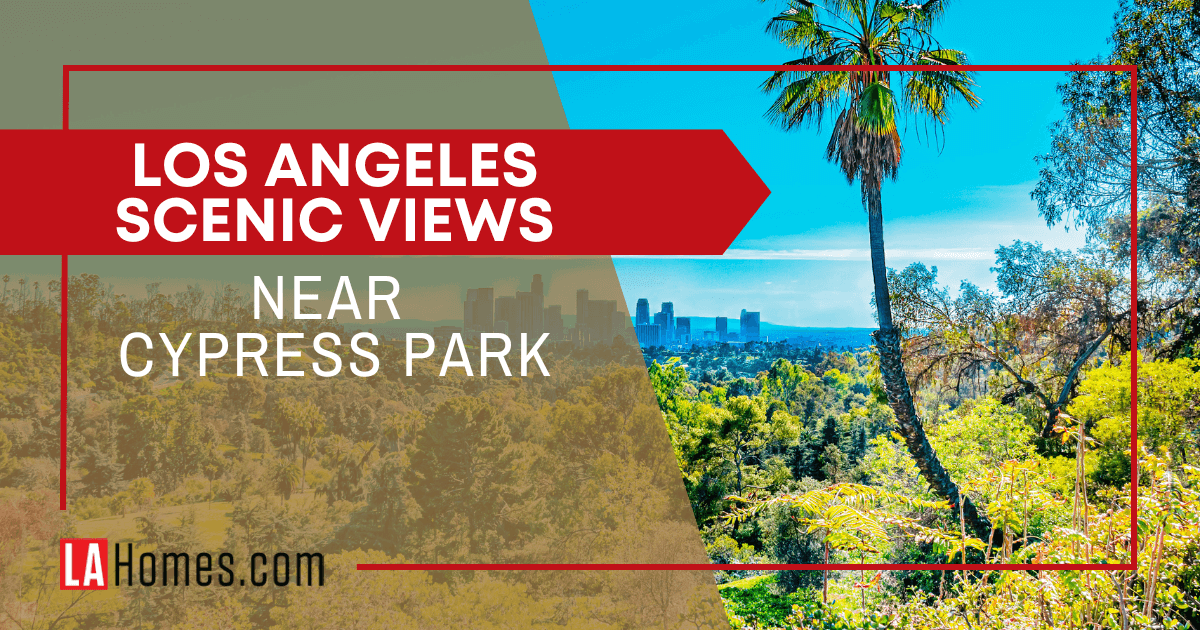 Looking for the best view of LA? You might just find it in the Cypress Park neighborhood. People who appreciate stunning vistas in the City of Angels will be delighted to know that Cypress Park is less than 15 minutes away from many of the best viewpoints in Los Angeles. Residents enjoy easy access to scenic views of downtown, nearby mountain ranges, and beautiful natural spaces. Keep reading to learn about the Los Angeles scenic views that make Cypress Park one of the best communities in town.
Elysian Park
As one of the best parks in Los Angeles, Elysian Park offers excellent views of Downtown Los Angeles, the San Gabriel Mountains, and abstract art at Angel's Point. Located at 929 Academy Road, the park is just across the Golden State Freeway from Cypress Park, making it reachable by car in under 10 minutes.
The round-trip hike to Angel's Point is about 2.8 miles long, passing several other points of interest, including a stone decorated to look like a dragon and overlooks highlighting the San Gabriel Mountains within the first half-mile of the hike.
Park on Elysian Park Drive and cross Stadium Way to reach the trailhead marked by a gate at the corner of Stadium Way and Angel's Point Road. After about a mile, follow the footpath up and over the large stone wall paralleling the soccer fields. Walk west on Angel's Point Road until it reaches another gated road, which traces the drainage route to the soccer fields. A barely noticeable footpath leads around these to Park Road. Take Park Road north to Angel's Point Road and turn left.
Angel's Point features an abstract sculpture of the city's skyline by Peter Shire and impressive views of Downtown Los Angeles. Look for landmarks like the Hollywood Sign or stay for unforgettable views of downtown at sunset.
Elysian Park is open daily from sunrise to sunset. Catch the best views on clear days.
Vista Hermosa Natural Park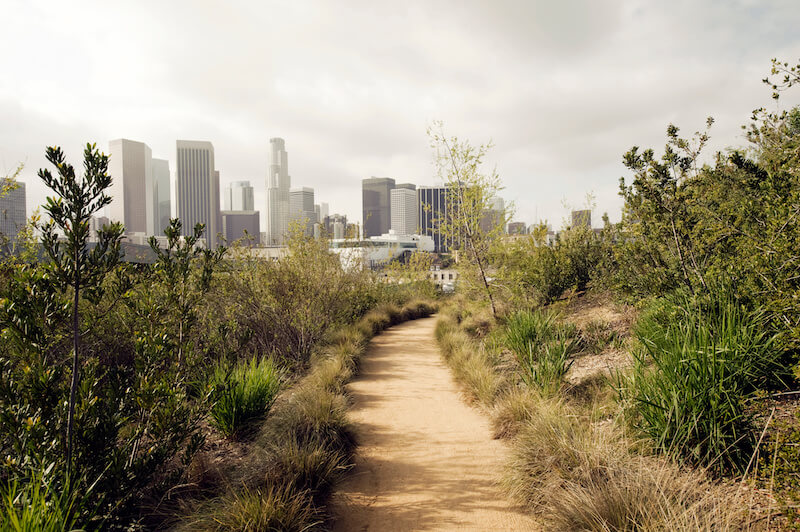 Located in the Westlake neighborhood, Vista Hermosa Natural Park features a 0.4-mile loop lined with native vegetation and grassy picnic areas offering excellent skyline views.
The park is less than four miles southwest of Cypress Park at 100 North Toluca Street and is typically accessible by car in under 15 minutes. There is a small parking lot near the west gate, but free street parking is available on Toluca Street and near the north entrance on Colton Street.
Near the west gate, visitors can enjoy a mix of native and some familiar non-native plants. As the path ventures deeper into the park, visitors will encounter more fragrant natives like California sagebrush, laurel sumac, ash trees, willow trees, and Freemont cottonwoods. Picnic tables and benches throughout the 10.5-acre park offer plenty of opportunities to relax in the lush surroundings.
With so much native vegetation lining the path, much of Vista Hermosa Natural Park feels like a trek into the countryside. However, a few grassy meadows provide excellent views of downtown's skyscrapers. The playground area near the north gate features climbable animal sculptures and benches with some of the best downtown views in the city.
Sunrise and sunset deliver some of Vista Hermosa Natural Park's best views, but the area is always beautiful. Explore the park when it is open daily from 7 a.m. to 8 p.m.
Griffith Park
Spanning more than 4,300 acres, Griffith Park has the famed Griffith Observatory and several mountainous trails offering impressive views of the San Gabriel Mountains, Los Angeles, and the Pacific Ocean.
Griffith Observatory boasts 60 exhibits exploring human observation of the sky and space. Visitors can stargaze like never before using the observatory's free public telescopes.
A 53-mile trail network allows visitors to explore Griffith Park on foot, bike, or horseback. The trail from Griffith Observatory to Mount Hollywood's summit offers a chance to see the Los Angeles Basin from the park's highest peak. Meanwhile, a path leading up Mount Lee takes visitors behind the iconic Hollywood Sign.
Griffith Park is about 5 miles from Cypress Park and accessible by car in less than 10 minutes. The park is at 4730 Crystal Springs Drive, while Griffith Observatory is at 2800 East Observatory Road in the Los Feliz neighborhood.
Admission to the park and observatory is free, but parking near the observatory costs a fee. When The Greek Theatre has no show, visitors can park there for free and then ride the DASH Observatory shuttle to the front of the observatory for $0.50.
Griffith Park is open daily from 5 a.m. to 10:30 p.m. The observatory is open from noon to 10 p.m. on Tuesday through Friday and from 10 a.m. to 10 p.m. on Saturday and Sunday. Mornings are the best time to beat the crowds, but telescope observations typically begin at 7 p.m.
Los Angeles City Hall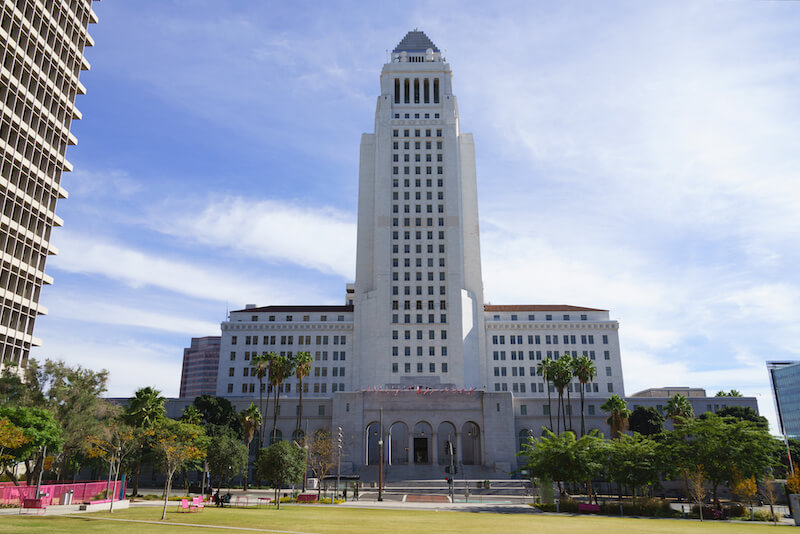 Los Angeles City Hall features a free 360-degree observation deck on its 27th floor, offering panoramic views of the city from the heart of downtown. With such one-of-a-kind views, it's often considered one of the best things to do in LA.
The visitors' entrance is at 201 North Main Street, about 3.5 miles from Cypress Park. It typically takes about 12 minutes to reach City Hall by car, and parking is available just around the corner at a paid garage.
After entering the building, go through the metal detectors and check in with security to get a visitors' badge. They'll point out the elevator to ride up to the 22nd floor. On that level, another elevator takes passengers up to the 26th floor, which features City Hall's gallery of mayoral portraits.
After checking out the paintings, head up a flight of stairs to the Mayor Tom Bradley Room. From there, step out onto the observation deck, which allows visitors to walk around the entire building. Several plaques identify notable buildings and landmarks visible from the tower, like the Disney Music Hall, Hollywood Sign, and Triforium.
Visit City Hall's observation deck when the building is open Monday through Friday, from 8 a.m. to 5 p.m.
Moon Canyon Park
Nestled in the San Rafael Hills, Moon Canyon Park offers a secluded urban canyon trail and excellent views of the historic Mount Washington neighborhood.
Located at 911 North Museum Drive, Moon Canyon Park is about two miles northeast of Cypress Park. It usually takes less than 10 minutes to reach the park by car.
The parking lot at the north end of the park provides a nice view of the whole park and surrounding historic homes, but following the path down into the canyon is well worth it. While the out-and-back trail is less than a quarter of a mile long, it provides incredible views of the San Rafael Hills and offers a great workout due to its steepness. Visitors will want to wear hiking boots or shoes to tackle the more slippery and dusty portions.
For an even longer hike with exceptional views, visitors can walk through the surrounding neighborhood to see historic Craftsman-style homes or to the nearby Heidelberg Park and Elyria Canyon Park for more canyon vistas.
Moon Canyon Park is open Monday through Friday from dawn to dusk.
Finding the Best Los Angeles Scenic Views Near Cypress Park
Living in Cypress Park makes it easy to explore scenic parks and catch some of the city's best sunset views. With charming Craftsmans, luxury homes, and condos less than 15 minutes from some of the best viewpoints in Los Angeles, Cypress Park is one of the best neighborhoods in Los Angeles.