Things to Do In Burbank: A Full Guide to Weekend Fun
Posted by Courtney Korb on Wednesday, October 27, 2021 at 6:24 AM
By Courtney Korb / October 27, 2021
Comment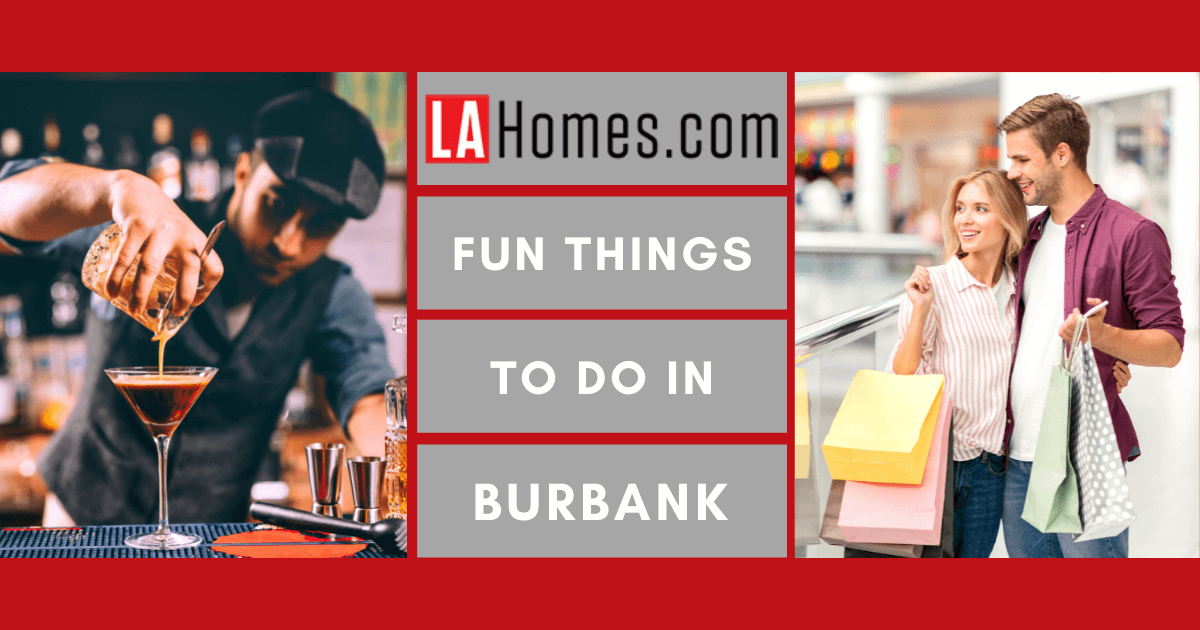 Burbank is a prime destination for TV and film productions. Since so much of the world's entertainment is created here, it's only natural that this 100,000-resident city in Los Angeles County has so many fun things to do.
Located in the San Fernando Valley midway between the condos for sale in Downtown Los Angeles and desirable Santa Clarita real estate, Burbank is a vibrant city with exciting street art, fascinating museums, and scenic trails.
But these are just a couple of highlights that make the homes for sale in Burbank stand out from other places in LA County. Keep reading for a complete overview of all the fun things to do this weekend in Burbank.
Burbank Outdoor Activities
Burbank enjoys pleasant year-round weather, perfect for year-round outdoor activities.
Burbank offers several nature trails to hike or explore on horseback, plus a shaded bikeway flanked by beautiful flora and festive public art. Dog parks, gardens, and recreation centers also abound, providing residents and visitors with plenty of options to roam.
Parks in Burbank
Burbank Parks
Johnny Carson Park
Brace Canyon Park
Ralph Foy Park
Nestled in the foothills of the Verdugo Mountains, Brace Canyon Park is a great place to spend a relaxing afternoon. Here, picturesque walkways wind through forested areas, and biking trails meander along well-maintained paths. The park is open daily from 5 AM to 10 PM, and parking permits are available online.
Also located in the Verdugo Hills, Wildwood Canyon Park is a treasure trove of outdoor activity. Visitors can hike to the top of Mount Verdugo or bike along its many trails. On a clear day, the hike to the radio tower at the top of the park offers stunning cityscapes of Burbank and the Los Angeles skyline.
On the other side of the I-5 freeway, Verdugo Park in Central Burbank features an outdoor swimming pool, jungle gym, and a summer concert series. Sports lovers will enjoy challenging the competition on the basketball or tennis courts. The basketball courts are indoors for year-round fun, and the tennis courts are well lit for nighttime exercise. There are also several picnic tables for fun with family and friends, and younger visitors can enjoy the playground.
Residents and visitors will love that the park is located within a populated section of the community. That means they do not have a long drive to visit the park. This venue is an excellent place for a brisk walk during lunch or after work. Weekend outings are also a very popular choice, as people take advantage of the chance to relax after a stressful week.
During the summer, the public pool at Verdugo Park is a great place to play in the water. The pool generally has a lifeguard on duty. Facilities can also be rented for activities, so many people use the pool for daily exercise.
Hiking and Biking Trails
Burbank Trails
Chandler Bikeway
Burbank Channel Bikeway
Los Angeles River Trail
Orange Line Bike Path
Visitors to LA Horse Rentals near Griffith Park can enjoy a 30-minute ride on horseback for $30. There are over 50 miles of trails to explore here, with some that open to panoramas of the San Gabriel Mountains and the Pacific Ocean.
Stough Canyon Park in the Verdugo Hills has picnic areas, birthday party rooms for rent, and a nature center that offers a variety of educational activities, including astronomy and wildlife workshops. The center is free to access every day (with limited hours on weekends).
Along the Chandler Bikeway, which runs from the NoHo Arts District neighborhood to Downtown Burbank, bikers are treated to some of the most picturesque areas in the city. They might also catch a glimpse of wildlife in the hills and canyons that dot the landscape.
With superb parks, trails, water activities, and rec centers, there's no question that Burbank fosters an active outdoor lifestyle. Residents and visitors are sure to find outdoor attractions in Burbank that will keep them busy throughout the day.
Water Activities in Burbank
The Hollywood Reservoir
The Hollywood Reservoir
Lake Hollywood Park
Many fish species
Accomodates multiple fishing styles
The Hollywood Reservoir, also known as Lake Hollywood, is located in the Hollywood Hills neighborhood in Los Angeles. Created by Mulholland Dam in 1924, the site is great to enjoy the Hollywood Hills sign and scenic mountains. Movie lovers will recognize the area as the backdrop for several movies and television shows.
Those who prefer to stay dry love the area because of Lake Hollywood Park. The location is a great place for hiking, jogging, and walking. There are several trails that have some of the most beautiful views of the area. The hills can provide a challenging excursion for people who enjoy a good hike, while a paved road around the lake is great for bike rides and relaxing strolls.
The reservoir is perhaps best known for fishing. Many popular species can be found at the spot, including bluegill, carp, bass, catfish, and trout. Conditions accommodate several fishing styles, such as baitcasting, fly fishing, or spinning. Of course, whether the fish are biting or not, the lake is a great place to relax and forget all troubles.
Don't forget to check local fishing and hunting stores to pick up the latest in equipment. Also, like all states, California has several regulations related to fishing. It would be wise to become familiar with these rules while acquiring a California fishing license.
LA River Kayak and Safari
LA River Kayak and Safari Offerings
2.5 hour LA River Trip
Occasional Sepulveda Basin tours
Midday and sunset options
Near Burbank, there are many options for kayak enthusiasts. LA River Kayak and Safari organizes guided tours with a trained local expert. That provides the opportunity to learn more about the community and enjoy pleasant conversations with other boaters. Using a tour company also has the advantage of facilitating kayak rental, paddle instructions, and other benefits. Since all watersports can be dangerous for novices, going out with a professional is also an excellent way to avoid amateur mistakes.
The LA River trip begins with biking from Oso Park to Frog Spot. From there, they take the Los Angeles River back to Oso Park. The entire trip takes about 2 1/2 hours, including time for instruction and a short tour of the river. The company occasionally offers tours in the Sepulveda Basin, which is a little less challenging. Paddlers can choose between a midday tour starting at 12:30 PM or a sunset version starting at 3:45 PM.
UCLA Marina Aquatic Center
UCLA Marina Aquatic Center Amenities
Equipment rentals
Instructional Programs
Super Silly Fun Land
UCLA's Marina Aquatic Center offers equipment rentals, including free kayak rental for students of the school. Students can also make double kayak reservations, including a non-student with a guest pass. Newcomers can also take advantage of boating safety and instructional programs.
Super Silly Fun Land
Super Silly Fun Land Amenities
80+ water-themed games and attractions
In Universal Studios Hollywood
What do you get when you combine water fun with a theme park? Super Silly Fun Land at Universal Studios has more than 80 water-themed games and attractions in the Wet Zone. The area is near the Despicable Me Minion Mayhem park, providing activity for those who prefer to stay dry. The park is part of Universal Studios Hollywood, but visitors can purchase tickets for just the water area. Season passes are as low as $159 for California residents.
Burbank Shopping
Shopping Centers in Burbank
Burbank Empire Center
Burbank Town Center
Lakeside Shopping Center
Rancho Marketplace Shopping Center
Burbank offers an array of shopping opportunities perfect for locals and visitors.
One noteworthy store is the largest IKEA in North America. This giant building painted in blue and yellow measures 456,000 square feet and sits on 22 acres near Downtown Burbank. IKEA shoppers can find just about everything in the way of household goods at low prices, plus Swedish meatballs at the store's restaurant.
Burbank's Magnolia Park shopping district boasts a collection of masterfully curated boutiques, with vintage shops dominating the Magnolia strip between Hollywood Way and Buena Vista Street.
Unique Vintage, Playclothes, and The Holding Company are some of the shops that exude old-school nostalgia. Other stores that transport shoppers back in time are Bearded Lady Vintage & Oddities, Classic Hardware, and Atomic Records, where VHS tapes, cassettes, and vinyl records are sold at bargain prices.
Burbank Restaurants
Restaurants in Burbank
GRANVILLE
Wood Ranch BBQ & Grill
Tallyrand Restaurant
Bea Bea's
Sotta
There are many excellent restaurants in Burbank, including beloved classics, like Bob's Big Boy with double-deck burgers and decadent handmade milkshakes.
Another local favorite is Smoke House at 4420 Lakeside Drive. Established in 1946, this restaurant has dining booths upholstered in red leather and live music on the weekend. Its juicy steaks, served alongside buttered baked potatoes, are savory treats for the tastebuds.
For casual Italian dining, Pinocchio Restaurant on the Magnolia strip offers tasty pasta dishes, many of which are priced under $11. Meanwhile, Bea Bea's at the Lakeside Shopping Center has a creative breakfast menu with pancakes in pioneering flavors like green tea, Thai tea, and S'mores.
Other sweets can be found at Porto's on West Magnolia Boulevard. Serving the community since 1959, this Cuban bakery is famous for its cream pies, flan, and guava cheese pastries.
Arts & Culture in Burbank
From silver screen studio tours to low-key galleries highlighting up-and-coming artists, Burbank offers cultural attractions that are sure to delight.
Studio Tours in Burbank
Burbank Studio Tours
Warner Bros. Studio Tour
Universal Studios Tour
Paramount Pictures Studio Tour
Sony Pictures Studio Tour
The Universal Studios studio tour offers visitors the chance to stand on famous film sets, including "Jaws" and "ET." The studio is accessible using Los Angeles public transportation, and it offers thrilling rides in its theme park inspired by movies like "Jurrasic Park," "The Fast & The Furious," and the Harry Potter films.
The Warner Bros. lot is another great option for a behind-the-scenes look at moviemaking. Here, visitors can hop on the studio tram and ride past life-like sets where iconic TV shows like "Friends" and "The Big Bang Theory" were filmed.
On the other side of the Hollywood Hills, visitors to Paramount Pictures and Sony Pictures can tour the soundstages and backlots of large-scale film productions, including "Transformers," "Mission Impossible," and "Spiderman."
Most tours run continuously from 8:30 AM to 3:30 PM. Admission prices range from $50 to $200, depending on the studio.
Museums in Burbank
Burbank Museums
Bearded Lady's Mystic Museum
Los Angeles Live Steamers Railroad Museum
The H.P. Lovecraft Historical Society
World of Illusions Los Angeles
The Burbank Aviation Museum near Hollywood Burbank Airport boasts a collection of vintage aircraft and aviation memorabilia. Visitors can also view an original Lockheed Vega 5B airplane and a replica of the Wright Brothers' 1909 flyer.
In Magnolia Park, the Martial Arts History Museum packs a punch with its collection of artifacts, scrolls, training manuals, and other memorabilia related to kung fu, taekwondo, and other Eastern arts.
Minutes away from the martial arts museum, the Burbank Historical Society is busy restoring and preserving historic homes in the city, including the Victorian-style Mentzer House constructed in 1887. Today, this charming relic is surrounded by new construction homes, condos, and townhomes in the area.
Art Galleries in Burbank
Burbank Art Galleries
Black Sheep Gallery
Mindfulnest
Enchanted Art
McKenzie Art Studio
Burbank's history as an entertainment hub is reflected in the city's smattering of colorful murals. A map of Burbank street art guides visitors through the most photo-worthy installations. Some murals depict a collage of characters from notable films, such as Darth Vader from "Star Wars" and Marty McFly from "Back to the Future."
At the Artplex Gallery south of Burbank, art enthusiasts can browse original paintings, sculptures, and limited-edition prints for sale by both established and emerging artists from around the world. The gallery's clients include major film and TV studios, such as Disney, Dreamworks, and CBS.
Dance & Theatre
Performing Arts Theaters in Burbank
Zombie Joe's Underground Theatre
The Colony Theatre Company
El Portal Theatre
Falcon Theatre
The LA Contemporary Dance Company (LACDC) on Alameda Street has worked with some of the most talented artists and brands in the entertainment industry. The company is only minutes away from Hollywood Boulevard and the star-studded Walk of Fame.
The recently renovated Colony Theatre Company in Downtown Burbank has stadium seating with clear stage views from every seat. "The Glass Menagerie" and "Around the World in 80 Days" were some of the shows produced here over the years.
On the other side of the I-5, the Victory Theatre Center is an award-winning playhouse that puts on drama, comedies, musicals, and children's theatre year-round.
Just below U.S. Route 134, which connects the neighboring cities of Glendale and Pasadena, the Garry Marshall Theatre is an intimate, 130-seat venue named after the visionary director of box office rom-com hits like "Overboard," "Pretty Woman," and "Runaway Bride."
With an arts and culture scene deeply rooted in the performing arts, it's no wonder that Burbank attracts aspiring filmmakers, actors, dancers, and musicians the world over.
Burbank City Nightlife
Burbank Bars and Clubs
Nineteen27 Bar & Lounge
The Blue Room
The Good Nite
The Other Door
Chained Rabbit
Whether it's enjoying an extensive selection of beers, cracking up at a comedy show, or catching an outdoor performance, Burbank's nightlife options appeal to almost every preference.
South of the Verdugo Mountains in Burbank's lively downtown area, Gordon Biersch Brewery Restaurant and the nearby Yard House offer a first-rate selection of craft beers and tasty pub grub.
For comedy enthusiasts, Flappers Comedy Club, also in Downtown Burbank, puts on rising comedy stars and established names every Thursday through Sunday, keeping patrons laughing well into the night.
Starlight Bowl in the Verdugo Hills is a 5000-seat amphitheater that hosts Broadway musicals, comedians, symphonies, and more. Steps away from Starlight Bowl, Castaway Restaurant & Events offers an excellent dining experience with sweeping views of the Burbank skyline and the San Gabriel Mountains.
For some top-grade live music, The Blue Room, Crystal View Lounge, and Over Under Public House are the places to go, all within walking distance from each other in Downtown Burbank. Alternatively, dives like The Other Door, Risky Business, and The Good Nite on Burbank Boulevard have pool tables and karaoke machines to unleash the inner sing-star.
Find Fun Events This Weekend in Burbank
Burbank is a city steeped in culture and history. From retro venues and exciting film studios to rugged nature trails that offer striking vistas of the LA skyline, there are so many things to do here. The broad selection of stunning luxury homes and sleek Burbank condos makes this lively city in Southern California a wonderful place to buy a home in Los Angeles County.
Read Our Things to Do Guides For Each City Below