Burbank Public Transportation: BurbankBus & Metrorail Commuting Guide
Posted by Courtney Korb on Wednesday, December 15, 2021 at 6:00 AM
By Courtney Korb / December 15, 2021
Comment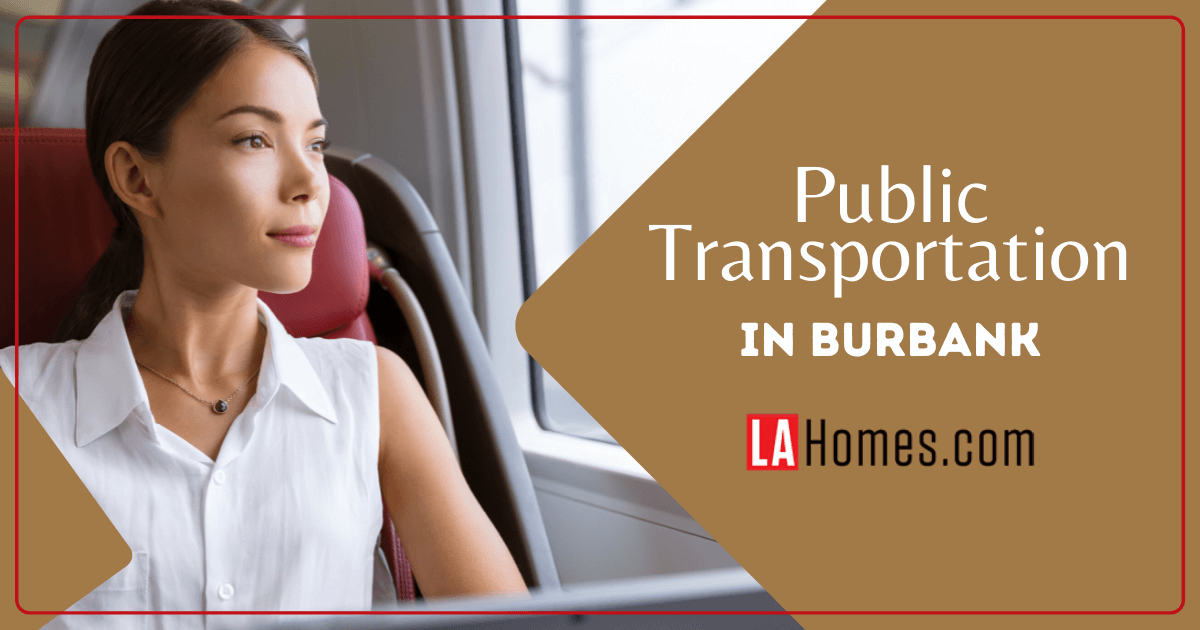 Burbank, CA, earned its nickname from Johnny Carson as "Beautiful Downtown Burbank" for good reason. Homes in Burbank lie at the heart of television and movie history in America, and it's surrounded by the Verdugo Mountains to the north and east and the Hollywood Hills to the south. The last time it snowed in Burbank was back in 2011, so it has the perfect year-round climate for palm tree-lined streets and year-round outdoor fun. Those moving to Burbank will also be happy to know that Burbank has a robust public transportation system to help residents and visitors get around this iconic city. Read on to learn more about Burbank public transit.
BurbankBus
The BurbankBus is a really practical way to get around between the Downtown Burbank neighborhood, North Hollywood neighborhood, the Hollywood-Burbank Airport (formerly the "Bob Hope Airport"), and Studio City. The limited routes are designed to avoid rush hour traffic and deposit riders near the major employers in the area. It has three routes:
The Orange Route: This route departs from the North Hollywood transit center, loops up to the airport, and goes back to the transit center. Buses run every 30 minutes from 6 a.m. to 8 p.m.
The Green Route: This route also departs from North Hollywood. It loops south with stops along the way as it passes Walt Disney Studios, Warner Bros. Studios, and Providence St. Joseph Medical Center. It then heads back to the transit center. Buses currently run every 30 minutes from 6 to 9 a.m. and 3 p.m. to 6:30 p.m., making it a great way to avoid rush hour traffic for those working along this route.
The Pink Route: This route runs back and forth between Downtown Burbank near South Front Street and the Universal/Studios City station. The station is near Universal Studios and the lovely golf course homes near the Lakeside course. Buses run every 15 minutes in the morning and evening, and every 30 minutes in midday. The route operates from 6 a.m. until 7:45 p.m.
Metrolink
For commuters who work in Los Angeles, the Antelope Valley line of the Metrolink is a fast and easy way to get to Union Station. The Downtown Burbank transit center on North Front Street has three different parking areas and more than 450 parking spaces for commuters who want to hop on the train. Parking is free for all Metrolink riders on a first-come, first-serve basis. The transit center also has a secure area for bikes, restrooms, and public phones.
The Antelope Valley line travels from Downtown Burbank to Union Station in about 20 minutes. The train passes through every hour on weekdays, starting at about 5:30 a.m. and running until 8 p.m. It's an easy system to use: purchase a boarding pass card at a kiosk, and commuters can then load as many monthly "trips" on the card as they need. Connecting trains from Union Station travel throughout LA County and all the way down to San Diego.
Metrolink Ticket Costs (Burbank to Union Station)
One-Way: $3.75
Round Trip: $7.50
Weekend Day Pass: $10.00
7-Day Pass: $26.25
Monthly Pass: $78.75
Bikeshare
The Metro Bike Share has three large areas in Los Angeles County that provide easy access for residents. People who live in the western part of Burbank are close to several docking stations in the North Hollywood Metro Bike Share boundaries. The program has proven popular in recent years, so the Metro system is working on expanding docking stations in more areas.
Bikes are easy to check out at docking stations with either a credit/debit card or mobile phone. Riders receive a Metro Bike Share card that can be used repeatedly. Once a ride is complete, the bike can simply be docked at any station in the city, making this a healthy, fun, and affordable way to explore the area. When purchasing a monthly or yearly pass, rides are always free for the first 30 minutes and $1.75 for each additional half-hour.
Bikeshare Ticket Costs
One Ride: $1.75 for 30 minutes
30-Day Pass: $17
365-Day Pass: $150
Rideshare and Taxis
Standard taxi cabs are available in Burbank and throughout LA County. Simply hail a passing taxi on the street or call the service when a ride is needed.
California was also the birthplace of numerous rideshare companies like Uber and Lyft, so it's no surprise that these services and many newer ones are also available. Riders just need the corresponding smartphone app for each company to request a ride. Uber and Lyft also have deluxe and luxury options available.
Rideshare and Taxi Costs
Taxi cabs: All rides $1.90 per mile fixed rate in the Metro area
Uber: $5.80 minimum fare
Lyft: $5 minimum fare
Zipcar (car-share): $9 per hour, plus gas & insurance
Turo (car-share): $26 per day, plus gas & insurance
Paratransit
BurbankBus also operates smaller buses as a paratransit option for seniors and riders with disabilities. Various social services transportation providers participate in the program to provide free or low-cost rides for persons with disabilities. Trips must be scheduled at least a day in advance by calling the program at (818) 238-5360. Trips scheduled for the weekends or Mondays must be scheduled on the Friday prior to that day.
The paratransit program in Burbank runs from 7:15 a.m. to 5 p.m. on weekdays and from 8:15 a.m. to 4 p.m. on weekends. The system is closed on most major holidays. To take advantage of the paratransit programs, riders must be age 60+ or have their disability certified by a physician. The service access area is throughout the city of Burbank. Trips can also be scheduled to the city of Glendale or North Hollywood, but only for medical appointments.
Paratransit Ticket Costs
Suggested donation of $0.50 for one-way trips or $1 for round trips
Public Transportation & the Airport
Located in the northwest part of Burbank, the Hollywood-Burbank Airport is a convenient amenity for local frequent flyers. Locals either refer to it as the "Burbank airport" or the "Bob Hope airport." A lot of smaller regional air carriers operate out of this airport, so unless travelers need to head across the country or take an international flight, this airport is likely to be less congested and easier to access than LAX.
In addition to numerous taxi cabs, there are also train and bus routes that operate out of the Hollywood-Burbank Airport. The Orange Route of the BurbankBus line makes regular stops here, in addition to the broader LA County Metro Bus lines. The Ventura County Line of the Metrolink train stops at the south part of the airport, and the Antelope Valley Line stops at the north. The Amtrak Pacific Surfliner that runs between Santa Barbara and San Diego also makes daily stops here.
All rates for public transportation to or from the airport vary based on the carrier.
Burbank is an Easy City to Travel Around
Burbank is a great city to live in and play in. It's a very healthy city, and it's not uncommon to encounter many residents on the go on a bicycle or scooter exploring Burbank's many things to do. The freeway traffic becomes much easier to navigate around once people realize the "back routes" and other methods of traveling that the public transportation system provides. It's no wonder that Burbank rates as one of the favorite cities in LA County for people to live in.