What Is Burbank Known For? 5 Fun Facts About the History of Burbank, CA
Posted by Courtney Korb on Friday, December 3, 2021 at 9:56 AM
By Courtney Korb / December 3, 2021
Comment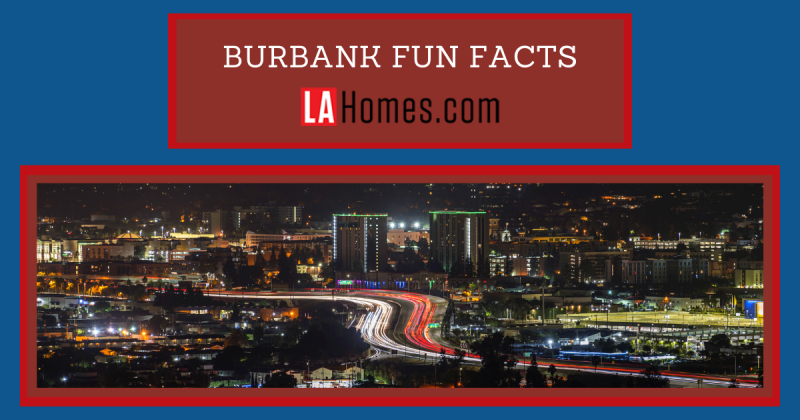 The crown jewel of the San Fernando Valley, the city of Burbank, is a thriving media and entertainment hub with over 1,000 media companies, including big names like Warner Bros, Disney, and recently, Netflix.
The city boasts a prime location with cozy Burbank condos and gated community homes. Burbank has a rich history filled with exciting fun facts. Wondering what Burbank is known for? Keep reading to learn five fun facts about Burbank.
A Burbank Billionaire Set the Transcontinental U.S. Flight Record
The transcontinental U.S. Flight has always been perceived as the hallmark of success in aviation. Making or breaking the record comes with great prizes and popularity. On January 19, 1937, Howard Hughes, a highly influential investor and a billionaire from Burbank, broke this prestigious record by flying non-stop from L.A. to New York. Hughes took precisely 7 hours, 28 minutes, and 25 seconds, breaking his predecessor's record by an hour and a minute.
Besides this record, Howard Hughes was also a man of many firsts. For instance, he built the first-ever wireless radio transmitter and motorized bicycle in his hometown of Houston, Texas. He was also the brains behind the largest wooden plane ever constructed. It was known as the Spruce Goose and could accommodate up to 700 troops in one go.
It's safe to say he inherited not just his father's wealth but also his engineering prowess and determination. There are many things you may not know about Howard Hughes. Before aviation, Howard Hughes ventured into film, where he became famous for controversial and over-budget productions like the award-winning "Hell's Angels." Although his first-ever movie, Swell Hogan, was a complete disaster, the subsequent films did quite well.
Burbank Is the Media Capital of the World
Burbank is famously dubbed the world's media capital, thanks to the countless media and entertainment companies that call it home. It is a trendy playground for animation companies and even has the most significant number of animation studios per capita than anywhere else in the world. Some of the best jobs in the Burbank economy are at Nickelodeon Animation Studios, the Walt Disney Company, Cartoon Network Studios, Insomniac Games, and recently Netflix Animations, to mention a few. Burbank is also headquarters for film and T.V. production giants like Warner Bros Studios and N.B.C. Universal. Globally recognized shows like Friends and Big Bang Theory were recorded here, and even more, current ones like the Tonight Show continue to be taped here.
As a city with over a thousand media and entertainment companies, it's not uncommon to bump into top celebrities and media personalities in grocery stores, cafes, and on the streets. The best part is that tourists and residents can tour celebrity houses and even top film-making production houses.
For instance, the Warner Brothers Studio offers a V.I.P. tour of famous movies' backlots, including an immersive tour of an exhibit dedicated to Batman. Warner Bros was one of the first media and entertainment companies to move production to Burbank, setting the foundation in a laid-back city that would later evolve into the world's media capital.
Burbank is Home to a Lot of Historic Signage
Walking or driving through Burbank evokes a deep sense of nostalgia thanks to the unique historical signage at every corner. Some of these signs are as old as 45 years and are a great reminder of what's been in a city determined to become the next big thing. These signs are such a significant part of Burbank's history that city planners ordered a survey and cataloging to encourage preservation.
Some of the best places to explore these vintage signs include the Buggy Whip and Bob Big Boy coffee shop, which besides being the oldest surviving Big Boy in the country, also features free-form architecture from the 1900s, and the infamous Bob statue.
The Burbank Airport, commonly called the Bob Hope Airport, is another excellent place to explore vintage signage and art. It still features its original, art-deco design reminiscent of World War I and a rich collection of vintage photos, art, and signage. The L.A.X. airport in Burbank also has many jet-lagged celebrity photos from the 1950s.
Burbank is Named After a Sheep-Ranching Dentist
Given that it's the world's media capital and home to an endless list of notable people, one would think Burbank was named after an unusual occurrence or significant landmark. But, surprisingly, the city was named after Dr. David Burbank, a dentist-turned-rancher. The 4,600-acres of land that Burbank occupies today was initially part of two land grants separating Rancho La Providencia and San Rafael.
Dr. David Burbank, who was fresh from New Hampshire, bought the land and converted it to a large ranch where he built his home and began rearing sheep. He became one of the most successful sheep rearing farmers in South California, inspiring him to focus his career on Los Angeles County real estate.
When railroad construction began, the dentist saw an opportunity to sell the land for great value and first sold right of way to a railroad company before selling it to a group of speculators who saw its value and bought it at about $250,000. The ranch was officially named Burbank in 1887 and greatly thrived due to its strategic location. Even today, Burbank's growth as the world's media capital can be attributed to its central location near towns like Hollywood.
Horses in the City? Welcome to Burbank
Burbank boasts a unique differentiating factor: it still retains part of its laidback charm despite its rise into prominence. For instance, it is among the few cities near Los Angeles where residents can keep and ride horses. Burbank is incredibly equestrian-friendly and is even home to the Los Angeles Equestrian Center, a 75-acre horse hub with about 500 boarding stalls, over 200 horse boarders, trainers, and even an equestrian gift shop.
The center also features a lounge and wine bar where visitors and members can relax and even full-service catering facilities for those with events. There's also a massive, 3,500-seat Equidome where guests can enjoy horse racing shows, a vast hunt and cricket field, and state-of-the-art exhibition rings.
Besides the equestrian center, Burbank is close to equestrian neighborhoods, such as the community of Shadow Hills. The area features a semi-rural vibe and pristine trails, perfect for equestrian activities. Many residents own horses, so there's a robust list of Shadow Hills equestrian services.
Explore Burbank's History
Located only 12 miles from the great Downtown LA, Burbank is a vibrant city on the epitome of its growth. Besides media houses, it's characterized by upscale neighborhoods with gated communities like Shadow Hills and an excellent mix of modern and past attractions. The city boasts a rich history still evident from its collection of historical signage and vintage buildings but simultaneously features plenty of urban attractions to show its growth.
With its rich history comes plenty of fun facts, such as the fact that it began as a sheep ranch, and one can ride horses in the city. There are even more fun facts to learn about this fast-growing city which makes learning its history everything but boring.