Best Jobs in Burbank: 2024 Work Opportunities & Economic Guide
Posted by Courtney Korb on Friday, December 23, 2022 at 9:07 AM
By Courtney Korb / December 23, 2022
Comment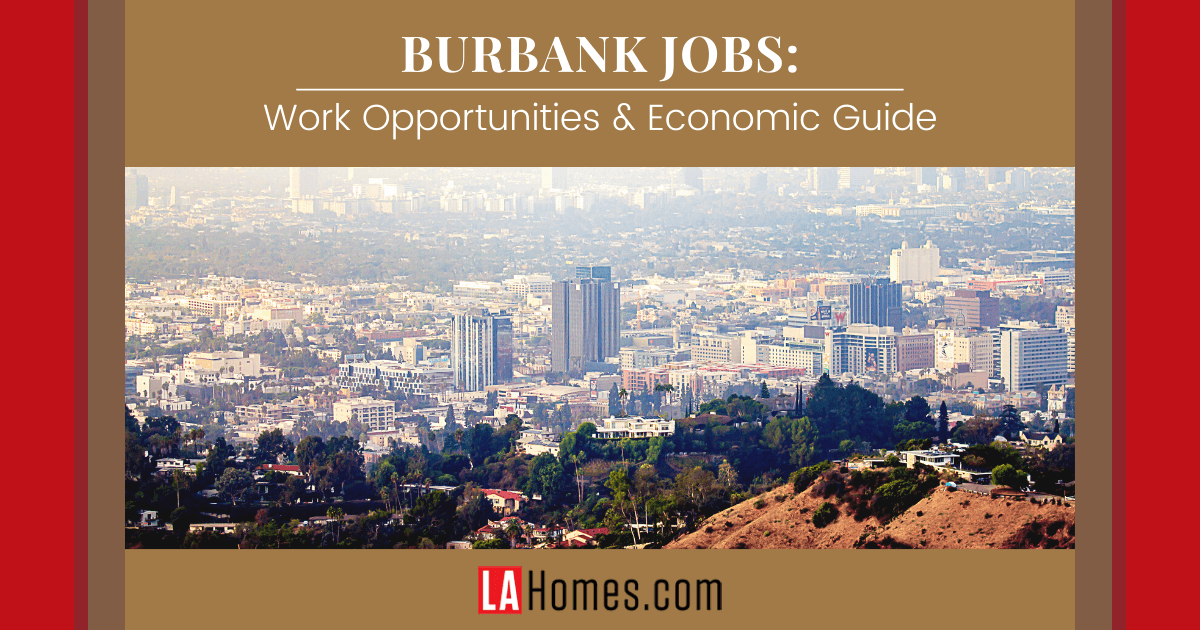 The city of Burbank sits in the southern portion of the San Fernando Valley in the heart of Los Angeles County, making it a highly desirable place to visit and to live. Burbank is known for many things, including being the home to Walt Disney Studios. It has beautiful parks, large shopping areas, and numerous other amenities. For those looking to buy Burbank real estate, perhaps one of Burbank's luxury homes for sale or the beautiful new construction homes that line the streets, it helps to know as much as possible about the community, including about its economy. Keep reading for an overview of some key facts about the Burbank economy to keep in mind.
Major Industries in Burbank
Burbank has a unique economy. While most cities have a few industries that are relatively straightforward from one area to the next, Burbank's industry is heavily invested in entertainment. Walt Disney Studios, as well as many other organizations, operate in this city, employing many of the people who work here. In total, there are 132,000 jobs provided across Burbank's key industries.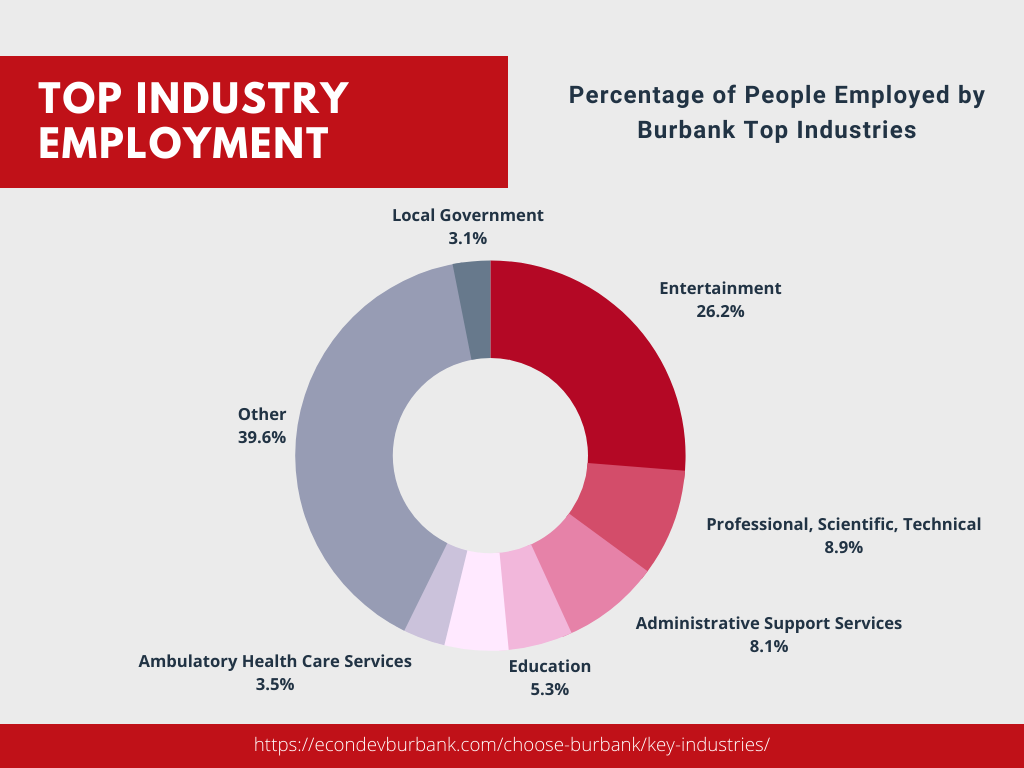 Entertainment, naturally, is the largest sector. It's responsible for over 35,800 jobs in the city, in fact, creating a wide range of entertainment films, TV, and other forms of media. The average workforce income for those working in entertainment in Burbank is over $151,000 a year. Warner Bros. Entertainment, Legendary Pictures, Cartoon Network Studios, ABC, The Walt Disney Company, and Warner Music Group have offices and studios in this area, making Burbank an entertainment powerhouse.
A secondary industry of importance here is professional, scientific, and technical jobs. This sector accounts for about 12,100 jobs in the city. On average, those individuals in this industry earn over $132,000 a year in Burbank. It's noted that the city has the second-largest office space market in the Valley. Much of this is occupied by the entertainment industry, but there are others working in this field as well. That includes those who support the studios, including photographers, software companies, and equipment specialists.
The third leading industry here is administrative support services. Again, many of these jobs help to support the entertainment industry. They make up some 11,000 jobs in the city with an average workforce income of over $44,000. Other prominent industries here include education, food and beverage, ambulatory health care services, and local government.
Top Industries in City
Entertainment
Professional, Scientific, & Technical Services
Administrative Support Services
Education
Food and Beverage
Ambulatory Health Care Services
Top Employers in Burbank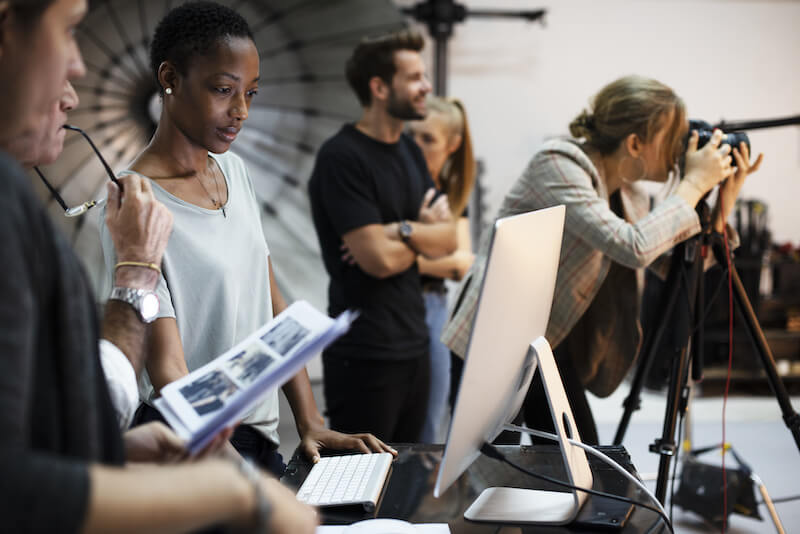 There's no doubt that there are a number of companies that call Burbank home. As a large city, there are many businesses, large and small, operating here. Here is a look at some of the top companies in Burbank in terms of staff employed.
The Walt Disney Company is the largest employer. Founded in 1923, this company is in the mass media field, employing people in the city of Burbank as well as around the world. In total, it has over 201,000 employees. Recognized for its theme parks, movies, and cartoon characters, Disney is a much larger company with annual revenue of $59.4 billion.
ABC Holding CO, a subsidiary of The Walt Disney Company, is the second-largest employer here. It's a television broadcasting provider first founded in 1974. The company has over 8,000 employees spread across the country. It has an annual review of $2.1 billion.
It may not be surprising that the third-largest employer is Warner Bros. The company is an American entertainment and media company headquartered in Burbank with over 8,000 employees in the city and the country. The company was founded in 1923.
The City of Burbank itself employs around 1,250 people. This includes people that work in various sectors, including city hall, city management, city council, and other areas. The city generates a revenue stream of about $106 million.
In addition to the many large organizations in Burbank, numerous small and family-owned businesses provide valuable services to the area, including restaurants, shops, and service providers.
Additional Large Companies in City
GEP Administrative Services
National Construction Rentals
Intravenous Therapy Services
Cast & Crew
LBI Media Holdings
Marvel Television
Cartoon Network Studios
DC Comics
Lockheed COrporation
Insomniac Games
Hollywood Records
Information via Zippia.com
Burbank Economy Facts and Figures
Numerous types of data can help provide a better picture of what working and living in Burbank is like. Take a closer look at a few of the core factors that typically play a role in making this community what it is.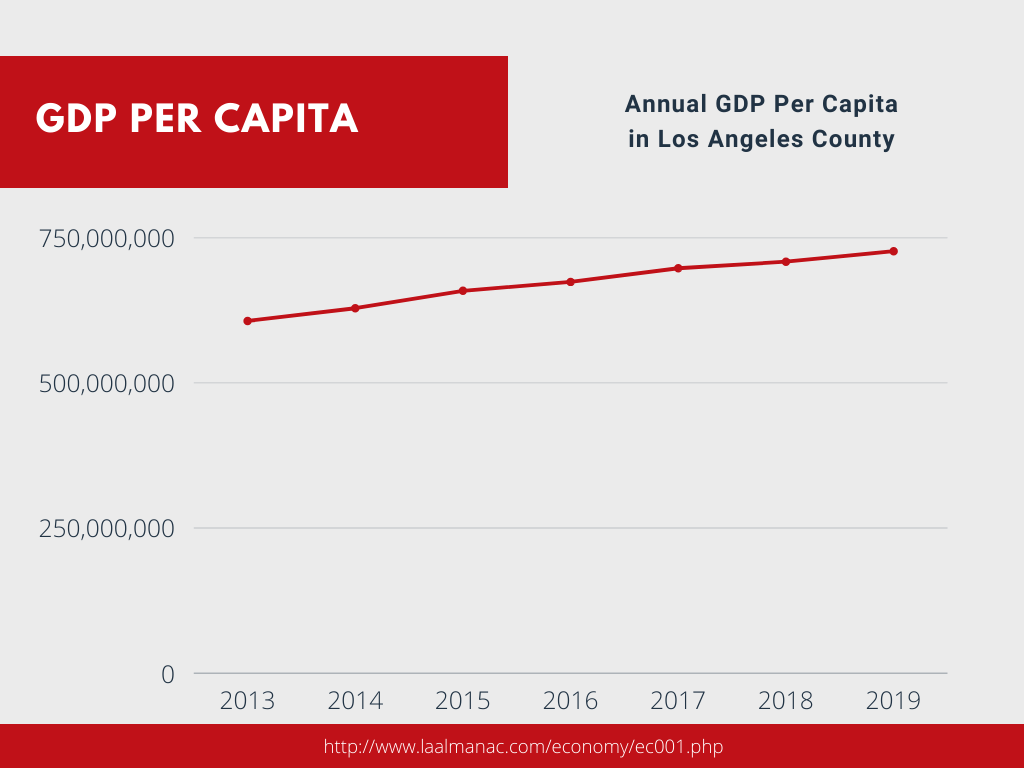 There are numerous industries besides entertainment present here, including agriculture, construction, manufacturing, and information. There is also a strong retail trade industry present in the city. About 8.7% of the population works in retail trade. About 13.5% work in information. About 12.3% work in the healthcare industry as well as in social assistance. This number includes hospitals, medical clinics, and doctor's offices in the area. About 5.2% of the workforce is in accommodations and food services here.
As for the economic condition of the city, there are a few key things to note as of 2019:
The income tax in Burbank is 8%.
There is a 9.5% sales tax present.
The area is expected to have substantial job growth in the coming 10 years.
This is an overview of the city as it stood in 2019. It has likely changed somewhat. However, many of the companies headquartered here and provide a vast amount of employment are long-lasting businesses with sizable revenue year to year.
Ready to Get to Work in Burbank?
With a wide range of amenities and various economic activities, Burbank is a highly desirable place to call home for many people. It's close to Hollywood and has many fabulous eateries throughout. Yet, for those moving into the area, it may be critical to have a good understanding of the economy here. This guide may make it a bit easier to know what kind of jobs may be currently available and what opportunities may exist in the future. Burbank, CA, offers many opportunities to make the area desirable to many people in various industries.
Read Our Economy Guides For Each City Below