Cost of Living in Burbank CA: 7 Essentials to Include in Your Budget
Posted by Courtney Korb on Wednesday, December 8, 2021 at 8:18 AM
By Courtney Korb / December 8, 2021
Comment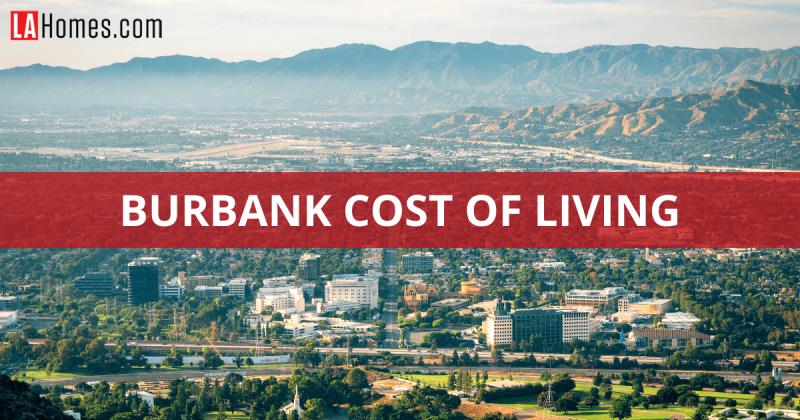 How Much Does it Cost to Live in Burbank?
The city of Burbank is known as the "Media Capital of the World" because of the large number of media and entertainment studios located there. The population of Burbank is about 105,000 people, and more people move to Burbank all the time. As the population grows, the homes for sale in Burbank become more desirable.
Burbank is an expensive city to live in relative to other cities in the United States and is in the top 2 percent of costly cities worldwide. The overall cost of living is about 192 percent compared with 100 in the average U.S. city and at par with many cities with larger populations than Burbank. However, the cost of living in Burbank is less than the cost of living in other top-destination cities such as San Francisco. In exchange for the elevated cost of living, Burbank residents enjoy excellent amenities, convenient commute times to Downtown Los Angeles, and other benefits that come with living near the nation's most famous production studios. Keep reading to become an expert on the cost of living in Burbank.
Housing Costs in Burbank
One of the significant factors in determining the cost of living in Burbank is its housing prices.
The price of homes in Burbank can range from about $500,000 to more than $1.5 million. Although home prices in Burbank are higher than national averages, they're lower than prices in San Francisco and other homes for sale in Los Angeles County.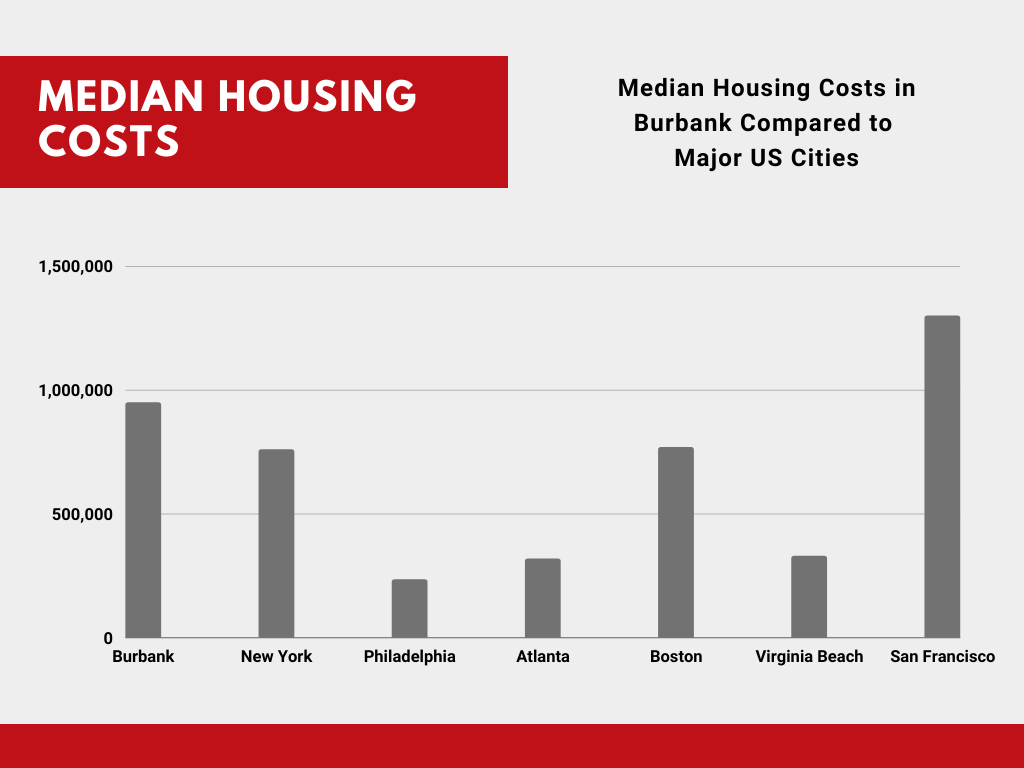 Median Home Prices in Burbank
Housing prices vary based on location and size. Luxury homes for sale in Burbank can be found in neighborhoods like Scott Road and Haven Way, West Alameda Avenue and South Main Street, and North Kenneth Road and Jolly Drive. However, buyers can find more affordable housing by choosing different housing types and less expensive neighborhoods. For example, condos for sale in Burbank will cost between $375,000 and $600,000.
Median Rent in Burbank
Sometimes people prefer to rent until they learn more about the area. The average rent for a one-bedroom apartment in Burbank is about $1,900, while the average rent is about $1,600/month. The average two-bedroom apartment will rent for about $2,500/month, and a three-bedroom between about $3,900/month and $4,500/month, depending upon the size and type of unit.
Rents also vary based on location. Size being equal, a downtown apartment will generally cost more to rent than in other parts of town. For example, renters can expect to pay more than $1,900/month for a one-bedroom 430-square-foot apartment downtown, but about $1,525/month for an apartment the same size in a less expensive part of the city. Likewise, they'll typically pay about $3,200/month for a three-bedroom, 860-square-foot apartment downtown, but only $2,420/month in other parts of the city.
Cost of Utilities in Burbank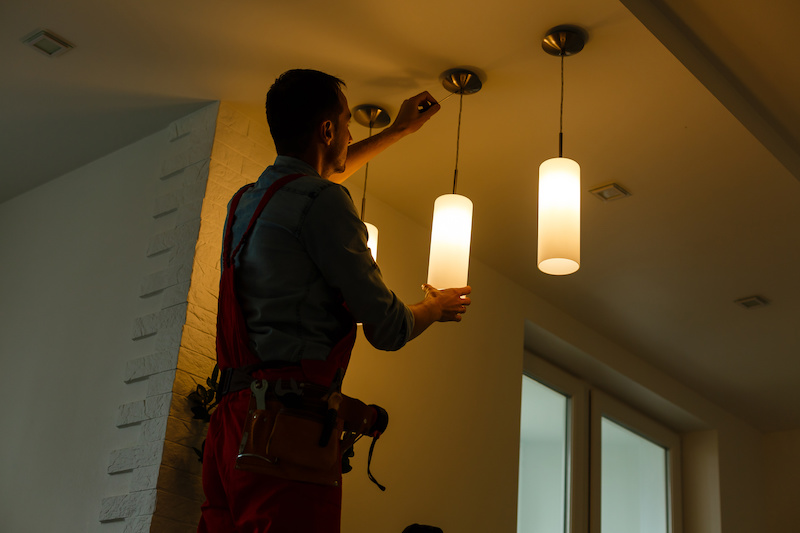 A monthly housing budget also includes utilities. Utilities in Burbank, on average, are a little less expensive than they are in the rest of California and the United States. A typical energy bill is about $181 per month, and an ordinary phone bill is $193.
Burbank Water and Power handles both electricity and water. It bills electricity per kilowatt-hour at about 7 cents per kWh for the first 300 kWh and about 11 cents for each additional kWh. BWP bills for water based on meter size and usage in hundred cubic feet (HCF). A small meter is about $15 a month, a medium about $30, and a large about $48. The first 15 HCF each month is about $1.43 per HCF; the next 13 HCF are $1.77 per HCF; additional HCFs beyond the first 30 are about $2.22. An unlimited 50 Mbps Internet plan is about $65.
Homeowner's insurance also is part of a typical housing budget. On average, the cost of homeowner's insurance is about $1,200 a year, although rates vary among insurers and are based upon the credit scores of the buyer and the claims history of the property. Prices also vary depending upon the types of coverages and the deductibles chosen. Homeowners on a budget may be able to find insurance for as little as $775 per year.
Food Prices in Burbank
Food is a little more expensive in Burbank than in the rest of the United States. Groceries are slightly more costly in Burbank. Residents can budget for dining out by researching the prices of restaurants in the city.
Groceries in Burbank
Groceries are 5 percent to 12 percent more expensive in Burbank than in the rest of the country. Here are typical prices for everyday food and grocery items:
A loaf of bread, about $3.75
A gallon of milk, about $2.20
A carton of eggs, about $2.50
A bunch of bananas, about $3.80
2.2 pounds of rice, about $5.50
2.2 pounds of potatoes, about $2.50
A 2.2-pound chicken breast, about $6.65
Two liters of brand-name soda, about $2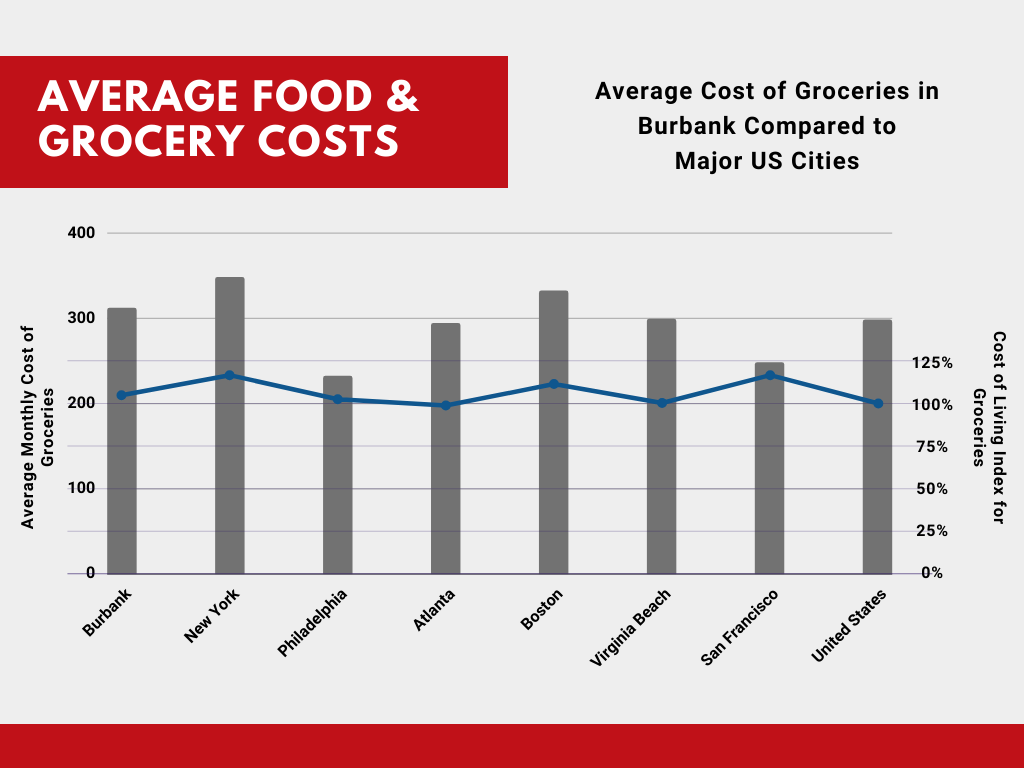 Shoppers on a budget may find groceries to be less expensive at the Grocery Outlet Bargain Market on Verdugo Avenue, Sprouts Farmers Market on San Fernando Boulevard, and Aldi on North Victory Boulevard.
Restaurants in Burbank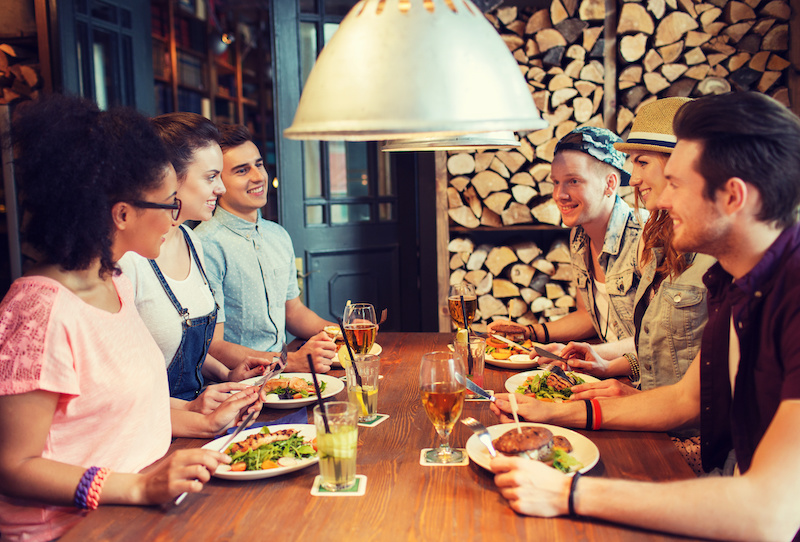 The restaurants in Burbank serve cuisine that can satisfy any appetite. Residents can control how much they spend at restaurants by choosing lower-priced options, moderately priced ones, or fine dining ones. A meal in a fast-food restaurant might be about $8, and an average lunch might be approximately $12.50. A beer in a pub might be about $4.50.
Maple n Jams, a breakfast spot, offers skillets ranging from $10 to $15, omelets from $10 to $12, and plated breakfasts for about $10. Another moderately priced restaurant, Chuck's Southern Comforts Café, offers burgers for $12 to $15, barbecue plates from $15 to $25, and other entrées from about $12 to $20.
Entrées at Castaways, a fine dining restaurant, start at about $36 and continue upward.
Transportation Costs in Burbank
The average person in Burbank spends about $10,000 a year, roughly equal to the national average, on transportation. Transportation costs in Burbank will vary depending upon the length of the commute to jobs and the type of transportation a resident uses. For example, a one-way adult fare on the BurbankBus is $1. A one-way fare on the light rail is about $1.75, a one-day pass is $7, and a seven-day pass is $25.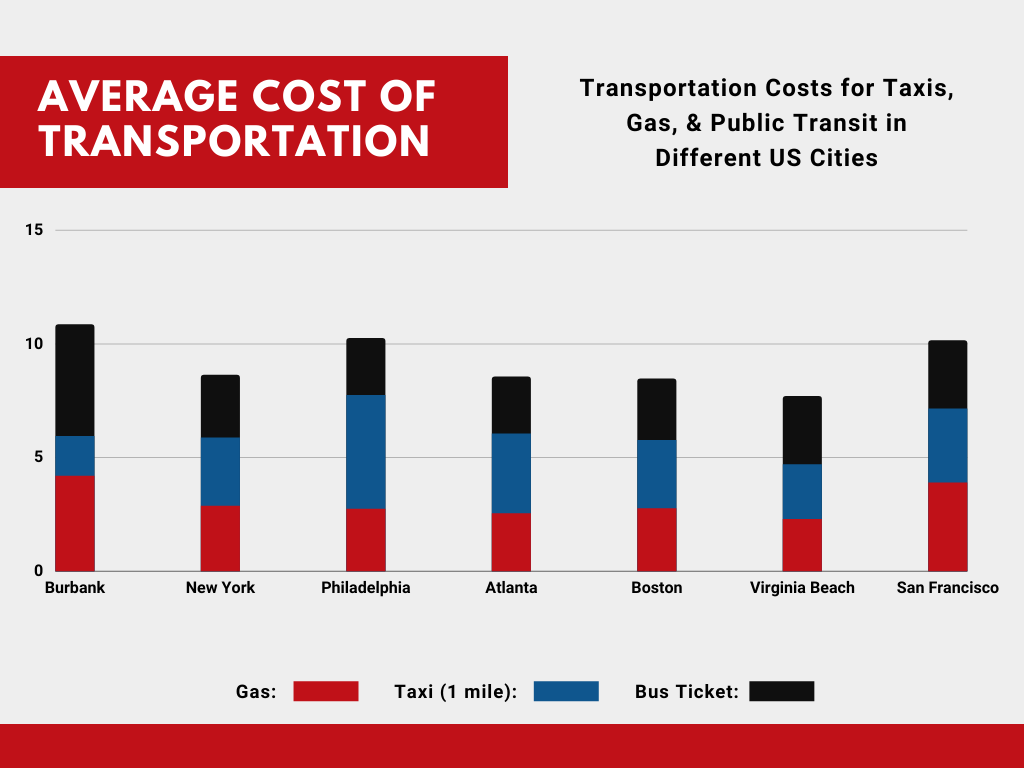 Gas costs vary but are about $4 a gallon. Costco on Victory Place and Tilley's Union 76 on North Hollywood are gas stations often lower prices.
Auto insurance is a little less expensive in Burbank than in the rest of the United States. The average resident spends about $66 monthly for auto insurance, although that varies based upon the type and age of the car, the driving record, age, and credit score of the buyer, and the type of coverage they choose. For example, the average 23-year-old pays about $90, while the average 56-year-old pays about $55 a month. The average price for someone who has received a traffic ticket is about $112 a month.
Health Care Expenses in Burbank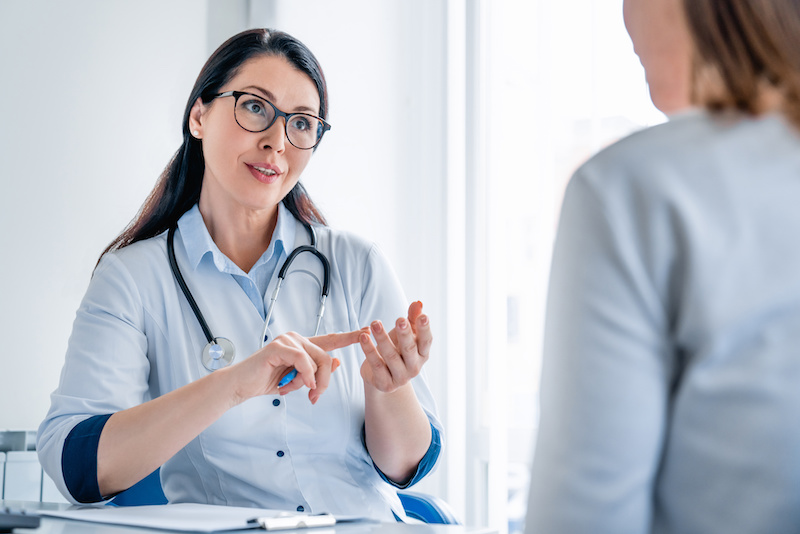 Residents will pay about 20 percent less for most health care in Burbank than in California and about 36 percent less than in the rest of the United States. For example, one adult will pay an average of about $3,100 a year for health care, compared with about $3,700 in California and about $4,300 nationally.
Specifically, a doctor's visit will cost around $110 to $125. A teeth-cleaning visit to the dentist also costs about $105 to $115, on average. A visit to the optometrist will cost about $115, and a veterinary checkup will be about $55. Costs will vary depending upon the professional and the individual's needs, however.
The Cost of Child Care in Burbank
Child care can be a significant factor in a family's budget. Child care costs, on average, are a little less in Burbank than in the rest of California or the United States as a whole. The average annual cost of child care for two children, one age four and the other age eight, is about $14,700. Across all of California, the average is approximately $14,900. Across the U.S. as a whole, child care for the two children would average about $15,900 annually.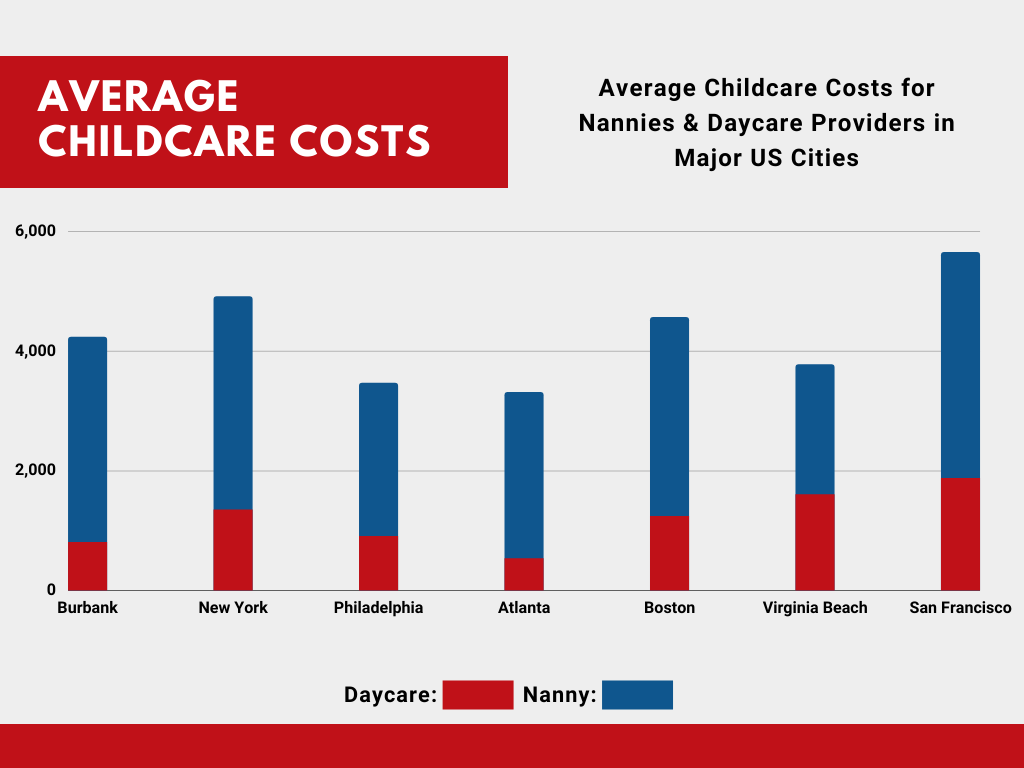 The cost of child care varies depending upon whether parents choose a day-care center or nanny option. Those who use day-care choices will spend an average of about $850 a month, although parents can enroll school-aged children in non-profit programs less expensively. For example, the boys and girls club charges $110 to $150 a week depending on the child's age, with elementary-age children being the most expensive.
A nanny earns an average of $19.50 an hour in Burbank. However, the rate depends upon the age of the children, experience of the nanny, and the duties, such as whether the nanny is expected to drive their car to pick up children from school and other activities. Two families could go together to share a nanny and lower the cost for each.
Entertainment Prices in Burbank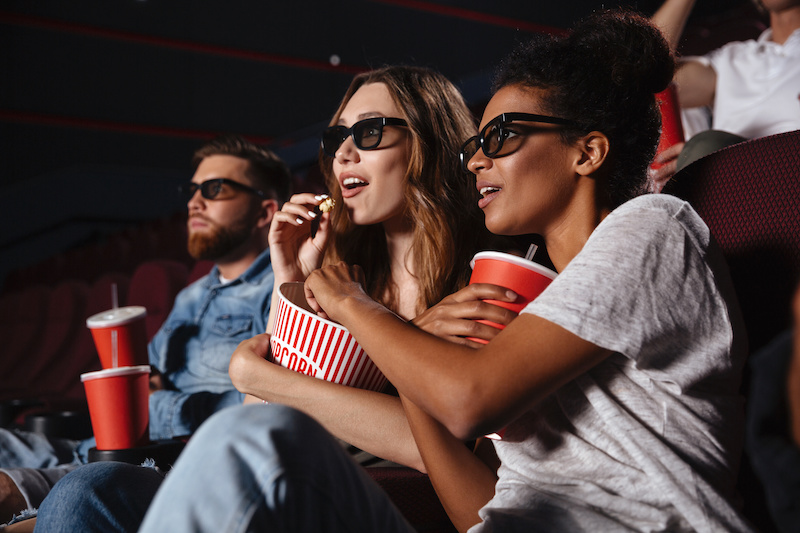 Entertainment is a discretionary expense, and residents can enjoy the many things to do in Burbank at various price points.
Examples of free activities include:
Spending a day at Wildwood Canyon Park or Griffith Park
Riding bikes on Chandler Bike Path
Being an audience member for one of the many shows filmed in Burbank
Visiting the Gordon R. Howard Museum or Burbank Aviation Museum
Skateboarding at the Burbank Valley Skate Park
Moderately priced activities include a visit to the cinema (two tickets for about $30), less expensive seats at the L.A. Dodgers game (about $20 for two), or a gym membership for about $35 a month.
More expensive activities in and around Burbank include tickets to the L.A. Rams football games, about $155 and up, or tickets for a play at the Colony Theatre, which vary from moderate to more expensive depending upon the event.
Salaries in Burbank
The cost of living in a city is relative to the amount of money residents earn for typical jobs. Salaries generally are higher in Burbank than in the rest of the United States. The median after-tax salary for a resident of Burbank is about $4,300 a month, which compares with the median cost of necessities expenses of about $2,500 per month, which means that most residents have discretionary income. Taxes in Burbank are a little lower than those for other localities in the state, which helps put money into residents' pockets.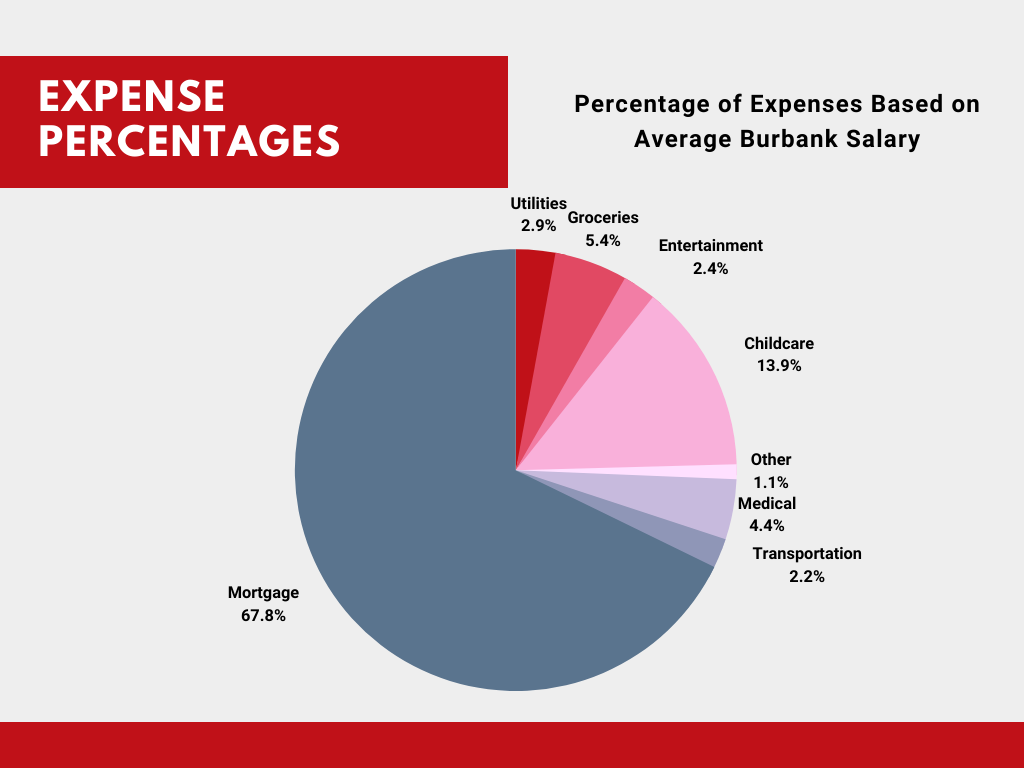 Salaries vary by occupation and employer. A director's position would pay about $6,700 a month on average; a truck driver's position would pay about $77,000 per year. The average laborer earns about $16 an hour; a call center associate would earn about $22 an hour.
The highest paying jobs include psychiatrists at about $250,000; CEOs at about $190,000; physicians at about $232,000; airline pilots at about $219,000; and nurse midwives at $191,000. The most popular jobs are retail sales jobs, office clerk jobs, and cashiers.
Living in Burbank
Burbank is an exciting city to live in, especially for those who enjoy movies and entertainment. While housing is more expensive than most cities in the United States, residents will find that their incomes typically are higher, especially when taxes are considered. Also, residents can shop around and find suitable housing on most budgets.
Child care, another major budget item, can vary, and residents can shop around to find non-profit programs that are less expensive than other child care options if their budget is tight. If they need nanny care, they can share nannies.
Likewise, residents can control food costs by choosing where to shop, how frequently, and how often to eat out. Entertainment costs always are discretionary, and Burbank offers many free activities. The climate is mild, which provides ample opportunity to enjoy outdoor past times. Overall, the cost of living in Burbank affords residents a high-quality lifestyle.