Discover Scenic Burbank Hiking Trails & Relaxing Walking Areas Near Your Neighborhood
Posted by Courtney Korb on Friday, February 4, 2022 at 9:00 AM
By Courtney Korb / February 4, 2022
Comment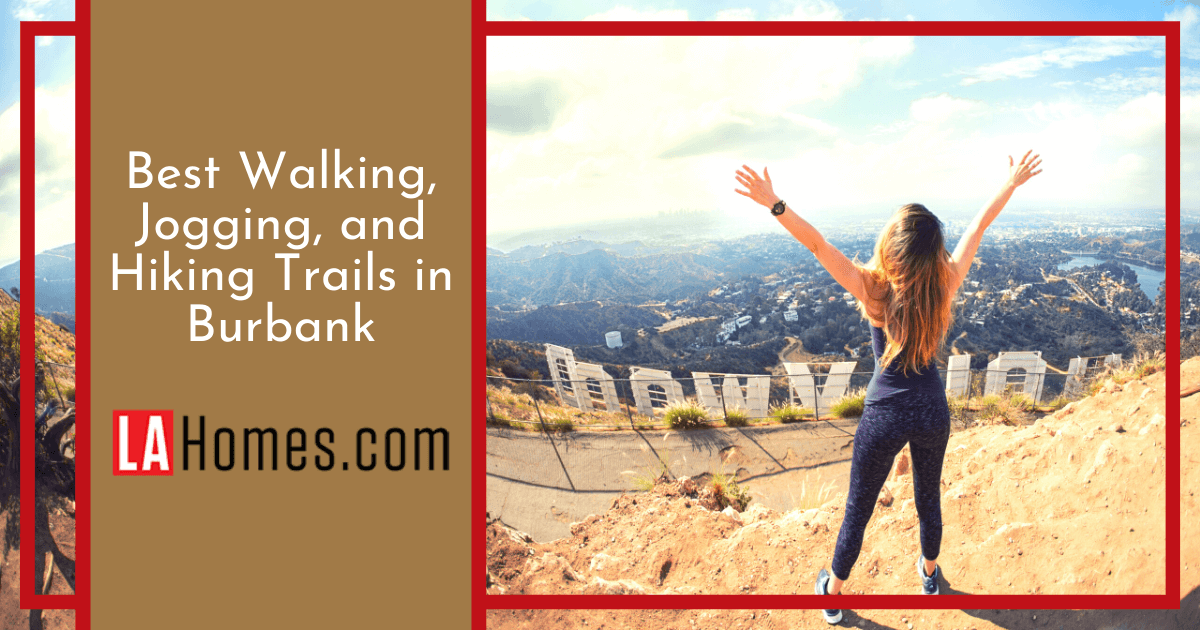 Burbank is a beautiful community. Its location in the southeastern portion of the San Fernando Valley ensures plenty of outdoor activities in Burbank. It's just 12 miles northwest of the Downtown Los Angeles area, making Burbank real estate an ideal option for people looking to strike a balance between city living and outdoor amenities. One of the best benefits of living here is having access to the fantastic Burbank parks. The city itself has 41 parks and facilities, including 27 parks, many of them with outstanding trails. Keep reading to learn about Burbank's best walking trails, hiking areas, and bike paths.
Chandler Bikeway
The Chandler Bikeway may be a good option for those who want to go on a long bike ride with friends. The course is 2.8 miles in length, with starting points at North Mariposa Street, W. Chandler Blvd. (in the heart of Burbank), and Fair Ave., made of asphalt and concrete. As a rail trail, the route takes users over old rail lines, with some portions running between lanes of traffic along Chandler Blvd.
Chandler Bikeway is a good option for both bikes and inline skating, as it's smooth and well-cared for in most areas. It's possible to walk along this path, too, and it's wheelchair accessible. Along the route, runners will see numerous murals along the sides of buildings. Nineteen local artists painted these. This commonly used trail is an easy choice for those looking for a morning run through the parks and Burbank's best neighborhoods.
Chandler Bikeway Additional Information
Address: Chandler Bikeway, 2500 Chandler Blvd Burbank, CA 91505
Hours: Always Open
Wildwood Canyon Park
For those looking for a bit of a challenge, the trail at Wildwood Canyon Park is one of the best. It's a 2.3-mile heavily trafficked trail. This trail is mostly a hiking and walking path, but it is possible to bike along it. In addition, it's accessible throughout the year. Wildwood Canyon Park is also dog-friendly, as long as dogs are kept on a leash.
This is an out-and-back type of route, with an elevation of 918 feet. It's not always a smooth surface along the path, with some rocky conditions in some areas making for a bit more of a challenge for bikers. There's also no shade from trees, so hikers should consider bringing sunblock and other sun protection. However, the views are impressive and make it worth the experience. There are wildflower patches along this route that are worthy of stopping and smelling the blooms throughout the spring and summer months. The views of both LA and Burbank are stunning, especially at sunrise and sunset. The hike through Wildwood Canyon Park may take several hours for the full experience.
To get there, take Olive Avenue into the mountains. Next, turn left on Sunset Canyon Drive and then a right onto Harvard Road. The park itself is on the right, and the hiking trail is clearly noted off the parking lot.
Wildwood Canyon Park Additional Information
Address: Wildwood Canyon Park, 1701 Wildwood Canyon Road Burbank, CA 91501
Hours: Sunrise to 30 minutes after sunset
Griffith Park
Griffith Park is a large park with numerous amenities, attracting many visitors each day. It offers bike rentals, camping, and an entire 18-hole golf course. When it comes to hiking trails, this is one of the best in the area. This is a rugged hike with a nice, natural feel throughout the trail despite being in the heart of the city. The trails around Griffith Park are numerous and span 53 miles. This includes a bridle path and fire roads accessible to hikers. All trails close at dusk.
When choosing a hike for a first adventure here, consider the one that goes from the Griffith Observatory parking lot through the wooded areas to the summit of Mount Hollywood. That's the highest peak in the park. It's a commonly used trail because of the views of the LA basin from the top. It's easy to see lots of wildlife along the way, including foxes and deer.
For those that want to do a bit of jogging, choose one of several paths:
Crystal Springs Drive in Park Center to the Los Angeles Zoo
Los Feliz Blvd/Riverside Drive to the zoo
Zoo Drive to the Travel Town Museum
Griffith Park Additional Information
Address: Griffith Park, 4730 Crystal Springs Dr, Los Angeles, CA 90027
Hours: Always Open
Stough Canyon Nature Center
Another stunning place to hike is near the Stough Canyon Nature Center. The nature center sponsors hikes for various causes throughout the year, but the trails are open to the public most of the time. These rewarding hikes are a great way to navigate the area and learn about the wildlife, habitats, and environmental protections needed in the area. Some guides focus on the birds in the area, drawing hikers' attention to the experiences around them they may be missing if they traveled on their own.
The hikes offer a relaxing walk through the Wildwood Canyon. The trail begins at the top of Walnut Ave. Next, take the fire road to the Verdugo Mountain Way Trail. This system extends deep into the Sun Valley area, but there's a shorter path.
Stough Canyon Nature Center Additional Information
Address: Stough Canyon Nature Center, 2300 E Walnut Ave, Burbank, CA 91504
Hours: 9 a.m.–5 p.m.
Glendale Narrows Riverwalk
The Glendale Narrows Riverwalk is another lovely experience for those who want to see nature at its best. This is a half-mile recreational trail just for bike and pedestrian traffic. It's located near the bank of the Los Angeles River, outside of Burbank in Glendale. The trail begins across the street from Griffith Park.
The trail is comfortable as it is entirely asphalt and in good overall condition. There's a small entrance area specific for hikers and bike riders. Horseback riders also use these trails, and it's not uncommon to see a horse along the path during much of the day. There are also some interpretive exhibits along the route. Much of the route is wheelchair accessible if conditions are dry. Keep in mind the hike is in full sun with little shade.
Griffith Park Additional Information
Address: Griffith Park, 4730 Crystal Springs Dr, Los Angeles, CA 90027
Hours: Always Open
Brace Canyon Park
A final option for those seeking a park-like setting is Brace Canyon Park. The park is home to ball fields, picnic tables, a playground, and a tennis court. There are green rolling hills and large trees throughout the park, creating a friendly, shaded area for play or hiking. The running and jogging trails are paved and in overall good condition. The hiking trail wraps around the mountain and spans a couple of miles. It's moderately challenging and may not be ideal for inexperienced hikers.
Brace Canyon Park is very much a neighborhood park. Yet, the wooded areas and paved hiking trails make it a good location for those looking for a short run or hike in a primarily wooded area. It's even called a hidden park because it's a bit harder to find. This local gem is in the Haven Way residential neighborhood.
Brace Canyon Park Additional Information
Address: Brace Canyon Park, 2901 Haven Way, Burbank, CA 91504
Hours: 5 a.m.–10 p.m.
Ready to Hit the Trails in Burbank?
Those that love a run in the morning or enjoy spending the weekends on their bike will be delighted to know that Burbank offers numerous trails. With so many golf courses near Burbank, amazing local parks, and beautiful valley scenery, Burbank is a dream for outdoor fun.