How to Build Wealth With Local REITs: Top 4 REITs in Los Angeles
Posted by Courtney Korb on Wednesday, December 21, 2022 at 1:38 PM
By Courtney Korb / December 21, 2022
Comment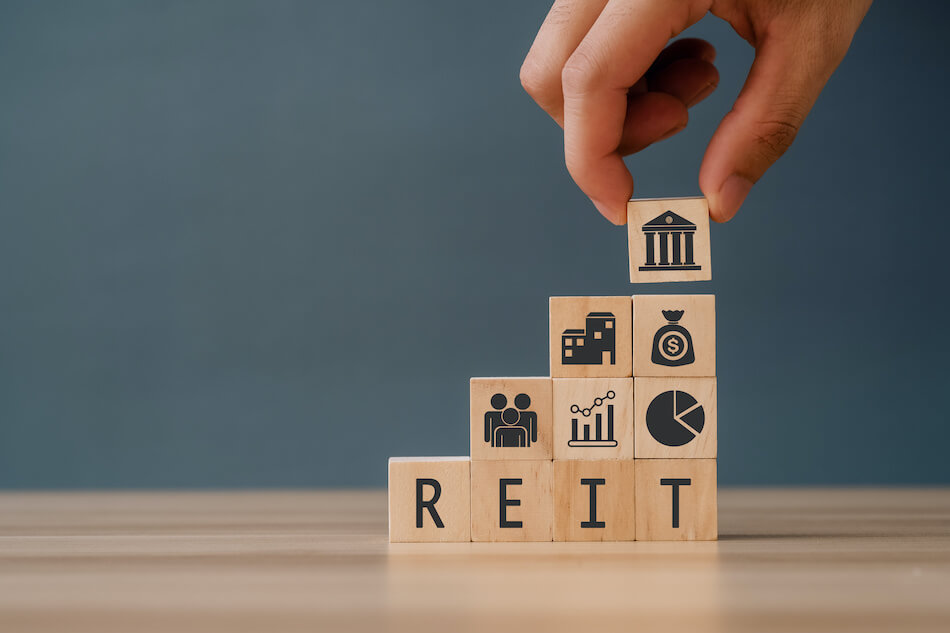 When you're navigating the complex terrain of investments, portfolio diversification emerges as the cardinal rule. From single-family homes to commercial spaces, there are many ways to grow your wealth with real estate.
However, real estate investments often require a large capital. Good thing there's a more affordable alternative worth considering. Enter the world of Real Estate Investment Trusts (REITs). If you're looking for way to investing Los Angeles real estate, these locally based REITs can get you started.
For informational purposes only. Always consult with an attorney, tax, or financial advisor before proceeding with any real estate transaction.
Understanding REITs: The Building Blocks of Real Estate Investment
Think of REITs as the gateway to investing in properties in the real estate market. These are companies that own, operate, or finance income-generating real estate. They allow you, the individual investor, to invest in a diversified portfolio of large-scale, income-producing real estate assets without having to purchase the whole property.
The allure of REITs lies in their multiple benefits: regular income streams akin to dividend-paying stocks, diversification, potential for long-term capital appreciation, and liquidity—something traditional real estate investments may lack. But beware of the potential risks too, such as market volatility and interest rate sensitivity.
Broadly, REITs are divided into Equity REITs, Mortgage REITs, and Hybrid REITs. Each carries distinct risk and reward profiles, underscoring the need to understand their intricacies before investing.
Advantages of Investing in LA-based REITs: An In-Depth Look
Los Angeles REITs could be likened to a golden ticket into the thriving world of Los Angeles' real estate market. They are an accessible conduit to prime real estate in this iconic city, a privilege that would typically require substantial capital for direct property investment.
LA's rental market is robust, driven by strong demand from its growing population and its cultural and entertainment hub appeal. This healthy rental market translates into an attractive yield potential for investors in LA-based REITs. These REITs often have a substantial portion of their portfolio in rental properties, enabling them to distribute regular and attractive dividends to their shareholders.
Moreover, investing in REITs provides an unparalleled degree of diversification. They offer diversification across different types of properties—residential, commercial, and industrial—throughout the city. All of the best neighborhoods in Los Angeles, from Downtown LA to the furthest corners of the Valley, have unique dynamics, growth drivers, and challenges. This geographical diversification within a single city helps to spread risk and offers a wider range of growth opportunities.
Finally, the regulatory framework governing REITs mandates them to distribute at least 90% of their taxable income to shareholders as dividends. This requirement makes LA-based REITs an attractive investment option for those seeking consistent income streams.
How to Choose LA-Based REITs: A Step-by-Step Guide
Choosing the right LA-based REITs is a crucial part of your investment journey. Here's a step-by-step guide to making an informed decision.
Identify Your Investment Goals: Begin by understanding your investment objectives and risk tolerance. Are you looking for capital appreciation, consistent income, or a mix of both?
Research: Dive deep into the world of LA-based REITs. Review their portfolio of assets, geographical locations, and property types. Look at the sectors they invest in—residential, commercial, industrial, or a mix.
Financial Health: Examine the financial health of the REIT. Look at key metrics like funds from operations (FFO), debt-to-equity ratio, and dividend yield. A financially stable REIT is likely to provide consistent returns.
Management Quality: The quality of the management team is paramount. A team with a proven track record can navigate market volatility better.
Consult a Financial Advisor: If you are new to REITs or unsure about your choices, consider consulting a financial advisor. They can provide personalized advice based on your financial goals and risk tolerance.
Top LA-Based REITs
When choosing among LA-based REITs, it's important to consider both the current performance and track record. Here are some well-regarded LA-based REITs based on past performance:
Douglas Emmett (DEI)
The company stands out for its holdings of premium office and residential properties in some of the best neighborhoods of LA and Honolulu. DEI's strategy focuses on owning a substantial proportion of properties in specific neighborhoods, creating a large local market share. This allows them to influence rental rates and ensure consistent revenue streams. Their portfolio predominantly consists of high-rise office and residential buildings in sought-after areas, attracting high-quality tenants and contributing to the REIT's strong performance.
Kilroy Realty Corporation (KRC)
Known for its robust portfolio of commercial properties spanning LA, San Francisco, and Seattle, Kilroy Realty Corporation is another great option. They hold a reputation for sustainability, consistently ranking among the top green REITs. This focus on sustainability has made KRC a preferred choice for tenants seeking eco-friendly office spaces, helping to ensure high occupancy rates. Their commitment to environmental stewardship also positions them well for potential regulatory changes favoring sustainable practices in real estate.
Rexford Industrial Realty (REXR)
With a strong focus on infill markets in Southern California, Rexford Industrial Realty specializes in industrial properties. Their local expertise and deep market penetration allow them to identify and capitalize on value-add opportunities. Rexford's strategy of repositioning underutilized industrial properties has proven successful, delivering impressive returns to shareholders. The growing demand for industrial properties, fueled by e-commerce and logistics needs, also bodes well for Rexford's future performance.
Public Storage (PSA)
One of the largest self-storage REITs, Public Storage has a significant presence in LA. Their well-known brand, coupled with their diverse locations spread across various neighborhoods, makes them a resilient choice. PSA's vast network of self-storage facilities caters to a broad range of customers, from individuals needing extra storage space to businesses requiring short-term storage solutions. This diversity in customer base helps cushion the REIT against economic downturns and contributes to its consistent performance.
Invest With the Best LA REITs
In the grand scheme of real estate investment, diversification is not just a strategy—it's a necessity. LA-based REITs, with their unique blend of attributes, offer an excellent avenue for investors to achieve diversification. They provide access to a dynamic and resilient market, the potential for attractive yields, and exposure to a variety of property types and locations within one of the most vibrant cities in the U.S.
However, investing in LA-based REITs, like any investment, requires a well-researched and measured approach. Consider your financial goals and risk tolerance. Consult with a financial advisor, if needed. As you navigate your real estate investment journey, consider LA-based REITs as a potential key to unlocking a diversified and balanced portfolio that can withstand market fluctuations and deliver growth.
For informational purposes only. Always consult with an attorney, tax, or financial advisor before proceeding with any real estate transaction.