5 Perks You'll Love About Shadow Hills in Los Angeles
Posted by Courtney Korb on Tuesday, December 7, 2021 at 8:26 AM
By Courtney Korb / December 7, 2021
Comment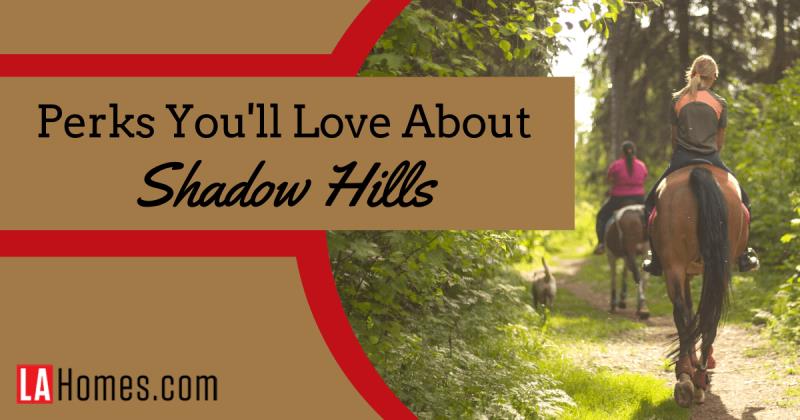 Shadow Hills is a beautiful, 12-mile suburban neighborhood north of Burbank, near the Verdugo Mountains. The community has a population of about 13,000 residents, making it one of the less dense neighborhoods in Los Angeles. The homes in Shadow Hills are mostly sprawling luxury estates, some of which are horse properties.
Although Shadow Hills remained largely undeveloped for a long time, it's one of the best neighborhoods in the San Fernando Valley. When living in Shadow Hills, there are many benefits to enjoy every day. Keep reading to learn about the biggest perks of the Shadow Hills neighborhood in Los Angeles.
Shadow Hills Horse Owners Love Equestrian Zoning Perks
Shadow Hills Equestrian Perks
Large home lots
Shadow Hills Equestrian Center
Sunset Ranch Hollywood Stables
Malibu Riders
Los Angeles Horseback Riding
Trails
Also known as a horse community, an equestrian-zoned community is a planned neighborhood where residents can purchase property with land big enough to keep their horses or has a horse-housing facility within its limits.
As an equestrian zone, most properties in Shadow Hills feature large lots for residents to set up barns and horse stables. However, the numerous Shadow Hills equestrian services make it easy to care for a horse even if you don't have the space on your property. For example, Shadow Hills Equestrian Center offers 11-acres of riding space, horse boarding, equine equipment storage areas, and even horse riding lessons. Residents also enjoy easy access to surrounding equine facilities and supply shops such as Sunset Ranch Hollywood Stables, Malibu Riders, and Los Angeles Horseback Riding, to mention a few. Shadow Hills also boasts expansive chaparral-covered land where horses can freely feed.
The land is also equine friendly, so you won't ever have to worry about bruised horse hooves or steep slopes that strain your traveler's ligaments. Besides the well-maintained shared trails within the community, Shadow Hills is close to the Verdugo Mountains, meaning even more riding trails for horse lovers. What's more, about 70% of Shadow Hills residents own a horse, so living here means a happy equestrian lifestyle for horse lovers.
Proximity to Hansen Dam Recreation Area Perks
Hansen Dam Recreation Area Amenities
9-acre lake
Picnic tables
BBQ pits
Skate park
Hansen Dam Aquatic Center
Hansen Dam Golf Course
Discovery Cube
The Hansen Dam area is a flood-control waterscape completed in 1940 under the U.S. Army Corps of Engineers. The Hansen Dam recreational area is within the dam, near the flood control basin in Lake View Terrace. The recreational facility offers plenty of terrific amenities, including a 9-acre recreational lake where residents can spend the day boating and fishing.
In addition, the Hansen Dam Aquatic Center, with its 2,800-capacity swimming pool is nearby, while the Hansen Dam Golf Course is just a short walk away. Other popular amenities near the Hansen Dam include the Discovery Cube, a travel exhibit museum, and hotels with great views of the recreational lake. Hansen Dam offers all-day fun for adults and plenty of things to do with kids.
Since Shadow Hills is just eight minutes away and close to Highways 5 and 210, living in the community allows seamless, everyday access to the recreational center and what it has to offer. The recreational center even has picnic tables, BBQ pits, and a skate park, meaning you can take a walk or ride your horse there and relax on slow laidback days or when you need a breather.
Enjoy the Perks of Three Nearby Golf Courses
Shadow Hills Nearby Golf Courses
Angeles National Golf Course
El Cariso
Hansen Dam Golf Course
Shadow Hills isn't just a horse lover haven; it's also perfect for golf enthusiasts. The community is close to multiple world-class golf courses, including the Angeles National Golf Course. The course features a well-maintained, 18-hole desert-style golf course with four sets of tees for golfers of all skill levels.
They organize individual golf tournaments and even host weddings and banquets. Besides Angeles, El Cariso is yet another state-of-the-art golf course. It's about a 16-minute drive from Shadow Hills on 1300 Eldridge Street. El Cariso has an 18-hole golf course and supports all skill levels, including junior golf.
Players get everything they need from driving ranges, putting greens, pro shops, to golf carts at El Cariso for a smooth-sailing experience on the green. In addition, there's a clubhouse where they can relax, catch up on their game, and meet other like-minded individuals.
Finally, and even closer to home, is the Hansen Dam Golf Course. The 18-hole course with well-manicured greens offers a range of amenities, including a lighted driving range, putting and chipping greens, cart rentals, and even a snack bar and banquet room. Living in Shadow Hills means you can wake up and easily access any of these facilities. Also, the proximity to these world-class facilities guarantees fantastic resale value.
Luxury Private Perks in Shadow Hills
Shadow Hills Private Perks
Equestrian center
Homes with large lots
Community-maintained riding trails
Pools
Fitness center
Meeting Rooms
Removed from the bustle of the Downtown Los Angeles neighborhood, Shadow Hills offers its residents a peaceful and pleasant escape thanks to its massive range of luxury private amenities. As noted, the community has its very own equestrian center. And with about 11-acres of riding space, horse boarding, and tack storage amenities, horse-owning residents can always have peace of mind knowing their beloved animal is just a stone throw away and well-taken care of.
Moreover, since it's essentially an equine community, most homes in Shadow Hills feature huge lots for horse riding or setting up stables. There's an expansive land with community-maintained riding trails too. Besides equine features, Shadow Hills also features a range of other luxury amenities strictly meant for residents, including swimming pools, a fitness center, meeting rooms, and other great private features that make a living here a seamless, all-year-round experience.
Work Perks: Easy Commutes to Top Employers
Communities Close to Shadow Hills
Los Angeles
Sun Valley
Lake View Terrace
Sunland
Pacoima
Burbank
Shadow Hills is among the most conveniently located communities in the city of Los Angeles. It's to the north of Sun Valley and is close to communities like Lake View Terrace, Sunland, and Pacoima. The community is also incredibly adjacent to Highway 5 and Highway 210, meaning seamless access to central locations Los Angeles and the Burbank community.
Shadow Hills is a 13-minute drive to Burbank via route 1-5S through Wheatland Avenue and Sunland Boulevard. Los Angeles is pretty accessible and about a half-hour to 45-minute drive from Shadow Hills via routes 1-210E and CA-2-S. This makes it incredibly convenient since Burbank and Los Angeles are home to some of the biggest employers in the world.
For instance, as a proclaimed media capital of the world, some of the best jobs in Burbank are with film and entertainment giants like the Walt Disney Company and Nickelodeon. The best jobs in Los Angeles also create a vibrant environment. Living in Shadow Hills offers semi-rural relaxation while remaining a short distance from some of the most exciting urban areas in the world.
Amazing Perks Await in Shadow Hills
Shadow Hills is one of the most sought-out suburban communities in Los Angeles County. But it's no surprise, as living here comes with quite excellent perks. From luxury homes with large lots, countless equine advantages, luxury private amenities, proximity to world-class golf courses to an unrivaled sense of community you can't find elsewhere. What's more, Shadow Hills is a short drive from central locations like Burbank, offering its residents an escape from the bustling urban areas while still maintaining proximity for comfortable living.