Life Is Easy in Porter Ranch: 5 Perks & Conveniences in Porter Ranch
Posted by Courtney Korb on Wednesday, March 2, 2022 at 9:42 AM
By Courtney Korb / March 2, 2022
Comment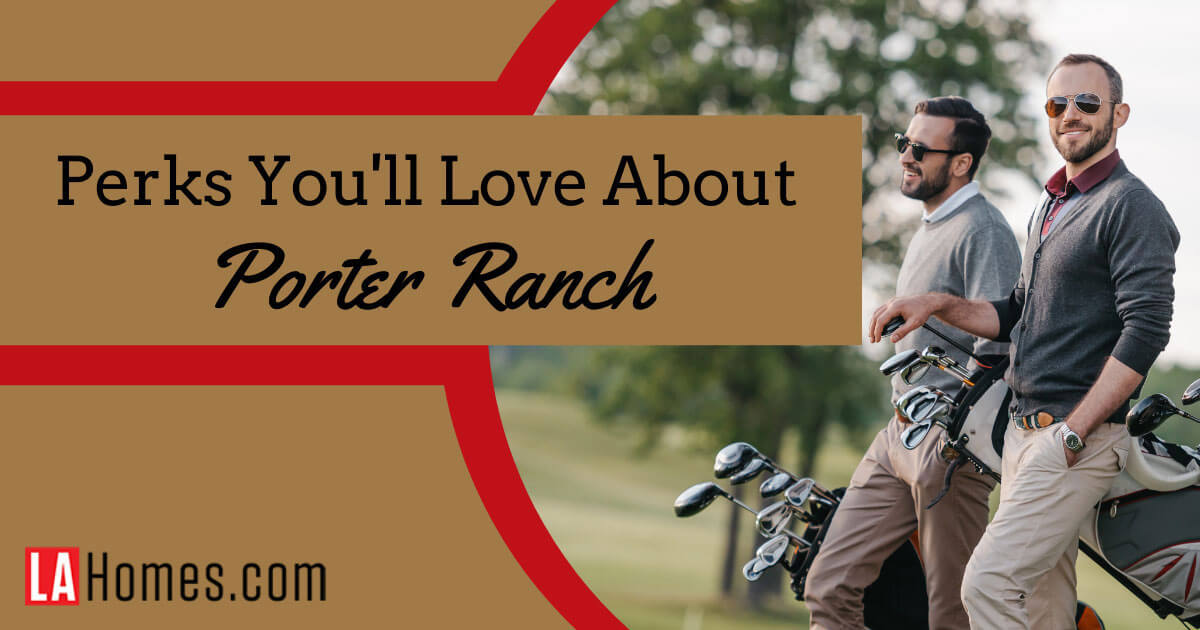 Porter Ranch is an upscale suburban community half an hour from the city of Los Angeles. It features architectural styles such as modern, contemporary, craftsman luxury homes. The neighborhood is also strategically located in the hills above the San Fernando Valley.
Porter Ranch homes for sale enjoy sprawling views and top-notch amenities, but there's more to this master-planned community than incredible vistas and luxurious add-ons. The neighborhood also offers an array of everyday conveniences that make living in Porter Ranch delightful. Keep reading to learn about five perks and conveniences that make life easy in the Porter Ranch neighborhood.
Table of Contents
Master-Planned Perks
Porter Ranch Collections
The Westcliff
Hillcrest
Canyon Oaks
Porter Ranch is a community of three master-planned collections: The Westcliff, Hillcrest, and Canyon Oaks. Each one boasts an array of home designs, including modern craftsmen to elegant contemporary styles. That means if homebuyers get to choose the Porter Ranch collection that's right for them.
Typical of most master-planned communities, Porter Ranch boasts a well-thought-out and incredibly functional layout. It has two main roads that cut through the town center, and offer access to main freeways and a good traffic flow from one village to another. Local shops, dining, entertainment, and retail spots, including The Vineyards, a recently completed retail center, are located along and close to these roads, so everything residents need is just at arm's reach.
All three communities have staff-gated entries and private amenities, such as hiking trails with access to the nearby mountains. There are many schools in the area, such as the K-8 Porter Ranch Community School.
And to top these fantastic features, Porter Ranch has its very-own 50-acre park with picnic, pavilion, children-play areas, a splash park, and other superb hangout spaces. It's also close to the Holleigh Bernson Memorial Park, Moorpark Country Club, and Malibu Lagoon State Beach.
Grab Groceries with Ease
Porter Ranch Grocery Locations
Whole Foods
Walmart
Northridge Farmers Market and Family Festival
As one of LA's prime master-planned communities, Porter Ranch continuously attracts A-list businesses, including retail giants like Whole Foods. The Porter Ranch Whole Foods is a 44,000 square-foot store at The Vineyards in Porter Ranch, meaning residents can shop a wide variety of natural and organic groceries at their own convenience.
Thanks to the retailer's proximity to each Porter Ranch residence, residents can also grab Whole Foods' popular super-food smoothies and cold-pressed juices, nutritious acai bowls, the famous Porter Ranch pizza, and sandwiches made to order within a short walk from home. Whole Foods Market at Porter Ranch opens at 7 a.m. and closes as late as 10 p.m. What's even better is that the retailer offers curbside pickup and contactless delivery, so residents don't even need to leave the house to get their groceries.
Besides Whole Foods Market, Porter Ranch also boasts a Walmart Supercenter. The retail store is located in Porter Ranch Town Center. It includes departments like Walmart Deli, pharmacy, money, garden and photo centers, tech services, and even vision & glasses, meaning residents can get everything they need under one roof. The supercenter opens as early as 6 a.m. and closes as late as 11 p.m., offering even more shopping convenience to Porter Ranch, Los Angeles residents.
And if residents prefer an interactive grocery shopping experience, the Northridge Farmers Market and Family Festival is often held every Wednesday at the Northridge Fashion Center during spring and fall. The market offers fresh-from-the-farm veggies, flowers, and a ton of fun activities for all residents.
There's Always Something Fun to Do
Porter Ranch Attractions
Limekiln Canyon Park
Aliso Canyon Park
Porter Ridge Park
Wilbur-Tampa Park
Porter Ranch Park
Porter Valley Country Club
Hillcrest Ranch & Boarding
Besides conveniently located retail shopping centers and designer luxury homes, living in Porter Ranch guarantees an endless list of fun things to do during free time. The master-planned community is hilly, nestled between the Santa Susana Mountains and Granada Hills, meaning ample access to countless hiking trails and Porter Ranch's best parks.
The Limekiln Canyon Park is one such attraction. The park features picnic tables, a jogging path, and hiking trails like the Limekiln Canyon Trail. The 3.8-mile out-and-back trail is accessible all year round and is characterized by beautiful wildflowers making hiking fun and an opportunity to connect with nature. It's open to all skill levels and is pet-friendly too. Other great parks and trails awaiting exploration in Porter Ranch include Aliso Canyon, Porter Ridge, Wilbur-Tampa, and Porter Ranch Parks.
The Porter Valley Country Club is an excellent place to check out if for those who love sports entertainment. The facility has a well-maintained golf course which, even better, winds through some of the homes in Porter Ranch so golf enthusiasts can access the links directly from their backyards whenever they want. Members can also maximize on-site sporting amenities available at the country club, such as tennis and pickleball courts, swimming, and fitness.
And for equine lovers, the Hillcrest Ranch & Boarding in the Granada Hills community is a small but well-equipped community facility with riding trails and lessons for equine enthusiasts of all skill levels, making it one of many fun things to do with kids in Porter Ranch. Porter Ranch also plans fun community events throughout, so there's always something fun to do or see all through the year.
Luxury Home Amenities
Private Porter Ranch Perks
Porter Town Ranch Park
Equestrian trails
Jogging/biking/hiking paths
Some homes are in guard-gated communities
Securing a luxury home in Porter Ranch, Los Angeles, also means residents get all the benefits of living in a master-planned community, including enviable access to luxury amenities residents wouldn't find in standard planned condo or townhouse neighborhoods.
Many residences feature guard-gated entries and feature units with spacious living rooms that boast the latest in home theater technology, gourmet kitchens equipped with high-quality appliances, and open, uniquely designed decks with amenities such as swimming pools. Porter Town Ranch also has a private 50-acre park on 11900 North Mason Avenue with features such as a pavilion and picnic area, a splash pad and play area, and basketball courts. The park even features hiking trails that connect to other major routes, such as the Limekiln Canyon Park trail system.
There are plenty of equestrian trails around Porter's Ranch residences, and other independent jogging, biking, and hiking paths are often within a short walk from home.
Easy Commutes
Porter Ranch Commute Options
Metro bus
Ronald Reagan Freeway
Living in Porter Ranch redefines luxury living while keeping residents conveniently connected to urban amenities in the nearby Los Angeles metropolis. The community has two main commercial roads that connect residents to major freeways like the Ronald Reagan Freeway.
The freeway links to other parts of the greater California State Route 118, meaning unhindered access to major cities like Los Angeles, Burbank, Century City, and Santa Monica. Most residents own a car, which is no surprise, as Porter Ranch has well-maintained roads and paths, well-lit streets, and plenty of parking to go around.
Porter Ranch Perks Make Life Simple
Still looking for signs that Porter Ranch is the right neighborhood? Other than a strong sense of community, Porter Ranch residents also enjoy convenient access to everything they might need, from groceries to tech, thanks to retail giants like Walmart and Whole Foods Market in the community.
The Porter Ranch Town Center and the Vineyards also feature a chain of independent dining, shopping, and entertainment options, so all residents need is always within reach. Along with the speedy access to main highways and freeways, unrivaled views of the valley, abundant nearby schools, endless luxury amenities, and plenty of fun things to do in Porter Ranch — living in this master-planned community guarantees nothing but luxury and convenience.