5 Best Parks in West Hills: Find the Best Public Park in West Hills
Posted by Courtney Korb on Wednesday, February 15, 2023 at 11:47:52 AM
By Courtney Korb / February 15, 2023
Comment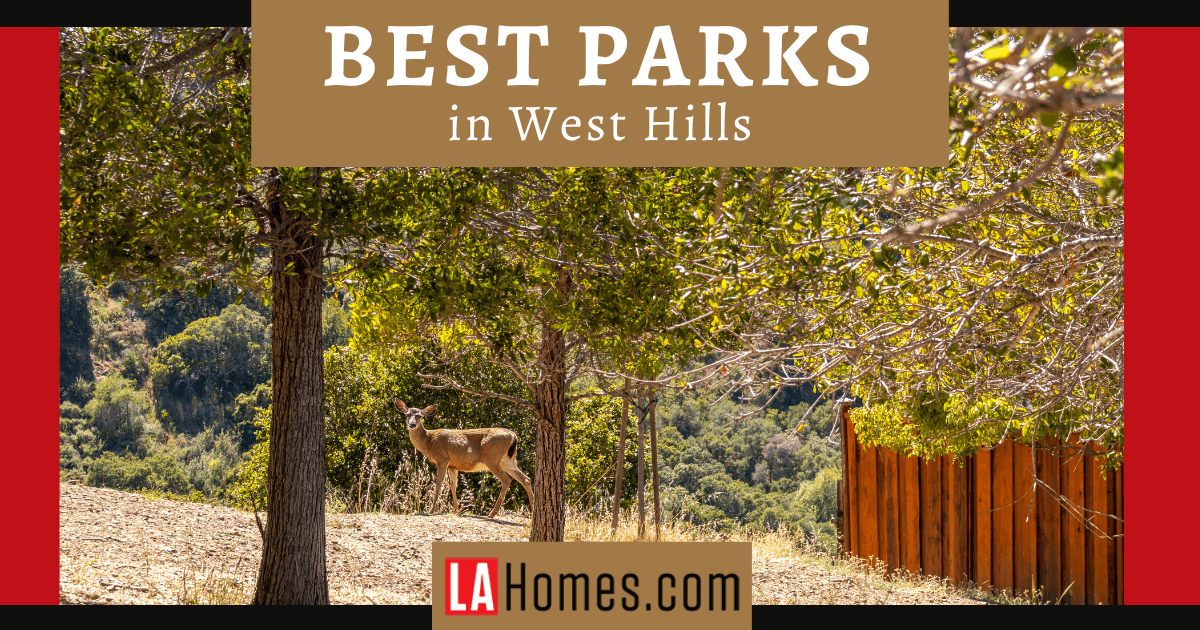 Some of the parks in the West Hills neighborhood of Los Angeles, are much more than places for hiking, cycling, or horseback riding. Some are designated Los Angeles Historic-Cultural Monuments (HCMs) due to their being used in the film industry and dating back to the silent picture era. Visiting some of the parks here is like stepping back into Hollywood history, and hikers might recognize the locations where scenes from some of the most famous Westerns were filmed. The parks are also great places to enjoy the outdoors in this western San Fernando Valley community, and enjoyment of the outdoors is one of the primary motivators for those moving to Los Angeles. Here are five of the best parks in West Hills.
Knapp Ranch Park
Knapp Ranch Park is in the southwest corner of West Hills, about halfway between the Hidden Hills neighborhood and West Hills. This park is divided into two sections: the larger park, which features public athletic facilities, is accessed off Kittridge Street, and the smaller Knapp Ranch Addition Park is at the corner of Wooded Vista and Twisted Oak Drive.
The park is tucked away in a neighborhood of new construction homes with beautiful Southwest-style landscaping. The main section of Knapp Ranch Park has unlighted outdoor sports facilities, including a baseball field, basketball courts, and tennis courts. There is a playground and some picnic tables near shade trees. This park is open from 6 a.m.–10:30 p.m. every day.
The smaller Addition Park has a playground, some walking paths, grassy areas, and picnic tables to relax. The best time of day to visit is at sundown when the Addition Park has spectacular views of South Hills and Calabasas Hills homes in the distance.
Bell Canyon Park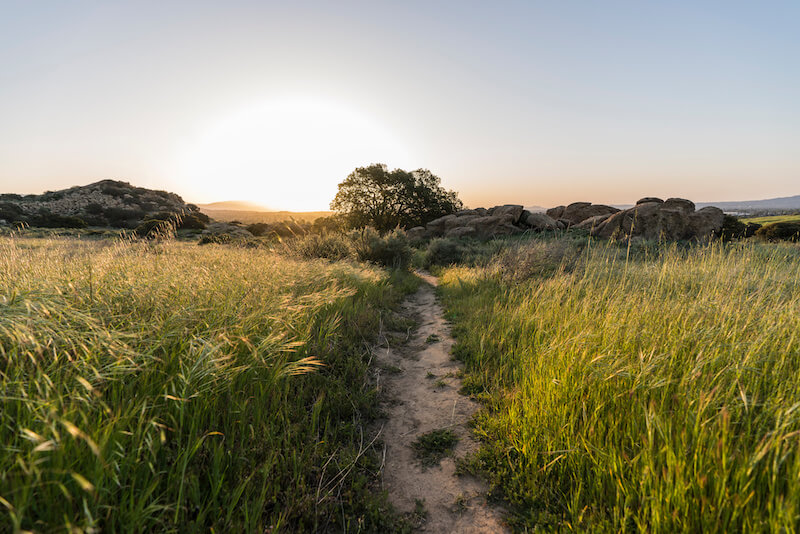 Bell Canyon Park is at the western edge of West Hills. This large, undeveloped natural area is perfect for a morning hike. The main trailhead for Bell Canyon Park is located on Woodglade Lane in a neighborhood of townhomes and Los Angeles single-family homes. More trailheads and parking spots are available off Bell Canyon Boulevard. Many trails loop up to Castle Peak, which has some of the best views in the valley.
Some of the trails continue to the larger El Escorpión Park, where visitors can check out the Cave of Munits. This area is popular with rock climbers and has a series of caves and rocky cliffs. The trails in Bell Canyon Park and the surrounding area are unpaved, with dirt and gravel surfaces. The park consists of rolling hills, and the trails are rated "Moderate" in terms of difficulty. Some are rated "Challenging" and feature steeper elevation changes.
There are no other developments or amenities in Bell Canyon Park. It's simply a beautiful area with trails through a preserved natural space. Motorcycles and other motorized vehicles are prohibited in the park, and leashed dogs are welcome to accompany their owners for a hike.
Shadow Ranch Park
The Shadow Ranch Park is a historic park in the southwest section of West Hills. The original ranch property was purchased by an Australian emigrant named Alfred Workman. He began importing eucalyptus trees from his home country and planting them, and some say that most of the eucalyptus trees in California stemmed from the Workman Ranch. The property changed hands several times over the years. The screenwriting couple Florence Ryerson (The Wizard of Oz co-writer) and Colin Clements later purchased the property and renamed it "Shadow Ranch" due to all the shade provided by Workman's trees.
Today, the park has several outdoor sports fields for baseball, soccer, and football, and while it's worth noting they are unlighted, there are lighted basketball courts at Shadow Ranch Park. The park has a playground and offers summer camps and other special events. In 1961, the film The Children's Hour, starring Audrey Hepburn and James Garner, was filmed at Shadow Ranch. Because of this, the property is now registered as a Los Angeles Historic-Cultural Monument.
Shadow Ranch Park is a fun place to take the family for a picnic, enjoy the various programs and events hosted at the center, play some outdoor sports, and enjoy the shade from the eucalyptus trees!
Chatsworth Nature Preserve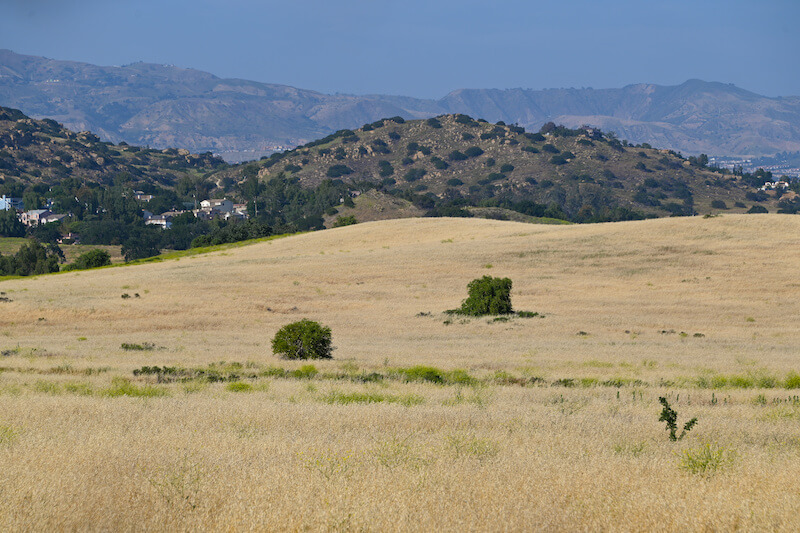 The Chatsworth Nature Preserve is a great open space and preserved natural area on the north side of West Hills. It is 1,325 acres in size. Many of the hills surrounding the San Fernando Valley look like dry grasslands for most of the year, but that's not the case with the Chatsworth Nature Preserve. It has seasonal ponds, chaparral, oak woodlands, marshes, and creeks. There are many natural wonders to explore here, in addition to wildlife.
The Preserve is home to more than 200 species of birds, including quail, roadrunner, and woodpeckers, raptors like red-tailed hawks, and migratory birds like Canada geese and various ducks. Amphibians and reptiles such as toads and ring-necked snakes also call the Preserve their home. Mammals include desert foxes, coyotes, and raccoons. Mountain lions are occasionally spotted in the Preserve but tend to be skittish and stay away from humans.
One feature inside the park, the Chatsworth Calera, is designated as another Los Angeles HCM. The Calera was a limestone kiln that dates back to the Spanish mission period of California history. The site was used as a limestone kiln to create fired bricks and tiles. The kiln is 15 feet deep and more than 6 feet in diameter.
Lazy J. Ranch Park
The Lazy J. Ranch Park is a pocket park on the border of West Hills and the Canoga Park neighborhood. It is located off Ingomar Street in West Hills. Several residential neighborhood streets that end in cul-de-sacs have gated entrances directly into the park. It is a public-use park that's free to use; the gates are primarily decorative. Lazy J. Ranch Park is open from 5 a.m. until 10:30 p.m. daily.
At the southern end of the park, there is a large covered children's playground and some picnic tables. Some outdoor barbecues exist, although park visitors should observe any rule changes during wildfire season. Sometimes, outdoor cooking and fires are temporarily prohibited due to the dry climate in the San Fernando Valley. The playground has swaying bridges, climbing sections, swings, and slides. The rest of the six-acre park is set aside as open, grassy fields with a few shade trees. The grassy areas are large enough for a game of frisbee, soccer, or even softball.
Enjoy the Outdoors in West Hills, Los Angeles
These are just a few of the best parks in West Hills to give a sense of the outdoor adventures available here. Whether a person prefers a fully-developed park with a manicured lawn or a wild outdoor space with coyotes and mule deer, there is sure to be a park to fit every personality type. And it pays to keep exploring West Hills because more trails and parks are available than those listed here, and exploring them all is a breeze with LA's public transportation options.