5 Neighborhood Parks Near Shadow Hills Los Angeles [2022]
Posted by Courtney Korb on Tuesday, November 16, 2021 at 9:17 AM
By Courtney Korb / November 16, 2021
Comment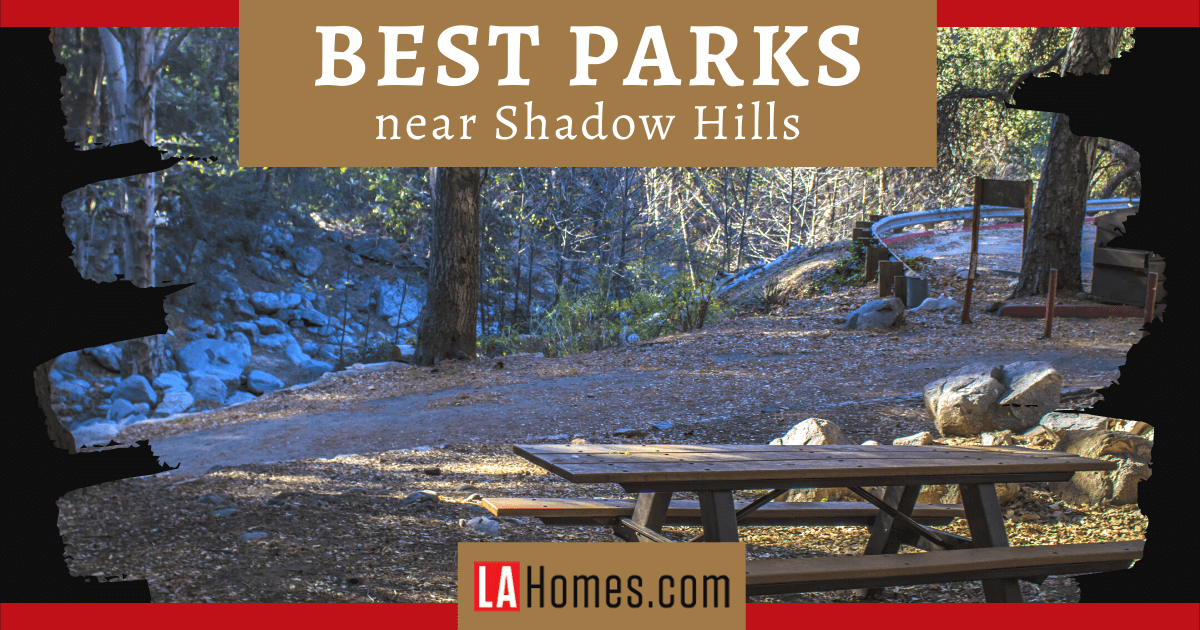 Shadow Hills is one of the few remaining equestrian zoned neighborhoods in Los Angeles. The semi-rural community has a population of about 17,102 people and is primarily comprised of luxury homes.
One of the biggest perks of living in Shadow Hills is the abundance of desirable parks in the area. The homes in Shadow Hills are strategically located in the northeastern end of the Verdugo Mountains, near the Angeles National Forest. It's also adjacent to the Hansen Dam Reservoir. As a result, its neighborhoods are not just naturally beautiful; they're close to scenic opportunities for picnics, hikes, and relaxation.
Keep reading to learn about some of the best neighborhood parks near Shadow Hills, Los Angeles.
Hansen Dam Recreation Area
Hansen Dam Recreation Area Amenities
9-acre recreational lake
Smaller swim lake
Hansen Dam Aquatic Center
Hansen Dam Golf Course
The Hansen Dam Recreation Center is one of the most popular places to find things to do in Shadow Hills. The facility is in the flood control basin of Hansen Dam in Lake View Terrace, one of the top neighborhoods in the area. It is run by the City of Los Angeles and seamlessly accessed via Highways 5 or 210.
The recreational center has a 9-acre recreational lake open all year round and is famous for fishing. There's also a smaller swim lake that can accommodate up to 2,800 swimmers. This, coupled with the nearby Hansen Dam Aquatic Center, which is also home to the largest public pool in LA, makes the recreational center quite popular among watersport enthusiasts. But, there's more than just water attractions.
Locals and visitors alike can stop by the nearby Hansen Dam Golf Course for a quick round on the green, hike the natural walking and equestrian trails around the facility, or explore the Horse Park. The recreational center also features plenty of picnic tables, BBQ pits, washrooms, a skate park, and a huge play area with slides, swings, and more. There's plenty of free parking, and Discovery Cube Los Angeles is nearby, providing even more entertainment opportunities to those who visit the recreational center.
Angeles National Forest
Angeles National Forest Amenities
Nearly 70,000 acres
Gabrielino Trail
Mount Baldy
Visitor centers
Located just 11 minutes from Shadow Hills, the Angeles National Forest is a picturesque urban escape perfect for nature lovers. With nearly 70,000 acres of diverse terrains ranging from dense forests, rugged slopes to beautiful desert-like landscapes, the Angeles forest provides an ideal escape for city dwellers tired of the hustle and bustle of the greater LA.
It was the first-ever national forest in the U.S. and combines the San Gabriel and Santa Barbara mountain reserves, creating almost infinite recreation opportunities for hikers, campers, and nature lovers. Hike the Gabrielino Trail, a 28-mile trail with various treks, including an easy-day walk through a sycamore-shaded hiking trail, to more challenging trails that lead deep into the mountains and waterfalls. Mount Baldy, the highest peak on the San Gabriel Mountains, is also a scenic and must-visit attraction, especially during winter when it's peaked with snow and locals can engage in winter spots.
The Angeles National Park also features multiple visitor centers for locals and visitors to learn more about the park and discover new trails and top attractions. A daily pass to the park goes for $5, while an annual pass costs $30.
Stonehurst Recreation Center
Stonehurst Recreation Center Amenities
Auditorium
Gym
Volleyball and basketball courts
Baseball, football, and multipurpose fields
Badminton
Picnic tables
Equestrian center
Children's play area
The Stonehurst Recreation Center is the place to be for sport and outdoor activity enthusiasts. Located east of Shadow Hills and near the Sun Valley neighborhood, the Stonehurst center began as a supply armory for the U.S. army in 1930 but was later converted into a recreational facility for the local community. It is unique for its distinguished rock architecture, designed and built by a stonemason known as Daniel Montelogo. The stonemason is said to have used natural river rocks collected from nearby washes.
Today, the Stonehurst Recreation Center has a 400-people auditorium and an indoor gymnasium complete with weights. There are also lighted volleyball and basketball courts, baseball and football fields, a badminton playing area, and even a multipurpose sports field. After a long day of indulging in sporting activities, locals can take walks on the walking paths or retire to the picnic table area for relaxation. The recreation center also features BBQ pits meaning visitors can also enjoy good company with yummy BBQ delicacies.
Other amenities within the Stonehurst Recreation Center include horseshoe pits, an equestrian center, and a children's play area.
The facility also offers music, preschool, and afterschool cultural programs. It's near the Stonehurst Community Chapel.
Lake View Terrace Recreation Center
Lake View Terrace Recreation Center Amenities
Tennis and basketball courts
Equestrian center
Dance room
Kitchen
Picnic area
The Lake View Terrace Recreation Center is one of the best neighborhood parks in Shadow Hills, Los Angeles. The facility was established in 1959. Like most parks in the area, it's also run by the City of Los Angeles Department of city parks and playgrounds. It opens from 9 a.m. - 9 p.m. Monday through Friday, but weekend hours vary.
It's a well-maintained recreation center and includes a spacious, lighted tennis court, indoor and outdoor basketball courts, an equestrian center, and even a dance room and kitchen. The recreation center also has a picnic area with limited tables offered on a first-come, first-serve basis. One also has to request approval beforehand to bring extra equipment. Martial arts, dance, gymnastics, and other sports and fitness programs are also available.
The facility also runs a variety of youth sports leagues for kids as young as three years. The leagues change seasonally, including pee-wee soccer in fall, basketball during summer and winter, and coach pitch during spring.
La Tuna Canyon Park
La Tuna Canyon Park Amenities
1,100 acres
La Tuna Canyon Loop Trail
Picnic tables
Located just ten minutes away from Shadow Hills, the La Tuna Canyon Park is a 1,100-acre park with trail access into the rugged but scenic Verdugo Mountains. The La Tuna Canyon Loop Trail is one of the most popular trails in the park. The 4.3-mile course starts about 1.2 miles west of Highway 210 on La Tuna Canyon Road and meanders through several sycamore-lined canyons before elevating into the steep Verdugo Mountains. At 600 feet, the last mile to the top of the trail is quite tricky but worthwhile as it rewards you with pleasing vistas of the San Gabriel Mountain and the San Fernando Valley, as well as Downtown LA.
Moreover, there are picnic tables and chairs to rest and enjoy the views. Besides the trail, the La Tuna Canyon Park is also home to countless other moderate-difficult trails awaiting exploration, and the Tuna Canyon Detention Center Monument is also based here. La Tuna Canyon Park has landscapes with sustained climbs and excellent descents, making it quite popular with bikers from all over LA. Access to the park is free, and one can even bring Fido since the park allows dogs, but they must be leashed at all times.
Explore Parks in Shadow Hills, Los Angeles
Besides offering beautiful horse properties and a great community, Shadow Hills is also a short drive from popular neighborhood parks like the La Tuna Canyon Park and top-notch recreational facilities like Stonehurst. In addition to the parks on this list, there are also many other parks and hiking trails awaiting exploration. This is thanks to the neighborhood's location near the Verdugo Mountains. Shadow Hills also has incredible natural beauty and almost perfect all-year-round weather, making it one of the best Los Angeles suburbs.