5 Best Parks in the Porter Ranch Neighborhood
Posted by Courtney Korb on Friday, January 21, 2022 at 8:40 AM
By Courtney Korb / January 21, 2022
Comment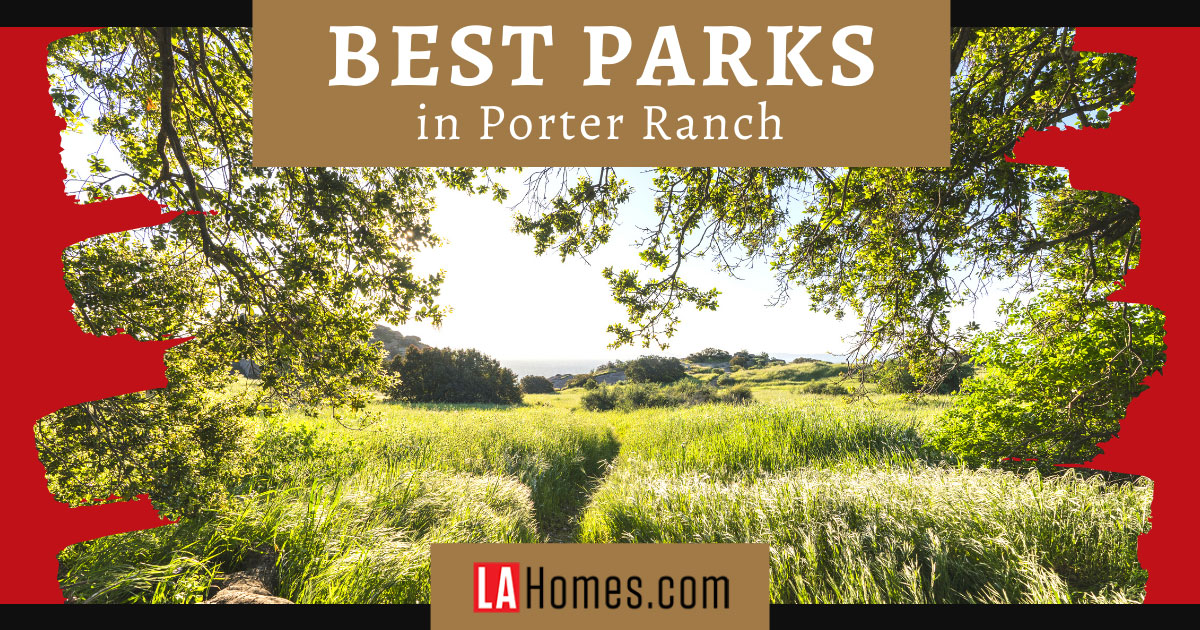 Living near a park can provide plenty of opportunities for catching fresh air, exercising, and coming together as a community. The fantastic parks surrounding the homes in Porter Ranch have got it all, from beautiful nature trails to playgrounds and exercise facilities. Best of all, they're strategically placed throughout the community, providing easy access to all of the things to do in Porter Ranch. Looking for some outdoor fun in your neighborhood? Keep reading to learn about the best parks in Porter Ranch.
Wilbur Tampa Park
Wilbur Tampa Park Amenities
Picnic tables
Play area
Jogging path
Wilbur Tampa Park is a city-owned park featuring a playground, a clubhouse, and a 3.6-mile walking trail. Visitors can enjoy the park daily from dawn to dusk or attend one of the park's numerous community events.
After its renovation in mid-2019, Wilbur Tampa Park's playground features modern equipment offering physical challenges and learning opportunities for all ability levels. Climbable boulders, an ascendable tree, balancing logs, rope ladders, and rock walls can encourage athletic ability. Meanwhile, climate games, a weather cycle board, and a thermometer can promote learning about weather and climate science.
The nearby pavilion features several picnic tables that make it a convenient location for birthday parties, special events, and other gatherings. Various exercise groups and classes meet nearby, taking advantage of the soft grass and ample sunshine. Additionally, while admission to the park is usually free, Wilbur Tampa Park occasionally hosts live music events for a small fee.
The Porter Ranch Palisades Trail stretches across the park, featuring 590 feet of elevation change and breathtaking views of wildflowers and valleys. Best used from March to September, the out-and-back trail is popular for hiking, bird watching, and other nature trips. It's also conveniently dog-friendly.
Whether walking the trail or enjoying the revamped playground, it's a good idea to bring sunblock and water. Although the play area has shade canopies that can help keep temperatures down, Wilbur Tampa Park still gets plenty of sunshine.
Holleigh Bernson Memorial Park
Holleigh Bernson Memorial Park Amenities
Basketball courts
Baseball fields
Fitness zones
Play areas
The 14-acre Holleigh Bernson Memorial Park offers plenty of amenities, from basketball courts, baseball fields, and fitness zones to playgrounds and walking paths. The city-owned park also has free parking and bike racks available.
With basketball, baseball, and other exercise facilities, Holleigh Bernson Memorial Park is one of the best parks in Porter Ranch for sports activities. Two full-sized basketball courts head the north end of the park, and there is a baseball diamond on the southern end. Lights on the basketball court allow for play after dark. Additionally, the park offers unweighted exercise equipment.
Holleigh Bernson Memorial Park's play area features climbing towers and slides protected from the sun by large shade canopies. The playground is along the park's 0.4-mile concrete walking loop, which circles a large grassy field. This flat path is popular for jogging and walking dogs. Meanwhile, the park's open space suits all sorts of recreational activities, such as frisbee, yoga, fitness classes, and more.
While Holleigh Bernson Memorial Park has covered over its playground and plenty of small trees offering shade, open space comprises most of the park. With so much open space, sunscreen is a must.
Limekiln Canyon Park
Limekiln Canyon Park Amenities
Picnic tables
Hiking trails
Jogging path
Campsites
Limekiln Canyon Park's star attraction is its 3.8-mile out-and-back trail system, which features picnic tables, pull-up bars, a swing, and a small rock garden along its path. Open from dawn to dusk seven days a week, this free park boasts impressive views of the valley, especially during sunrise and sunset.
The Limekiln Canyon Trail begins at Rinaldi Street and slowly ascends alongside a small stream to over 1,500 feet at Sesnon Boulevard. The descending return trip offers beautiful vistas of the California landscape. This shaded, dog-friendly trail is ideal for hiking, jogging, and horseback riding.
There are multiple areas with picnic tables along the Limekiln Canyon Trail. One of these also offers pull-up bars and other exercise equipment. The local community also created a rock garden alongside a small patch of Narrowleaf Milkweed to encourage monarch butterfly conservation. The small rockery features painted rocks and several small plants.
Parking near the trailhead at Limekiln Canyon Park is free. The park has tons of trees that offer plenty of shade on the trail. Still, it's a good idea to bring water for the long hike.
Viking Park
Viking Park Amenities
Play area
Picnic tables
Basketball court
Tucked away between Nau Avenue and Viking Avenue, Viking Park features a playground, a concrete volleyball court, a full-sized basketball court, and plenty of grassy space perfect for group exercises. The free park is open seven days a week from dawn to dusk.
A few benches and picnic tables surround Viking Park's playground. The play area offers swings and a jungle gym with slides, ladders, and monkey bars. It also features a sandy ground cover to help cushion any falls.
The park also offers facilities for volleyball and basketball. If planning to play volleyball, bringing a net is necessary.
Viking Park consists primarily of an open grassy space that hosts group exercises, classes, and other events. From yoga pop-ups to dog-training courses, the park is a great meet-up spot for all sorts of activities.
Although Viking Park has some trees for shade, it's a good idea to bring some sunscreen. Luckily, the park also has a water fountain for visitors' convenience.
Porter Ridge Park
Porter Ridge Park Amenities
Barbecue pits
Basketball courts
Play area
Picnic tables
Famous locally for its brief appearance in the 1982 film E.T. the Extra-Terrestrial, Porter Ridge Park has a playground, a basketball court, barbecue pits, picnic tables, and an access point to the Aliso Canyon Trail. The city-owned park offers free admission daily from dawn to dusk.
The Porter Ridge Park playground features swings, slides, sound machines, a climbing web, and a famous caterpillar climbing structure. In 2019, the play area received a renovation that preserved the iconic caterpillar but replaced the park's sand with fall-absorbing ground cover. Shade canopies cover much of the play structure, and trees help provide shade for the rest of the playground.
The basketball court sits on a hill overlooking the rest of the park. The centrally located court hosts basketball games and exercise classes like yoga. For a game of whits instead, Porter Ridge Park also offers a board for chess or checkers, provided visitors bring the pieces.
Porter Ridge Park is also perfect for picnics, with several tables available and plenty of open space to set up blankets. Additionally, it's even possible to cook in the park thanks to its barbecue pits. However, it's necessary to bring water because the park does not have a fountain.
Porter Ridge Park also offers access to the trail at Aliso Canyon Park at the end of Sesnon Boulevard. While Porter Ridge Park has plenty of shaded areas thanks to its luscious trees, it's still a good idea to bring sunblock, especially when using the basketball court or trail.
Have Fun at the Best Parks in Porter Ranch
The best parks in Porter Ranch feature playgrounds, exercise facilities, trails, and more. While some parks provide plenty of shade and flat ground, others offer beaming sunshine and hilly terrain. All of Porter Ranch's parks are dog-friendly, but it's a good idea to keep pets on a leash in the event California's local wildlife makes an appearance. With so many different amenities available, Porter Ranch's parks have something to offer for everyone.
Read Our Park Guides For Each City Below